Luxury is a word that is often abused when it comes to cruising. To some, quite literally any time spent on the water is a luxury. However, the spectrum runs from simple Caribbean cruises to something more exotic and that's where Ponant fits in.
While there are luxury experiences found in various cultures, the French have a way of life that is synonymous with a luxury lifestyle. That's where Ponant comes in and they play homage to legendary French explorers throughout history as they set forth on expeditions ranging from polar cruises to virtually every part of the world from African to Asia and even Russia, Oceana, and Ocean voyages with a sailing vessel, Le Ponant where you can experience a taste of what it might have been like in the golden age of sail.
Unlike some luxury and expedition companies that offer only a handful of cruising experiences, Ponant's small cruise ships offer 12 different options. While each of them is small – typically less than a few hundred guests, they each offer a unique experience. For instance, the sailing vessel Le Ponant allows you to enjoy the thrill of a sailing vessel – while the Comandant Charcot is designed to be the ultimate luxury yacht for cruising the polar regions.
Regardless of which style of cruising you prefer, the experience onboard Ponant is designed to be the pinnacle of luxury with a French influence. Whether you are cruising through the Great Barrier Reef of Australia or the Mediterranean, you are certain to experience first-class service and facilities that include standard cruise amenities including a sun deck, shops, theatre, lounges, bars, and a pool.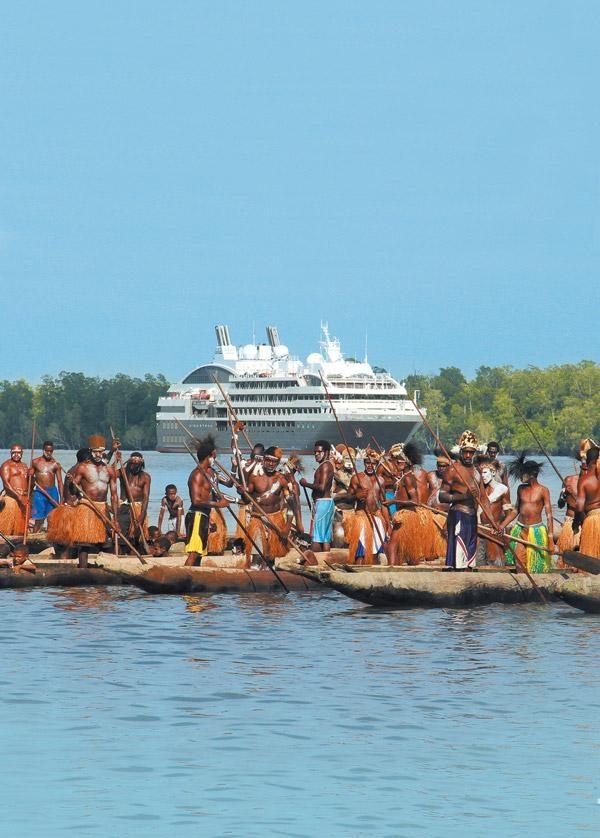 Four Reasons I'm Looking Forward To Exploring on Ponant:
Africa Cruises:
Personally, I'm dreaming of Africa cruises around the islands of Cape Verde. The luxury space has gotten crowded and honestly it is impossible to compete on higher thread-count or larger TVs, and similar amenities so it really comes down to service and what you are going to experience.
Awesome Food:
A cruise company that prides itself on French luxury is going to have some of the best food and wine at sea. Plus, unlike larger ships Ponant is able to offer localized menus inspired by the ports you are visiting. No more having the same menu in Alaska that you had in the Mediterranean!
Don't worry though, why Ponant prides itself on delivering gastronomy inspired by the best French restaurants, they also have casual offerings alongside the fancy restaurants for when you just want something to enjoy while relaxing.
Exploring New Destinations In the Caribbean
I love cruising in the Caribbean. The water is warm the sun is bright and the people are friendly. However, there are many destinations where the big ships simply can't go and others where the size isn't the issue … but the number of people. With Ponant ships having less than 300 guests you're able to explore new islands and ports such as Puerto Cortes and Santo Tomas de Castilla in central America.
A Variety Of Ships To Explore:
Different experiences need different vessels and Ponant knows that. So you can choose from a variety of them, including sailing yachts to ultra-modern luxury motor vessels.
First Class Service:
While most cruise ships claim to offer luxury service, Ponant prides itself on delivering something special. This includes butler service on some ships and certain cabins as well as room service so you can enjoy breakfast on your balcony or even in bed if that's what you feel like that day.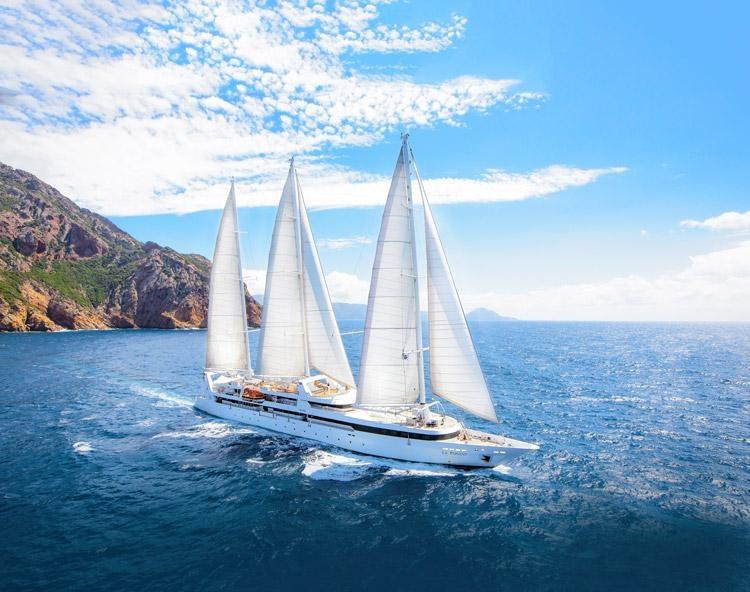 What Ships Am I Most Excited To Try?
As I mentioned earlier, Ponant has a wide variety of ships available for different styles of cruising. Here's a few of my favorite ones that I know you guys would love to explore as well.
Le Ponant
Taking a step back in time to the age of sail where you are powered by the wind is a special kind of luxury that few people will ever be able to enjoy. Those who do are usually limited to smaller boats and certainly less luxurious than a cruise on Le Ponant. Le Ponant serves as the symbolic flagship of the fleet and all cabins have portholes decorated in blues and whites along with comfortable lounges and restaurants to deliver the feeling of being on a private sailing yacht.
Le Commandant Charcot
This vessel is specifically designed for polar exploration and includes a hybrid propulsion system combining LNG fuel and batteries to deliver a more environmentally friendly experience. The interior is designed to be contemporary with stone, wood, and leather inspired by the natural environments that the ship will bring guests to. With 135 staterooms including 31 suites with balconies and outside views this is a great option for people who want the feel of a private yacht but the luxuries found on larger ships too.
Le Bellot
This is the fifth ship in their newest series of vessels and includes 92 staterooms and a chic modern look that is distinct and decorated with environmentally friendly materials. One thing I also really like about this class of vessels from Ponant is that not only is there a pool with a panoramic view – but it is also equipped with a counter-current swimming system so you can use the pool for more than just lounging around.
Ultimately, being able to see and do things that others only dream of is the ultimate luxury and that's what Ponant offers. You can learn more about Ponant by visiting their website or contacting a trusted Travel Advisor to help you with booking.
Photo Credits in order: Ponant, Mick Fogg Asmat, Plisson