Turkey is a tourist magnet, and with good reason. It has everything: sun, sea, great hotels, and rich culture. It's no wonder so many people want to spend their time off there. If you're planning on going for yourself, you should place Cappadocia on your list of places to visit, especially if you enjoy the more adventurous holiday activities.
While many destinations can be seen best from the air, here in Cappadocia, a hot air balloon tour is absolutely the best way to explore the landscape.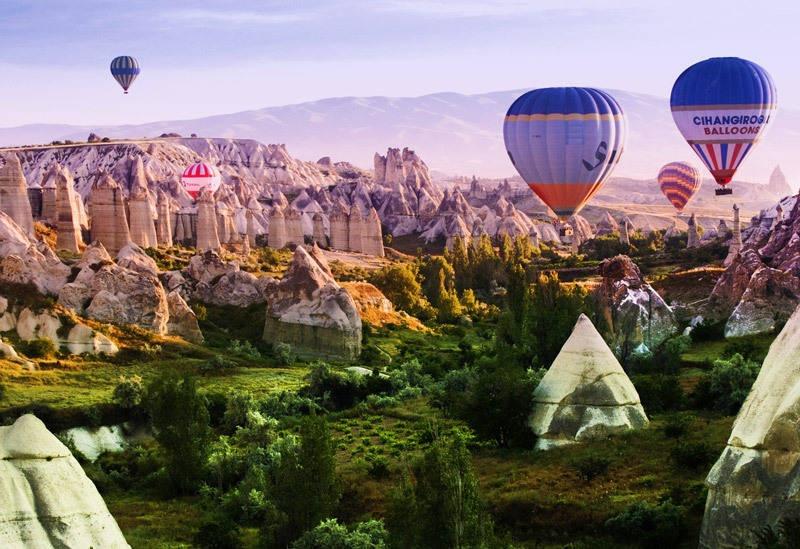 ​Hot-spots in the city Cappadocia is know for its unique geological features. There are many impressive spots to visit to witness such features, but none are more amazing than the Devrent Valley. This incredible location is also known as Imagination Valley, due to its weird and wonderful rock formations. As you make your way through the valley (with a tour guide to show you the way through) lookout for the shapes of animals lurking in the wind-carved rock. A short while away from Devrent Valley lies the town of Avanos. On the bank of the Red River, the locals take clay from the riverbank itself and use it to make terracotta pottery. While you explore this majestic historical town you will come across pottery demonstrations and if you're lucky, you can even attempt to make your own!
While exploring the area, make sure to check out some of the local Cappadocia Turkish cuisine too. While you'll find Turkish staples such as kabobs and olives, you'll also find that pumpkin makes its way into many dishes here including soups and sun-dried or roasted pumpkin seeds are a favorite snack.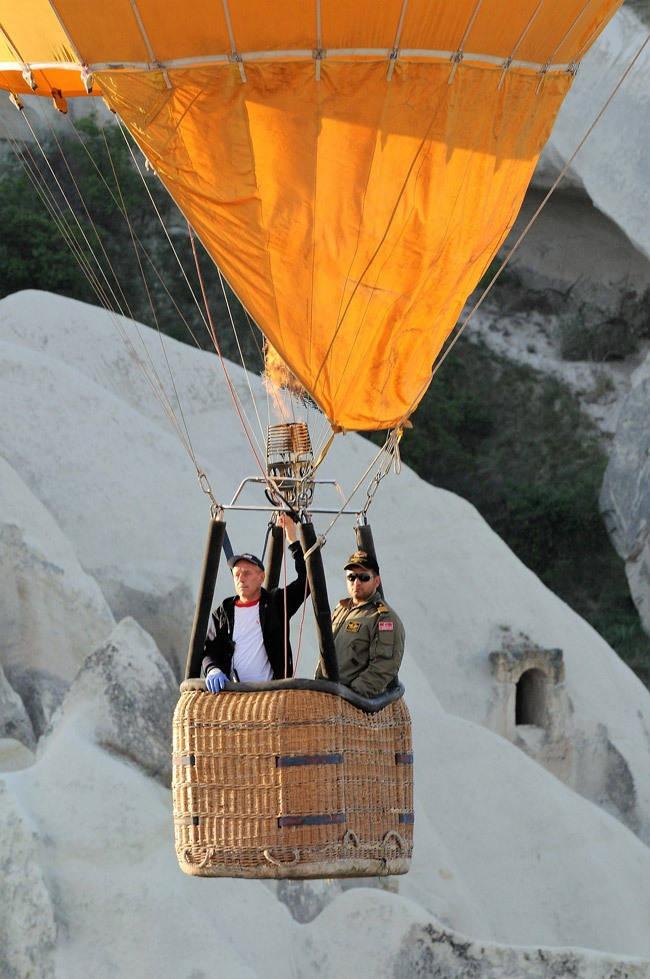 Cappadocia Hot Air Balloon Tours
If the wind-weathered caves and pottery demonstrations seem a bit tame for any adrenaline junkies out there, don't worry, there's more than enough on offer in Cappadocia to get your fix. Find yourself biking through the ancient caves and ruins of Golgoli, which run on through to the village of Cemil. If this intense ride isn't enough for you, you'll be greeted by a steep 1,500 meter hill that only the most serious bikers can tackle. Conquer it, however, and you will be rewarded with Hodur Plateau, where you can gaze out at the spectacular view of Cappadocia.
Hot-air balloon rides are also a popular choice for those who are not put off by heights. The unparalleled views that are on offer here are truly sensational. Drifting off into the sunset, you'll gaze down and see the huge stone pillars of Cappadocia as well as the winding valleys and rugged canyons. It really is the best seat in the house, and the most amazing way to see the city in all its glory.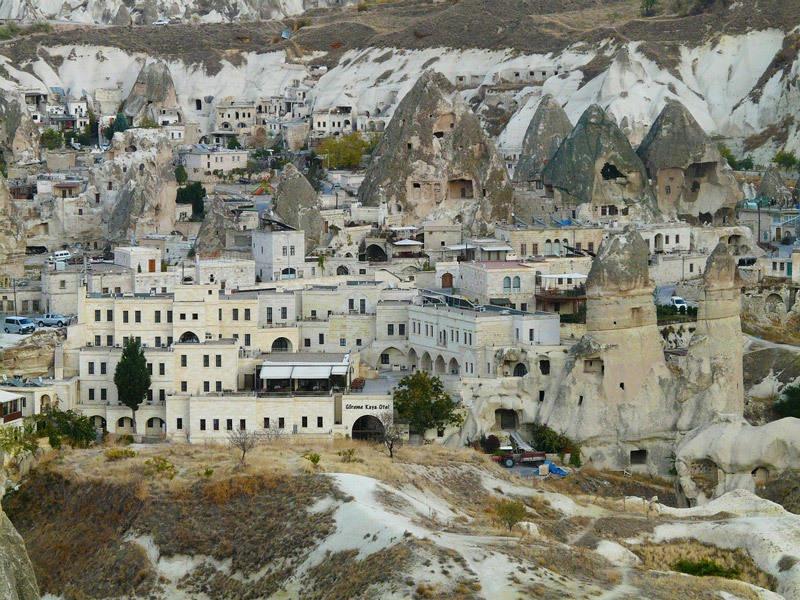 Spend the Night In a Cave Hotel in Cappadocia
Remember those cave dwellings you just flew over that were carved out of the rocks. While there are ancient relics here of the past, there are modern dwellings here too and so no visit to Cappadocia is complete without a stay in one of the Cappadocia Cave Hotels. There are many of these hotels cut from the rock as well as hotels built around caves cut into the rock in this area. While many of these so-called "Cappadocia Cave Hotel" spots can be found in the main tourist area of the city, others can be found outside as well in aeras scuh as Ayvali and Urgup too where things are more quiet and relaxed lending it to a more luxurious atmosphere.
Regardless though, there are many many cave hotels available in Cappadocia at all different price points and with amenities ranging from fit for a sultan to ones affordable by students exploring Turkey during a gapyear.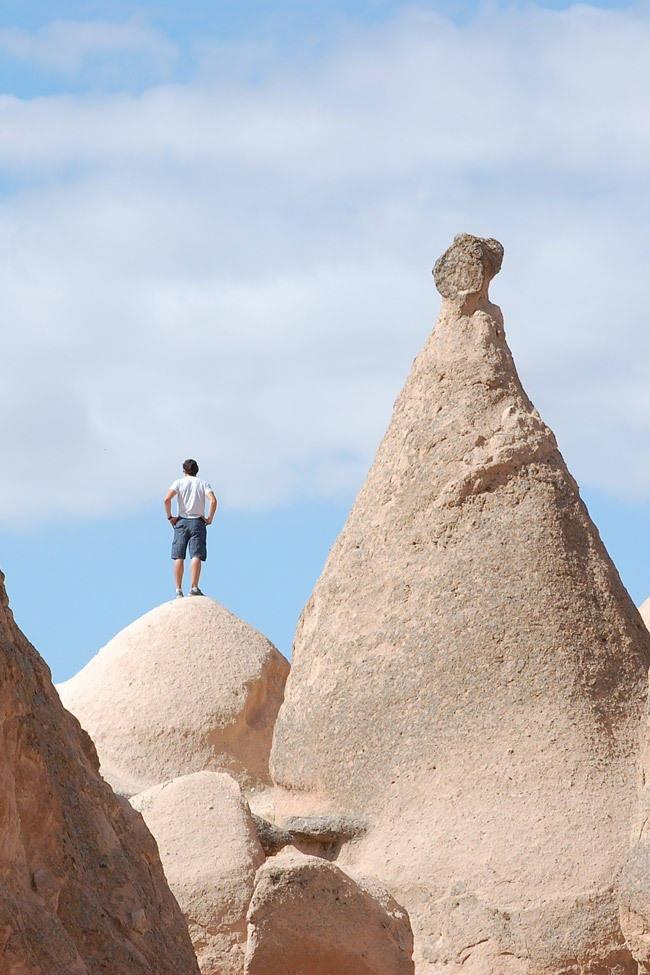 What To Do Beyond Cappadocia?
Cappadocia is far and away one of the best places to go to in Turkey. However, this marvelous country has much to offer. Bodrum is another place that comes highly recommended. If you're an animal lover there are brilliant river tours where you can see native wildlife in their natural environment, such as huge Caretta sea-turtles and blue crabs. Alternatively, the city of Altinkum is fast becoming Turkey's party-town. With tons of highly reviewed bars and chilled cruises to choose from, Altinkum is the place to be if you want to relax and have fun after spending a few days exploring the vast and exciting city of Cappadocia