The California desert is a weird and wonderful place full of mystical energy and people drawn there by it. That's why it makes such an amazing place to explore since there are stories and places that seem almost too weird to be true. One of these that I heard about earlier this year is simply known as Giant Rock. As you can imagine, it is indeed a giant rock out in the middle of the desert but over the decades it also served as a gathering point for UFO conventions, a guy even lived below it (before blowing himself up), and before that it was considered a sacred site by the indians inhabiting the area. It is also a great trail for beginners looking to get familiarized with off road driving since it's only three miles long and you'll have cell phone reception the entire time ... but you feel like you entered a whole different world when you get there.
For this adventure, Jeep provided us with their new 2019 Wrangler and while the vehicle is far more capable than the flat sandy trail we took to Giant Rock that's OK!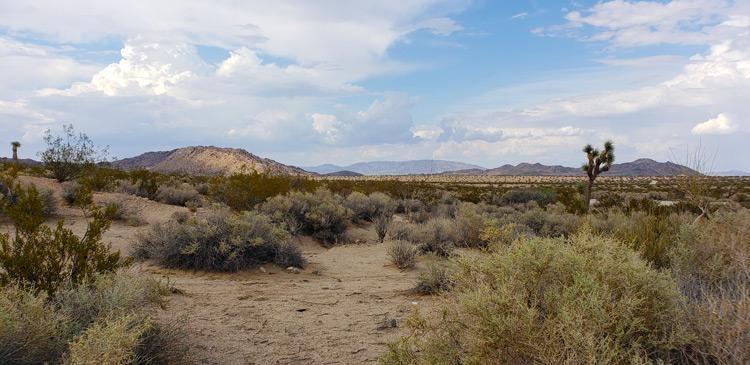 What I think is interesting about Jeep culture is that you don't have to go balls to the wall and tackle diamond rated trails all the time. Sometimes it's good to just cruise and explore. That's what has ultimately made the classic Wrangler such an enduring vehicle over the years - despite the fact that it isn't particularly efficient, comfortable, or affordable compared to its brothers in Jeep's lineup. Where it excels though is that it is the embodiment of raw adventure and possibilities. The confidence that while you might only be going to work today ... you could climb a mountain if you wanted to.
Unlike almost any other vehicle that you can buy, when you purchase a Jeep it's a lifestyle.
That being said, on the all-new Wrangler Sahara Unlimited 2018 that we were provided with, it has been tweaked to be more consumer friendly. For instance the 3.6L Pentastar V6 now comes standard with Electronic Start-Stop to improve gas mileage to 18/23 (with automatic transmission), there's even a safety package available with Blind-Spot and Cross-Path Detection as well as ParkSense Rear Park-Assist System, an 8.4" Touchscreen Infotainment Panel.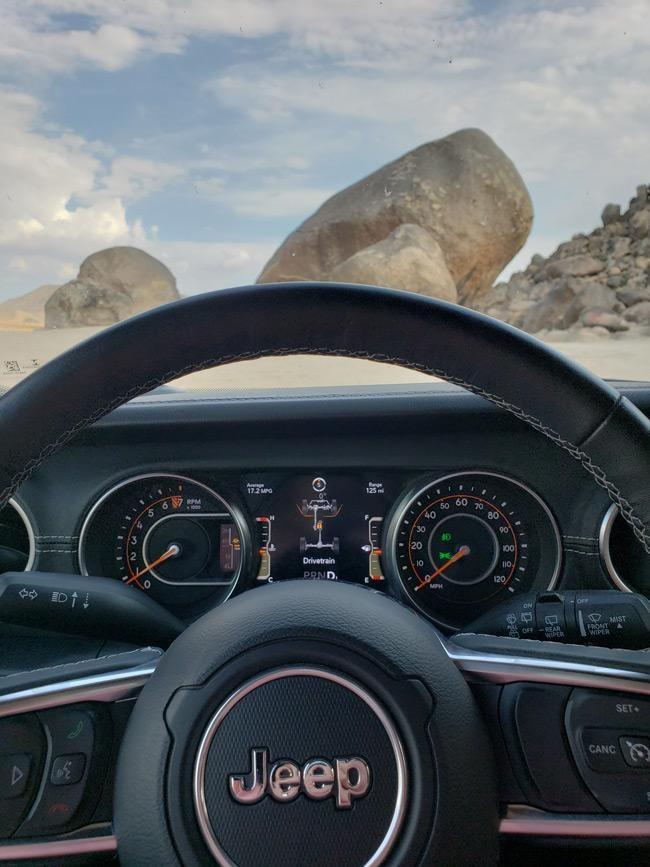 While difficult to quantify, on the long drive from San Diego to Joshua Tree and during our drives around town, it felt MUCH closer to being in an SUV and not a Jeep. This was particularly noticeable with the seat comfort as well as road noise. (though it is still not as quiet as its siblings)
You can also have a number of different top styles with the 3-Piece Hard Top going a long way to reducing the "Jeep Noise" from the soft tops of the past. Plus you can even get the Sky One-Touch Power Top now that allows you to retract the soft top running along the roof, without having to pull anything down manually or strap it into place.
Without getting into the technical details of improvements to brakes, axles, weight etc., the net result of all the upgrades with the new Wrangler is that it is more powerful, more convenient, and more comfortable.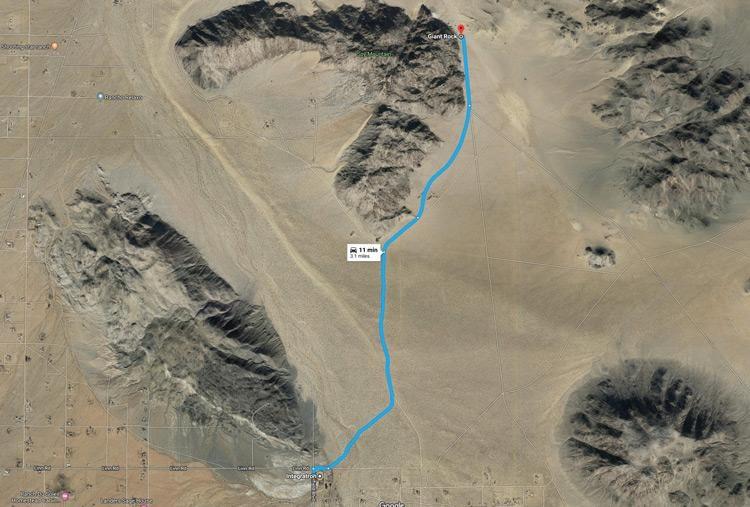 Our trek to check out Giant Rock started in Joshua Tree, California. It is located about 30 minutes northwest in the town of Landers. Once you arrive at the Integratron the pavement ends and you head north, around Spy Mountain. Unfortunately, the Integratron was closed on the day we visited, so no sound baths or crystal healing for us today!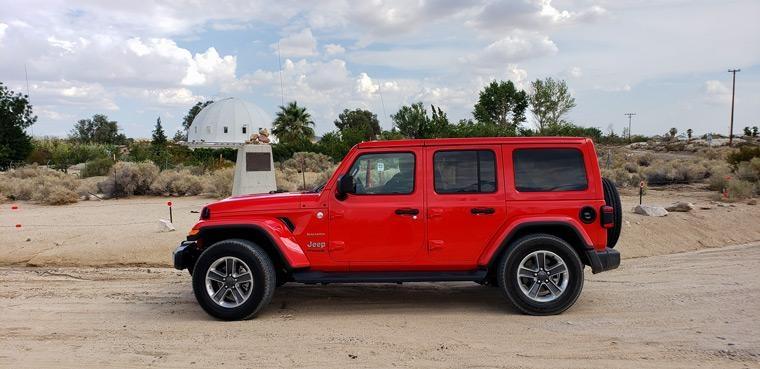 The path leading up to the Giant Rock is a very easy trail. While you could probably do it cautiously in a stock SUV, having a Jeep meant you could explore side trails a bit. This made our 3 miles trek significantly longer but more fun.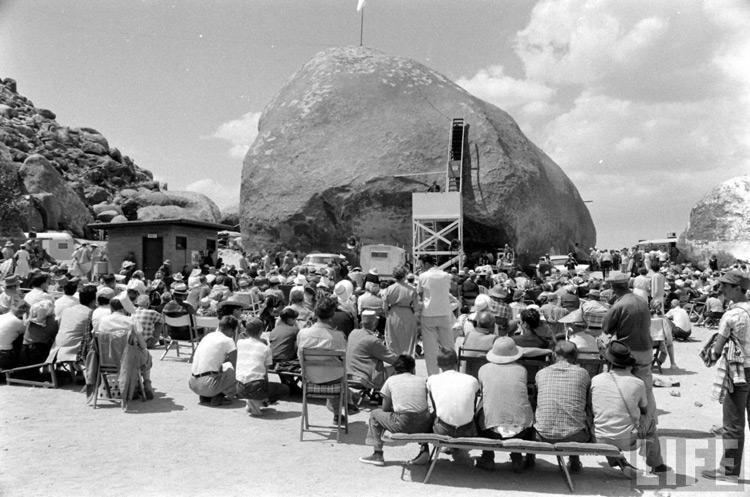 A Short History of Giant Rock
Giant Rock has been a monument in the Mojave Desert for thousands of years and is said to be the largest freestanding boulder in the world.
Measuring approximately 5,800 square feet and standing seven stories tall, it is indeed a giant rock. While it was a spiritual site for native Americans going back thousands of years, it's modern history begins in the 1930s when a prospector named Frank Critzer decided to set up a homestead there and dug himself a 400 square foot house below the rock. Unfortunately for him, he died due to a self-detonated dynamite explosion in 1942 while being investigated by local police.
Not long after, UFO abductee and friend of Frank's, George Van Tassel began holding UFO conventions at the site. George would go on to even build a small airport next to the Giant Rock and later constructed the Integratron, a "resonant tabernacle and energy machine sited on a powerful geomagnetic vortex in the magical Mojave Desert".
Since that time, the rock has been unfortunately covered in graffiti and trash from visitors, but is much better now than it was a few years ago.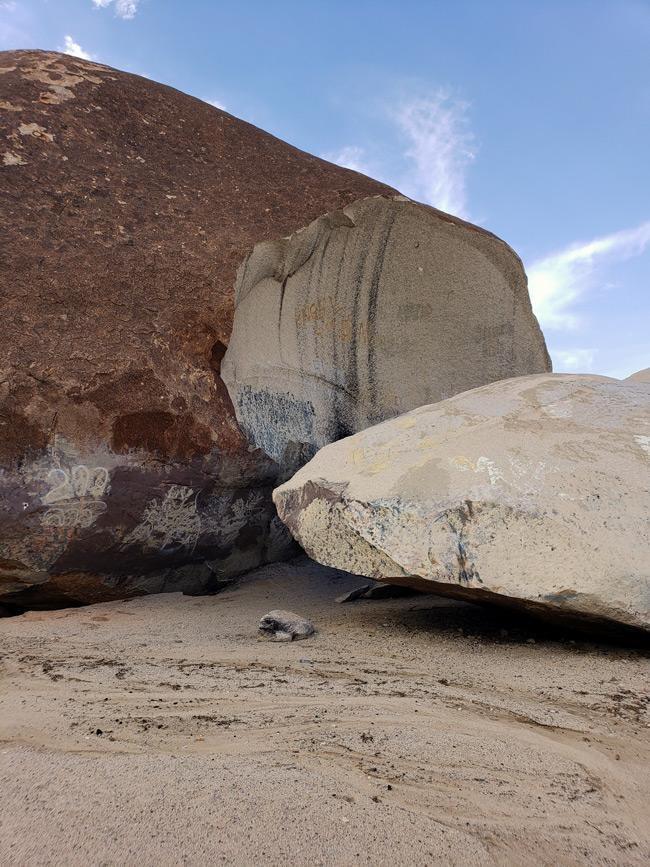 In March of 2000, the rock split and revealed it's white granite insides. While there is not an official explanation for what caused the split, campers that build a huge fire below it are said to have caused the fracture due to extreme heat stressing an existing fissure.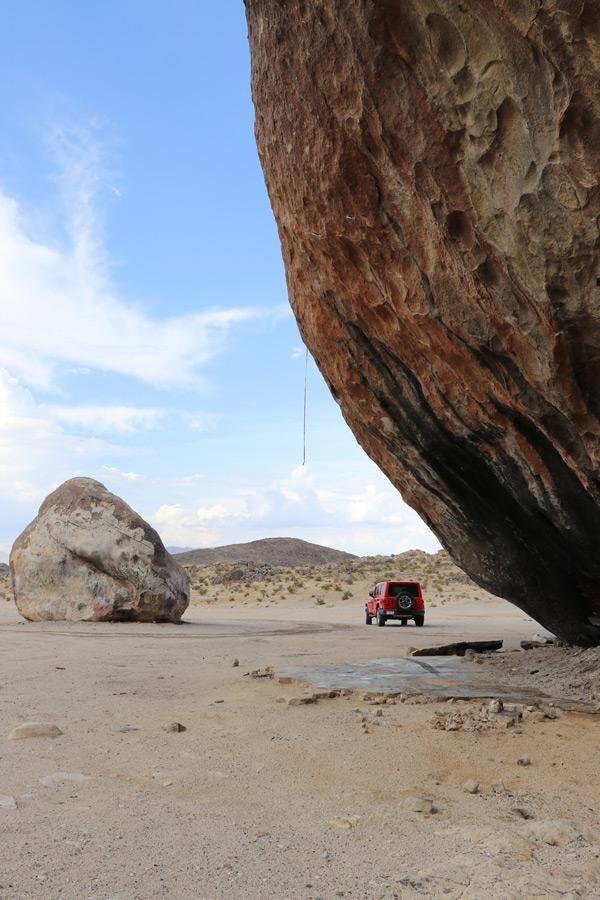 Today, the site is mostly abandoned as far as anyone living there, but it is very popular with people like us looking to explore weird, unusual, and strangely beautiful Mojave desert landmarks.
In the photo above, you can see the remains of the house Frank built as well as where the area was filled in.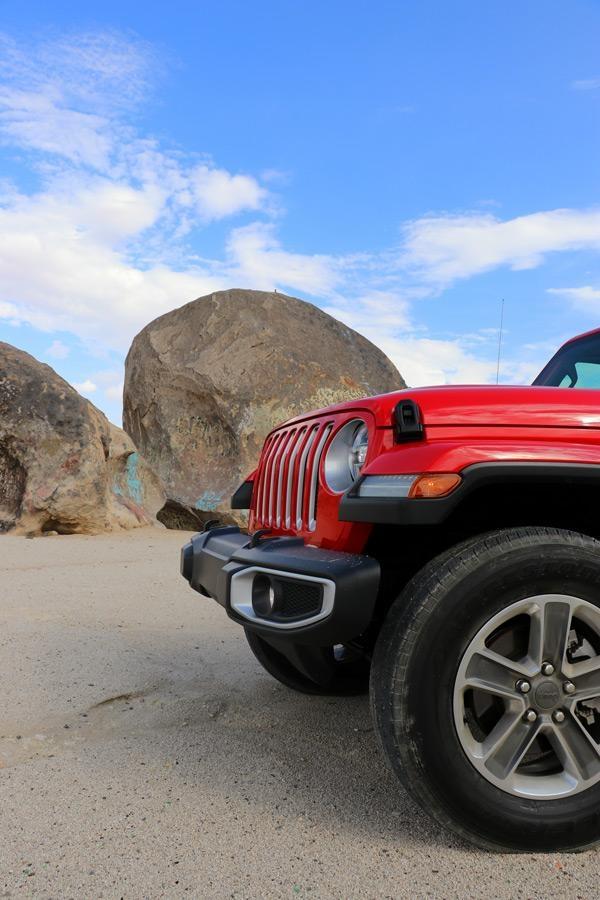 Stories like this are weird and exploring them is fun.
What I like about the new generation of Jeep - introduced for the 2018 model year. Functionally, the Wrangler has become much more of an SUV. While still retaining the internal "guts" that makes it a monster on the trails. It is tuned for the typical consumer who who spend more time on pavement than they will on dirt, while the Rubicon remains focused on performance. Initially I was a bit frustrated by this since it seems like a Jeep Wrangler should be focused on off road performance. The only major weakness for me as someone who loves to challenge the vehicle is the tires.
The Wrangler we got comes standard with All Weather Tires that while good for fuel efficiency are simply not suitable for serious adventure. That's easy to fix though and the Rubicon has become more of the go-to for guys looking for an OEM experience vs a project to build the Jeep of their dreams.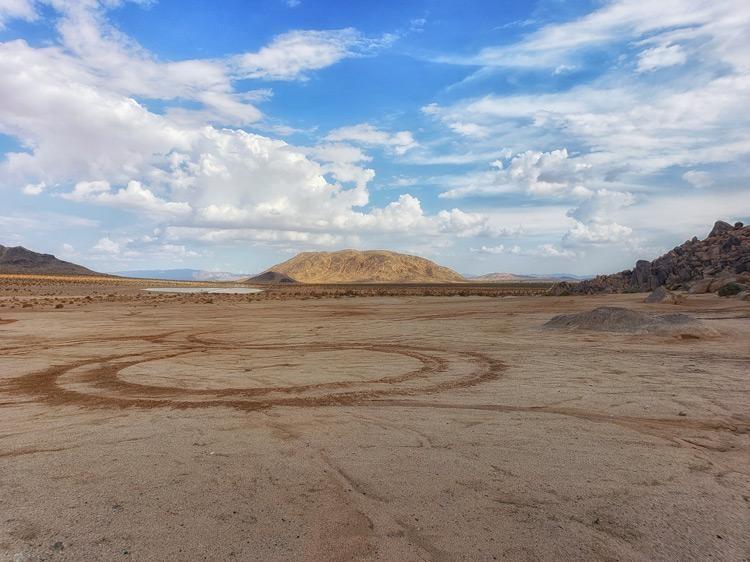 Whatever style of Jeep enthusiast you are though, this is a great way to get out and see something fun and unique that your friends with a basic mom wagon can only dream of!