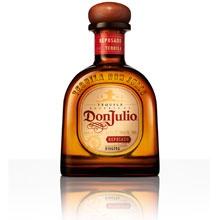 Today (9/16) is Mexican Independence Day, so I would like to encourage you to grab a bottle of your favorite tequila and celebrate! Last week I had the pleasure to sample Don Julio Reposado and Blanco to get a head start on the celebrating.
While Don Julio is not the oldest tequila distillery, and it isn't necessarily the most unique, nor does it have a rock star's name attached to it. However, it makes up for that in flavor and the passion of its namesake.
In 1942 at the age of 17, Don Julio Gonzalez founded his first distillery in his hometown of Atotonilco el Alto. Prior to opening this distillery, he had spent many years learning the ancient methods of making mescal wine in underground ovens. "Mezcal Wine" is the spirit we today call "Tequila".
To improve the flavor, he also decided to plant the agave plans farther apart than other distillers. While this choice would yield fewer plants per acre, he believed that it would yield larger and sweeter plants - resulting in a better flavored tequila. In a similar dedication to producing a premium product, Don Julio's jimadors selects and harvests agave plants at 8-10 years, while other distillers chose 5-6 year old plants.
From there, the 100% blue agave product goes through a double-distillation process in pot stills.
Don Julio Blanco is then immediately bottled and released for distribution.
Reposado, Anejo, 1942, and Real are matured in American white oak barrels. Once again though, in an effort to produce a superior product, Don Julio chooses to age the tequilas for longer periods of time than is required by the Mexican government.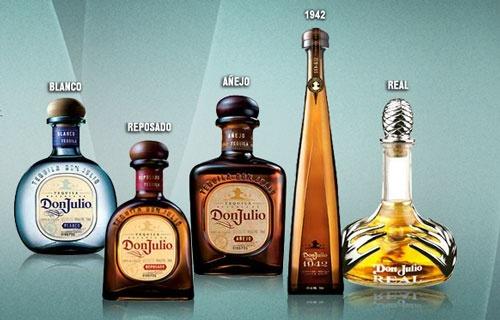 How does Don Julio Reposado Look, Taste, and Smell?
One of my favorite parts of tasting a spirit is the chance to smell it the first time that the cork is removed. With Don Julio Reposado I was not disappointed. It has a very light nose with a hint of oats and the typical "tequila" smell as well, but lacks any harshness sometimes found with other tequilas.
The color has a very light golden hue to it that almost resembles a chardonnay.
While I typically prefer spirits that have aged longer than a reposado, I can absolutely appreciate the premium nature of Don Julio Tequila. It has a medium body with just a hint of oak and a slight bitterness on the tongue after a sip.
I have not had a chance to try it mixed, but I am told by the company that it is delicious mixed with a Paloma (grapefruit soda).
Pomegranate Margarita Recipe
Ingredients:
1 1/2 ounces Tequila Don Julio Blanco
2 1/2 ounces pomegranate juice
2 teaspoons fine sugar
1/2 ounce lime juice
Sugar (to rim glass)
1 lime wedge
Preparation:
Combine Don Julio Blanco, pomegranate juice, fine sugar and lime juice in a cocktail shaker with ice. Shake well.
Rim margarita glass with sugar.
Strain ingredients into margarita glass.
Garnish with lime.
Ideal Serving Glass:
Margarita glass
Yield:
1 drink