Santa Maria is the last of the Central Coast wine regions for us to explore and after spending a few days here, I'm ready to head back ... and I want to bring some guys with me! Santa Maria is situated at the north west end of Santa Barbara County and roughly half way between Santa Ynez Valley and San Luis Obispo. On the surface, it lacks the glamour of Santa Barbara and the prestige of Paso Robles and that's why we'd passed over it so many times before, just simply driving past. However, this might just be one of the most exciting destinations when it comes to planning a guys weekend getaway anywhere on the Central Coast.

How To Get To Santa Maria
Santa Maria is best visited on a road trip though it also has a descent airport with regularly scheduled service on both United and Allegiant. If you are driving, Santa Maria is about five and a half hours from San Diego and a little less from San Francisco. The nice thing is that once you are outside the major cities, the drive is easy and beautiful. Highway 101 rivals the beauty of Pacific Coast Highway 1. While you won't have the ocean, you trade the water for rolling hills dotted with picturesque oak trees and depending on the season there are fantastic wildflowers or golden brown grasses.
Where To Stay In Santa Maria
We stayed at the Holiday Inn Santa Maria, a fantastic property where we were welcomed warmly and had a fantastic experience. Most of the rooms here have balconies and there's also a nice pool to relax in too. While the weather was fantastic in the spring during our visit, it can get very warm here so that would be a great way to cool off after a day exploring. Our room here was a suite on the ground floor and it would make the perfect home base for a guys weekend since there was a bar area with a full fridge as well as living room. Plus you could walk directly out to the pool from there as well.
Santa Maria is big enough that you can find most major chains and there are also many options at the budget end of the spectrum. For a romantic getaway though, we look forward to coming back for the Wine Stone Inn in Orcutt.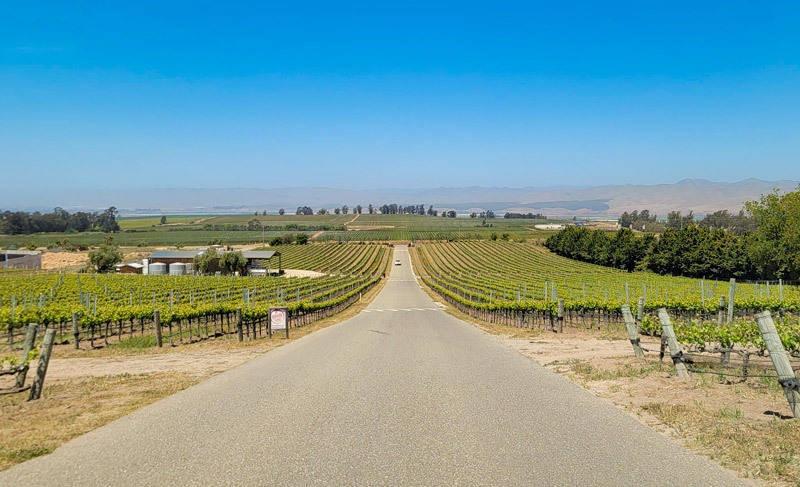 Santa Maria Wineries and Wine Tastings
Santa Maria has a wide variety of styles and offerings when it comes to wineries to visit. These range from very chic offerings that rival the luxury found in other more well known areas, such as Presqu'ile Winery as well as ones that are more relaxed and personal such as Rancho Sisquoc and Cottonwood Canyon. The nice thing though is there is quite simply something for everyone here. To fill in the gaps, we also encourage you to visit one of the local wine bars too. This might even be a good idea to schedule on your first night to help plan where you want to explore more.
At the top of our list here would be a visit to Wine Stone Inn. They have an excellent selection of local as well as regional (Central Coast) wines and we found our host to be extremely knowledgeable here. For instance, I had tried a few Santa Maria pinot noir wines before visiting here and quite frankly I wasn't in love. I was disappointed since that's one varietal that this area is known for. The shape of the valley allows fog to come in from the ocean and cool the grapes off in the evenings and so unlike other parts of Central and Southern California, pinot noir can grow very well in Santa Maria. However, I just hadn't tried ones that I liked. I mentioned this and our host immediately took the challenge to help me find ones that best represented the region. From here I discovered that my palette connected very well with Riverbench Winery and we added them to our itinerary the next day.
Here are some wineries that we recommend you check out on your Santa Maria wine getaway:
Rancho Sisquoc Winery - This ranch started in 1852 as part of a Mexican land grant and has been making wines for more than 40 years. The ranch is a 37,000 acre cattle ranch and farm that offers guests a warm family atmosphere that is perfect for beginners looking to simply explore what they like as well as more experienced oenophiles looking to try something new. One of the things I really enjoyed about Rancho Sisquoc is that alongside classics like Sauvignon Blanc, Syrah, Merlot etc. were varietals I was less familiar with such as Sylvaner, and those I seldom see in California such as Bebbiolo and Riesling.
Presqu'ile Winery - if you are looking for an experience that will wow you would it's beauty and fantastic food, this is it. Presqu'ile Winery is set on the top of a hill overlooking hundreds of acres of vineyards. In addition to excellent wines, the food here is what really stood out. They offer a variety of different experiences including the Mezze Picnic that includes six family-style small plates and a wine tasting that gives visitors an excellent overview of their offerings. While we were there, the Mezze Picnic was Indian themed and was simply astonishing with the colors and variety of tastes and smells.
Cottonwood Canyon Winery - While it was closed when we were there (because of COVID), one of the big draws for Cotton Wood Canyon Vineyard & Winery guests is their wine caves, the first built in Santa Barbara County. The cave is approximately 6,000 sq ft and we're sure it would provide a welcome respite from the hot weather during the summer since it maintains a constant 62 degrees. Wines here were excellent and were all very approachable and the tasting room person was an excellent host as well. They have some interesting vintages here including a Dessert Syrah that while not overpoweringly sweet, provides a completely different perspective on how you can enjoy the grape.
Riverbench Winery - While I enjoyed all of the wineries we visited, Riverbench Winery was our favorite from a few different perspectives. It was also the "winner" of our completely unscientific "Pinot Noir Tasting" at Winestone Inn. Among "distribution" wines, their 2017 Estate Pinot Noir was our favorite. However, these guys go deep with Pinot Noir and have many different varietals, each with their own personality. That was part of the fun here and I wish I could have tried more.
Of any winery that we visited, Riverbench I felt best represented why you would come visit Santa Maria, California. It has a quiet sophistication that doesn't demand that you have a WSET certification to enjoy. While they are producing wines that would rival any other premium area of California, there is also a sense that wine is meant to be enjoyed and everyone here seemed to embody that spirit. For instance, during our tasting here - where wines ranged in price from $44 / bottle to MUCH higher, a friendly banter of smack talk erupted between Padres and Dodgers fans to which the wine tasting host joined in by unbuttoning his shirt, revealing a Giants tee under his work shirt. Despite being rivals in baseball ... all of us had a good laugh, shared smiles and became friends.
There are tons more wineries that I'd love to explore on our next visit but that's one of the fun parts about visiting an area. You always gotta leave something to come back to. Visit Santa Maria has an excellent list of Foxen Canyon Wine Trail wineries that you should take a look at while planning your visit.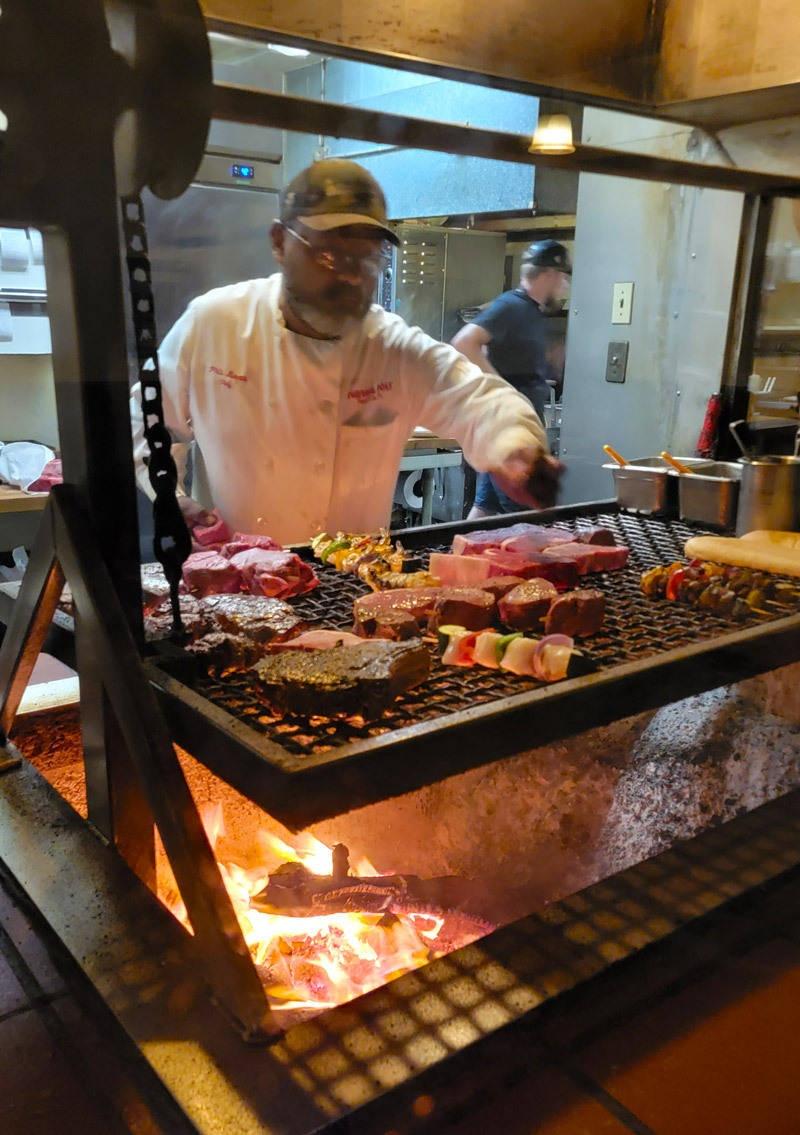 Santa Maria Style Barbecue and More
No visit to Santa Maria is complete without visiting at least one steakhouse or barbecue restaurant. While the king here in terms of big hunks of beef grilled over a Santa Maria style barbecue is Hitching Post, there are dozens of other options as well. One thing that barbecue purists from the south and south eastern United States will notice is that "Santa Maria Style" is actually closer to grilling than it would be the "Low and Slow" traditions that you might find in legendary spots like Texas, Alabama, Georgia, or the Carolinas. Santa Maria style barbecue evolved in the mid-19th century as the rancheros and vaqueros gathered around campfires and enjoyed cuts of beef cooked over a red-oak fire and served Spanish-style with Pinquito beans, bread, salsa, and other treats. Some would serve it on skewers cooked over the red hot coals.
Later, in the 1950s a different style began to evolve thanks to butcher Bob Schultz at the Santa Maria Safeway who began to popularize both the cut of Santa Maria Tri Tip as well as the grill featuring a moveable grate that could be raised and lowered over the fire. Today, these two items are iconic when you think of Santa Maria style barbecue.
Other Santa Maria Barbecue Restaurants To Visit:
Of course, if you aren't craving beef for every meal of your guys weekend getaway, don't worry. Here are some other food options:
Rocket Launches
Most men have at one time dreamed of being an astronaut but the closest most of us will ever get is watching a rocket launch. While our friends in Florida and Texas might think they are the only games in town, Vandenberg Air Force Base, now officially Vandenberg Space Force Base is one of the top places anywhere in the United States to watch rocket launches.
While these launches aren't exactly open to the public, you can observe the launches from miles away.
Dune Riding
Oceano Dunes SVRA is one of the best areas in California for riding sand dunes and on the beaches. While this is actually in San Luis Obispo County and not Santa Barbara County (where Santa Maria is), we think it would make an awesome part of your Santa Maria style guys wine weekend adventure. You can rent ATVs and side-by-sides as well as drive your own off-road capable vehicles here.
Auto Racing
Santa Maria also has a race track. Stadium 805 in Nipomo, which again is in San Luis Obispo County, but only a few minutes north of Santa Maria. On the dirt oval here, you'll see a variety of vehicles ranging from PorStocks and NMRA Midgets to Outlaw Karts and series that include World of Outlaws and NOS Energy Sprint Car Series.