Ok, so this is a different sort of article. Typically I go explore fun new places and report back to you guys about all the fun stuff I saw and did. This time though, I'm writing about how I wish I had more than just a few hours to explore a new town but can't wait to go back again soon. Kansas City has been on my radar for a few years now. Unfortunately, a visit just hasn't come together for me. This time however I had a chance to fly in for a quick meeting and then spent a few hours driving around before heading to the airport. What I found was a surprisingly diverse, sports-obsessed town, with world-famous BBQ, and a pretty great craft beer scene too.
Kansas City Sports Make For a Great Guys Getaway
When you think of great sports towns, cities like Chicago, Boston, and New York come to mind. However, the folks here in Kansas City are equally obsessed and since it's more centrally located and smaller than those other cities, that passion is amplified. This small metropolitan size and central location make it a great place for a guys weekend and apparently I'm not the only person to think so. On the day I flew in, half of my plane was Vikings fans wearing purple. Throughout the city virtually everywhere I looked, people were either wearing red or purple in anticipation of the Chiefs-Vikings game last weekend.
In addition to football, Kansas City also has the Royals and Kansas Speedway for NASCAR races.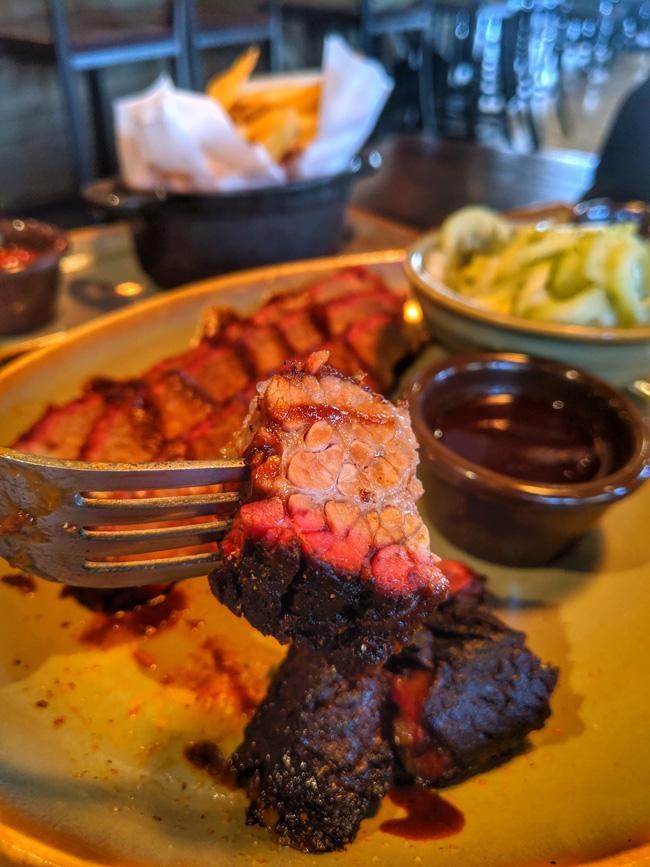 Kansas City BBQ!
I knew that Kansas City is famous for BBQ but I really didn't quite understand just big of a deal BBQ is here. While some cities like Chicago are known for pizza and San Diego is known for tacos, Kansas City is all about BBQ. It's not just that they have a lot of BBQ restaurants, nor is it that they have a great number of them that are really good. Instead, what I learned while waiting an hour in line was that most of the Kansas City BBQ restaurants evolved from successful competition BBQ teams. So in effect, these aren't just restaurants that start up - they are competitive teams with rivalries, rabid fans, and aggressive competition for the right to be called the best BBQ in Kansas City.
What I learned from my quick visits to two top restaurants is that while burnt ends and brisket seem to be the "big story", the sauce was just as important as the meat itself. Additionally, there is quite a diversity of other meats as well. Compare that to other BBQ cities that are known for one thing - Memphis ribs, Carolina Pork BBQ and you had better bring your appetite because you're in for a treat.
The two restaurants I visited were Q39 (photo above) - which seems to have the biggest buzz right now among locals and it is well deserved and Slaps BBQ which was also quite good. Others on my list for the future include: Gate's BBQ and a relatively new one with great buzz from a waitress I spoke with and it's located right next to the airport, Scotts Kitchen. Scott Kitchen was on my list to visit but frankly just couldn't eat any more BBQ before getting on the plane home. The simple truth is that there are dozens of great BBQ restaurants here and everyone has their favorites.
As my parents taught me ... always leave a reason to go back again!
Kansas City Breweries
It shouldn't be surprising that a town filled with amazing BBQ restaurants would also have a vibrant beer scene. I had a chance to try a couple of local beers and both were excellent, including Brew 39 from Martin City Brewing Company and designed specifically to pair with Q39's BBQ. Here's a more detailed list of craft breweries in Kansas City, sadly I wasn't able to visit any on this trip.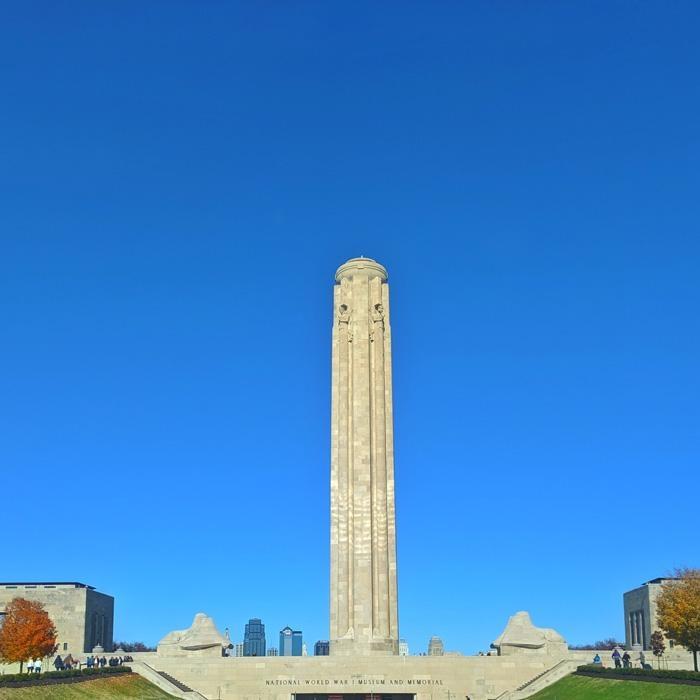 Kansas City History Museums and Attractions
Here's where things start to get interesting. While you could come in for a Royal's game, grab a beer and some burnt ends then head home ... there's so much more here to fill out an amazing guys weekend.
National Frontier Trails Museum - this is the only museum in the United States devoted to the three great western migration routes - Santa Fe, Oregon, and California Trails. The National Frontier Trails Museum is located in the eastern suburb of Independence, Mo and is a must-do for any guy that wants to learn more about the history of westward expansion.
The National World War I Museum and Memorial - There's two parts to this one, the Museum and the Tower. I just drove by because I was curious what this giant stone tower was all about, but sadly couldn't find a parking space to get any closer. The National World War I Museum and Memorial is the only museum in the United States that is solely dedicated to preserving the history of the First World War and holds objects and records to help visitors better understand both the causes and lasting impacts of "The Great War".
Negro Leagues Baseball Museum - Before baseball was integrated, there was a completely separate network of teams just for black athletes and this Negro Leagues Baseball Museum celebrates their accomplishments as well as preserves the history of those players.
American Jazz Museum - Beyond BBQ, Kansas City is also world-renowned for its vibrant Jazz community. So, it shouldn't be surprising that there's a museum to celebrate the history of Jazz as an American art form. The American Jazz Museum is located in the historic 18th & Vine Jazz District and features live museum space as well as exhibits featuring photographs, sheet music, and historic artifacts celebrating jazz legends including Charlie Parker and Ella Fitzgerald.
Airline History Museum - While some air museums are focused on fighter jets and military history, Kansas City's Airline History Museum focuses on telling the story of American airlines - especially that of TWA which once called Kansas City home. Exhibits here include unique items such as the TWA Moonliner that from 1955-1962 was the centerpiece of Disney's Tomorrowland and was actually 8 feet taller than Sleeping Beauty's Castle! Other aircraft here include a Boeing 727-223, a Lockheed L-1049 Constellation, a Lockheed L-1011 Tristar, Martin 404, and Northrop Delta 1D.
The National Collegiate Basketball Hall of Fame - While Kansas City doesn't have an NBA team, they do host the National Collegiate Basketball Hall of Fame including interactive exhibits where guests can slam dung, challenge others to a full-court press, or see how good they would be behind the ESPN-U desk on a live broadcast.
Federal Reserve Bank of Kansas City - The Money Museum - Who doesn't love money!? Guests are able to watch millions of dollars in currency be processed, lift a gold bar worth nearly $400,000, and other money-related experiences at The Money Museum.
Harry S. Truman Presidential Library and Museum - While the Truman Museum is currently closed for renovations, it is expected to be open again late next year with new exhibits and collections on display celebrating our 33rd President.
On top of all these awesome things to do, the cost are relatively inexpensive as well. Hotels that I found hovered around $100 per night and it's easy to get to with good airline connections on South West, Delta, and American Airlines. I honestly can't believe what I discovered in just a few hours of visiting this Kansas City. It made me wonder why I haven't visited here before as well as reach out to a bunch of my other blogger buddies so that we could plan an ultimate guys weekend trip here sometime soon!