There are many places that I am sure you dream of when it comes to planning your next guys weekend, but I bet Milwaukee isn't one of them. It should be though! This city located just north of Chicago has everything that you could possibly want for the ultimate guys weekend. That made it the perfect spot for four awesome bloggers to come together for an epic adventure sponsored by Kia and featuring the Optima, Sorento, and of course - the Kia Racing team.
It's interesting in fact that we brought these two together here at this moment in time since both Kia and Milwaukee are really world-class brands but they are often passed over by people looking for something bigger, flashier, and perceived as better. The tide's changing and tables are turning though! What I saw during the race was a Kia Optima not just competing against Mustangs, Camaros, Porsche 911s, 370z's and even Aston Martin Vantages, but a team that had podium finishes on both races of the Pirelli World Challenge races at Road America. While anyone can win a race here and there, the Kia GTS World Challenge team is currently sitting between Aston Martin and Porsche in 3rd place in the GTS class standings! That says a lot for a manufacturer that just a few years ago was "that Korean upstart".
Milwaukee too is a lot like that, but instead of an upstart is a city with a deep heritage that is experiencing a renaissance today fueled by a combination of craft beer, craft soda, and farm-to-table cuisine that is mixing with its strong industrial heritage including macro breweries like Miller and manufacturers like Harley Davidson. Add in the fact that you've got a casino, fantastic museums, a great airport, beaches, fishing, professional sports teams, and close proximity to the Milwaukee Mile and Road America and you've got one of the best guys weekend destinations in America.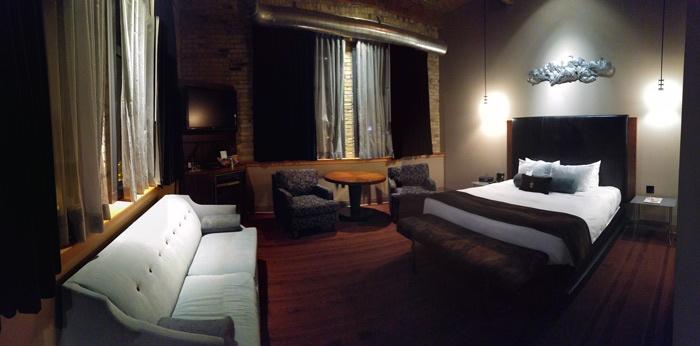 Our home base for the weekend was the INCREDIBLE Iron Horse Hotel, which I learned is part of a group of hotels with several other properties opening up across the country over the next year. While many boutique hotels are going for a feminine or at least gender neutral feel, this one matched Milwaukee and it's proximity to the Harley Davidson Museum perfectly. It is a recovered mattress factory that in fact is haunted on the six floor. Seriously, I am generally a sceptic but there were issues involving Rick's luggage and my own that are simply unexplained.
Our corner rooms featured tall ceilings with exposed brick and wooden beams but all the modern amenities you would expect including a rain head shower, double vanities, a full sized couch and excellent number of power ports to charge things.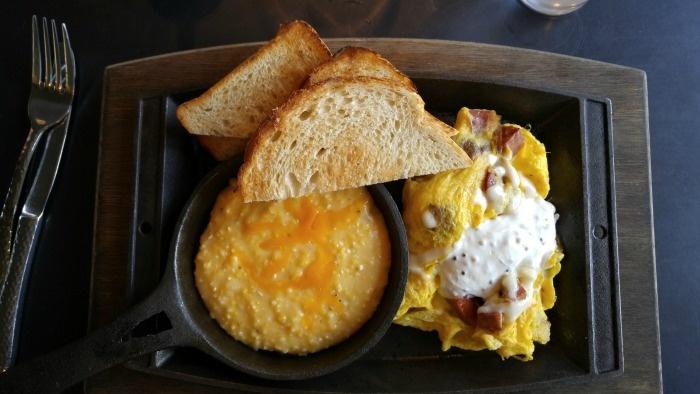 The hotel breakfast was excellent as well and every morning reminded us that we were in fact in Wisconsin. This was my favorite - consisting of cheese grits, and an egg scramble with sausage covered in a sausage gravy. Yup, no California avocados and arugula here - I'm just surprised that we had sourdough bread and not beer bread or cheddar sausage biscuits to keep the theme going.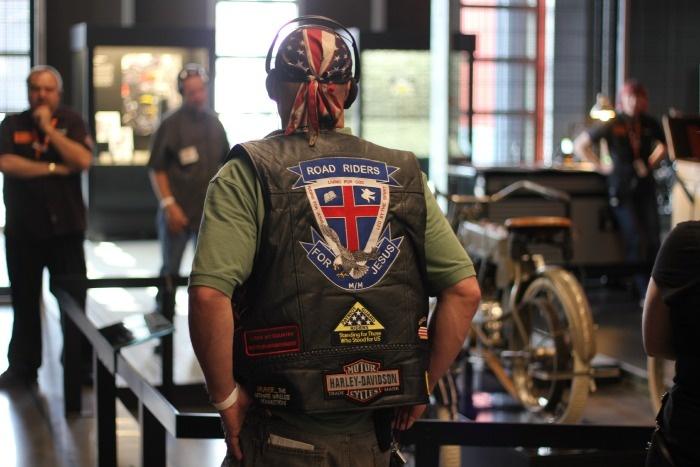 While the rest of the guys got to go to Summerfest the night before, my first stop was the Harley Davidson Museum. If you haven't been here before, you gotta check it out. While I am not a "biker" by any means, the story of American business, engineering, and innovation showcased here is worth the visit. Oh, and people watching is pretty good here as well!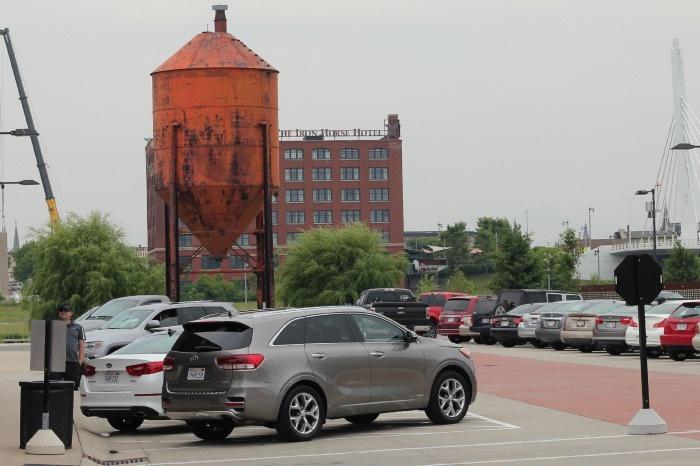 After our tour, it was time to head off and get some beer! Thanks Kia for arranging to have drivers for us - while I especially love driving the Sorento, it was great not to have to worry about drinking and driving on this trip.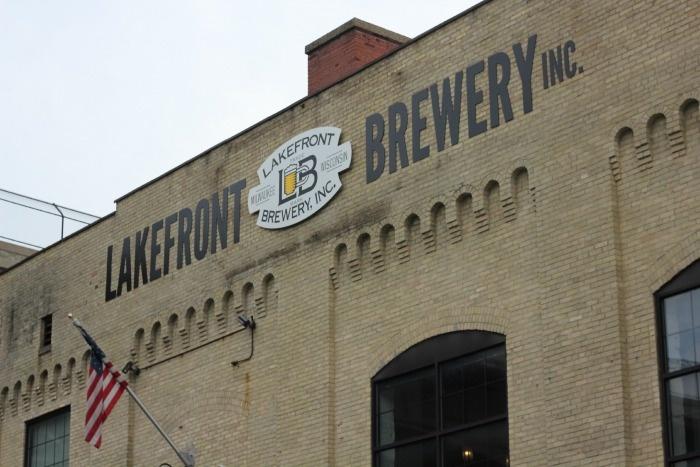 There is no shortage of breweries in Milwaukee and while undoubtedly Miller is the most popular, there is a rich tradition of craft brewing here that I was surprised to learn extends back far beyond the current trend. Lakefront Brewery (which btw is not even located on the lake!) was founded in 1987 and has grown to be one of the largest craft breweries in the Midwest. It is also the first brewery in Wisconsin to receive the Wisconsin Department of Tourism's "Travel Green Wisconsin" certification.
For those of you who think that it's the guys on the west coast that are leading craft beer and the green movement, think again - there's some great talent in the "fly over states" too!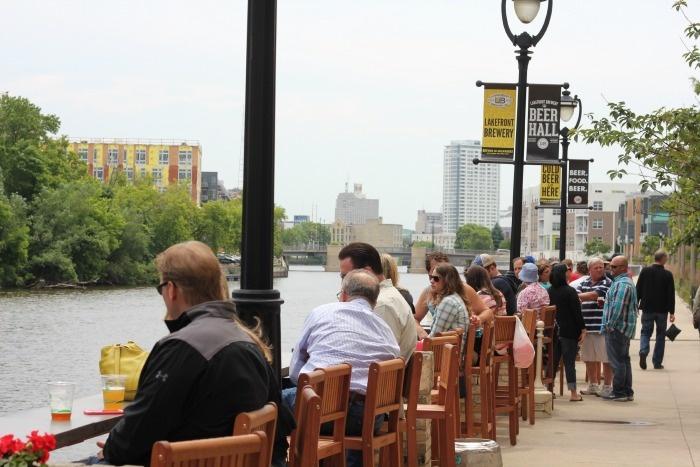 After our tour that was absolutely one of the most enjoyable brewery tours I've ever experienced it was time to enjoy a couple beers outside on their riverfront beer garden.
Alternatively, you can dine inside and sample their beers as well as local sausages, pretzels, and cheese. This tour was an incredible bargain since for only $8 it includes a souvenir pint glass, four 6 oz pours, and the tour that concludes with the group singing the theme from Laverne and Shirley next to the actual bottling line featured in the credits of the show.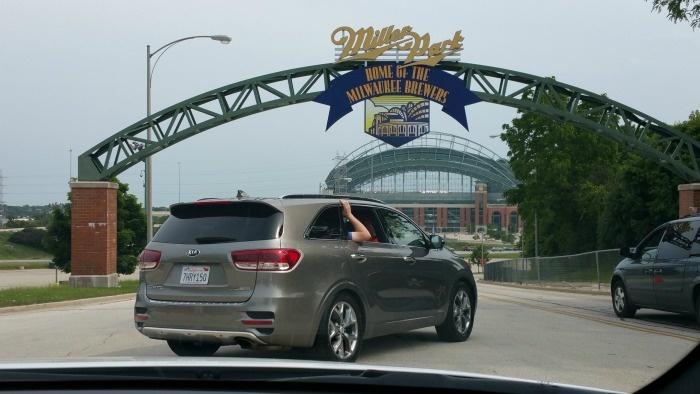 Next, it was time to head to Miller Park - regarded as one of the greatest tailgating spots in baseball. While we had a blast grilling brats, drinking craft beer from Wisconsin and telling rude jokes I think we must have gone on an off day since I KNOW that the cheeseheads in Green Bay (many of whom drive up from Milwaukee) put on a better show.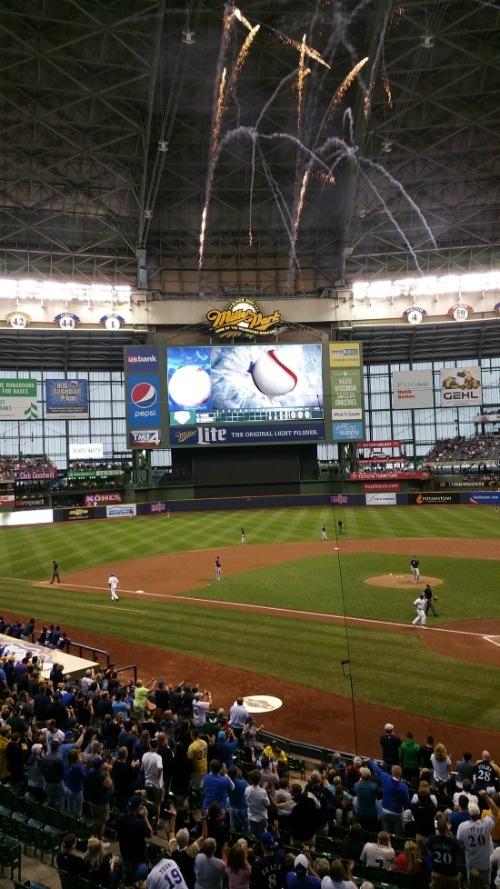 Inside the dome though was a different story. While just like with my Padres, no one goes to a Brewers game to see great baseball, they have made up for it with an incredibly entertaining experience from food to other forms of entertainment. That being said however, the Brewers somehow managed to kick some butt that night against the Twins and the "Home Run" fireworks were going off more frequently than on the fourth of july.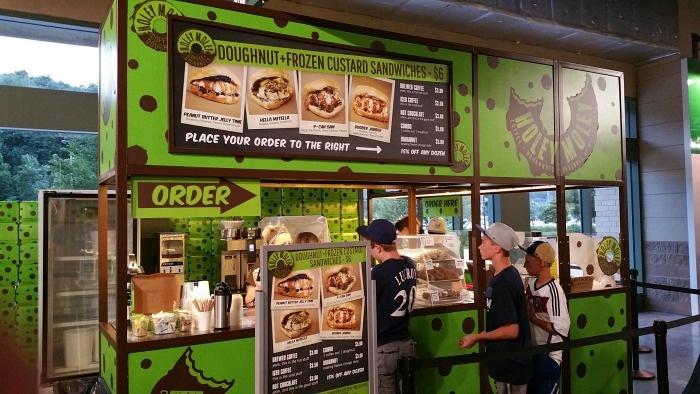 Among the culinary innovations found at the park were doughnut frozen custard sandwhiches, "bratchos" - corn chips topped with cheese and not one but two different sausages (chorizo and brat), and the ridiculous Wisconsin Ave sausage that was actually two sausages sharing one 18" bun and covered with shoestring fries, cheese curds, gravy, fried sauerkraut, fried jalapenos, cheese sauce, sour cream and chives.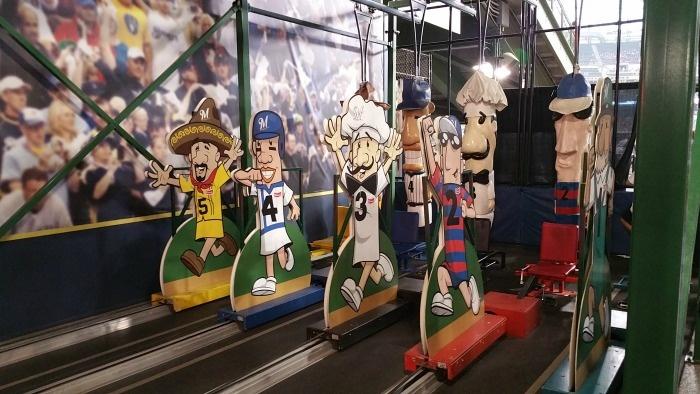 While they didn't let us play on it, the Brewers have an INCREDIBLE family section full of awesome activities for kids to help burn off some of those calories. From a sausage race where the kids pedal against their friends for their favorite sausage to win, or a running the bases experience, there are great ways to have fun even if the game isn't great.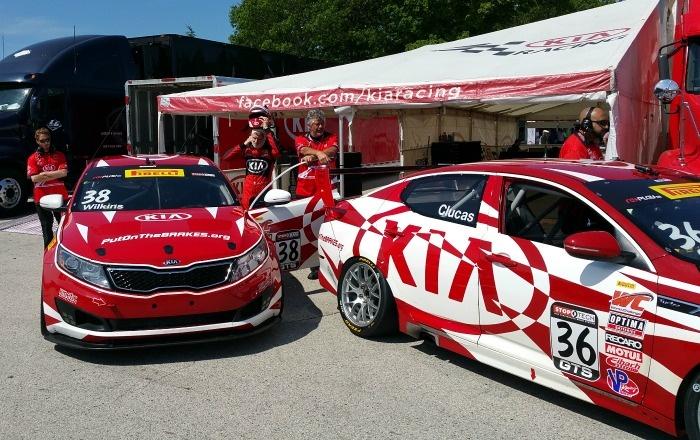 The next morning, it was time to head north about an hour drive to Road America - "America's National Park of Speed". Along with the Milwaukee Mile, Wisconsin has some great race tracks that are a quick drive from Milwaukee as well as Maddison (another great guys weekend destination in the state).
You'll notice immediately that Kia's cars are "clean" and while there are some badges on the sides the car is dominated by just two brands - Kia and Put on The BRAKES on the #38 car and Donors Choose on the #36 car. These are two organizations that Kia sponsors and I'll be sharing more about them in a bit, but it's great to see a brand take corporate responsibility seriously, rather than loading the car up with sponsors to help sell product.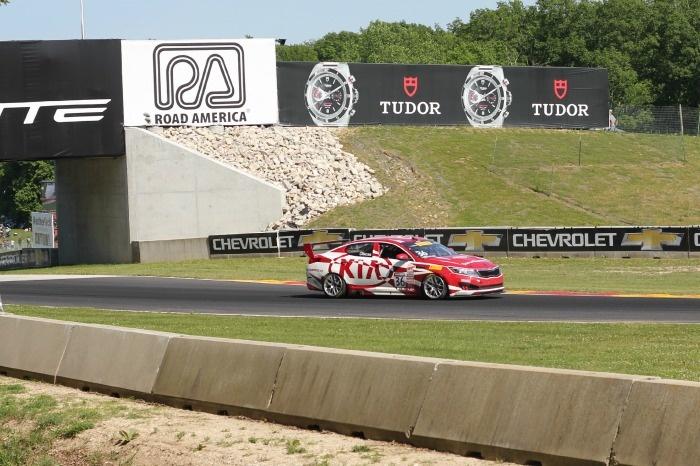 Road America has hosted races since the 1950s and is considered to be one of the best road courses in the country. It sits on 640 acres of moraine left over from the glaciers, giving it rolling hills and plenty of turns.
While Road America has played host to almost every type of racing there is - including Nascar - we were there for a format that I was not familiar with prior to this trip. Pirelli World Challenge features classes ranging from GT - with engines ranging from 500-600hp (Bentley, Lamborghini, Ferrari, Maserati) to Touring Car B-Spec where the target engine is about 125 hp (Fiat 500, Ford Fiesta, and Kia Rio). Kia Optima races in the GTS Category alongside Mustang and Camaro. The weekend features 14-20 different races, each lasting approximately 50 minutes with no scheduled pit stops. It's a race to the finish and that's refreshing for any NASCAR or Indycar fan who gets bored in the middle 100 or so laps.
Unlike corporate tracks, Road America had a pretty good diversity of food as well with all the local civic organizations having their own stand and selling different stuff. Depending on how hardcore of a race fan you are, one of the exciting things I discovered here is that unlike at an oval course where everyone packs into the infield, there are tons of smaller spots where you can camp out and stay the whole weekend without being mobbed by thousands of other fans packed next to each other.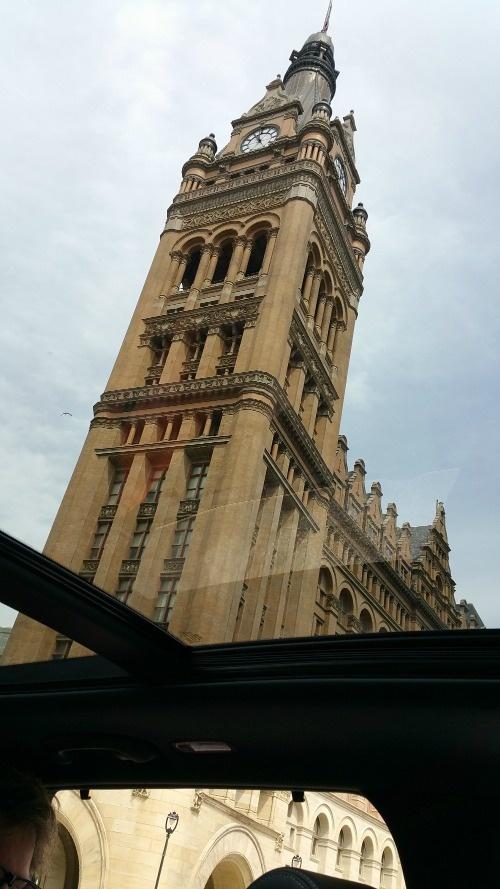 On our last day in Milwaukee, it was time to, well ... actually see Milwaukee!
Simply put, it's a great city with incredible history and architecture that we enjoyed viewing through both the front windows of the Kia Sorento as well as through the panoramic sunroof.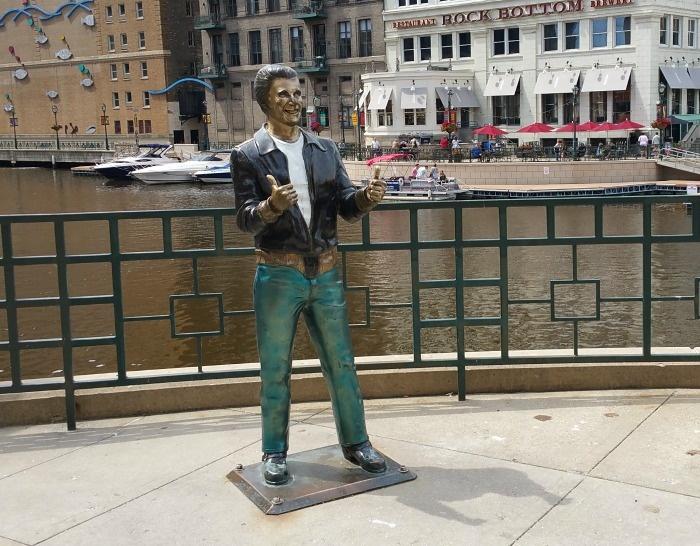 No guys weekend in Milwaukee though is complete without a visit to the Bronze Fonz. Along with Laverne and Shirley, and That '70s Show, Milwaukee is also the home of Happy Days.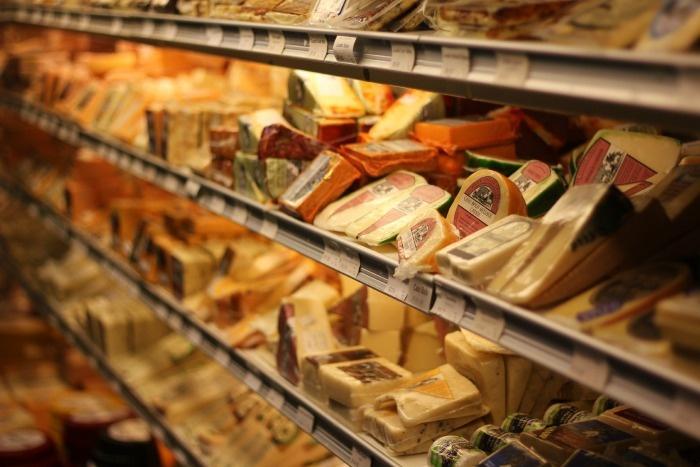 After hanging out with the Fonz for a bit, we headed over to do some shopping at the Wisconsin Cheese Mart to bring back gifts for our wives. This place is incredible. There is more cheese, craft beer, and craft soda here than you could possibly imagine and the staff are awesome as well with helping us pick stuff that would survive the trip back home without worrying about refrigeration.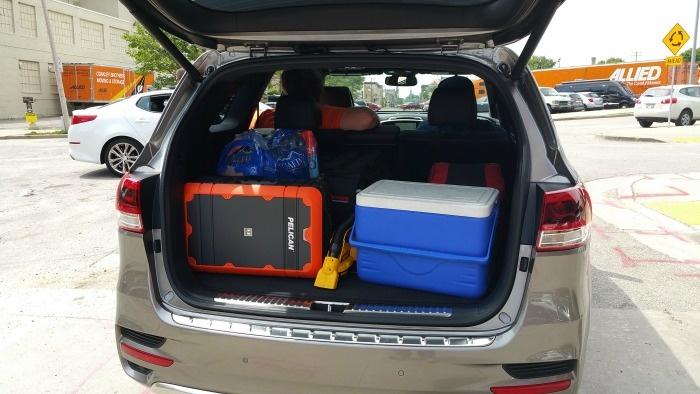 Sadly after that it was time to pack up the Sorento and head to the airport ...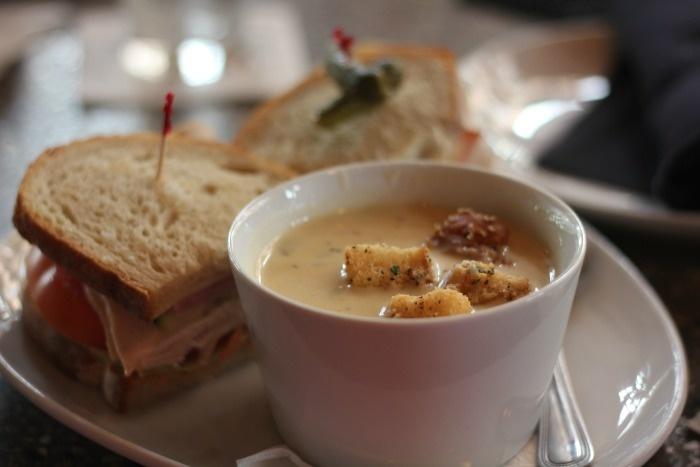 But not before one last mean of cheese and beer ... a sandwich and beer cheese soup!
This was an incredible adventure. While we didn't even touch half of the things that Milwaukee has to offer, I guarantee that you will have an incredible time when you visit.