There are many options for sunny holiday breaks in Europe but there are few places you can go that still have the local and seemingly undeveloped feel of Lanzarote in the Canary Island. What was once considered a booming surf and sun vacation spot 80km off the coast of western Africa has staved off many developers thanks to a famous local artist named César Manrique. The island currently holds UNESCO preservation status, which has the fortunate consequence of maintaining an island full of stunning landscapes.

A Quick Overview Of The Canary Islands
The Canary islands - also informally known as the Canaries are a Spanish autonomous community and archipelago located about 100 kilometers off the Moroccan coast and then extending west from there. It consists of seven primary islands: Tenerife Fuertenventura, Gran Canaria, Lanzarote, La Palma, La Gomero, and El Hierro, as well as many smaller islands.
The island community has a population of just over 2 million but due to it's popularity as a major destination for tourists from Europe as well as the America's, hosts as many as 12 million guests due to it's beaches, subtropical climate, cultural attractions, and wonderful hospitality.
That's why we're featuring it here as one of our top destinations for a lads holiday for guys looking to blow off some steam while enjoying a stiff drink and exploring the sites.
Getting To Lanzarote And The Canary Islands
Lanzarote is surprisingly easily accessible and has direct flights from most European cities including London, Manchester, Amsterdam, Rome, Paris, And Munich. There are also flights between here and the other Canary Islands. The airport here is found in the capital of Arrecife on the south side of the island and is only about a 10 minute drive from the prime resort area of Puerto del Carmen.
Once you're on the island, you have several options for getting around. The most flexible way to get around is to rent / hire a car. The new roads and good quality highways make driving an easy option, and parking is freely available on many streets as long as you respect the lines and signals.
Taxis are also available, and many taxi companies offer a guided bus tour around of the island, which can be a great way to see the sights and experience the local culture​​.
For a more leisurely and scenic approach, consider taking a water taxi. Puerto del Carmen offers an express water taxi service to and from Puerto Calero. Not only do you get a lovely boat ride and stunning views of the island's coast, but you'll also find Puerto Calero a great place to relax, browse the designer shops, and enjoy a leisurely lunch. The water taxi departs regularly throughout the day and costs around 5€​​. Additionally, there is a water taxi from Playa Blanca to playa de Papagayo, another way to enjoy this protected area of Lanzarote​​.
Remember, wherever you choose to go and however you choose to get there, the important thing is to enjoy your holiday and the unique experiences that Lanzarote has to offer!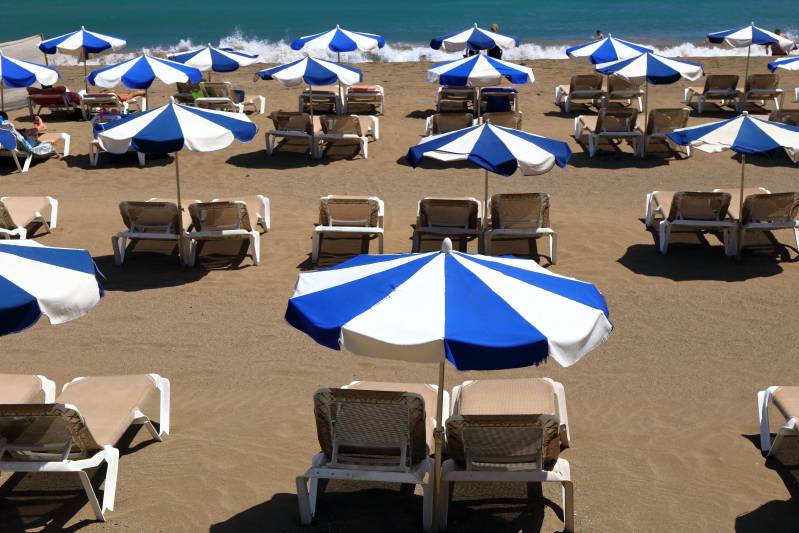 Puerto del Carmen For Lanzarote's Best Beaches And Nightlife
Chances are that you have already selected a resort or hotel in Puerto del Carmen and that is no surprise since it is home to some of the most beautiful beaches on the island. Playa Grande, for example, is the largest beach in Puerto del Carmen and is a great place for lads who want to play beach sports, sunbathe, swim, or just relax and watch the world go by. With soft golden sand and clear waters, it's the perfect spot for a beach day.
"Playa de Chica, on the other hand, is a smaller beach but it's known for its diving and snorkeling scene. Here, you can explore the rich underwater life, making it an exciting spot for those seeking an adventure.
When it comes to nightlife, Puerto del Carmen is considered the main hub of Lanzarote. The Avenida de las Playas, the main strip of the town, comes alive at night with numerous bars, clubs, and restaurants. It's known for its lively atmosphere and is a great place for lads to have a night out. There are also a variety of bars that offer live music and sports screenings.
As for beach clubs, there are several in Puerto del Carmen where you can enjoy a cocktail while lounging by the pool or the sea. These clubs often have DJs or live music, creating a vibrant atmosphere perfect for a lads holiday.
Beyond the beaches and nightlife, Puerto del Carmen also offers a range of activities that are sure to keep you entertained. You can try water sports such as jet-skiing or parasailing, go on a boat tour, or take a trip to the nearby Timanfaya National Park to witness its stunning volcanic landscape.
For those interested in the local culture, you can visit the Old Town Harbour, which is filled with charming restaurants and offers a stunning view of the sea, especially during sunset.
What Men Will Love About A Lanzarote Lads Holiday
While the southern resort towns of Playa Blanca, Papagayo beach, Puerto Calero, and Puerto del carmen may be the big draw for your lads holiday adventure plans, there are destinations all over the island that you and your brothers will want to make sure not to miss.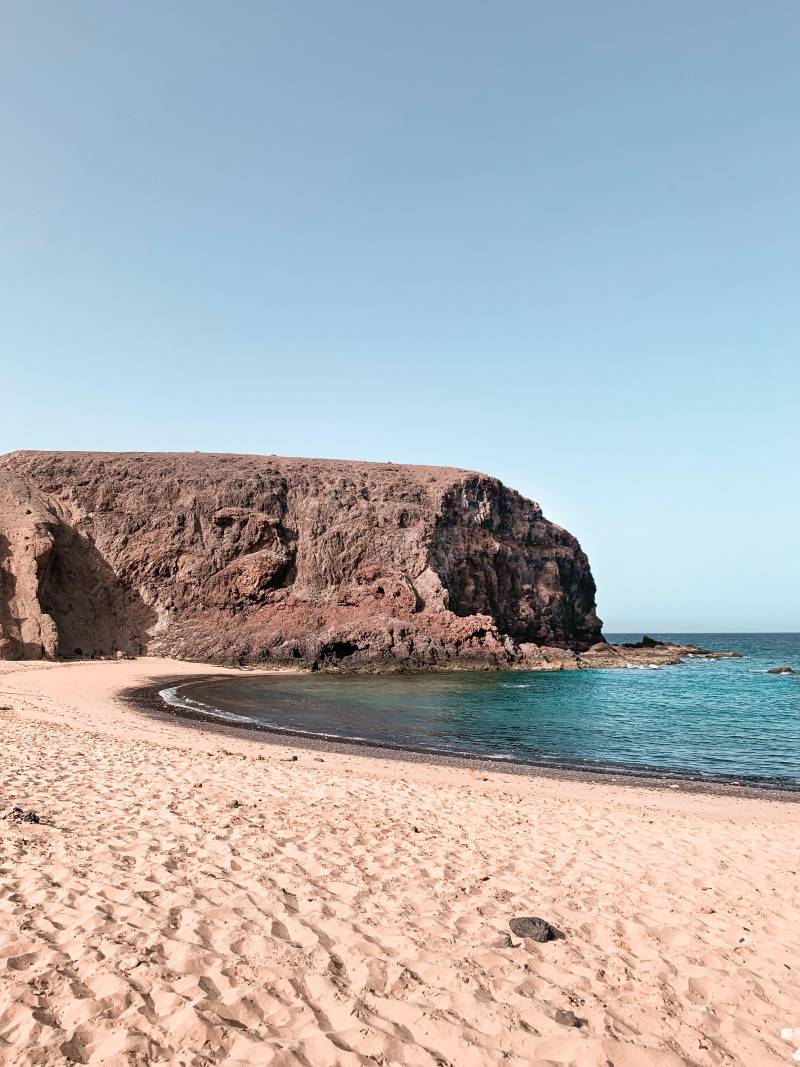 Explore The Many Beaches
Without a doubt, the beautiful beaches are what draws vacationers to spend their holiday in Lanzarote. However, one thing that many new visitors don't quite appreciate is that not all of the the beaches are the same. Some will feature the legendary white sand, while others will be covered in black volcanic sand instead.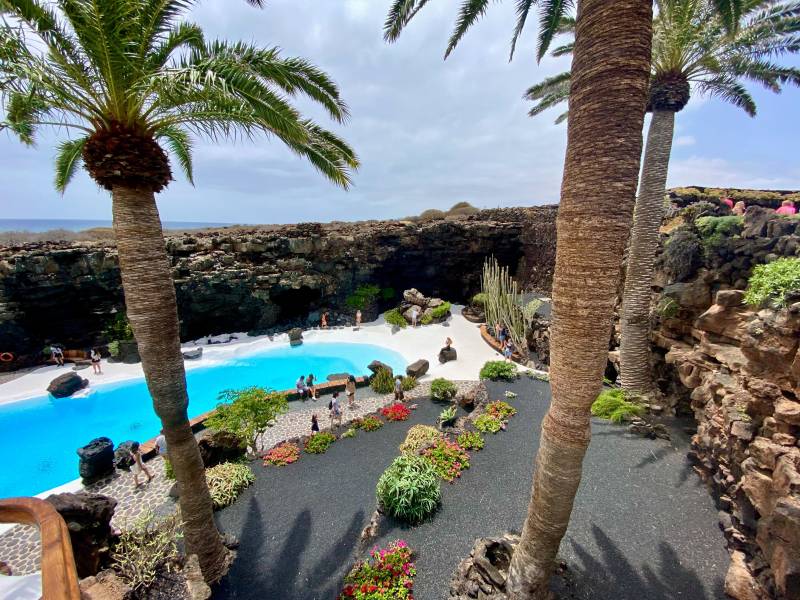 Our Picks For The Most Beautiful Beaches On Lanzarote
Playa de Papagayo: Playa de Papagayo is arguably one of the most stunning beaches on Lanzarote. Part of a protected area, it boasts crystal clear waters and fine, white sand. It's located in the southern part of the island, near Playa Blanca, and is surrounded by cliffs, adding to its secluded and picturesque charm. This beach is perfect for swimming, snorkeling, or just relaxing under the sun.
Playa Dorada: Playa Dorada, which translates to "Golden Beach," is located in Playa Blanca. It's named for its golden-white sand that sparkles under the sun. This beach is popular due to its calm, clear waters which make it ideal for swimming and other water activities. There are also a number of facilities nearby, including shops, restaurants, and bars.
Playa de las Cucharas: Situated in Costa Teguise, Playa de las Cucharas is known for its beautiful white sands and turquoise waters. It's a popular spot for wind and water sports, particularly windsurfing. The beach is lined with a promenade that hosts a variety of bars and restaurants, allowing visitors to enjoy a meal or drink with a spectacular view of the sea.
Each of these white sand beaches offer their own unique charm, whether it's the secluded and natural beauty of Playa de Papagayo, the sparkling sands of Playa Dorada, or the vibrant atmosphere of Playa de las Cucharas. All of them provide a perfect setting for a relaxing and enjoyable day on Lanzarote.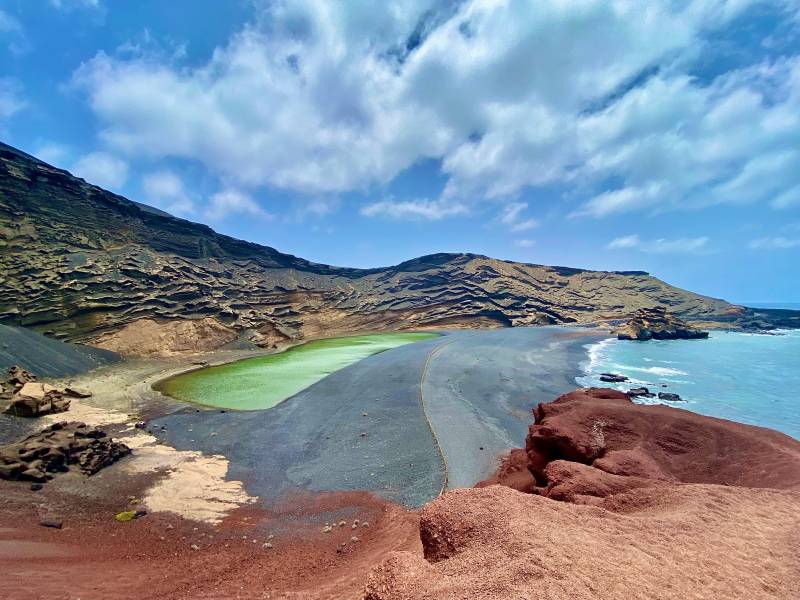 Black Volcanic Sand Beaches On Lanzarote
Lanzarote, despite being known for its golden and white sand beaches, also hosts a number of unique black sand beaches due to its volcanic origin. These black sand beaches are a stunning contrast to the usual beach landscape and offer a unique experience for visitors.
Playa Quemada: Located near the village of the same name, Playa Quemada is a tranquil, black sand beach. Its name, which translates to "Burnt Beach," reflects the dark, volcanic sand found here. This beach is less crowded compared to others, making it a peaceful place for relaxation.
Janubio Beach: Situated on the west coast of the island, close to the village of Yaiza, Janubio Beach is well-known for its black sand. It's located near the Salinas de Janubio, the largest salt pans in the Canary Islands. However, due to strong currents and waves, it's not recommended for swimming, but it's a great place to enjoy the unique scenery.
El Golfo: Near the village of El Golfo, you'll find a green lagoon known as "Charco de los Clicos" or "Lago Verde." Right next to this lagoon, there's a small black sand beach. The contrast of the green lagoon, black beach, and blue sea creates a striking and unique landscape.
It's important to note that due to the strong currents and waves present at some of these beaches, they may not be suitable for swimming, but they're perfect for those looking to experience the unique natural beauty of Lanzarote.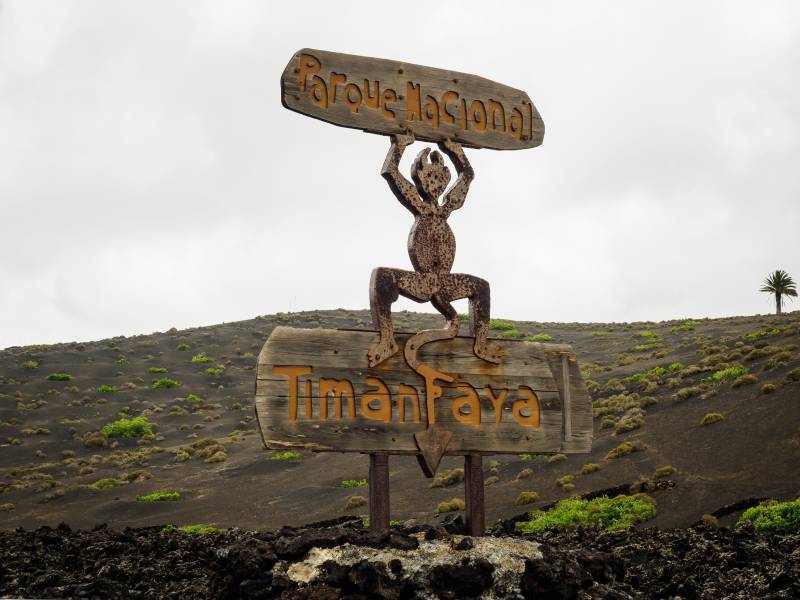 Visit Timanfaya National Park
Nearly three hundred years ago the island of Lanzarote was covered by fizzing volcanic ash and a lava flow, and much of these deposits now make up the legendary Parque Nacional de Timanfaya. Located on the north coast, this park has many different areas to explore, including the Los Volcanes Natural Park (which is where many of the park's volcanic features can be found). You can choose the option to take a guided tour through hardened lava flows, or for the more adventurous you can make for La Caldera Blanca in Mancha Blanca and climb the now dormant volcano to explore its crater and take in stunning panoramic views.
Volcanic Landscapes To Explore
This is Lanzarote´s undisputed heavyweight attraction. The landscape is simply jaw-dropping at Timanfaya National Park, scene of one of the modern world´s longest ever volcanic eruptions. Which raged for six, arduous years during the 1730´s and which submerged about one-quarter of the island beneath a carpet of thick lava, punctuated with the spent peaks of burnt-out volcanoes.
This Land Was Even Used To Replicate The Experience Of Navigating Lunar Terrain
In geological terms a few hundred years is little more than a blink of the eye – so Lanzarote now boasts the most pristine volcanic scenery on the planet. With surreal, volcanic landscapes that are often likened to the surface of the Moon or indeed how our own planet must have looked when first formed millions of years ago. NASA astronauts were exposed to this environment prior to making their very own moon landing on the Apollo 13 mission.
Explore Movie Locations
These dramatic backdrops have also been sought out by filmmakers from around the world. With the Fire Mountains, (as they are known locally) starring in numerous Sci Fi classics, such as One Million Years BC – along with more recent big-screen features such as Pedro Almodóvar's Broken Embraces, starring the delectable Penelope Cruz. You and the lads can enjoy your very own Lawrence of Arabia moment and take a camel ride around the outskirts of the National Park. And for laughs you might want to advise one lucky member of your group to 'musk-up' – as he will then become the target for the amorous advances of the camels, who find perfumes and aftershaves a natural aphrodisiac.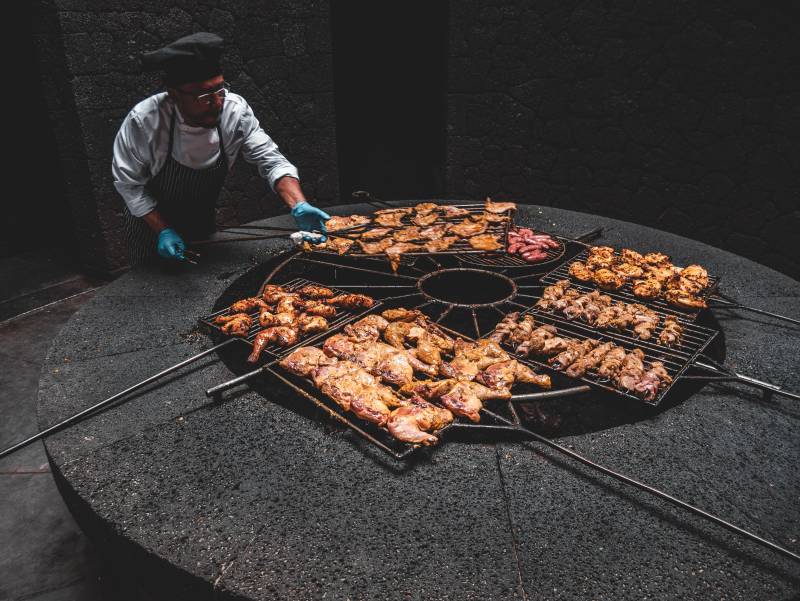 Enjoy Local Eateries and Bars On Lanzarote
there's a great food and drink scene in Lanzarote that'll make your lads' holiday a gastronomic delight. Here are some places and unique local dishes you should try:
El Chupadero: Located in the La Geria wine region, this bar offers stunning views of the vineyards and mountains. It's a fantastic place to sample local wines, particularly the volcanic Malvasia, along with tapas.
Bodega de Santiago: A high-end restaurant located in Yaiza, offering a sophisticated dining experience with a blend of traditional and contemporary Canarian cuisine.
La Taberna de Nino: Located in San Bartolomé, it's renowned for its seafood and traditional Canarian dishes. A laid-back place to enjoy some hearty food with your mates.
Cantina Teguise: Set in the historic town of Teguise, this bar is perfect for beer lovers as it has a wide selection of craft beers. The food is great too, with tapas made from local ingredients.
Restaurante El Risco: Located in Famara, a popular spot for surfers, it's the perfect place to sample fresh seafood, especially their famous paella.
In terms of local delicacies, that men will love to sample on their Lanzarote lads holiday, here are a few that you absolutely shouldn't miss.
Papas arrugadas: These are small potatoes boiled in salt water and served with a spicy red sauce (mojo rojo) or a green coriander sauce (mojo verde). It's a classic Canarian dish.
Gofio: This is a type of flour made from toasted grains (usually wheat or maize) that's used in many dishes, from soups to desserts. It's a staple of the Canarian diet and has a unique, nutty flavor.
Sancocho Canario: A traditional Canarian fish stew, usually served with sweet potatoes and gofio.
Bienmesabe: A sweet almond cream dessert that's a real treat for those with a sweet tooth.
Cheeses: The Canary Islands are renowned for their cheeses, so don't miss out on trying some local varieties.
Remember, Lanzarote is a wine-growing region and you'll find that many restaurants - such as Castillo de San José - on Lanzarote will carry a good selection of local favorites. So, make sure to try the local wines, particularly those made from the Malvasia grape, which is grown in the volcanic soil of the island. Enjoy your food adventure!
A Celebration Of Spanish Wine On Lanzarote
Lanzarote boasts a rich tradition of winemaking that dates back centuries and while 60% of the Lanzarote Designation of Origin wines are Malvasia Volcanica white wine - you can find red, white, rose, and even sparkling wine being produced here. The island's unique volcanic soil and microclimate provide ideal conditions for the cultivation of several grape varieties, including Malvasia, Listan Negro, and Moscatel. Lanzarote wines are renowned for their distinct mineral flavors, a direct result of the volcanic terroir.
Winery Tours: Lanzarote's wine region, La Geria, is a must-visit for wine enthusiasts. The landscape here is unlike any other wine region, with vines growing in individual craters dug into the volcanic ash. Many wineries offer tours and tastings where you can learn about the island's unique viticulture methods and sample the wines. Some notable wineries include Bodegas Rubicón, Bodega La Geria, and El Grifo, the oldest winery in the Canary Islands.
Wine Tastings: Many local restaurants and bars in Lanzarote offer wine tasting sessions featuring local wines. This is a great way to sample a variety of Lanzarote's wines while learning about their unique characteristics.
Wine Festivals: If your visit coincides with one of Lanzarote's wine festivals, it's an experience not to miss. The Fiesta de la Vendimia in September celebrates the grape harvest with wine tastings, music, and traditional Canarian food.
Wine and Food Pairing Dinners: Several establishments on the island offer special dinners where dishes are paired with local wines. This is a fantastic way to enjoy the island's gastronomy while discovering how different wines complement the flavors of the food.
While we recognize that shots and beers might be more in line with your lads holiday libations menu, wine tourism in Lanzarote offers a blend of unique experiences that men will enjoy. From exploring the otherworldly vineyards of La Geria to sampling the island's excellent wines, and celebrating stories about the island's heritage of fine winemaking. It's an activity that will surely appeal to any group of men seeking to add a touch of sophistication and enjoyment to their Lanzarote getaway.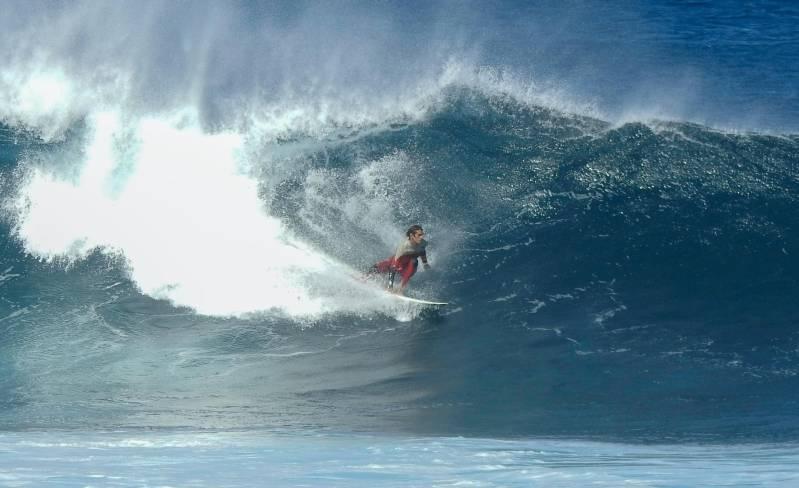 Surfing, Windsurfing, and Kiteboarding
Whether you're skilled and experienced or a beginner, there are plenty of options for both traditional surfers and windsurfers to catch some waves in Lanzarote. The main beach is Famara on the northwest coast of the island, which features a curving bay and spectacular pink cliffs. If you're looking to take a class or rent a board there are plenty of schools and surf shops conveniently located in town.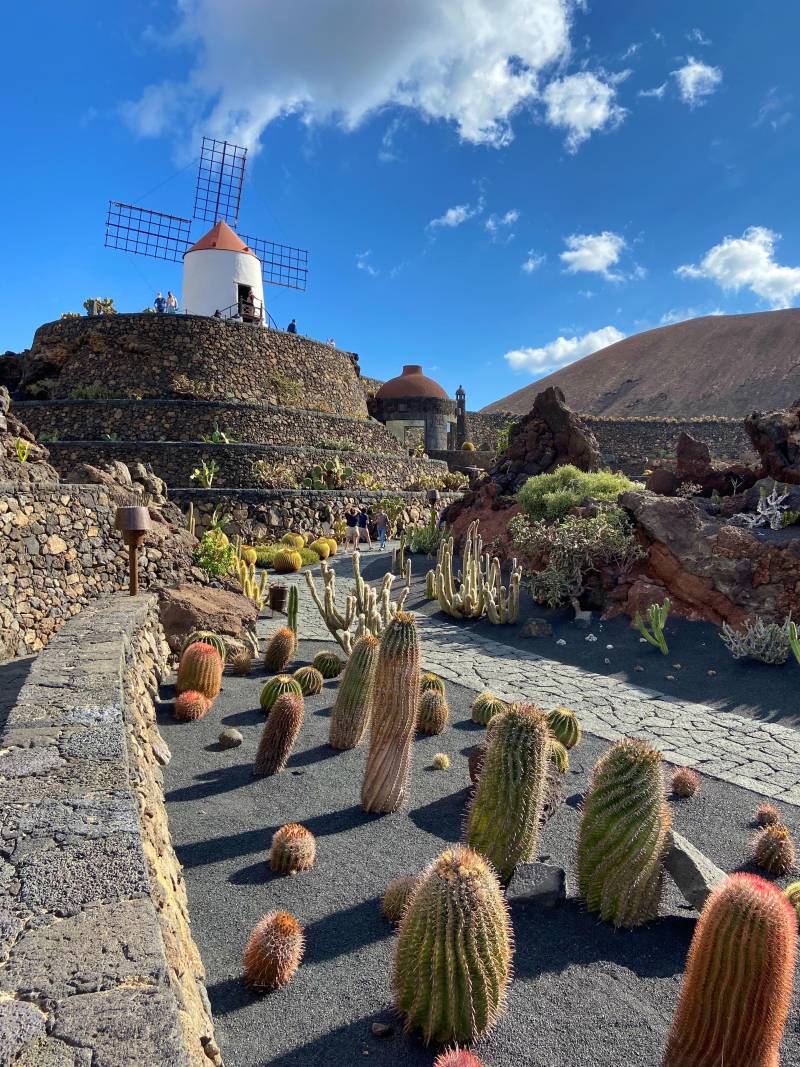 Mirador del Rio and Other César Manrique Art Locations
César Manrique (1919-1992) was a Spanish artist, architect, and environmentalist born in Arrecife, the capital of the island of Lanzarote in the Canary Islands.
Manrique was one of the most influential figures in Lanzarote's history and culture. After studying art and architecture in Madrid and living in New York for a few years, he returned to visit Lanzarote often in the late 1960s. He was deeply concerned about the impact of tourism on the island's environment and culture, and he used his influence to promote a form of sustainable development that respected and celebrated Lanzarote's unique landscape.
Manrique's work is characterized by a harmonious blend of art and nature. He believed that architecture should be integrated into the natural environment rather than imposed upon it, and many of his projects involve the creative reuse of natural features such as volcanic lava tubes and caves.
Here are some key places in Lanzarote where you can admire the art and architecture of César Manrique:
César Manrique Foundation (Fundación César Manrique): This was Manrique's actual home, which he designed himself. It's a unique fusion of traditional Canarian architecture and contemporary design. The house is built into a series of five volcanic bubbles and includes a fabulous collection of Manrique's artwork as well as pieces by Picasso and other famous artists.
César Manrique House Museum (Casa Museo César Manrique): Located in the village of Haría, this was Manrique's last residence. The house is now a museum and offers a personal look into the artist's private life.
Mirador del Río: This is a viewpoint situated on the cliffs of the Risco de Famara, at an altitude of over 400 meters. It provides a breathtaking panoramic view of the island of La Graciosa. The Mirador was designed by Manrique and is integrated into the landscape in a way that it's almost invisible from the outside.
Jameos del Agua: This is a stunning cave complex that Manrique transformed into a unique cultural attraction. It includes a concert hall, a restaurant, a swimming pool, and a small lake that's home to a unique species of blind albino crabs.
Cactus Garden (Jardín de Cactus): Located in Guatiza, this garden was one of Manrique's final works. It features over 1,000 species of cacti from all over the world, all artfully arranged in a terraced amphitheater.
Taro de Tahiche: Another architectural marvel by Manrique. He transformed five natural volcanic bubbles into rooms of a house, blending art and nature in perfect harmony.
Remember, these are just a few of the spots where you can see César Manrique's work. His influence is felt all across Lanzarote, in the buildings, sculptures, and murals that dot the island. As you travel around, keep an eye out for his distinctive style and the way he harmoniously combined art and nature.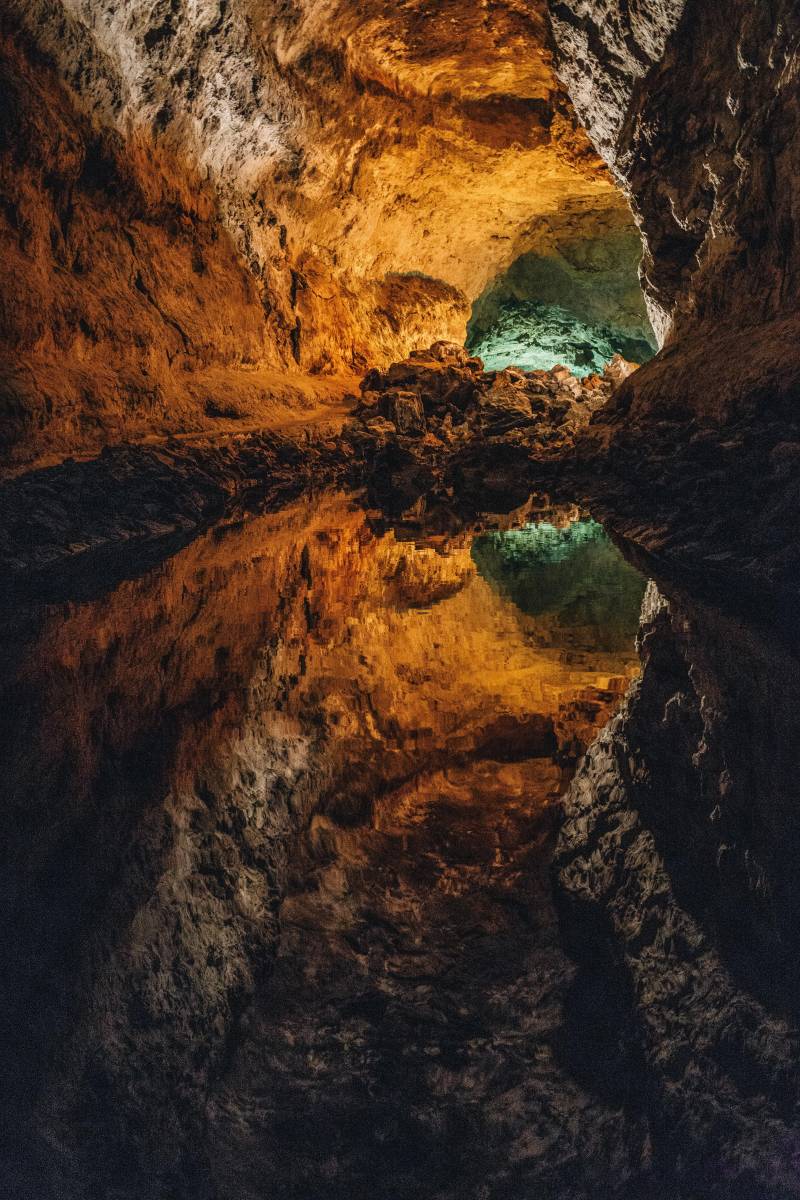 Cueva De Los Verdes - Cave Of The Greens
Lava tubes are some of the most interesting underground geology to explore and these lava caves found on the North Eastern tip of the island are some of the longest in the world. Cueva de los Verdes literally translates to Cave of the Greens and extends more than six kilometers across sixteen different Jameos (tunnels), some of which extend underwater and out into the sea.
Many visitors initially wonder why this geological wonder received this name since the rocks aren't green, nor is there lush green vegetation that grows here. The simple answer is that the land where the cave is located was once owned by the Greens family.
Exploring caves is a fun activity for any guys trip, including obviously a lads holiday, but when you add in the fact that these tunnels at Cueva de los Verdes were used to hide from Berber pirates would would occasionally attack the local population here, well ... that just makes it that much more awesome.