The 2020 Lexus LC 500 first attracted my attention at the 2020 Chicago Auto Show for it's absolutely stunning "Flare Yellow" color and it's beautiful lines. I didn't know much more about the vehicle other than that, but I knew I wanted to experience it in person as soon as possible. Thankfully, the folks at Lexus had one available. This isn't exactly a road trip kind of car, though I was quite impressed by the size of the trunk and the level of comfort in the cockpit ... even for a big guy like me. So, our plan was to do a day trip exploring San Diego beach towns.
While Lexus is part of Toyota, it clearly has a personality and design language that is entirely its own. While some vehicles in the fleet share a common lineage with those from its parent. Others such as the 2020 Lexus LC 500 are in a class of their own. It's challenging to put this one into a category since it shares the power and visceral driving experience of a muscle car ... but somehow manages to do it while retaining the refinement and comfort of a true luxury car. Combined, this makes for an extremely unique experience that I can't wait to spend more time with later this fall when they release the 2021 model that will include a convertible option. When this comes out, this may be the absolute perfect car for cruising through coastal California beach towns!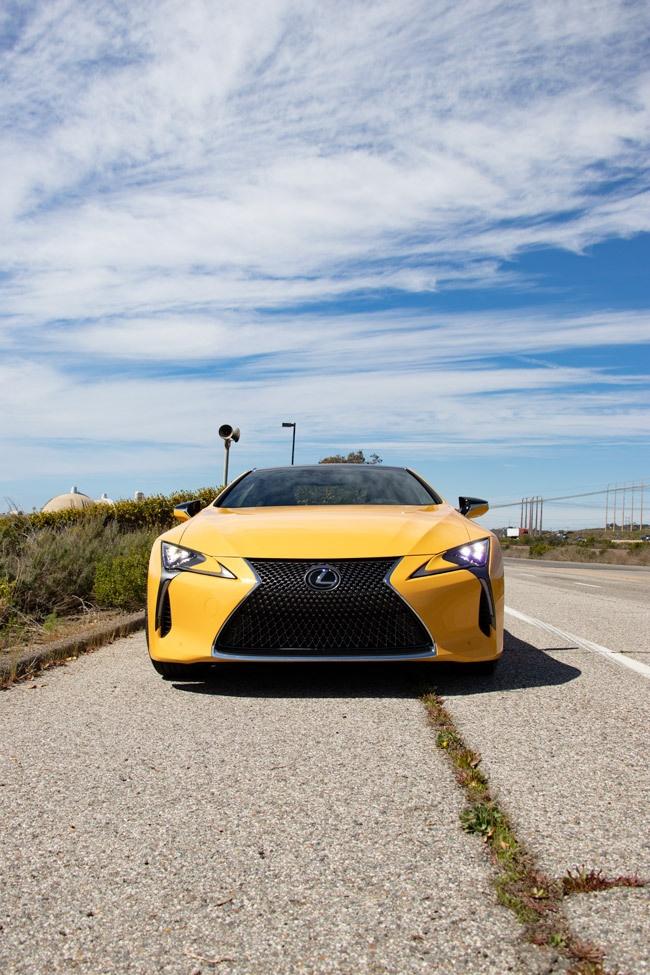 Until then though, the current 2020 Lexus LC 500 is no slouch!
San Onofre and Camp Pendelton Marine Base
Our trip began at the San Onofre Nuclear Power Plant. While technically not San Diego, I felt it was an appropriate spot since the coastal area here is virtually undisturbed and there are some nice roads with zero traffic since the plant has been decommissioned. Additionally, because the land here is shared by Camp Pendelton it is devoid of cars and buildings so the view is absolutely stunning with almost no noise and sometimes you can even watch as the Marines practice amphibious maneuvers transferring from the ships and helicopters to the beach.
While the rest of our road trip was going to be focused on cruising slowly and enjoying the view, this was a great spot to test out the LC 500's naturally aspirated 5.0L V8 that pumps out 471 hp. While the peak torque is at a relatively high RPMs - 398 @ 4,800, which allows for a pretty significant variation in driving modes. In fact, "normal" was so smooth and comfortable that I was initially, I was disappointed. At a price tag as equipped of nearly $110,000 I expected a knock you to the back of your seat experience as I might get on a similarly priced Mustang GT 500. Then I began to play with Drive Mode Select and discovered just how configurable the vehicle actually was. Ultimately I just switched it to Sport S+ mode and did a few acceleration tests. I was not disappointed and later on the highway it provided that visceral muscle car experience that I was hoping for.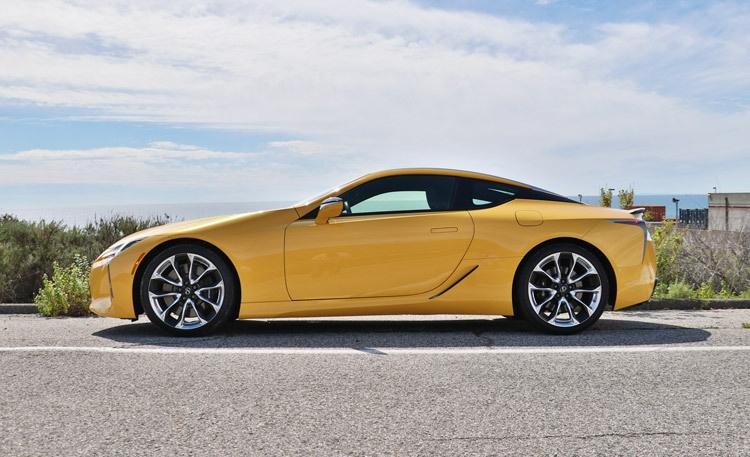 While this is clearly not competing for head to head with a track-focused product such as Mustang GT 500 or the Charger Hellcat, it was nice to know that you can get that F Yea! feeling when you mash the accelerator.
In fact, Drive Mode Select offers 5 different modes including Sport S for more dynamic throttle response, Sport S+ which modifies the Adaptive Variable Suspension including variable dampeners with 650 levels, and then also comfort mode, which adjusts the AVS to make bumps and uneven road surfaces virtually melt away. Then there is ECO mode, but seriously, this car is designed for performance so I find it unlikely that most of you will ever put it in that mode. Finally, for those who love to tune their cars - the entire system is manually adjustable in custom mode.
I was hoping to take the car into the mountains to fully explore the Sport S+ mode's abilities for improving handling on curvy roads but unfortunately, my loan was cut short due to the current crisis that we're in. I look forward to taking the convertible out for a spin later this year though!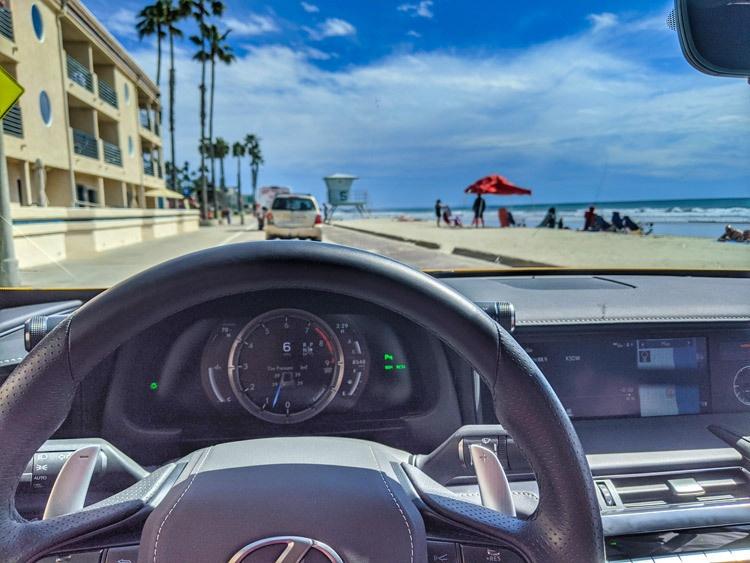 Oceanside, California
Oceanside is possibly one of the most legendary beach towns in Southern California. It's host to international surf competitions and the location where Kelly "Charlie" McGillis's house in Top Gun was located. Today, it is also turning into a major food and brewing hotspot in San Diego. It is also a fabulous place to roll down the window and cruise slowly along the beach looking at the water, surfers, and people enjoying the sun and sand - even in the middle of winter!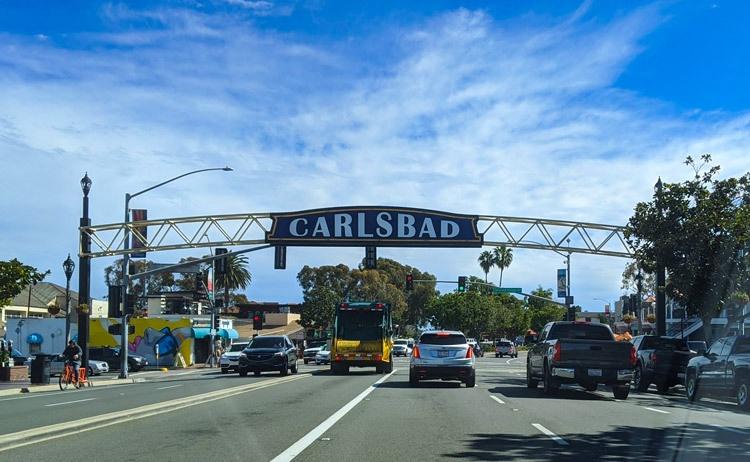 Carlsbad, California
Aside from locals who know that the beaches here are awesome, Carlsbad might be better known for the golf courses, flower fields, commercial areas in town and away from the water. However, with spots like South Carlsbad State Beach and Moonlight State Beach, this is a perfect place to stop since you can quite literally park right on the beach since the sand comes right to the road allowing for a quick walk to the water.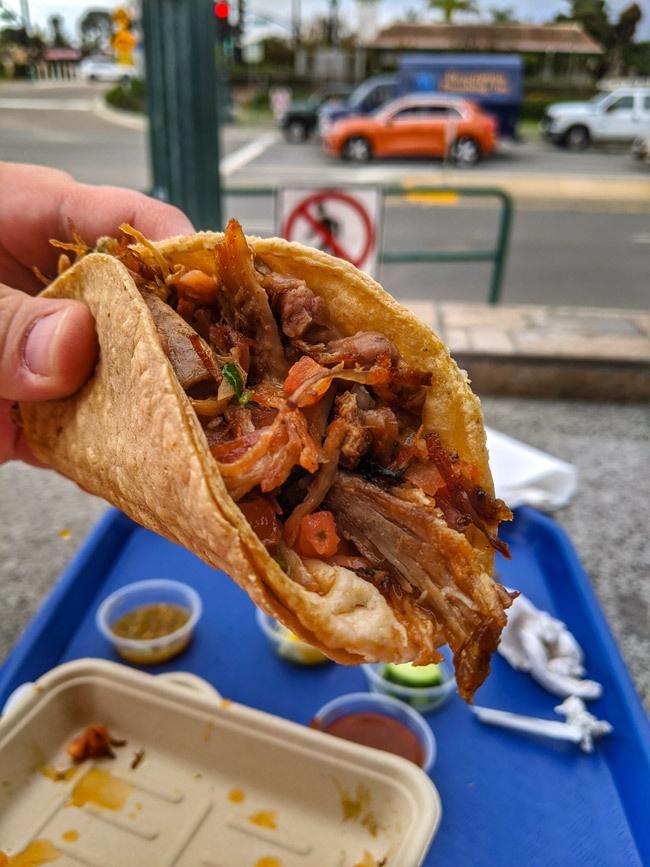 Encinitas, California
Continuing our journey south, we stopped for lunch in Encinitas. While it was completely random luck, I discovered one of my new favorite taco shops - Kotija Jr where you can sit on their porch and watch cars and bicycles roll by. All along the coast here is a fabulous place for car spotting and while we were enjoying lunch I observed a couple of guys posing with our car. That felt really good since though this doesn't have the brand recognition that a comparable Mustang or Aston Martin Vantage do ... the sharp looks simply speaks for itself. The LC 500 is a head turner.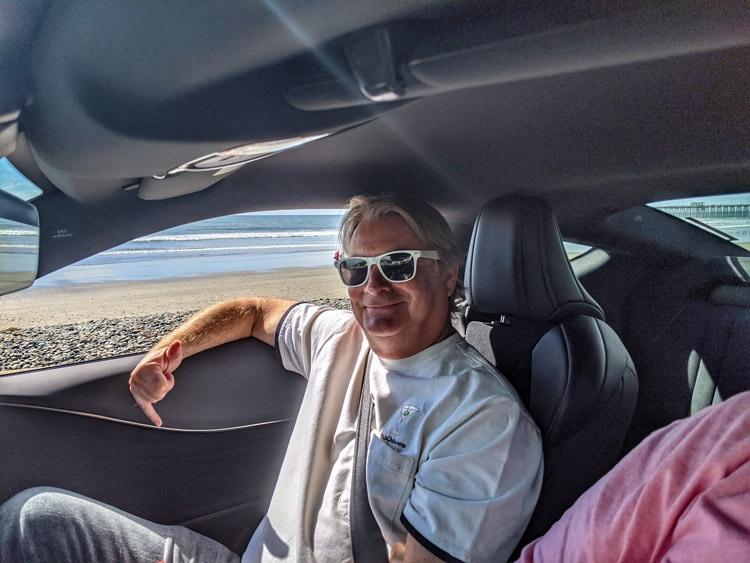 Torrey Pines Beach and Del Mar, California
This is one of my favorite spots to sit and watch the waves since there is a long stretch of beach with roadside parking.
While this is a sports car, the seats and ride comfort were significantly more comfortable than expected. However, with two adult men, the rear seats were unusable. This is more of a feature that was designed in to qualify for various class allowances in terms of fuel economy than anything practical to be used.
Kevin from PubClub also approves!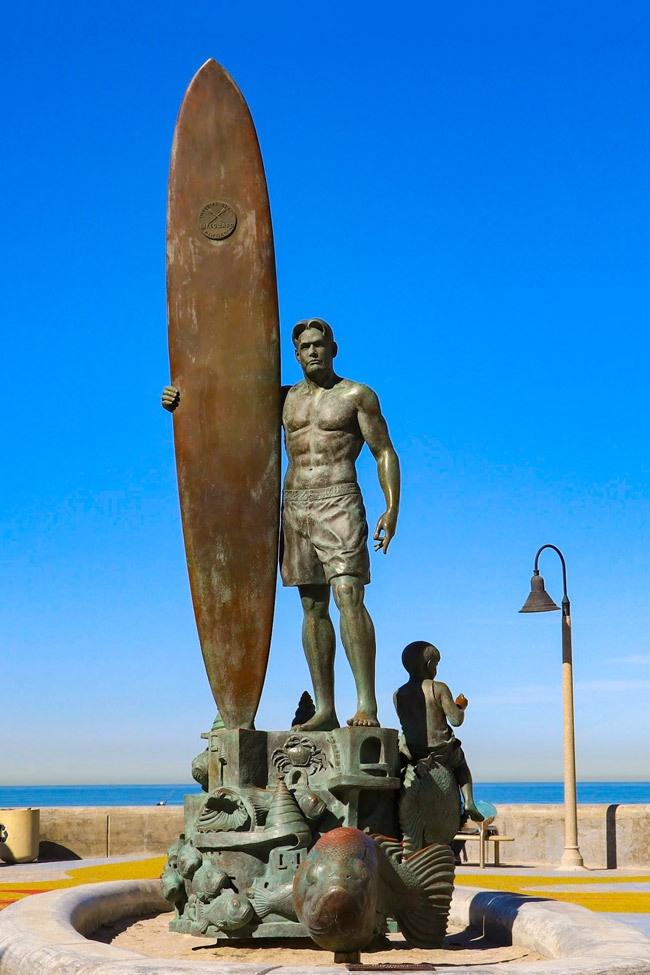 Heading South to the Mexican Border and Imperial Beach, California
I'm skipping over several great beach towns including La Jolla, Pacific Beach, and Ocean Beach because too many people miss out on the beautiful waterfront found at Imperial Beach. This is the farthest south that you can go in California along the ocean. In fact, Pacific Highway / Coast Highway 1 ends at Seaport Village in downtown San Diego.
However, if you are looking for some great taco shops and less crowded beaches this town and Silver Strand Beach just north of it is a great place to visit.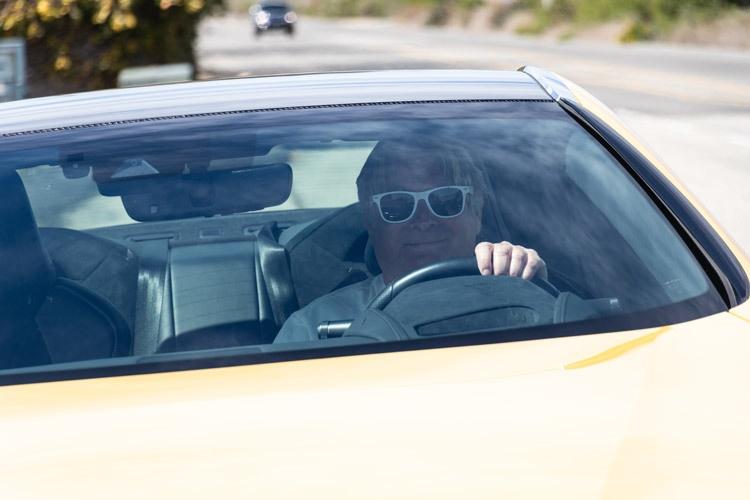 The Lexus LC 500 Might Be The Most Impressive Car I've Driven In the Past Year
Lexus did provide this car for us to test out, but they are not paying me so this is not me just schilling for them. The LC 500 is the most impressive car that I've driven this year. Somehow they have managed to pack it with performance and comfort while still allowing for the visceral feel that you want in a performance automobile. Plus it has the looks to turn head and a price tag that while clearly above what even many Lexus owners might be prepared to spend is less expensive than comparable other options out there.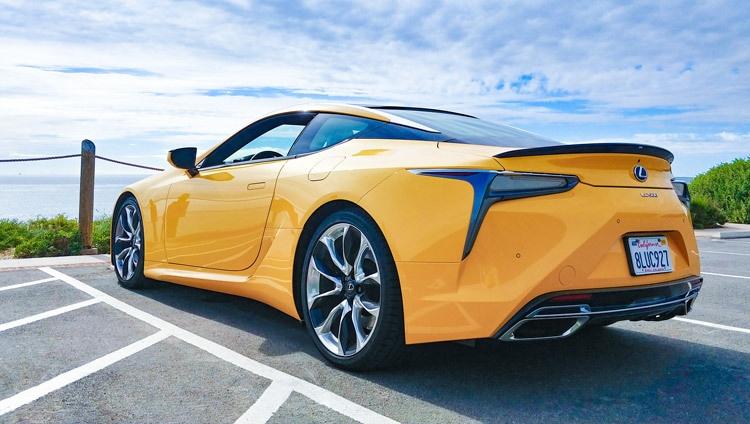 In fact, probably the closest competitor in terms of price would be the Jaguar F Type though that is more performance-focused and you trade brash noise and a bit more power for a higher-quality interior and a more refined total experience. Despite this refinement though, the LC 500 still manages a 4.4. second 0-60 time with it's 10-speed automatic transmission.
In fact, most designers targeting the $100,000 price point choose performance over comfort. Somehow Lexus managed to do both. While I appreciated this, so did my wife. In fact, she commented that this was something she wouldn't mind driving since she didn't have to worry about ever dip in the road jarring her back. Nor did she need to worry about losing control with too much torque. All she needed to do was enjoy the ride.
Considering that most of us will never be able to make a purchase like this without at least having spousal consent if not endorsement, that's pretty important!