Mardi Gras is the ultimate party, but while you will see, hear, and probably smell things you've never experienced before it's probably not what you've seen on TV and those "sensational" photos of women flashing are really only a small part of the experience. I've been fortunate to be able to experience Mardi Gras in New Orleans a few times, so I've acquired a bit of knowledge to help make your experience the best it can possibly be.
Research Mardi Gras Parades and Routes Before You Visitv To the uninitiated, "Mardi Gras" is a single event ... but to the rest of us, it's a season full of celebrations, parades, food, drinks, and general merriment that starts on January 6 (Kings Day) and runs through the day before Ash Wednesday. Mardi Gras season in New Orleans is celebrated with dozens of official parades (and even more unofficial ones), so there's almost always something going on. My favorite time to visit is the two weeks before Mardi Gras Day since prices tend to be lower, it's less crazy -- but there's still plenty of parades, and far fewer college kids, who don't know how to party properly yet, clogging up the streets.
It's critical that anyone planning to visit New Orleans during Mardi Gras check the parade schedules before they arrive. With various parades having different routes, times, and themes, you'll want to plan your schedule around the best ones you can find and afford. But also, because of how long the parades are, some sections of the city are not able to be accessed by car. One of the "insider tips" here is that while most people consider Bourbon Street to be the center of Mardi Gras, the major parades actually wind their way through uptown New Orleans and then typically down St Charles Ave before wrapping around Canal Street. As such, you'll want to make sure you also check the specific routes, dates and hotel locations before booking your room.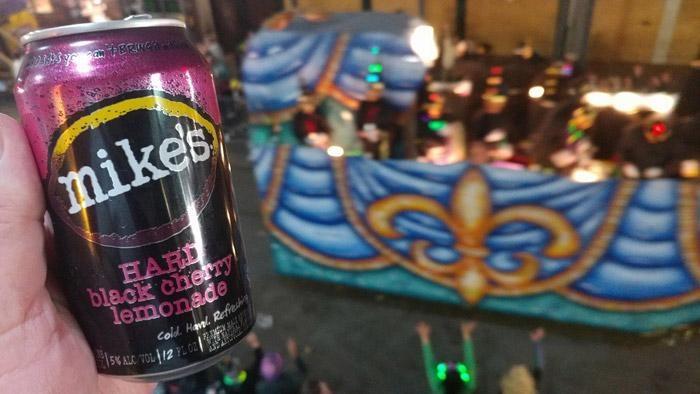 Pick A Hotel With a Balcony Room or On The Parade Routes
In the past, we've selected cheap hotels that are far from the action, but we've always dreamed of doing something more. While there is absolutely NOTHING wrong with staying within your budget, for an event like this, it's worth blowing some money for at least one night of your stay. If you can't find a room with a balcony like we did, the next best thing is to find a hotel on a parade route. The key here is to plan months and potentially years ahead to get the perfect room. Not only do you want to be close to the action to reduce the amount of walking, but you will be drinking for many hours of the day and it doesn't take a genius to realize that means that (clean) bathrooms are going to be a critical commodity - especially if you have women with you.
The double whammy is obviously to get a balcony room on a parade route like St Charles Ave, but having a balcony on Bourbon Street is also a great party spot because instead of hanging out on the streets - the party will literally be all around you. You'll have your WiFi, power outlets, bathroom and most importantly a cooler full of mike's that you won't have to be dragging around with you on the streets.
Pack Appropriately for Mardi Gras in New Orleans
New Orleans weather in winter can be anything from cold and damp to warm and humid so watch the weather and pack appropriately. Make sure to bring a pair of sneakers that you might not care about leaving behind as well. While the New Orleans sanitation department does an AMAZING job of cleaning the streets each morning, you will be stepping on garbage and getting your shoes wet with a mixture of water, spilled drinks, and human waste. It's sorta gross and you should absolutely watch where you step but sometimes that's just unavoidable.
Additionally, you will want to make sure to have plenty of water, aspirin, power supply to keep your phone charged, and potentially an extra suitcase or tote bag to bring all those beads and throws home with you.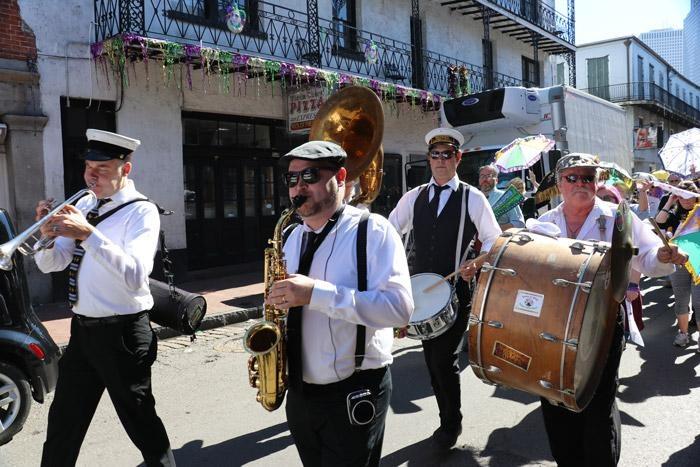 Pace Yourself - Mardi Gras is a 24-Hour Marathon
This isn't some block party that you go to for a few hours. There's no official "Last Call" in New Orleans and there's always something going on in the French Quarter no matter what time it is, so be prepared for a lot of walking. Plus, this isn't just a one day event … it goes on for weeks. This means that it is easy to get exhausted before the party is done for the day. It can happen to anyone, but as someone who's done this a few times, my plan of action is to eat a big breakfast, don't skip meals, and it's even ok to take a mid-day nap so you can keep going all night long!
Nothing kills the mood more than losing that party spirit, so another trick is to keep some mike's on hand and just make sure to pour it into a cup before you head back out (glass bottles or cans aren't allowed on the street)!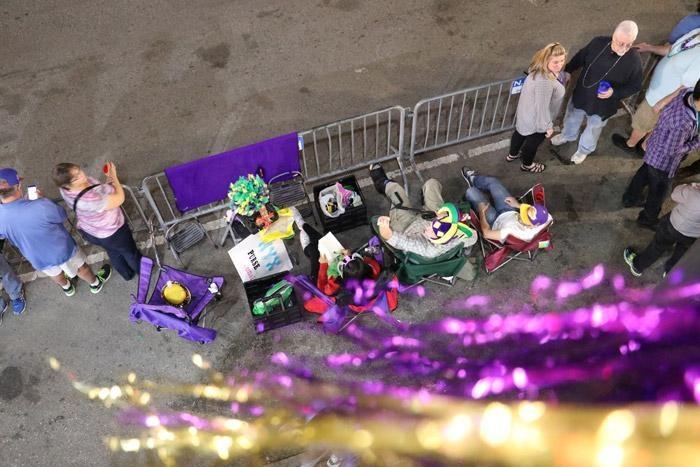 How to Enjoy The Mardi Gras Parades Best
This is the single best place to get beads and "throws" from the riders on the floats. These are unlike any parade that you've ever encountered as the largest will go on for HOURS, so this isn't just something that you pop out of your hotel room to look at and then go back. Because of this, it's important that you plan properly. This includes packing properly or knowing where to get supplies locally. Luckily, New Orleans is well prepared for tourists and there is a Walgreens Pharmacy packed with supplies adjacent to the French Quarter as well as plenty of liquor stores and a WalMart that carries mike's Hard Lemonade a short Lyft ride away.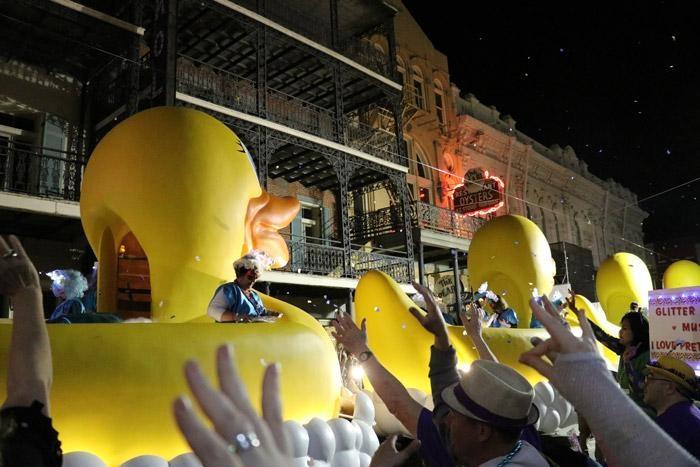 This includes: lawn chairs (there's lots of sitting to hold your place for the parades), coolers (alcohol is allowed in open containers ... but only plastic cups in public), plastic cups, snacks, ice, and plenty of mike's to enjoy between jumping up to catch beads.. This is also a great way to make new friends. While you need to stake out your space early for the best parades, being a generous neighbor is a great way to make friends while you wait.
Of course, if you have a balcony along the parade route that's even a better way to enjoy the ultimate party, but you can still have a great time on the streets too!
Just remember these three rules for getting Mardi Gras throws ...
Don't fight over beads and other throws ... these are trinkets and no matter how cool it looks or how much you think the person on the float meant it for you, it's not worth fighting over. Seriously - this is probably the most important rule so don't forget it!
Be careful when diving for items that land on the street ... it's really easy to get feet and hands trampled on in the chaos.
Make eye contact with the riders and show enthusiasm ... this is the best way to get more than just beads but also doubloons and other toys.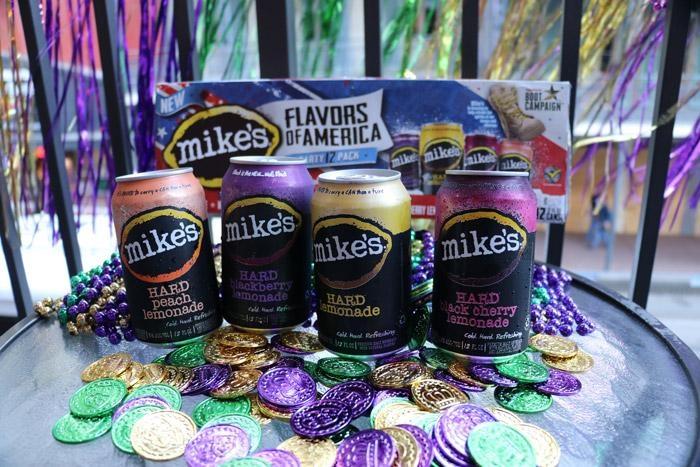 How to Throw a Mardi Gras Balcony Party
As mentioned above, with a balcony you are part of the party and not just a guest enjoying what others are putting on.
Invite Friends
While it costs thousands of dollars, years of work as well as even more years of waiting on the list to be invited to join one of the major Krewes, having a balcony can be a similar experience. Just remember that like ice cold mike's hard lemonade - a Mardi Gras balcony is best shared with friends!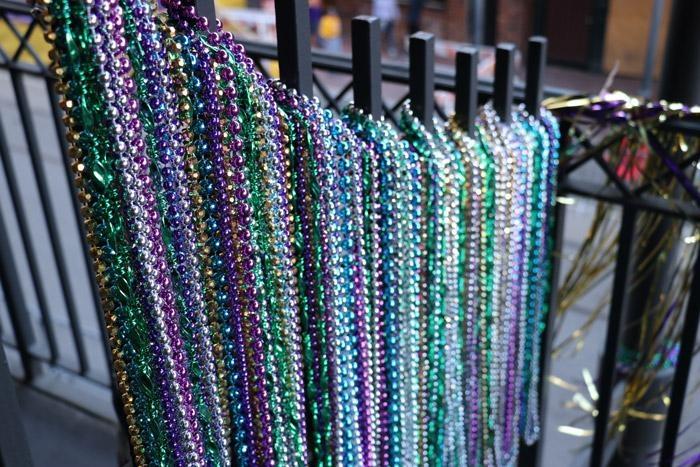 Decorate the Balcony
You don't need to go crazy here, but since some of the festivities will be during the day and others are going to be at night you want a mixture of lighted and non-lighted ... but colorful decorations. For us, this included Mardi Gras colored garland, a bunting to drape over the balcony, and then super bright LED lights provided by Britez to help illuminate things at night. You'll also want to drape the railings with plenty of beads and other throws such as coins, plastic footballs, and stuffed animals.
While your balcony serves as home base to be the center of attention for revelers walking by, during the parades your balcony turns into an opportunity to be virtually eye-level with the members of the Krewe riding on the floats. This gives you the opportunity to potentially catch some of the best throws that they are giving out by screaming "Throw me somethin' mistah!" or whatever else you think might be the best to catch their attention. Just remember that this is generally a family friendly environment so don't be rude, crude, or obnoxious. Other than that, everything goes!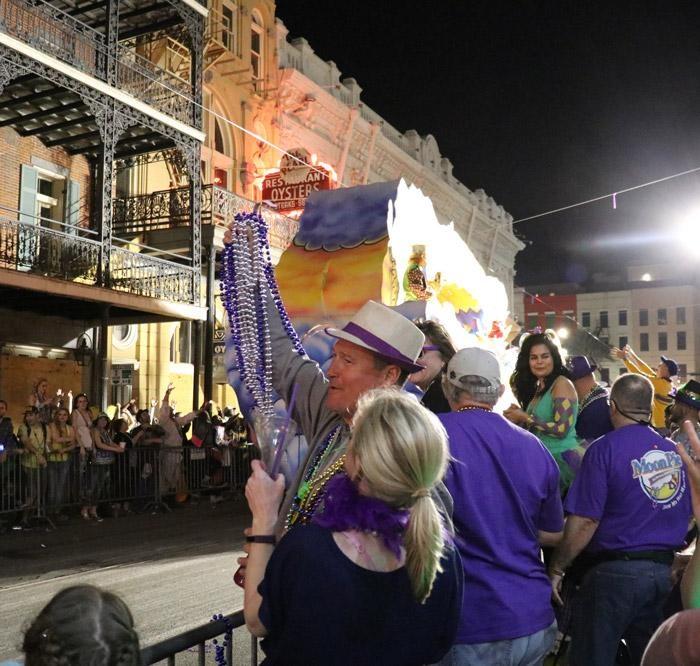 Keep The Party Going By Sharing Your Beads
Some people get the wrong impression of Mardi Gras by what they see happening on Bourbon Street. However, public nudity is strongly prohibited on the streets of New Orleans and that's not really what Mardi Gras is all about anyhow. That doesn't mean you can't still have fun when revelers walk by and scream, shout, wave, sing, and pretty much anything else to get your attention. Everyone loves to get beads but be cool about it. It's honestly amazing what people will do for plastic trinkets. So, show your appreciation and the Mardi Gras spirit by tossing beads and throws at those who you think are having the best time enjoying this city wide party. After all, that's sort of the spirit here.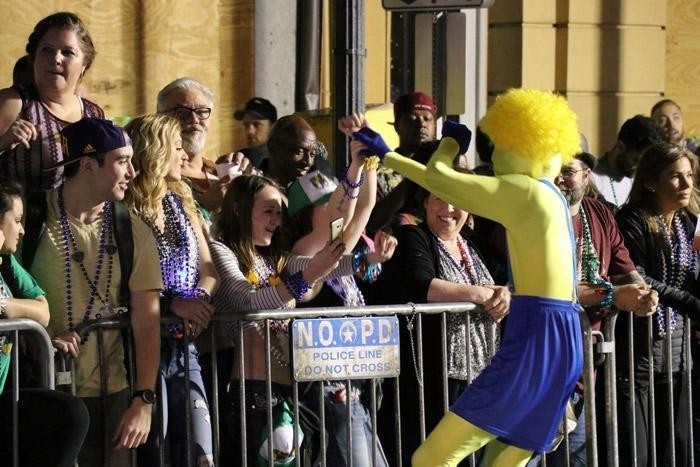 Dress The Part!
This is your opportunity to dress up and be the life of the party. Mardi Gras is known for people showing off fabulous costumes and this is your chance to make your mark too.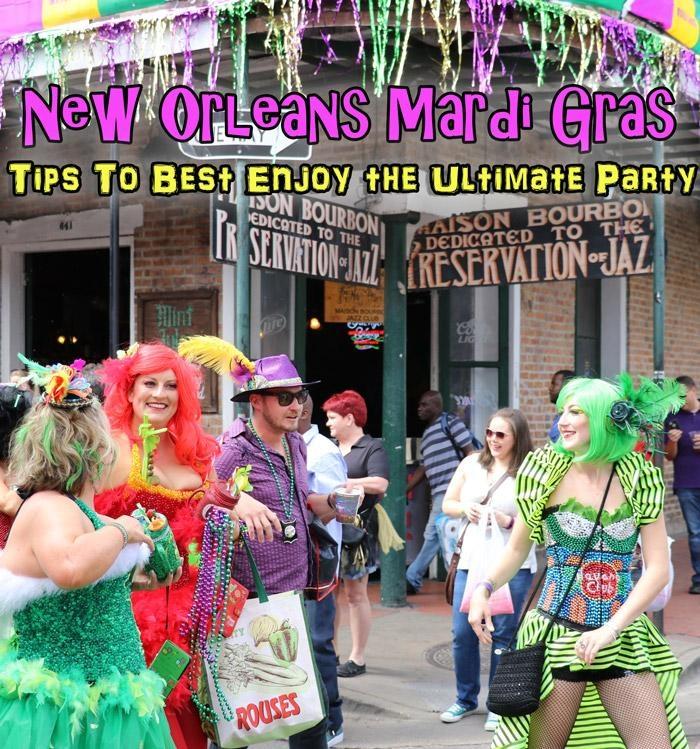 While you will not be out of place walking down the street in jeans, sneakers, and a logo shirt with beads hanging from your neck ... why not be a pirate, a jester, or some other fantastic character of your own creation? While you will see nurses, witches, school girls and other scandalous costumes, for women, remember that Mardi Gras is all about having fun. There's no need to be too revealing ... be comfortable and be sexy if you want, but be ready to party with people of all ages including kids and grandmothers. The easiest addition to your Mardi Gras wardrobe is to simply wear a funky hat -- bonus points if it has blinking lights on it. New Orleans and Mardi Gras season in particular is a very tolerant place, so there's no judgement here. Ordinary is boring and this is your chance to be part of the ultimate party. The best of you will create a concept and "own it" as you walk down the street with a plastic cup full of mike's in one hand and be the life of the party as you spread the Mardi Gras spirit wherever you go!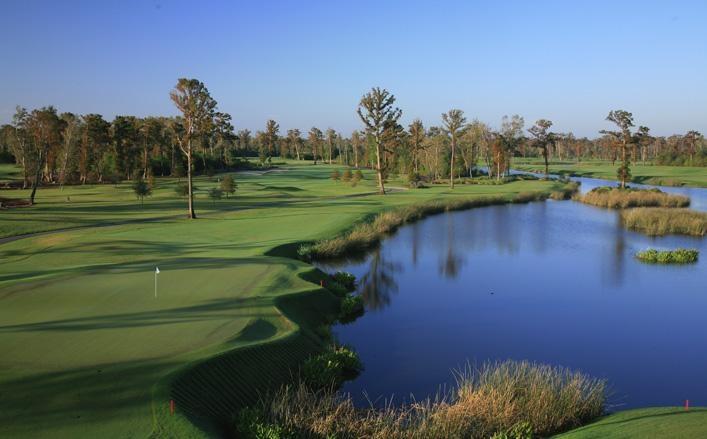 There's More than Just The French Quarter
New Orleans is an amazing city that is full of life outside of the party. While you are visiting for Mardi Gras, make sure to hop on the trolley, take a lyft, or just explore on foot. Some of my favorite bars and restaurants are located along Frenchman Street, and there are some great museums that you'll want to visit too, like Mardi Gras World (where they build and archive some of the best floats in Mardi Gras history), the WWII Museum, or explore the Mississippi on a riverboat tour. Plus there's some great golf in the area as well including TPC Louisiana.
Now that you are armed with our advice on how to have the ultimate Mardi Gras party experience, it is time for you to experience it on own. There are certain aspects of this season that just can't be put into words and pictures. Just remember to relax, have fun, plan ahead of time and take lots of photos so you can remember how much fun you had. When done properly, this can be a once-in-a-lifetime experience that you will remember forever!