I generally don't get much stay in where I stay when traveling. Most of my travel arrangements are made by someone else and since they are paying I generally don't care as long as it's safe, clean and comfortable. That being said however, certain things make my stay that much better. A good desk space, a comfortable chair, plenty of USB and power outlets and good - easily accessible food options that aren't over priced. In the past, none of that would have described Marriott's core brand and absolutely nobody would have described it as stylish. For me personally, the Marriott brand wasn't "bad" it was just old and out of touch. Through pure luck though, this year I've had the chance to stay in several different Marriott locations at different parts of the country and it's clear that the brand is back in a good way!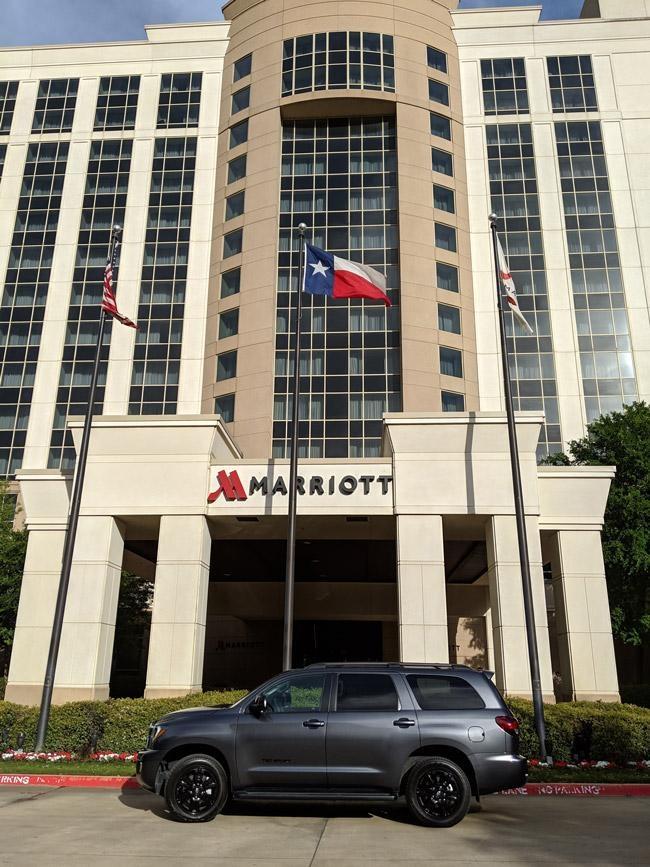 My most recent stay was at the Dallas Marriott Las Colinas - just a few minutes from DFW in a rapidly growing corner of the Dallas Metroplex. On this particular visit, I was hosted by the hotel as part of a #MenWhoBlog WAR ROOM conference with other bloggers.
Compared to the other locations I visited recently - Flint, Michigan and Lake Mary, Florida this was a bit more upscale and so my favorite new feature wasn't available here - the Fresh Bites breakfast bag. While the entire Fresh Bites concept clearly needs to continue re-calibration I love the fact that it addresses the fact that I don't want or need a full $30 breakfast buffet every morning. I also don't want to pay $100 for room service. Instead, I can get a nice breakfast for less than $20 and it was delivered in the morning simple and clean in a paper bag.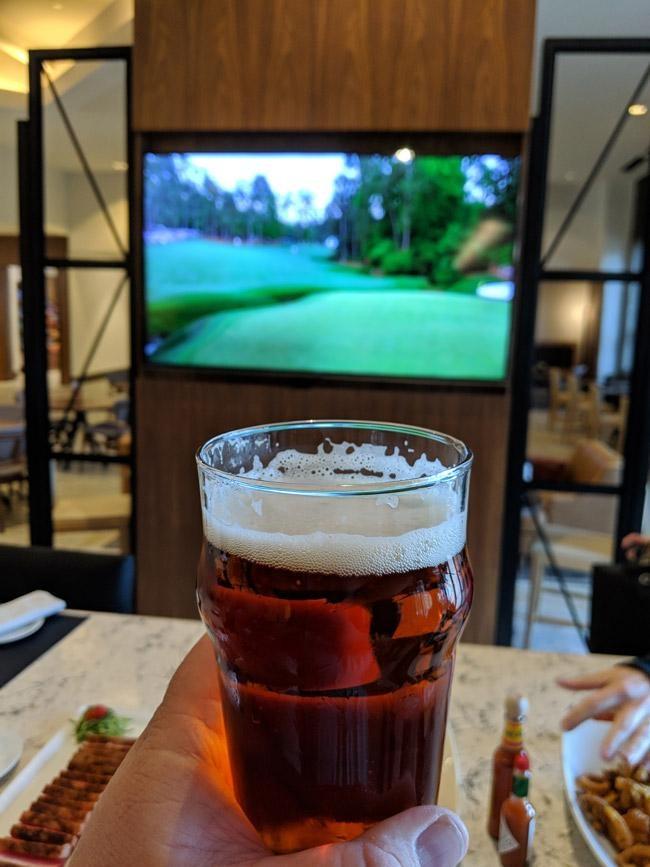 I suppose that if I was traveling on a corporate expense account I wouldn't care about costs but when it's my own dollars for breakfast, it matters. Sadly the Dallas Marriott Las Colinas is one of these locations that tried the concept and now has chosen to go in a different direction. Here though, the lobby bar is a clear difference than the days of old greasy burgers and cheap beer. It was bright and friendly with on-trend menu items and local craft beer. Prices weren't bad but for breakfast the buffet was way over-priced for what was offered. C'est la vie I suppose, I should have maybe chosen a plated breakfast instead.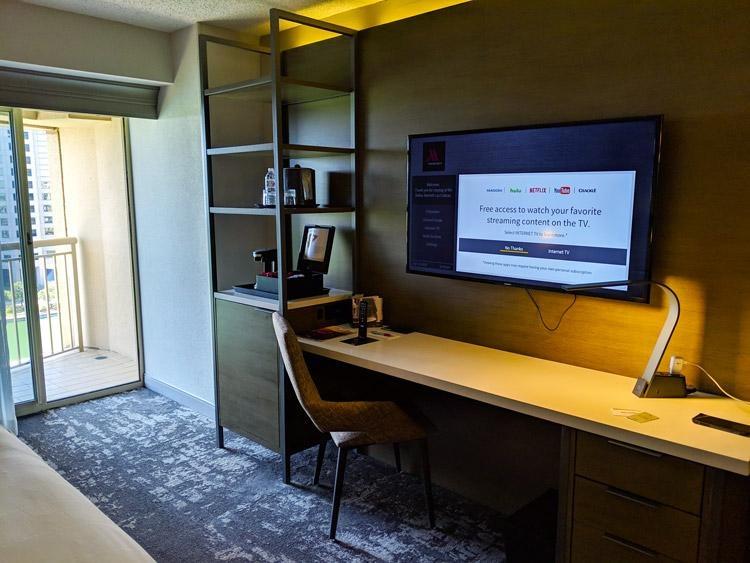 Inside the room itself though, this is where things are most impressive.
It's still a business hotel but while some concepts have gone towards minimization and others towards luxury - Marriott understands that it's customers are traveling for business.
All three of the locations I've stayed at this year had a comfortable chair, big desk space, nice linens and good fixtures in the bathroom. Maybe most importantly - USB and AC power plugs on both sides of the bed and by the desk.
Additionally, all of the rooms had a smart TV so I can connect my streaming accounts rather than flip around trying to figure out what's on Dallas / Orlando / Detroit TV before falling asleep.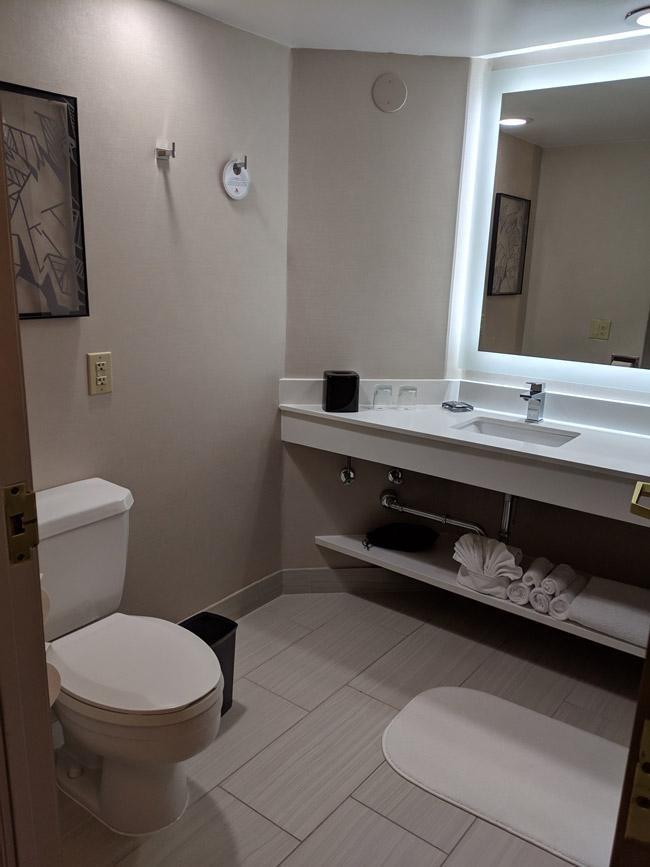 In the bathroom, it's a similar story with clean, basic design but with attractive fixtures, art, and bright lighting.
Obviously, each Marriott location serves a different audience and that's what I found cool about this renovation process, which seems to be a system-wide process.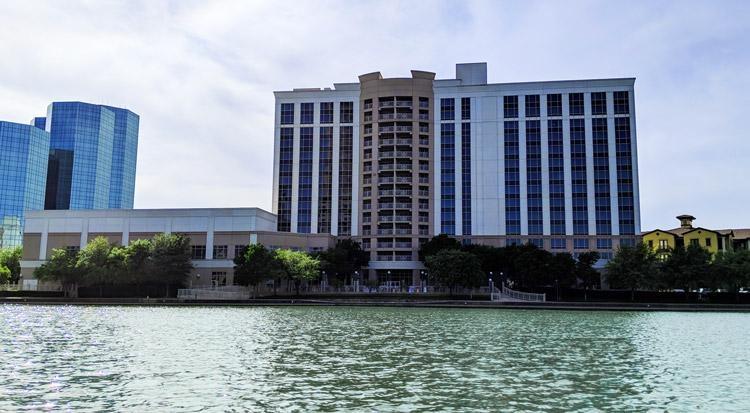 I was told by the General Manager at this location in Las Colinas / Dallas that each location was provided with several different templates to use. This allows various locations to fell consistent ... but not cookie cutter.
While a review of a business hotel might not be the most exciting content to include here, I felt it was important to share this experience. If you are like I was and viewed Marriott as a dead brand, maybe it's time to think again. Take a look at their website and look for the silver "Redesigned Marriott" badge on the listing's page and check it out for yourself.