There's a whole other world beyond just the big feature-packed cruise ships from the big-name brands you are all familiar with and that's the small ship luxury market. While I love sailing on ships like Norwegian Encore and Oasis of the Seas, the reality is that for many people the ship itself is getting in the way of enjoying a cruise. There are too many people, not enough personal attention, and the food ultimately suffers because you are cooking tens of thousands of meals each day. Plus, when you get to port there's always a long line waiting to debark and then once on shore there's more crowds to deal with. One increasingly popular alternative is small ship luxury cruises like those offered by Crystal Symphony, so we visited her in San Diego to see what all the buzz was about.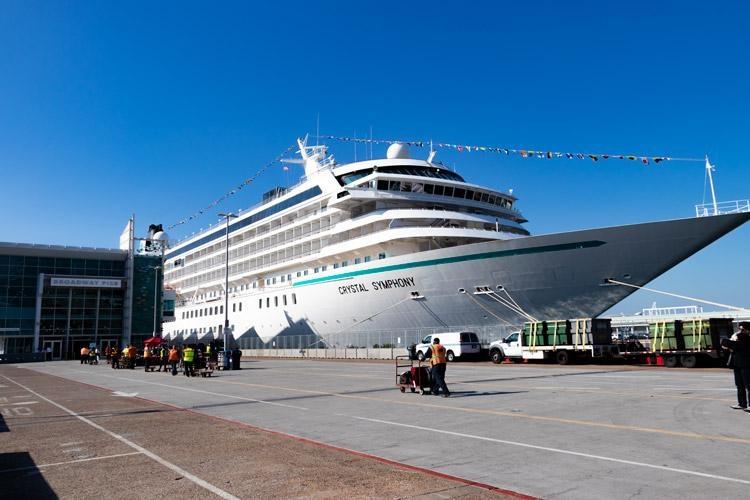 Now to be completely honest, as excited as I am about the concept I have my biases. Traditionally the image you might think of when considering a cruise like this is "old rich white people". Even as a 40-something guy, it's not an appealing thought that I'm starting to fit into this category - well except for the rich part, I'm still working on that part. However, I'm not looking for shuffleboard, laying on a lounge chair and then running down for dinner at six pm so I can be in bed by nine. I want genuine luxury, to be taken care of for a few days, and a chance to explore new places. I'm guessing most of you guys are aligned with that too!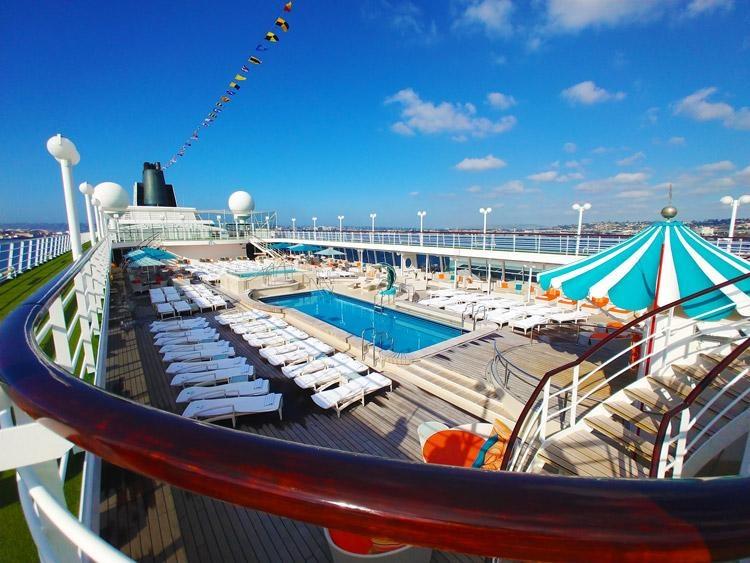 A cruise is ultimately what you make of it.
What we've increasingly found among fans of small ship cruising as well as riverboat cruises is that a cruise like this can allow people to relax, escape their stodgy public persona, and have some fun. Crystal is about exploring the world in style and luxury ... they seem to be doing something right.
Since sharing with friends that we were going to do the ship tour, I actually discovered \several people I know not only have sailed with Crystal before ... but they keep coming back. They love it that much!
We were only on Crystal Symphony for a few hours doing a ship tour, so realistically I can't comment more than what I observed during that time and the amenities that the line has curated to match their guest's desires. What I found quite honestly surprised me. Going in, my view was that it was a conservative line, an older ship (Crystal Symphony is 25 years old), and so, of course, a lot of things would feel dated ... if not completely anachronistic.
Instead, what I saw was the opposite. The design and decoration of the ship, menu selection, and even the uniforms were ... dare I say chic and modern instead of being stuck in the past. Clearly there are some classic touches such as butlers wearing tuxedos waiting to take care of every whim and the guy standing on the gangway welcoming guests aboard with his perfectly color-coordinated green tuxedo. However, that was purposeful and supporting a brand that looks to the future instead of being stuck in the past.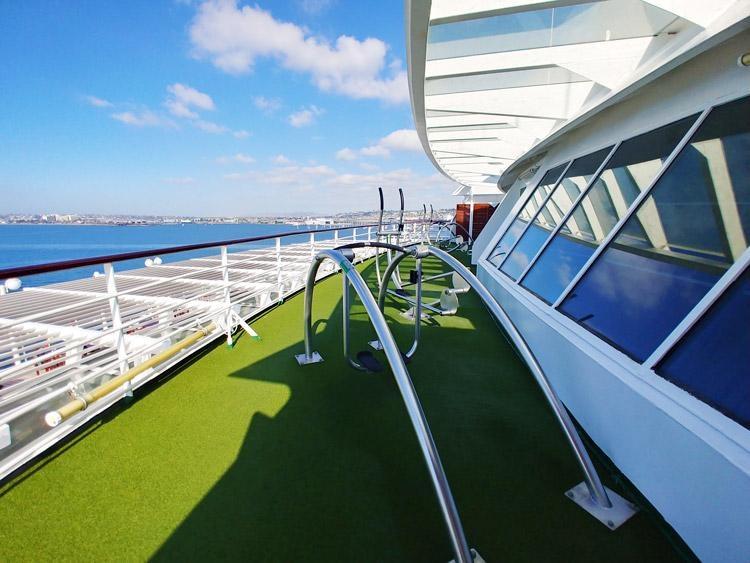 While I wouldn't describe it as a cruise for people who want to be active the way you'd find on larger ships, Symphony does have a golf cage including golf pro to help improve your swing, a good-sized pool with giant hot tub, and a gym with outdoor equipment so you can get a light workout while watching the ocean pass behind the stern of the ship.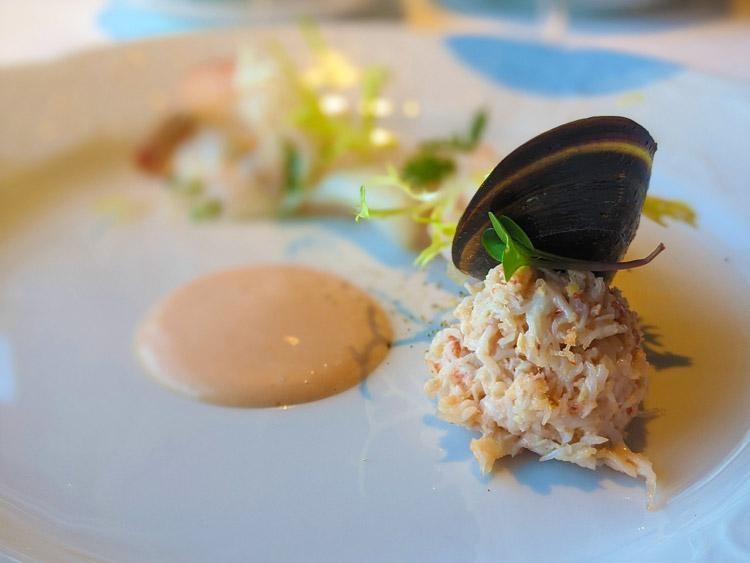 Crystal Symphony dining options include a fantastic main dining room, Waterside as well a Churrascaria Brazilian Steakhouse, Umi Uma Sushi Bar featuring the cuisine of famed Chef "Nobu" Matsuhisa, Prego Italian, and Silk Kitchen an open-air dining concept featuring authentic Asian cuisine. There's also an elaborate afternoon tea, complimentary wine tastings and wine dinners, and The Bistro coffee bar where there's also some incredible pastries, meats, cheeses, and other tasty treats. Don't worry though, not everything is "fancy" ... if you are looking for something more casual there's the Trident Grill with burgers, malts, and salads by the pool, Scoops Ice Cream Bar featuring Ben & Jerry's ice cream. There's also 24-hour in-suite dining on your private balcony (suite rooms only).
The food and wine though was probably what impressed me most though. I've had a lot of "cruise ship lunches" and many where they prepared stuff especially for us to presumably showcase their culinary talent. This time though we ate in the main dining room along with other guests and the quality, flavor, plating, and service was impeccable. Additionally, the uniform and demenor of the staff were contemporary, matching something you'd find at a fancy restaurant on shore ... not a restaurant trying to emulate a fancy restaurant.
It's little things that indicate a pattern and one that I noticed here was that the server always poured my wine with the lable facing me. While there are a lot of conventions regarding the "proper way to pour wine", the important fact here was that there was a routine and level of sophistication illustrated by something that basic and given more time it would likely be seen in other aspects of the ship as well.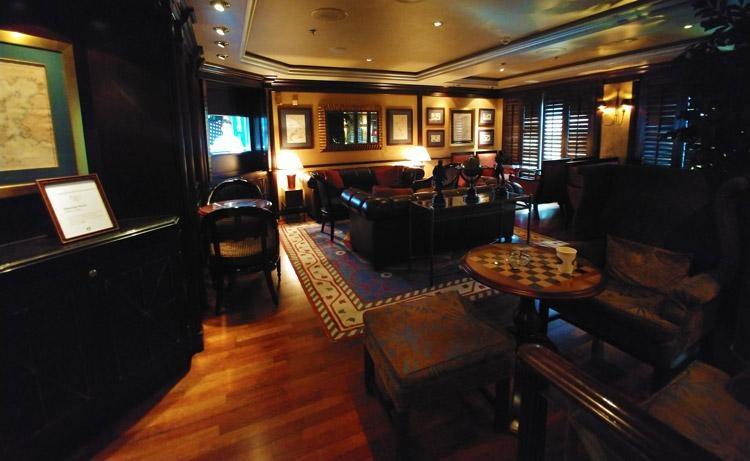 Another area that impressed me was the cigar and whiskey lounge. While some ships offer cigar lounges where you are stuck in a glass box, this was open and airy. When we were there, nobody else was present but for a 25-year-old ship the cigar lounge had a welcoming cigar odor rather than that awful smell of stake smoke that you sometimes find. Crystal clearly invested heavily in the ventilation system here as well as the cigar selection and library of scotches, bourbons, cognacs and other spirits. There was even a selection of craft beers from around the world.
From a facts and figures perspective, this is a small ship and it felt about the perfect size so that nothing was more than a few steps away. Crystal Symphony is 51,044 GT and carries 848 passengers. This gives it one of the highest space to passenger ratios in the industry. While the ship was in impeccable condition, better than some other ships I've sailed on that are only a few months out of dry dock, Symphony is scheduled for a significant update in February of 2020. It will be very exciting to see what's added and updated.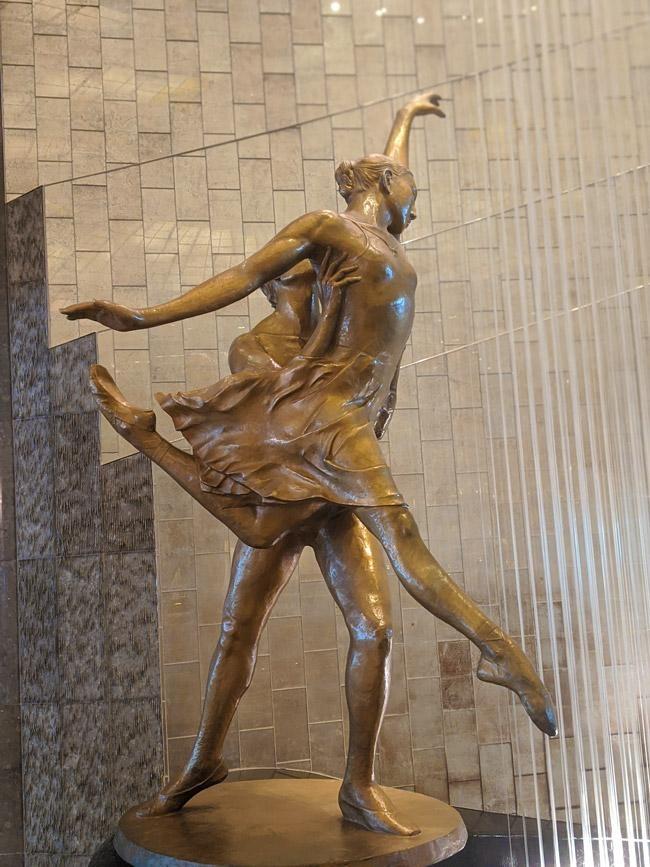 My interest in certainly piqued. Small ships offer something that the big ships never will and that's personal attention and meticulous detail. While any cruise is ultimately a luxury on some level, it was clear that Crystal is something special.
I look forward to future opportunities to spend more time exploring other aspects that make Crystal Symphony something that it's guests keep wanting to come back for again and again. However, for now though, I'll just have to savor the memories of our preview tour!