My history with the Chevy Equinox goes back to the very beginning ... Heather and I saw one of the very first ones available during a road trip and knew THAT was the car we needed to buy. A few days later, our local dealership got their shipment and we got the second one off the truck. Flash forward a decade and the Equinox is one of Chevrolet's top sellers and here we are enjoying their latest version while flying around mountain roads exploring the Rockies in Colorado. This vehicle has always had a special place in my heart and I'm thrilled to say that Chevy has taken it from a "good car" to one that I would consider buying again.
This trip was a bit different since usually Heather and I travel together, but Chevy invited us on a "Family Road Trip". Since we don't have kids, her aunt and cousin joined us for an epic adventure through the Colorado Rockies.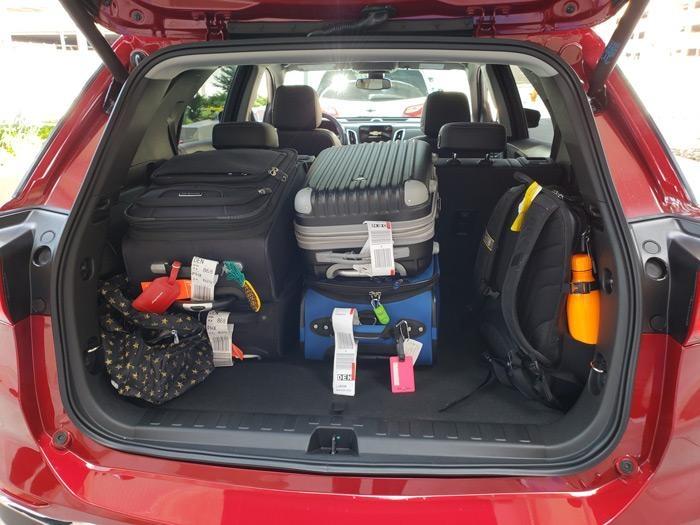 Now in it's third generation, the all-new 2018 Chevrolet Equinox is in a crowded marketplace dominated by competitors such as Honda's CR-V and the Toyota RAV4. Honestly though, at this point almost all of the vehicles in the segment are great cars. Instead of saying that one is better than another, it comes down to personal preference, brand loyalty, and which features are essential for your lifestyle.
With that in mind, one key differentiating factor that Chevy is able to offer over competitors is that they offer a 1.6L Turbo Diesel engine option that gets 39 mpg. However, for this drive we were cruising through the Rockies in a Cajun Red, FWD 2.0L Turbo Premier coupled to a 9-speed automatic. This package comes with an MSRP starting at $34,595 and kicks out 252 horsepower with 260 lb ft of torque. When you compare that with offerings from sporty MUCH more expensive European brands (Audi Q5 - 252 hp) and it's American competitors such as the CR-V (190 hp), that's pretty impressive for a vehicle in this class.
Compared to my first Equinox - 13 years ago in 2004 (2005 model year), it is STUNNING how much the vehicle has changed. Back then was sort of a dark age for American manufactures and truthfully I swore NEVER to buy another Chevy. It was a good car back then but very basic and the quality over time was disappointing. Today though, Chevy's quality and dependability is top notch - including the JD Power "Most Dependable Compact SUV" award in 2015. Inside, the car has all of the modern safety and convenience features you'd want from a great family SUV too.
This includes things you'd expect like 360 cameras, Lane Keep Assist, Collision Alert, but also features that simply make life easier like a hands-free liftgate with programmable memory height so you don't smack it into the roof of your garage! Unfortunately, for some reason Chevy has failed to offer Adaptive Cruise Control, something the segment leading competitors do offer.
While heated and cooled seats as well as other tech are great - for me - adaptive cruise control is a deal killer. Simply put, it is an essential feature for anyone who enjoys taking long road trips and it makes me sad that Chevy doesn't offer it in the Equinox.
NOTE - Chevrolet sent me an update - they have added Adaptive Cruise Control in the 2019 Chevy Equinox.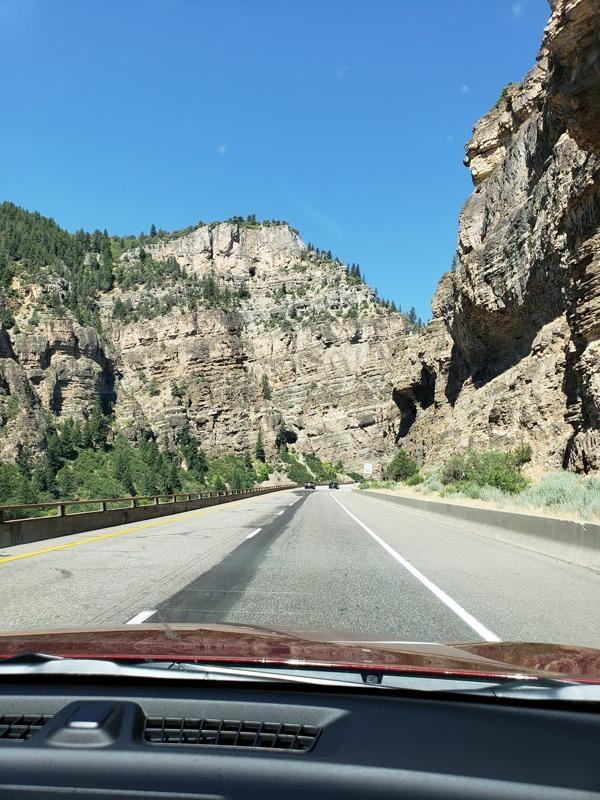 Despite the altitude (5,100 in Denver up to 12,000 at Loveland Pass), the Equinox performed well at both high-speed curves as well as going up long, steep hills. The 2.0L Turbo is rated at 22 / 25 / 29 mpg but I decided not to comp those numbers since this is not the typical driving environment. However, it was surprisingly peppy and though I would have prefered a bit more leg space on the driver side, the seats in both front and back were comfortable, even after sitting in them for hours at a time.
About six years ago I drove parts of this route along I-70 from Denver through the Rockies when we moved out west. This route has one stretch in particular that is just amazing - Glenwood Canyon. Here, you'll find the road wedged in against the canyon walls with the Colorado river below you. The views are simply fantastic and luckily there are a few spots to hop off the road and check out the water. Ultimately, this is what a great road trip is all about ... getting somewhere and being able to enjoy the journey when you do.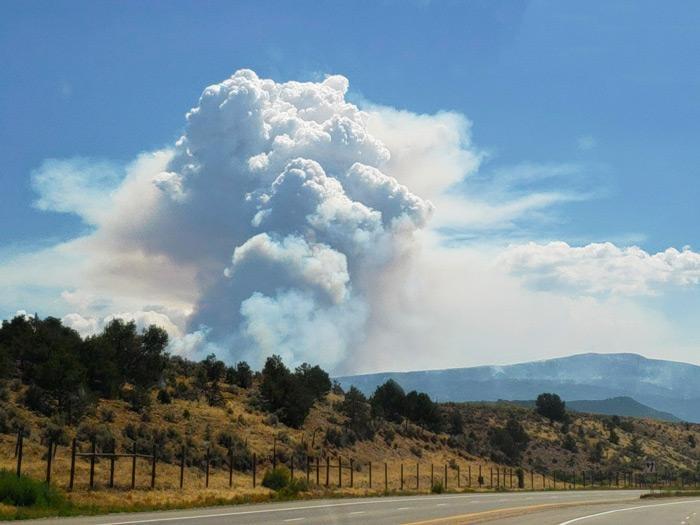 Our "home base" for the weekend was Glenwood Springs, Colorado and it's a great spot that has plenty of summer activities but is also close to other spots like Aspen. Unfortunately, this area is not immune to the ravages of forest fires and we drove by one on the way to Aspen. It's strangely beautiful though in a weird way between the charred black hills and the plume of smoke towering into the sky.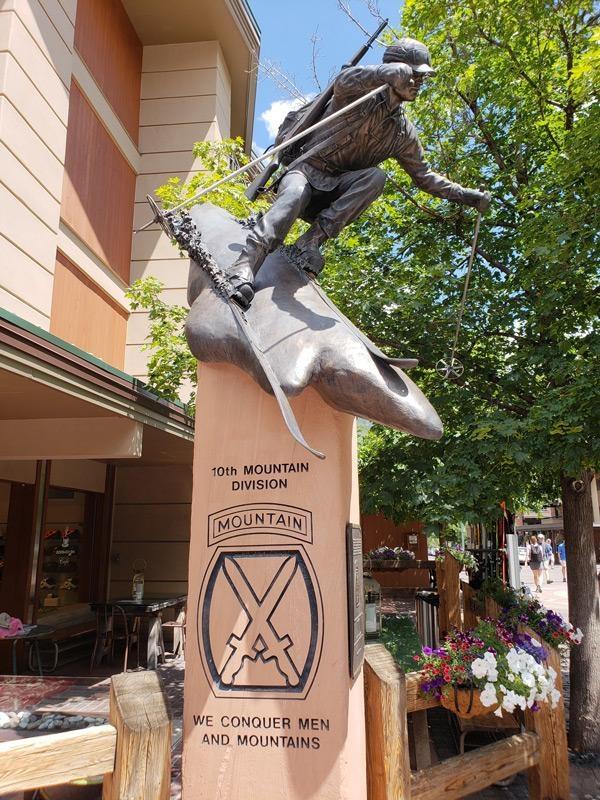 One aspect of mountain resorts in Colorado that most people don't consider is that not long ago, places like Vail and Aspen were active military training sites. Aspen was home to the 10th Mountain Division and they commemorate that distinction with a statue right in the middle of the base station complex by the gondola.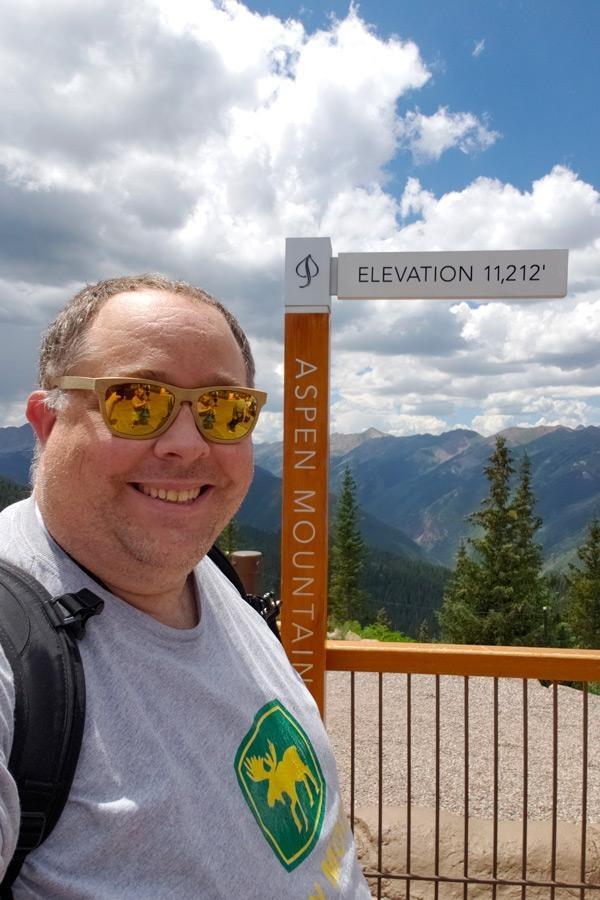 One of the great things about visiting resorts like Aspen in the summer is that prices are pretty reasonable. For only $35 you can get up to 3 days of gondola and chairlift rides, a bus ride to Maroon Bells, a $10 lunch credit and a bunch of discounts at various places. When you consider that a single gondola ride is , that's a heck of a deal.
So, the four of us piled into the gondola and headed up to the summit - 11,212 feet. That doesn't sound like a crazy altitude but considering that the four of us normally live at sea level, it was enough that all of us felt it. Originally we were planning to enjoy some hiking trails along the summit but due to some impending thunderstorms we grabbed a quick lunch and headed down the mountain. If we had more time, there was tons of summer activities available at the summit including some relatively easy hikes, disc golf, and outdoor concerts. The food was SHOCKINGLY affordable and delicious for a ski resort too.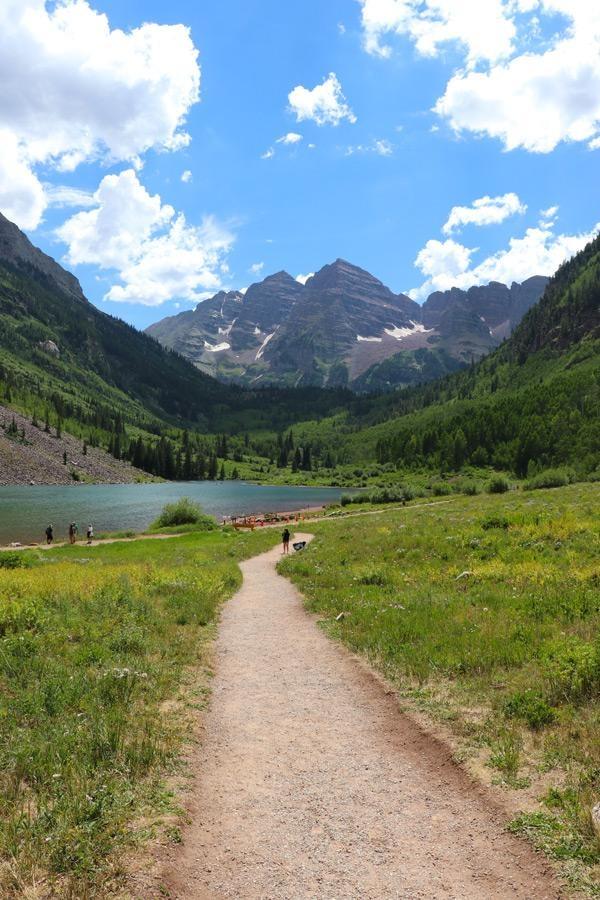 Our next stop was the famous Maroon Bells at Aspen Highlands, right next door. While you can take a car there in late afternoon or early morning, the absolutely better solution is to take the bus. Since that was included in our pass, it made things easy.
These 14,000' peaks are surrounded by wildflower filled fields and is probably one of the most photographed areas of Colorado. On less windy days, the lake serves as a mirror to reflect the beauty of the peaks but today was very windy with the impending rain.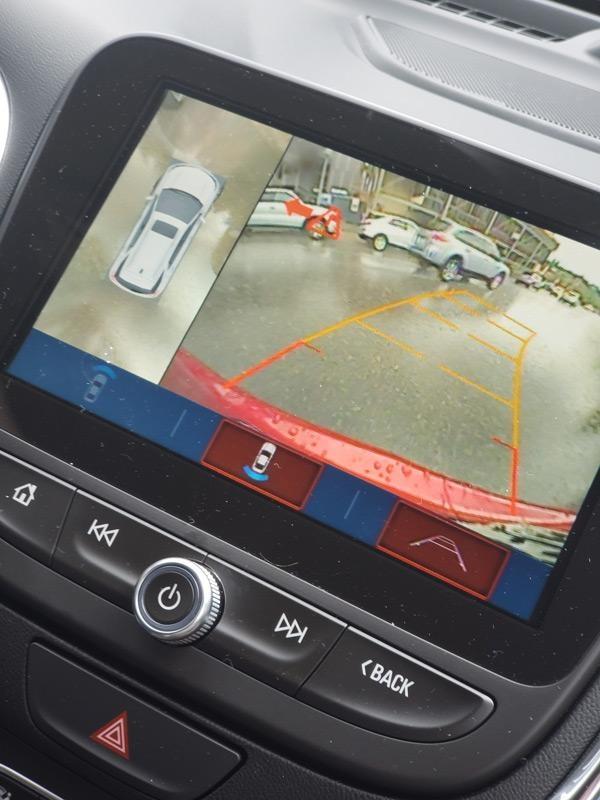 While the rain generally held off enough for us to enjoy our day, the storm gave us a great opportunity to test out the rear-view cameras and cross traffic alert as we tried to back out of our parking space.
It's hard to imagine how we all survived without safety and convenience features like this. Luckily (with the exception of Adaptive Cruise Control!), the Equinox is packed with tech including a wireless charging pad and six USB plugs.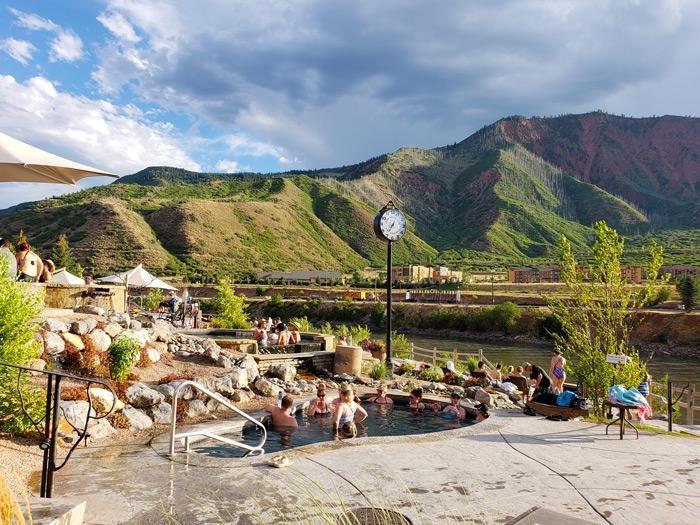 Back in Glenwood Springs, we decided to get some relaxation time in. As you'd expect from the name, the town is known for the hot springs here. Two of the most popular include Iron Mountain Hot Springs where there are several different pools of various temperature and Glenwood Hot Springs Pool, which is more of a water park with eight slides and a large hot springs fed swimming pool.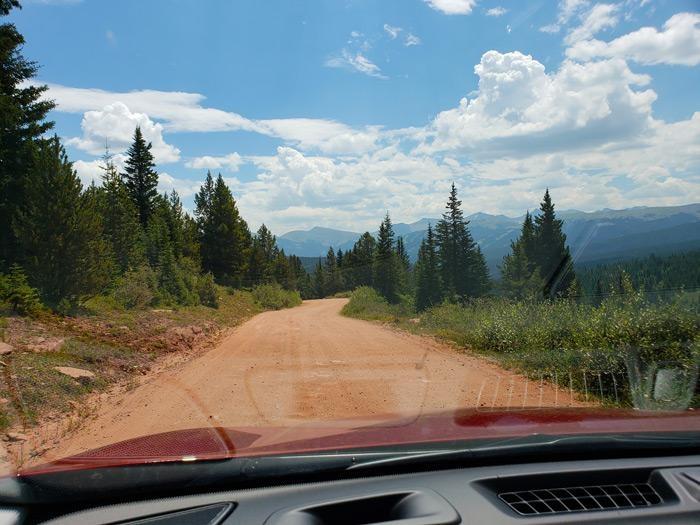 The Chevy Equinox is NOT an off road vehicle and even with the optional AWD, the tires, suspension, and clearance are not designed for true off road use. However, just outside of Vail I noticed a beautiful reddish brown trail that went up the mountain so I decided to follow it.
After passing some Rubicons and JT Cruisers airing down on the side of the road I decided that was as far as I was going to take the Equinox. However, it was enough to get some great views and frankly the Equinox handled great on the relatively steep parts of this dirt road.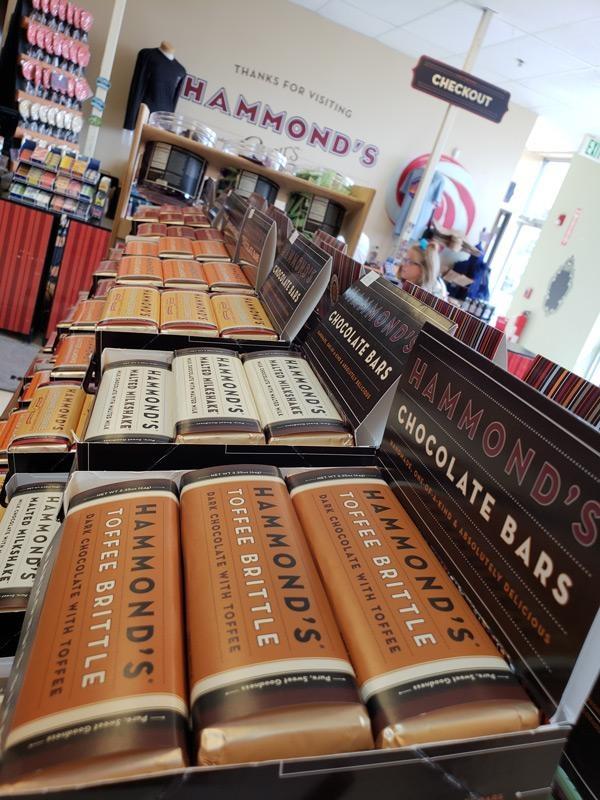 Sadly our time in the cool mountain air had to come to an end but a stop at the Denver icon, Hammond's Candy Factory made up for that. Here, you can get a variety of handmade candies and chocolates as well as tour the factory. For me though, the highlight was being able to buy a big bag of "oops" candy canes for just $5. I don't care that Christmas is 6 months away ... for only $5 that was awesome! The chocolate bars were pretty good with flavors ranging from Fortune Cookie and PB&J Sandwich to more conventional flavors like Toffee Brittle and Salted Almond.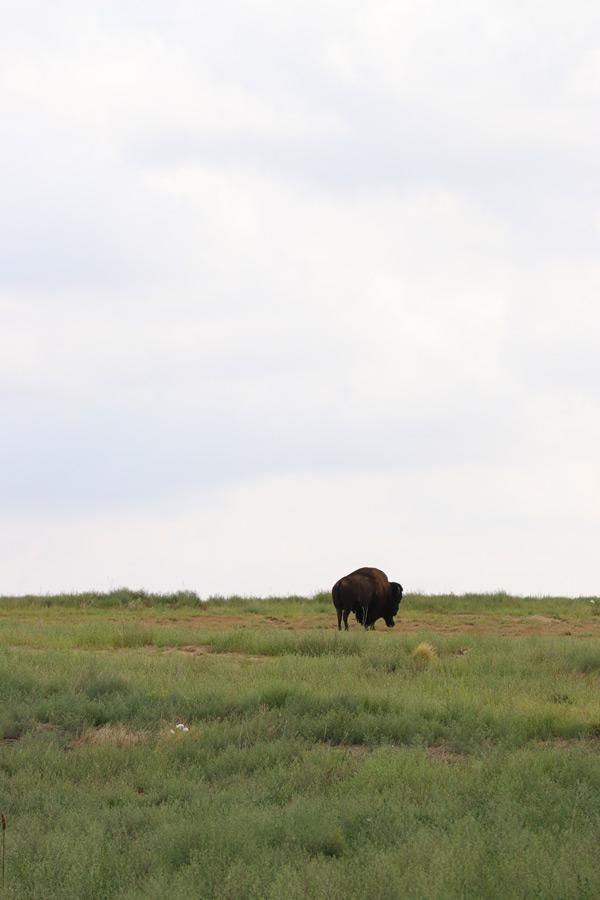 Our final stop before handing the car back in at the airport was the Rocky Mountain Arsenal Wildlife Refuge. Here you can take an 11-mile Wildlife Drive and see a variety of animals from your car including bison, deer, hawks and prairie dogs. It's completely free and located just minutes from downtown Denver.
It's very impressive how much Chevy has improved the Equinox. While there are some glaring omissions, it was one of my favorite compact SUVs that I've driven in a while. Some in the space like Mazda's CX-5 are pushing more towards the luxury space and others like the RAV-4 are pushing to simply be a mass consumer vehicle that can tend to be dull despite it's solid and dependable heritage. The Equinox however, delivers a great tech package and with the 2.0L Turbo anyhow, a car that is simply fun to drive with enough power to squeal the wheels a bit and suspension able to handle tight mountain roads. It's absolutely one that you should have on your shopping list if you are in the market for a new car this year.