When it comes to mancations, and guys weekends your epic adventure doesn't have to be measured in days ... just in awesomeness. That's why I was immediately excited to learn more about what these two guys managed to accomplish. Through a combination of driving and flying, they managed to visit 23 US States in only 24 hours! Let's learn more about how and why they did this incredible adventure!
Where did you guys get the idea of doing this insanely aggressive road trip?
We were driving back from a trip visiting a friend when, after several hours in the car and crossing several state lines in quick succession, we asked the innocent question of "What is the most states visited in 24 hours?" A quick google search turned up Gunnar Garfors who claimed 22 states in 24 hours back in 2015. Being engineers and still having several more hours of driving left, we spent the rest of the drive home brainstorming possible options to improve on this.
To make it on such a tight schedule there must have been a lot of teamwork. Did you guys practice before the trip?
We tested our camera and GPS setup on the way to the starting point, but the majority of the work was actually in the planning that went into the trip ahead of time (far more than 24 hours). We had everything planned out on a gantt chart down to the 15min detail (including driver swaps and bathroom breaks). We arranged friends to park our cars at the airports so we could avoid shuttles. We intentionally planned the timing so we would be driving down the eastern seaboard at night/early morning to avoid traffic. We also planned to the flights early in the morning to avoid the risk of delays. Even the timing of the attempt was intentional - May is post spring break and snowy travel season but before summer vacations and hurricane season start.
What did you learn about yourselves / working together as a result of the trip?
One thing we learned, is that bow ties can get extremely uncomfortable after 24 hours of travel! We got off route one time (only a minute or so) and were impressed with how quickly we were able to recover and get back on plan.
What's one part of your trip that you wish you could go back to and spend more time exploring?
The majority of the trip was on interstates and only moderately scenic, however on the way to Vermont and New Hampshire we were on some extremely scenic back roads which we would have loved to have been able to stop and admire the roadside brooks and waterfalls.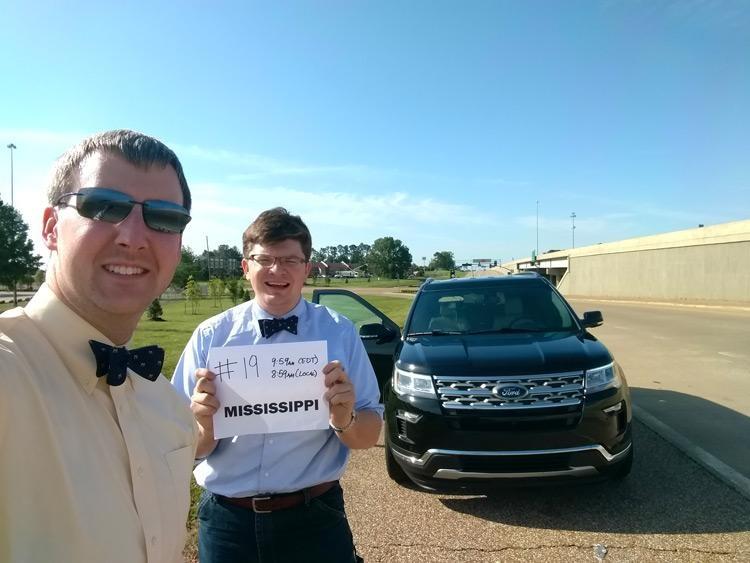 I hear you used the Ford Explorer for the last leg, what made it the perfect road trip car?
We only used a Ford Explorer on the last leg of the trip (Memphis, TN to Paducah, KY). The trip consisted of 4 legs on the ground strung together with 3 flights. The first leg was in my personal Ford Fusion, the second leg was in a Chrysler 300, third was in a chauffeured Lincoln MKS, and the last leg in the Explorer. We intentionally flew into small airports where we could walk/run from the terminal to the rental facility without relying on a shuttle and used National Car rental so we could quickly grab a car and go without stopping at a counter. I work for Ford, so when we saw the Explorer, that was our go to choice as we were familiar with the controls and it provided plenty of space and comfort for that leg (ventilated seats are a lifesaver after sitting in a car/airplane seat for 24 hours straight!)
What's next on your road trip bucket list? Is it possible to do 25 states?
We originally had a plan to get 24 states, but had to drop Maine once the flight schedules changed. 25 states would likely be impossible without some for of private air transportation. We've tossed around the idea of attempting to break the record for fastest time to all 50 states (currently 6 days, 17 hours, and 31 minutes).
Based on what's been released so far, what's your favorite part of the new 2020 Ford Explorer?
I work at Ford on the new Lincoln Aviator which is also going to be made in Chicago Assembly Plant, so I have been working closely with the Explorer team for a while. Personally, I'm excited for the hybrid offering which will provide amazing range (good for breaking records) without sacrificing performance or interior space. The new technology with the large cluster and center console screens are also a great upgrade from the current Explorer. Lastly, Atlas Blue is a tremendous looking color!
You guys can read more about their amazing trip on their State Record Run website!