Up until this year when it finally came true, I'd always dreamed about one day having a suite in Vegas and living like a high-roller. On the strip this can put you back thousands of dollars per night. Sure there are some incredible options but without an unlimited amount of money, I'd rather save my money for food, drinks, and entertainment. Downtown Las Vegas is a different story and I had the opportunity to check out three different suites that are all awesome options if you are planning a guys weekend or a bachelor party in Vegas.
All three of these options are located in Downtown Vegas - better known as "Fremont Street". While The Strip may be more "posh", I find Downtown to be a LOT more fun, much more value for your money and an experience that I can fully support spending my money on. For instance - at some of the big resorts you may have to walk for 10-15 minutes to get to your room, downtown you can just take the elevator upstairs, drop off your bags, and be at the tables in less than 10 minutes. It's a great experience and something that more people deserve to know about.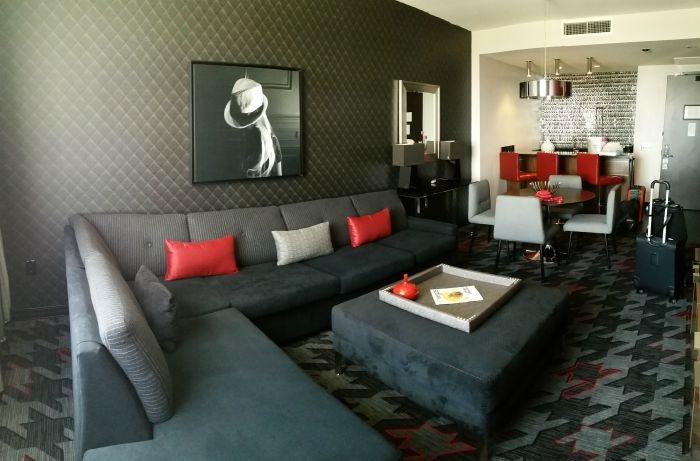 The D Hotel Suite
This is my favorite option since for not much more than a standard room on the strip you can get a baller suite complete with wet bar, beverage fridge, couch, three TV's and a great bed. Plus there's a big bathroom with two sinks and a bedroom that completely closes off from the rest of the room. While rates always vary, a sample mid-week rate in September is only $159 and $289 on weekends.
The D Hotel features chic look and a truly American spirit. For instance, while it was being renovated where possible the owner chose to use American made materials and decor.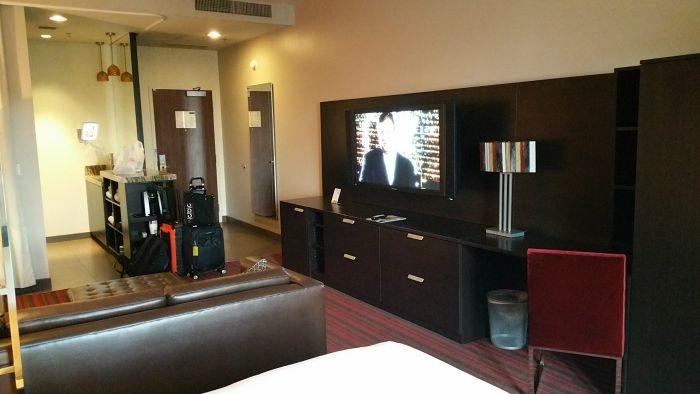 Golden Gate Hotel & Casino Suite
On the other end of the strip you'll find the Golden Gate Hotel and Casino. If you love history, dreamed of walking in the footsteps of Vegas legends like Sammy Davis Jr., or simply like an incredible deal then this is the place for you. While these suites are only slightly bigger than a standard hotel room, it makes a great option for those looking for something a little special while still having plenty of money left over to play the games and grab an extra shrimp cocktail at DuPars afterwards!
For example, a sample midweek price in September is only $79, with weekends being $249.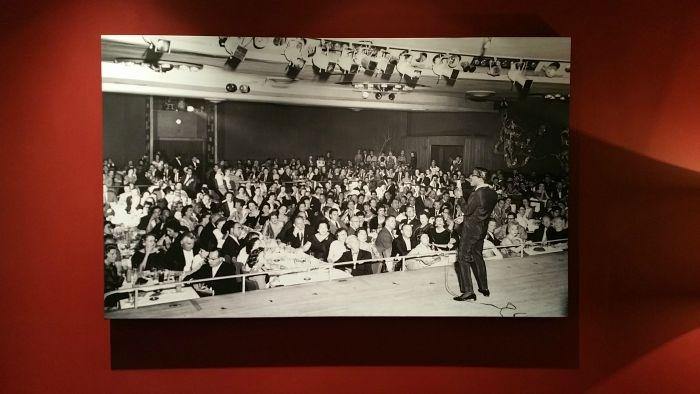 Despite it being physically smaller, I really liked this suite because of the artwork and design. The Golden Gate is the ORIGINAL Vegas Casino Hotel. When it opened in 1906, the hotel stood on land parcel #1 and it also has the honor of having the first phone in Las Vegas too. Over the years, it fell into a sad state of decay but in 2012, the casino received a massive makeover to the order of $15 million and it shows. Today, they have managed to blend the old with the new in a way that makes guests welcome to step back in time but still enjoy modern amenities like USB charger wall plates, plenty of outlets, a great shower, and high-definition flat screen TVs.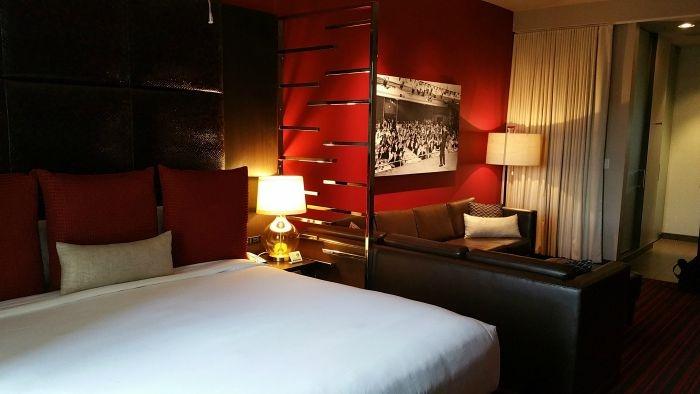 Despite this suite being only one room, it includes a sliding curtain that can close off the bathroom and bar area to allow for some privacy when having guests over. There is also a large couch facing the TV so you can relax there with the guys too before heading out, or have one last beer together before going to bed.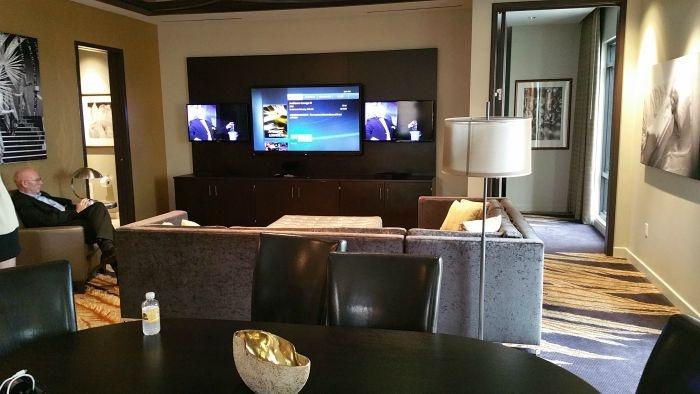 Golden Gate Hotel & Casino - Penthouse Suite
Of course, if you want the ultimate experience - potentially complete with bartender and steaks grilled on the patio then this is what you want. Designed as much for an event space as a suite to sleep in, this is a great option for a bachelor party. The suite includes two rooms, a full bar, patio with grill and space to hang out and smoke a cigar.
While substantially more expensive than the suites above, at about $800 midweek and ~$2,000 on weekends, this is a great option if you have a bunch of guys who want to chip in for the ultimate Vegas suite party experience.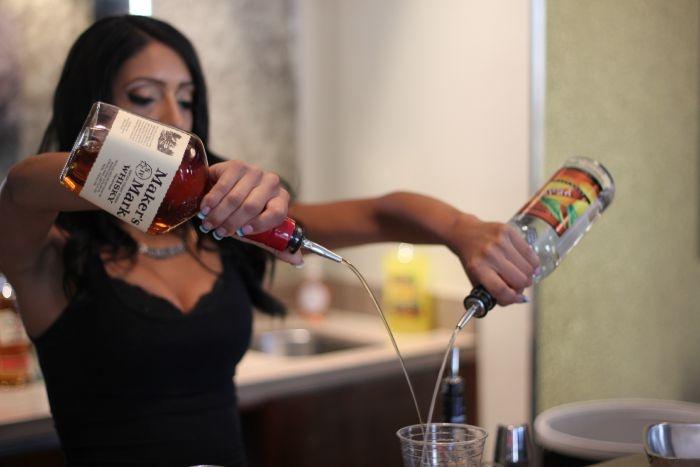 During our stay here, we enjoyed having plenty of cocktails served up by the same awesome bartenders you will find downstairs at Prohibition Bar, along with shrimp cocktail from DuPars.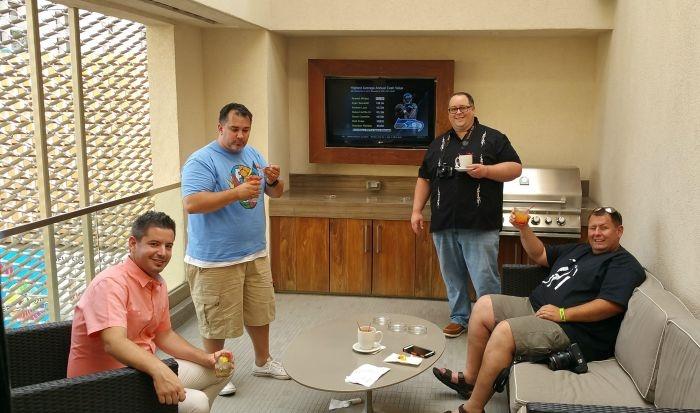 Of course, while the suite is beautiful inside, we spent most of our time outside enjoying our cocktails, watching SportsCenter on TV, and wishing we could snag some ribeyes from Andiamo's to grill up on the great Jenn Air grill for dinner!