Most guys who are new to wine think of iconic destinations like Napa and Sonoma as the places to go for wine. While I am a huge fan of California wines ... the reality is that there are great wine regions all over the country. Some such as Lake Michigan Shore have gained prominence in recent years, while others such as the Snake River Valley AVA just west of Boise are lesser-known. What's great about these "undiscovered wine country" getaways is that they tend to be less expensive, more relaxed, and offer other opportunities to build a perfect getaway without making wine the singular focus.
This list of unexpected wine countries is a mixture of AVAs and areas located within those larger AVA regions. This is because the designated AVA (American Viticultural Area) might be thousands of square miles in some cases and in others, much more localized. Across the United States, as of 2019 there were 246 official AVA regions in 33 states and several of those actually cross state lines such as the Snake River AVA include areas on both sides of the Oregon and Idaho border. Others such as Cole Ranch AVA in Mendocino, California are less than a quarter of a square mile but is still considered a unique and discrete area deserving its own appellation. When you consider the sheer number of AVA designated wine regions it is clear that there are more places in the United States than most of us consider when it comes to planning a wine trip.
We have purposely avoided ranking our selections by the best wineries in the country, nor is it intended to be ranked at all. Wine is a very personal preference and sometimes I simply enjoy visiting a region or a particular winery because of the people and atmosphere - even though wine is technically better at a different location. Instead, I look at this as a way to inspire wine lovers to travel, explore, and try something new.
We are blessed to be at a time in our history where wine is no longer something reserved for snooty "experts". Today, Americans are discovering wine in new ways and realizing that it is something that can be enjoyed by people of all parts of society from penthouse suites in New York to sipping on a pontoon boat after a long day of fishing.
Augusta AVA, Missouri
To include two mentions of Missouri might surprise some, but as two of the earliest established AVA regions, this list wouldn't be complete without including it. Missouri's viticultural history extends back nearly 200 years. German settlers began planting vineyards on the banks of the Missouri River in the 1840's and by the end of the century, Missouri's wine industry was booming. In fact, Augusta, Missouri was the first established AVA in the entire country in 1980. To put that in comparison, it was recognized eight months before Napa!
Today, Augusta, Missouri - located about an hour west of St. Louis is on our list because despite being only 15 square miles and only a handful of wineries it has that honor of being first in the nation.
Ozark Mountain AVA, Missouri
The Ozark Mountain AVA technically spans most of South Western Missouri and has localized regions such as the Augusta AVA within the borders. However, it is important because this entire wine country area that includes Branson, as well as Lake of the Ozarks, is worth visiting for boating, fishing, hunting, hiking, biking, outdoor adventure, and just exploring on a road trip.
Fredericksburg, Texas Hill Country
Located near Fredericksburg, the Texas Hill Country AVA wine area boasts over 50 wineries. One of the hottest areas to visit is the Wine Road 290, where visitors will find 22 wineries. Fredericksburg ranks as the second most popular wine destination in America. Local wineries produce wines ranging from dry whites to bold BBQ reds. Visitors flock to the area for the wine, the excellent barbecue, and country music. Fredericksburg sits minutes from Luckenbach, Texas, the town immortalized by Waylon Jennings and Willie Nelson. Carter Creek Winery contains both a winery and a brewery. It includes a full restaurant serving breakfast, lunch, and dinner. On select nights it offers live music. Chisholm Trail Winery boasts a wood-fired pizza oven and you can play pool or horseshoes and watch sports while you enjoy their wine.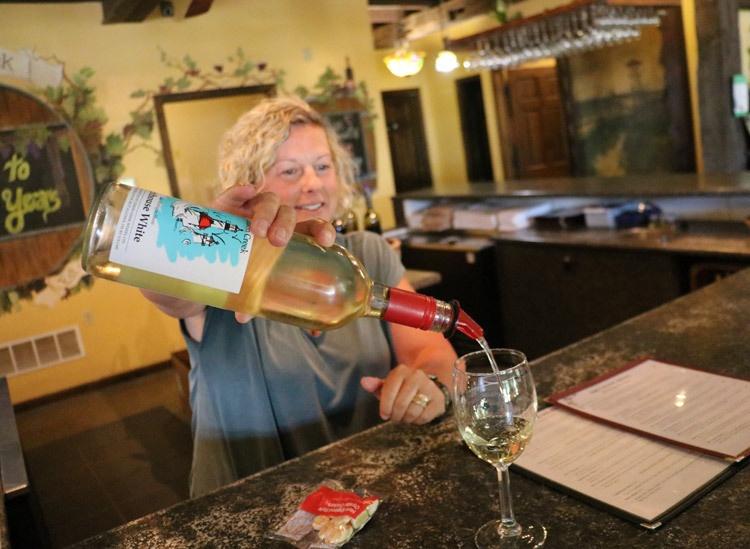 Lake Michigan Shore
The Lake Michigan Shore Wine Trail features 15 wineries manufacturing a wide variety of wine and spirits. Interstates 94 and 196 offer easy access to most of the wineries. There are a wide variety of wineries here ranging from well-established favorites such as St Julian and Round Barn Winery as well as smaller ones such Codgal Vineyards features excellent red and white wines and it also sells maple syrup harvested and produced on the vineyard property. No visit here would be complete without a visit to Lemoncreek Winery with fabulous wines featuring bottle art featuring lighthouses and other buildings from the area, or Karma Vista Vineyard where the wines have rock-music themes such as Stone Temple Pinot and Gunzan Rose. The area features many excellent places to stay and dine in the coastal harbor towns. Michigan offers many beautiful golf courses. The area around the wine trail hosts many beautiful clubs.
Lake Erie Wine Country
Lake Erie Wine Country advertises itself as the largest wine country east of the Rocky Mountains. Most of the wineries sit a short distance from the shores of Lake Erie. Besides the standard reds and whites, this area offers ice wines. Made by harvesting grapes after they freeze on the vine, ice wine offers a sweet taste. Most people use it as a dessert wine. 21 Brix Winery offers ice, white and red wines. The last Saturday of each month, it hosts a free concert. Concert attendance requires a wine purchase. Once you finish visiting the wineries, stop at the Skunk and Goat Tavern for dinner. The Tavern promotes its craft beer, creative dishes, and the self-described prohibition-era cocktails.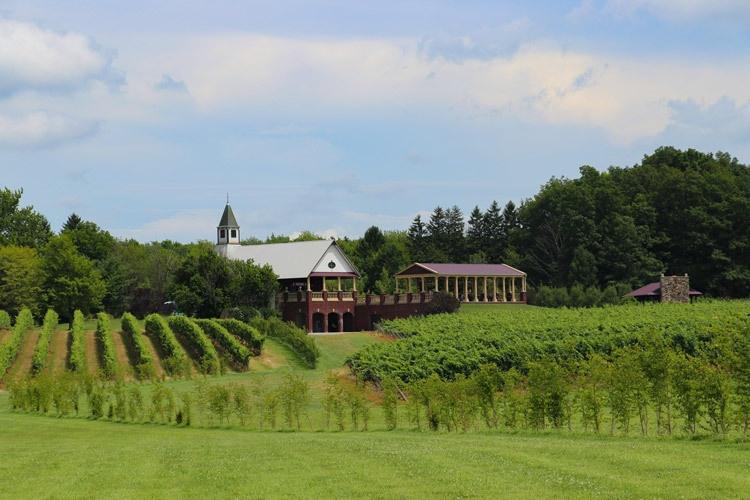 Ashtabula County, Ohio
Ohio in itself could make for an article about unexpected wine regions since there are wine trails all over the state now. Ashtabula County is just a few miles north and east of Cleveland. This means that not only do you have beautiful lake views, plenty of fishing, bike trails, and twisty roads across rolling hills, but there are 31 wineries here too! Visitors will find a full spectrum of atmospheres from fine wine experiences rivaling what you'd find in California to Old Firehouse Winery that has a Ferris wheel, fire truck and serves wine slush drinks to thirsty beachgoers looking for a cool treat. Guys who enjoy fishing will especially like it here since there are plenty of fishing charters available or you can get a cabin on the lake and go fishing right there too.
Loudoun County, Virginia
The Loudoun Wineries Association boasts 50 wineries. Loudoun County wineries produce both red and white wines, featuring the flavorful cabernet franc. If you desire activities besides tastings, try the area's historic sites and hiking trails. The Harpers Ferry Adventure Center offers whitewater rafting or tubing. We recommend Breaux Vineyards in Purcellville. Besides producing excellent wines, they feature monthly themed parties. These include the Cajun Festival, Key West Festival, and Bluegrass and BBQ.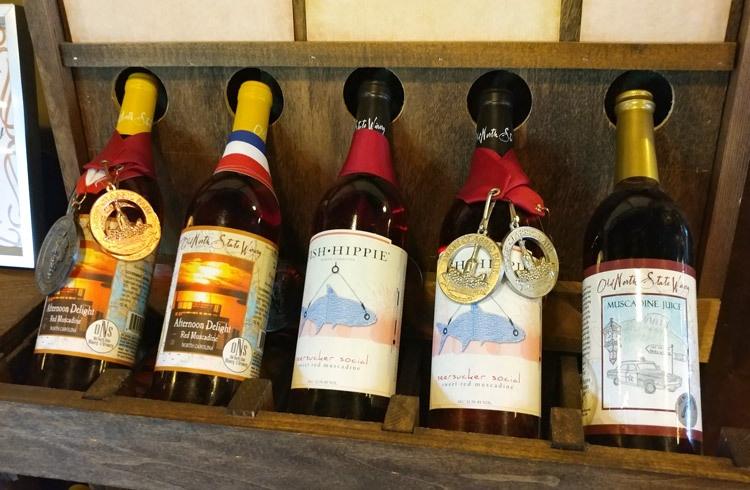 Yadkin Valley, North Carolina
Yadkin Valley Wine Country sits in the foothills of the Blue Ridge Mountains 65 miles north of Charlotte. Many of the wineries converted from tobacco farms when smoking declined. The area boasts beautiful food, excellent dining, and temperate weather. North Carolina is NASCAR country. A short drive leads to Charlotte Motor Speedway, several smaller tracks, and many NASCAR shops. The local area also offers outdoor activities, such as hiking and whitewater rafting. NASCAR owner Richard Childress operates Childress Winery in Lexington. The winery features a large selection of award-winning wines for tasting. A bistro offers a full menu of food, including steaks.
Snake River Valley, Idaho and Oregon
Located just west of Boise, the Snake River Valley AVA is a huge area that spans almost 8,000 square miles. Much of this area is located in Oregon but due to the sparse population in western Oregon, the destinations you'll want to focus on are primarily in Idaho. In fact, many of the top ones are clustered around Caldwell, ID located less than an hour from Boise. This area is best known as the Sunny Slope Wine Trail and you'll find a mixture of new wineries as well as ones that have thrived for more than 30 years such as Hells Canyon Winery. With it's proximity to the mountains, the rivers, and the legendary Idaho beer scene this is a fantastic destination for guys seeking outdoor adventure such as rafting, camping, and biking during the summer and fall.
Willcox Wine Country, Arizona
Typically, most people think of Arizona as wide open deserts. However, you might be surprised to find a collection of 10 wineries tucked away in Willcox Arizona Wine Country, located an hour east of Tucson. Here, you'll find wineries that produce surprisingly good wines for a state more associated with sand and extreme summer heat. At an altitude starting at 4,200 feet, the vineyards are sheltered from the hot summer days of the low desert, can the combination of hot days followed by cool nights, monsoonal summer rains, and rich alluvial soils produce unique wines that are worth checking out. For folks who love great Sonoran-style Mexican food, golf, and hiking, this is a must-visit destination!
Dahlongega Plateau, North Georgia
Last but not least is one of the newest AVA regions in the United States. Located about an hour northeast of Atlanta, Dahlonega Plateau Wine Country is a small area with seven wineries that offer a unique tourism experience. While you might enjoy the nice golden color of chardonnay, you can enjoy some while watching the sunset after a day exploring the region's history of gold mining. Gold was discovered here in 1828 and that led to 15,000 prospectors heading to the region nearly 20 years before gold was discovered in California. Today, you can pan for gold in the rivers, tour an old gold mine, or visit the Dahlonega Gold Museum. Of course, while we all love shiny metal,