If you're tired of the usual bar hopping and fishing trips, it's time to grab your buddies and jet off to France. I know what you're thinking ... France is all foo foo fashion and snobby people but there's an entire country outside of Paris and the Cote D'Azur that embraces a distinctly masculine side of French culture that deserves to be experienced. For instance, imagine the thrill of a road trip through the French Alps in a luxury sports car, sipping wine on a Bordeaux river cruise, or a guys weekend staying in a French Chateau drinking wine and eating some of the world's best food.
Are you ready, your ultimate guys trip is about to begin!
Key Takeaways
France offers a rich cultural experience with its history, art, and tradition.
Renting a French chateau provides a unique and luxurious accommodation option.
The French Alps offer thrilling adventure and outdoor activities such as hiking and skiing.
Bordeaux offers a river cruise experience with world-renowned wines and culinary delights.
Why France?
You might be wondering, why choose France for your guys' trip? France's cultural richness is simply unparalleled. It's brimming with history, art, and tradition that you and your friends can sink your teeth into.
Visit the iconic landmarks, like Eiffel Tower in Paris or the stunning castles in Loire Valley. Feel a part of something bigger as you walk the same streets that once hosted famed artists and thinkers. And let's not forget the gastronomic delights. French cuisine is world-renowned, and for good reason. From flaky croissants to robust wines, you'll be feasting like kings.
However, there's an entire world that most Americans never get a chance to explore that I have. I gained the appreciation for that side of French culture while touring Normandy with a French family and talking about war stories with the grandfather. I've had fabulous conversations with French winemakers and they are nothing like the snooty merchants in Paris and they are far from the elite Euro trash yacht kids that dominate the French Riviera.
If you haven't had a chance to explore the real French countryside, a guys trip is your perfect opportunity.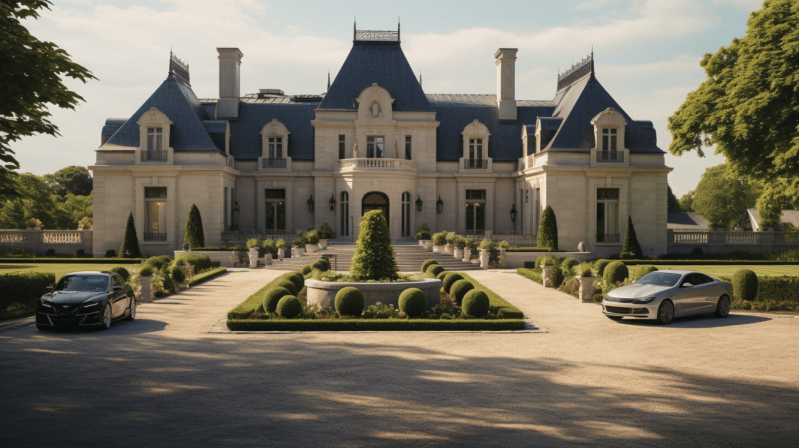 Rent A French Chateau
Consider this: there's nothing quite like renting a French chateau, where you'd be living like nobility amidst grandeur and history. Imagine staying in a luxury chateau in the South of France, or one of the charming chateaux in the Loire Valley, surrounded by stunning landscapes.
These opulent properties offer spacious rooms, private pools, and luscious gardens, accommodating your entire crew with ease and comfort. What's more, if a French chateau wedding has been a dream, wedding consultants are readily available to help plan your special day.
The experience of staying in a chateau doesn't just offer a unique vacation, but a sense of belonging to a centuries-old narrative. So go ahead, make your next guys trip truly unforgettable by renting a French chateau.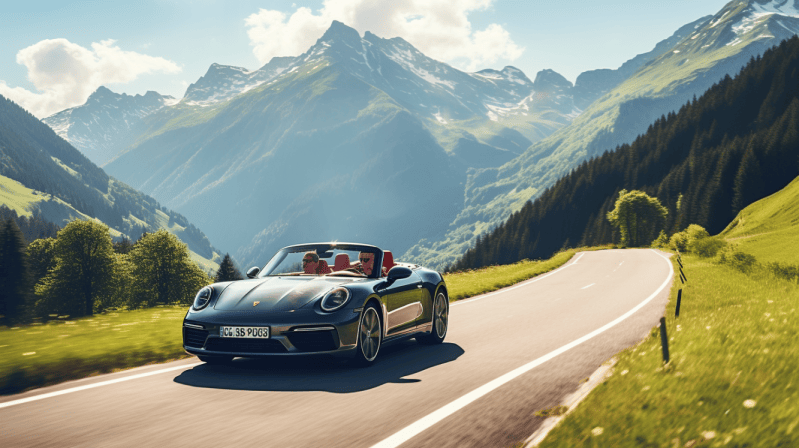 Road Trip Through The French Alps
Let's hit the road and embark on an unforgettable journey through the breathtaking landscapes of the French Alps. This road trip promises thrilling adventures, scenic hikes, and bonding time with your buddies. There are plenty of places to rent luxury sports cars in France such as https://billionrent.com/en/locations/france-en so don't make this trip boring by cheaping out and driving some eco diesel that won't be any fun.
Here's what your French Alps trip can entail besides just driving some of the world's greatest mountain roads ...
Start with mountain biking in the lush valleys of the Ecrins National Park for a rush of adrenaline.
Venture on scenic hikes across the magnificent Col De La Bonette, spotting wildlife and enjoying the panoramic views.
Ski or snowboard down the snowy slopes of Col du Mont Cenis, showcasing your skills.
Finally, unwind by the turquoise lake, reminiscing about the day's exploits.
This trip through the French Alps ensures an experience filled with camaraderie, adventure, and unforgettable memories. So, are you ready to experience France like never before?
River Cruise Through Bordeaux
Where else could you enjoy world-renowned wines, breathtaking scenery, and rich history, if not on a river cruise through Bordeaux with your buddies?
Imagine gliding past vineyards and historical landmarks, sipping Saint-Émilion, Médoc, and Sauternes onboard.
The vineyards of Pauillac, Margaux, Saint-Estèphe, and Saint-Julien offer wine tasting experiences like no other. You'll learn the art of winemaking, passed on for generations, while tasting wines from prestigious vineyards such as Château Margaux and Château Lafite Rothschild.
This journey isn't just about wine. You'll indulge in culinary delights, hunting for truffles in Périgord and savoring France's finest oysters fresh from the bay at Arcachon.
A river cruise through Bordeaux is an adventure of taste and discovery you won't want to miss.
Battlefield Tours In France and Belgium
You'll experience a profound sense of history and camaraderie on battlefield tours in France and Belgium, as you trace the steps of soldiers who fought in World War II. Your group will bond over the shared experience of exploring these significant historical landmarks, appreciating the sacrifices made by countless individuals.
Your battlefield exploration will include:
A visit to Bastogne, a key location in the Battle of the Bulge, close to the Luxembourg border.
Paying respects at the Mardasson Memorial, honoring American soldiers.
A tour of the Bastogne War Museum, furthering your understanding of military history.
A transfer to Brussels, ending your day at the stylish Radisson Blu Royal Hotel.
These battlefield tours will deepen your understanding of the past while fostering a sense of unity among your group.
French Beer Tour
While you're discovering France with your buddies, why not embark on a unique beer tour, immersing yourselves in the rich and diverse beer culture that the country has to offer?
Start off by tasting Bière de Garde, a remarkable French beer style that allows brewers to experiment and make their mark.
Experience the beer culture in Lyon, with its cozy beer-forward boozers and long lines of taps. Don't miss the historic Brasserie Georges, dating back to 1836, a top French Brewery offering four house beers.
Ninkasi, another notable local brewery, offers a range of pub grub in their riverside beer garden.
This beer tour won't only quench your thirst but also give you an in-depth understanding of French brewing traditions.
Calvados Tour Of Normandy
Embark on a Calvados tour in Normandy, and you're in for a treat as you explore the art of creating this unique apple brandy. You'll delve into the Calvados production process, from the orchard to the glass.
The Orchard: Wander through rows of apple trees and witness how the journey begins.
The Apple Press and Fermentation Room: Experience the thrill of stepping on apples and setting off the fermentation process.
Distilling, Ageing, and Blending: Understand where the magic happens, enhancing Calvados' unique taste.
Savoring Calvados: Learn the Calvados tasting techniques from an expert, appreciating its appearance, aroma, and taste.
Also, don't miss out on exploring Calvados and food pairings, elevating your culinary experience. This tour will make you a true connoisseur!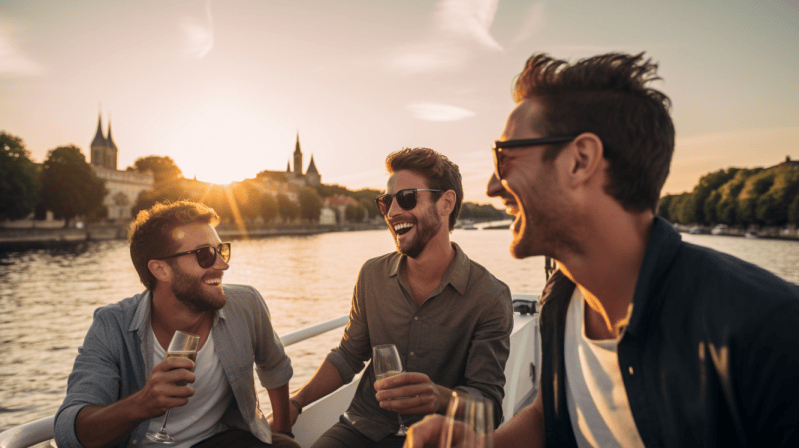 Conclusion
So, why wait any longer? Grab your buddies and take the plunge. Whether it's renting a chateau, road tripping through the Alps, cruising in Bordeaux, exploring historic battlefields, or sipping on French beer or Calvados in Normandy, France offers a unique and unforgettable trip for you and your mates.
Adventure, camaraderie, and remarkable experiences await you in this beautiful country. It's time to make some memories in France, guys!