For many visitors to Las Vegas, the strip is where it's at ... some even venture downtown to explore Fremont street but there is actually much more to explore here on some fun and easy day trips. One route that I've somehow never taken the opportunity to explore is a loop that includes Valley of Fire State Park and Hoover Dam. Here's why you should check this area out too!
For this road trip, the folks at GMC gave us a 2021 Sierra Denali truck. In some ways it was a disappointment knowing that the mid-cycle refresh version coming out in 2022 is going to fix a lot of the weaknesses that this one suffers from compared to it's competitors. Specifically, the interior just isn't in the same "luxury" level as options offered by other manufacturers - especially the small screen.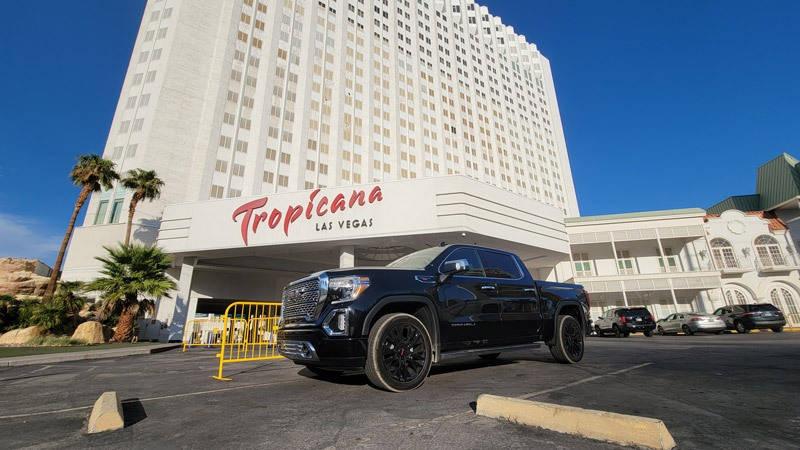 Despite it's shortcomings though, we absolutely love the Sierra Denali. It is our go to truck because it just feels right. It is also fantastic on road trips despite the fact that all trucks suffer in terms of fuel economy compared to modern hybrid crossovers.
However, the things that are important to me are good - comfortable seats, easy to park and maneuver in tight spots, and it offers a comfortable ride across high-speed interstate driving as well as dirt roads. It also looks sharp with the big "in your face" chrome grill.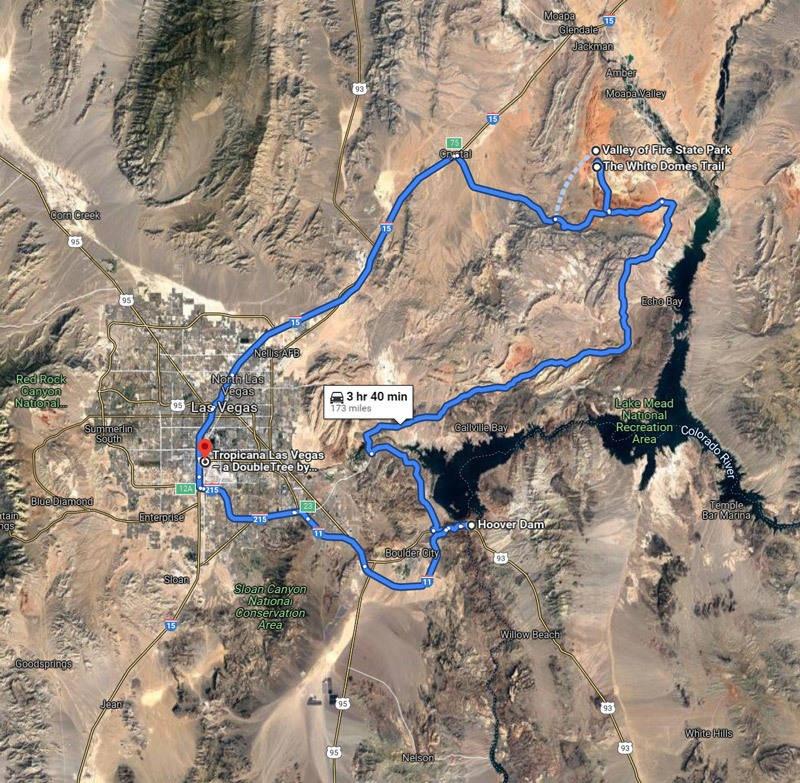 For this road trip, we start at Tropicana Las Vegas where we stayed for the Tropicana Wine Mixer, and we will continue north along the 15 to Valley of Fire State Park and then down along Lake Meade and Hoover Dam before driving through Boulder City and Henderson on the way back to the strip.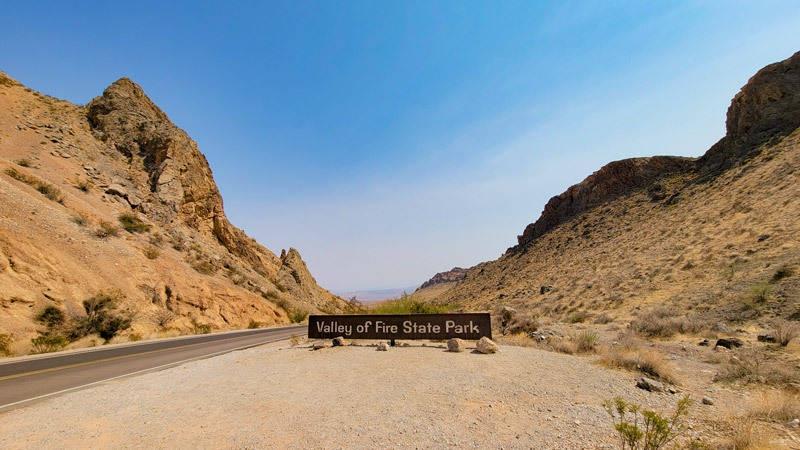 What's interesting here is that while I thought the entire park would be filled with these vibrant red rocks that looks like they came right from the furnace, the most stunning visuals are mostly limited to one road in the park.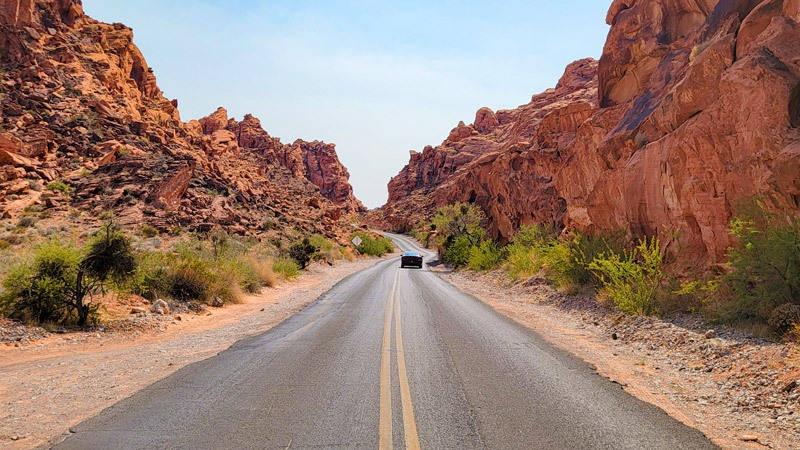 To see these, make sure to exit Valley of Fire Highway at Mouse's Tank Road (where the visitor center is located) and take that road all the way to the end. This route is by far the most scenic spot in the park unless you are hiking.
In our truck, the twisted roads were somewhat fun but if I was in a Corvette convertible then this would have been an absolutely spectacular experience.
This wasn't just my thought though, it was clear that many folks who had rented exotic vehicles were also here. As a result, I frankly had fun just simply watching a stream of Ferraris, Lamborghinis, and McLarens fly by along with American muscle too.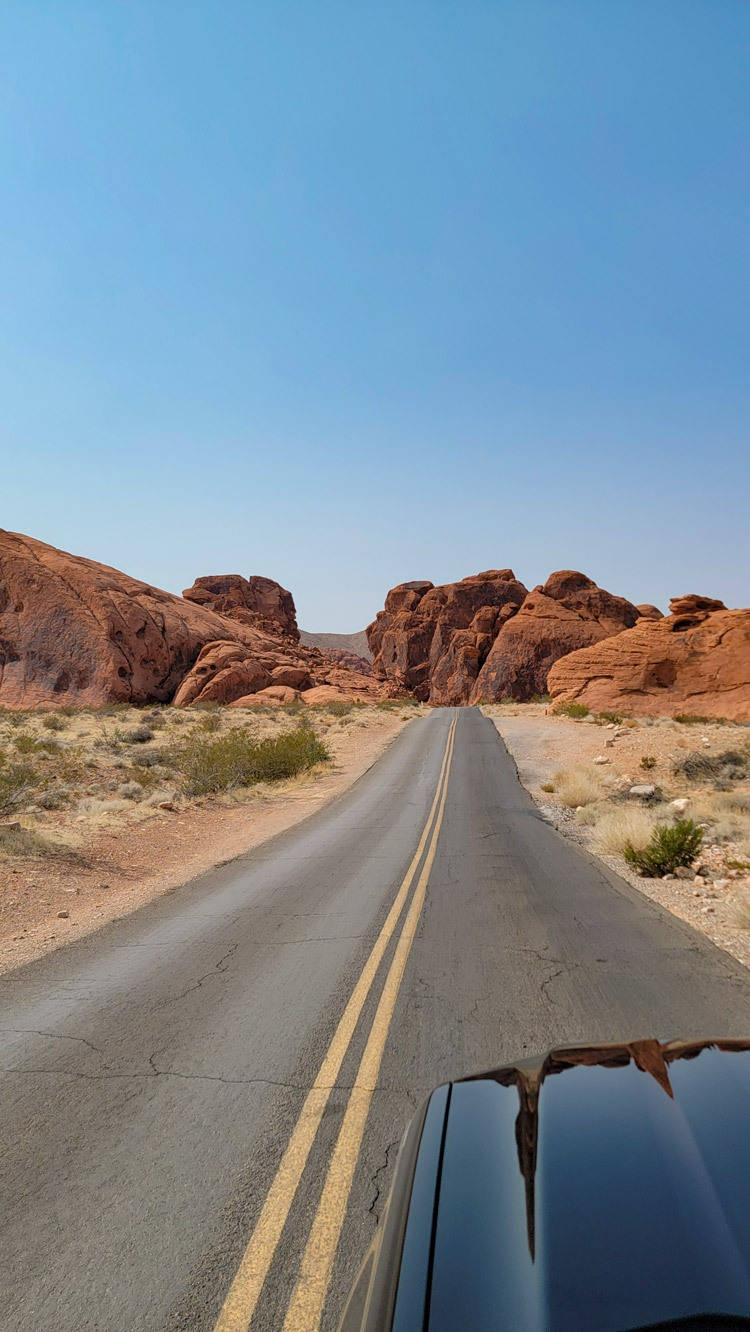 We didn't stop to do any hikes because it was over 100 degrees that day and this total loop is already nearly 4-hours long without stops to take photos but I look forward to returning again sometime in cooler weather.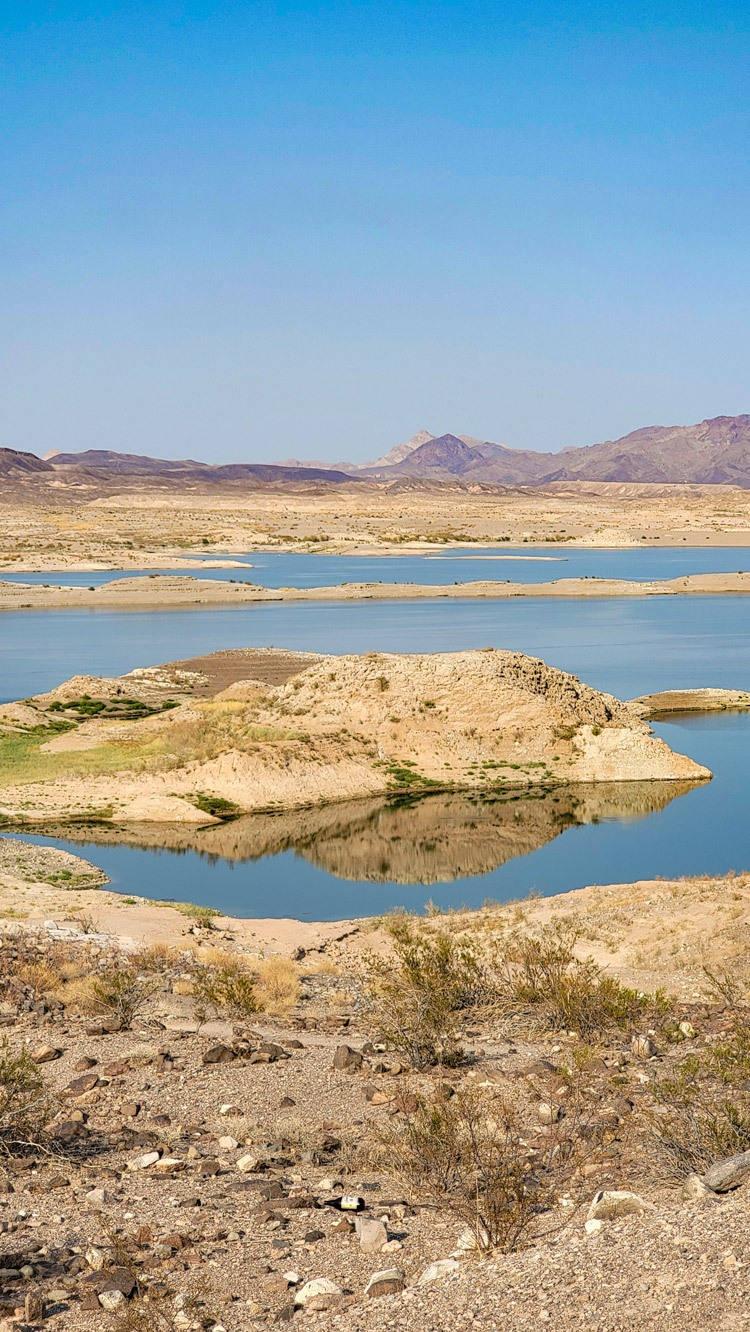 Continuing on through the park and then to Northshore Road along the well ... north shore rim of Lake Mead it became clear exactly how low the water level has become.
Today the lake is at the lowest level since it began to fill in 1937 after the dam was completed. When you fly over, the "bathtub ring" is very clear but it is hard to visualize exactly what this impact looks like until you stand on the shore.
The last time it was completely full was in 1999 when it reached an elevation of 1,220 feet, today though the water level stands at approximately 1,060 feet, a drop of 160 feet. In the photo above that means that all of those islands would be well under water.
To put it into a perspective that most people can understand better, a 12-story building is typically 150 feet tall! When you spread that out over more than a million acres of space that is now dry, the cubic volume of water that has vanished is truly staggering.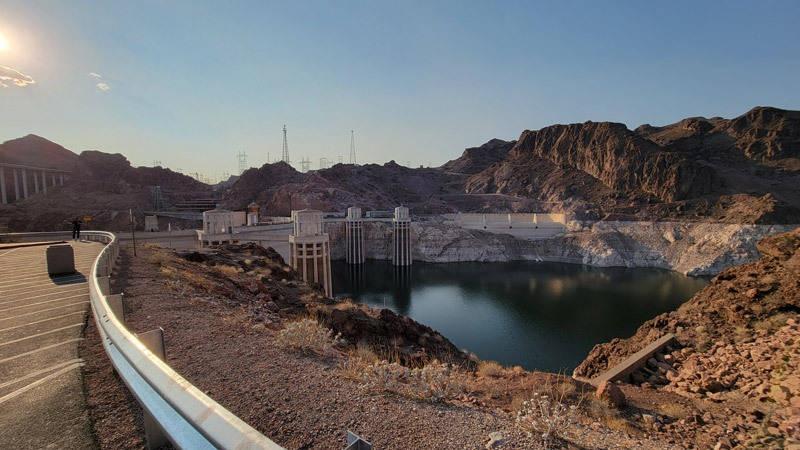 Currently the Dam Tour is closed but you can walk around the Hoover Dam area as well as drive across it.
From this perspective you can see the linear amount of water that is gone as well.
I look forward to returning here again in the future to tour the dam but as it was this was a long day.
While driving back to the Las Vegas strip it was a sobering reminder of just how quickly things have changed with science and technology. Nearly 90 years ago when Hoover Dam was build, we looked at land and natural resources as something endless that we could bend to our will and serve our needs. Great cities and incredible innovations came to us during this age but we are now poised on the edge of a new era.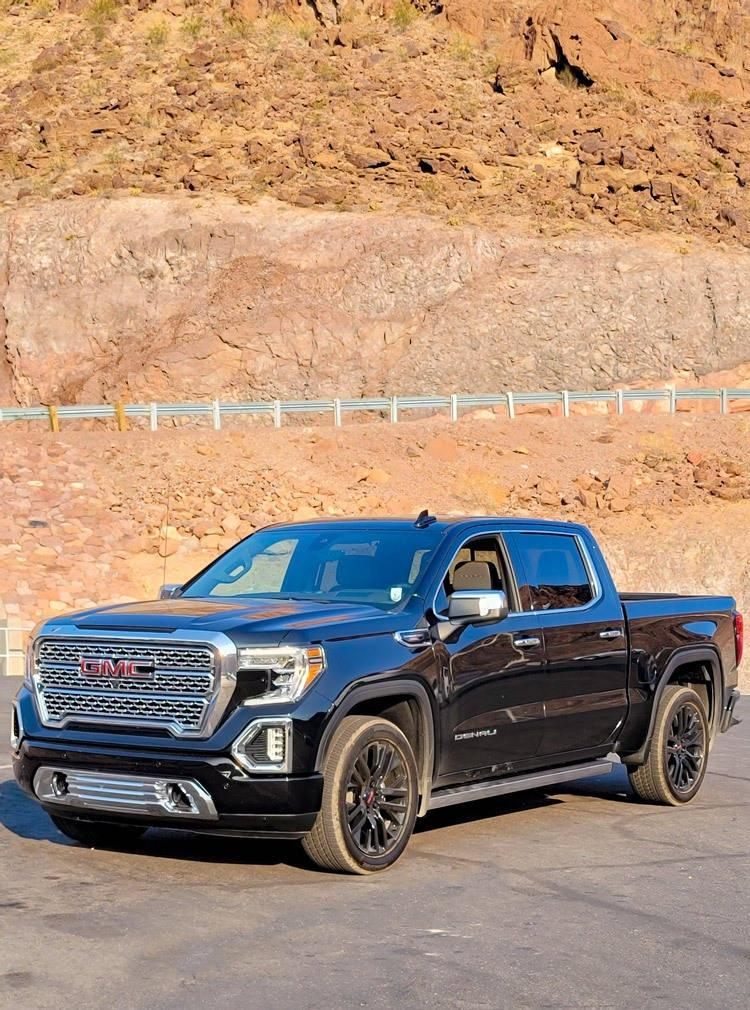 That's one reason why I feel the Sierra Denali was a great vehicle for this road trip. Like the age of unlimited water and unbridled development - big V8 engines are nearly gone too. It is very likely that whatever comes our way in a few years from the engineers at GM Trucks, it won't be a big beautiful naturally aspirated V8 like we enjoy today.
Unfortunately, fuel economy is a real thing that we need to pay attention to now and just as drought is driving innovation with water conservation through the south west, we are starting to see impressive innovation in the truck market as well.
I can't wait to see what the engineers at GMC and Chevy have in store for us, but for now the Sierra Denali remains my favorite truck for road trips and the 2022 model with Super Cruise, more luxury, and more technology looks to be even better!