When it comes to bucket-list adventure ideas for a guys weekend, there are few more enticing than visiting the site disasters. It is a primal reminder that no matter how powerful and talented we are as men, natural forces are exponentially more so. A few years ago when I was in Ukraine I was only a few hours from being able to visit Chernobyl but simply didn't have time in the itinerary to make it happen. Hopefully one day I'll be able to visit there but here's what to expect if you do visit Chernobyl ...
Chernobyl exclusion zone is one of the most popular touristic destinations in Ukraine. One of the biggest nuclear disasters converted this land into a unique place. Nuclear power plant, unfinished reactors, military radar, ghost city, many villages, and rich wildlife – those are just some of the locations from the huge list that you can visit with Chernobyl Story Tours. Whatever exactly you are looking for when visiting it you can be sure you will find everything and even more.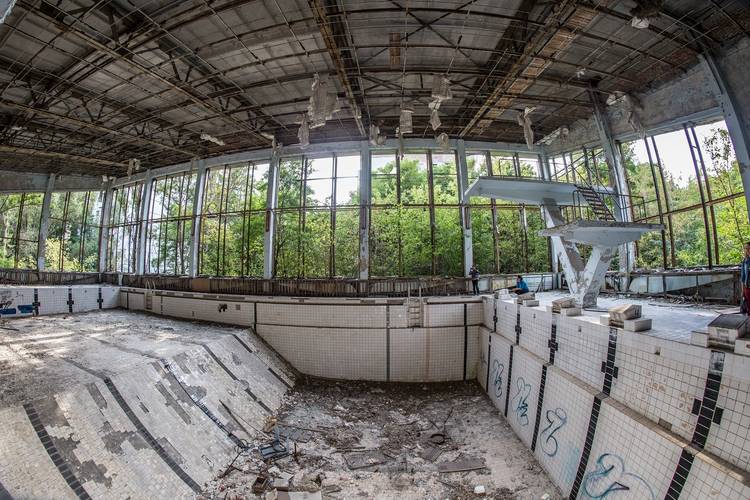 Time Machine to the Soviet Era
26th of April 1986 changed the flow of life in these lands forever. The population was evacuated, factories stopped working, all the constructions were frozen, and all events were postponed indefinitely. Dealing with the ruins of the reactor and decontamination of the surrounding area were two main priorities back to the time. Authorities announced that evacuation would be temporary, so everyone expected to see the land alive again sooner or later. But it never happened.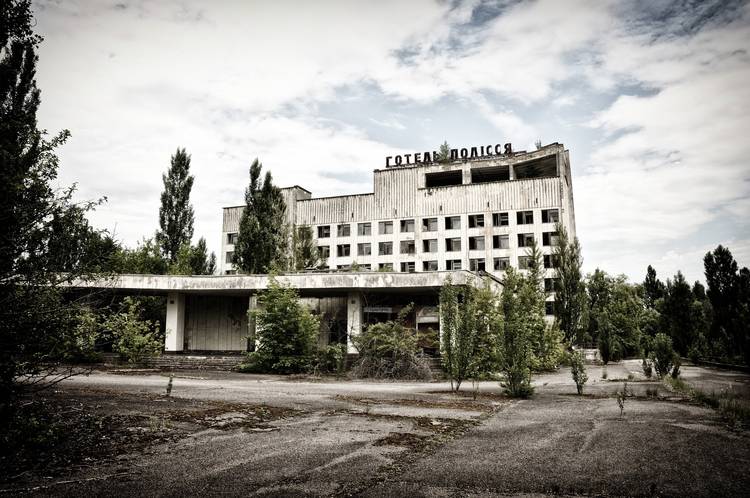 When visiting the Chernobyl zone today, you can find footprints of the Soviet Union everywhere. In the village of Zalissya (which used to be the biggest village of the area, by the way) you'll be taken to the House of culture. There is a red banner above the stage saying that "Communism is the bright future of humankind". When exploring Zalissya further, you will find "Lada" car frames next to some of the private houses: those cars where the most common ones in the Soviet Union.
Another location with Soviet atmosphere can be found in the forests of the 10-kilometers zone. It is military radar Duga-1. Soviet Army red stars on the gate welcome you as you enter the area through the main checkpoint. Big impressive array (150 m of height) was put out of service right after the accident and today is called The Monument to the Cold War. Apart from the metal construction, you can see military facilities like the Command Center, training centre, driving school and square surrounded with propaganda posters. Before heading to next location, pass by the secret military town Chernobyl-2: the place where the officers and their families used to live.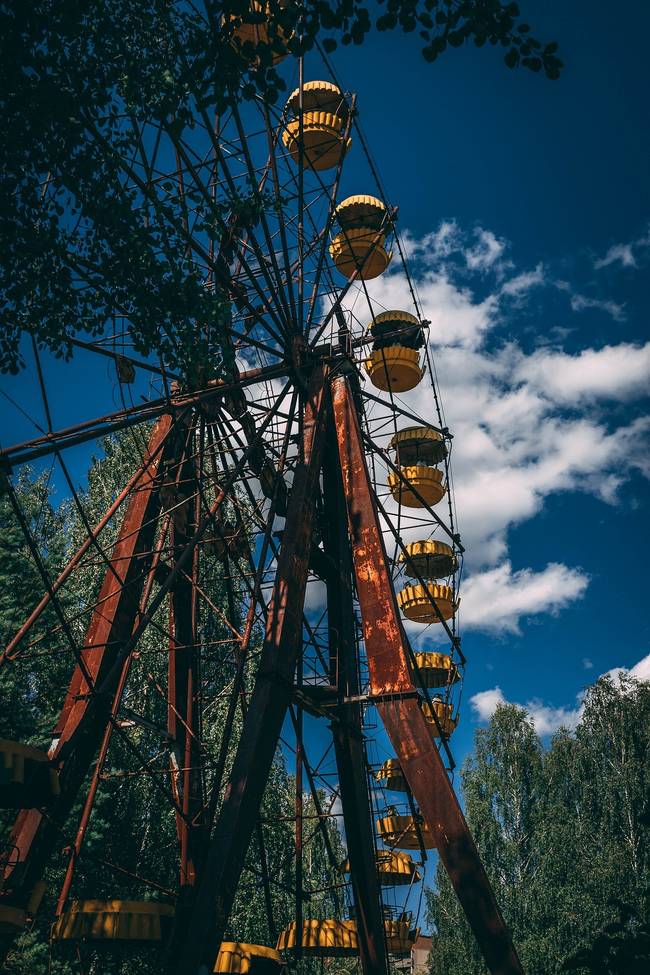 To get more impressions (and not only those related to the Soviet past) go to Pripyat. The city was inhabited by almost 50,000 people, and all of them were evacuated on the 27th of April. Since that time, Pripyat has been owned by nature and no one else. Despite the fact that the forest is literally eating the place, you can still walk on the main square and get to the most interesting locations: river port and riverside café, an amusement park with its iconic Ferris wheel, stadium, swimming pool, vehicles' graveyard etc. The list of the locations visited in the ghost city of Pripyat is formed depending on the available time and tour format (group or private), however, is always fascinating.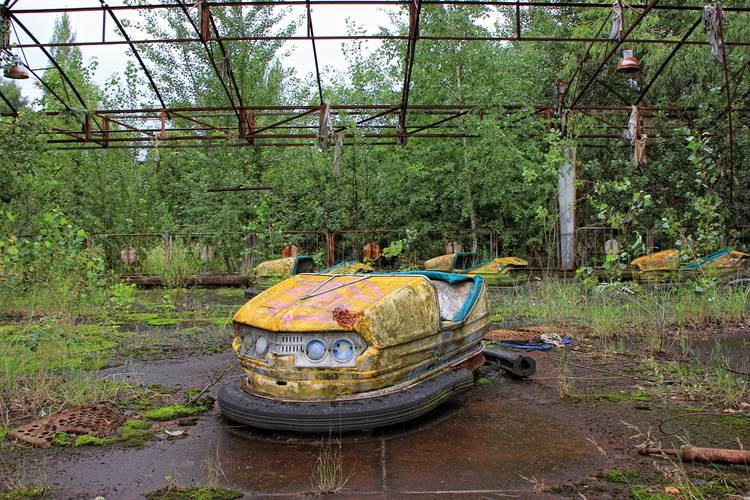 If you want to visit open-air museum of the Soviet times, pick up two-day tour and stay the night in Chernobyl town. Firstly, Chernobyl is unique place as long as this is the only settlement in the exclusion zone that can be legally inhabited. Secondly, since the time of the Soviet Union, almost nothing has changed there. You can walk Soviet Street there and arrive to the main square with statue of Vladimir Lenin. Don't forget to visit one of the few shops in Chernobyl where you will find everything: from socks and shaving foam to sausages and beer. Because of the curfew, nobody is allowed to stay outside after 10 p.m., so it's time to get to your hotel and have a rest.
Meet the Locals: Re-Settlers
Although the population was not allowed to come back to the zone after the evacuation, many people did it. 1200 of former inhabitants of the zone came back to their homes during 1987. They had many reasons to do so and, on the other hand, authorities couldn't deal with it. Today, there are around 100 of them living in Chernobyl town and in small villages of the exclusion zone. On a tour, you can visit some of them as well.
They are always happy to welcome guests in their houses, so will lay a table for you and put as many dishes on it as they can. You will be offered a shot of homemade vodka (it is called "samogon") and lard with rye bread. Apart from this, they will be happy to tell you their stories.
This is a good opportunity to talk to those ones who witnessed the events of April 1986. On the other hand, they demonstrate how life goes on despite all the disasters.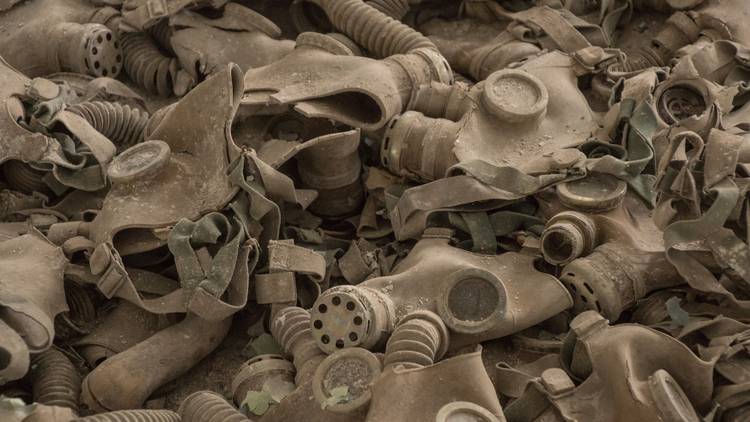 How to Get Ready For A Tour of Chernobyl
First of all, you have to contact tour agency and provide them with your personal details. The exclusion zone is a restricted area, so you'll not be allowed to enter without a professional guide and without your documents. In case you decide to pick up a private tour, your guide will contact you to discuss the locations you'd like to visit and your preferences. Basically, the agency will take care of the rest: insurance, transport, tickets and accommodation (in case of a multiple-day tour). You have to make sure you wear comfortable clothes and shoes, bring your documents, and everything you consider useful and necessary to have with you on a tour. In case of any concerns, you can contact your agency and/or your guide.
By the way, in one day visitors absorb the same amount of radiation as during one hour of flight. So, unless you decide to eat mushrooms from the Red Forest, visiting the Chernobyl zone is absolutely safe.