Hello from James Hills, Editor & Publisher
I created ManTripping in 2008 as a men's lifestyle blog speaking to busy men like myself who love to travel. The concept began while consulting for women's lifestyle and travel blogs. At the time, "men's lifestyle" meant adolescent humor, college kids looking for pictures of scantily clad ladies, and the promotion of a "men behaving badly" type of lifestyle as you may have seen in The Hangover.
While I love to have fun, that wasn't me then and it isn't me now.
I wanted to develop content that reflected my lifestyle as a man who loves to travel, explore new places and see life from perspectives while enjoying wine, food, and cultural experiences with other like-minded men. Not one to back away from an opportunity or a challenge, I launched ManTripping.com and immediately attracted an audience of men as well as women that supported this sentiment.
Today, ManTripping is a leading male lifestyle blog and one of the world's most respected Men's Lifestyle and Travel experts for more than 10 years.
During this time, we've worked with organizations including automotive, men's health, fashion, and food brands as well as tourism destinations to help them reach more men like me.
Each month, through a combination of our blog and social channels, our men's lifestyle blog and travel content is seen more than a million times by people across the United States as well as internationally, with key countries including: Canada, Australia, United Kingdom, and the European Union.
We also conduct travel industry research on men's travel trends through interviews with male bloggers, travel industry representatives, and surveys about travel trends.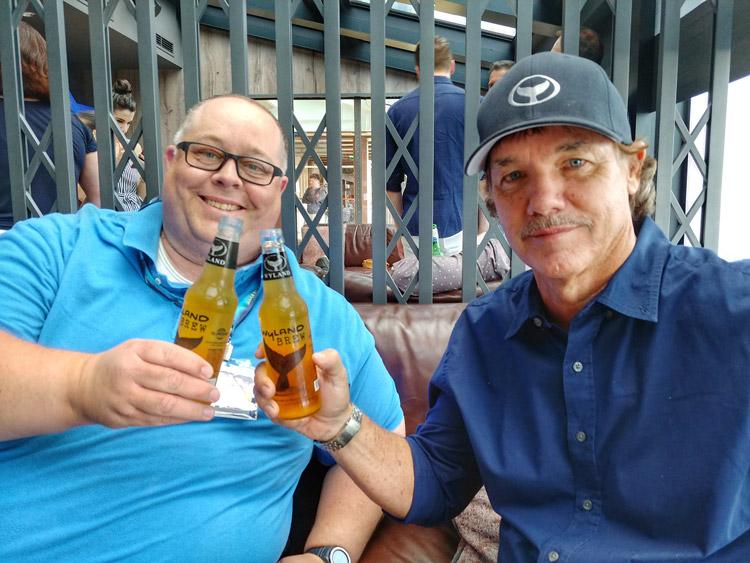 James with artist and conservationist Robert Wyland enjoying craft beer on Norwegian Bliss
Highlighted ManTripping Focus Areas For 2020+:
Mancation Ideas, Father & Son Trips, and Guys Weekend Destinations
Cruising
Wine & Food
Road Trips
Luxury Travel
Who is The ManTripping Audience?
Our target man is a Confident Explorer Who Refuses to be Defined by Labels.
He's a hardworking man who is re-discovering masculinity through an exploration of travel and cultural arts while engaging with and celebrating other great men around the world.
This guy is unapologetic and loves innovation. While he loves his truck and enjoys cruising the open roads in a fast car - he is also enthusiastic about electric vehicle technology and fascinated by the disruptive potential of urban mobility.
The "ManTripping Man" seeks an opportunity to explore new things in all aspects of life, especially when he can share the experience with friends. This includes Hunting, Fishing, Golf, and Mountain Biking as well as less rugged activities such as Cooking, Whale Watching, or simply sharing a Sunset with a good friend while enjoying a Fine Wine, Whiskey or Craft Beer. Despite his rugged masculine exterior appearance, he appreciates the importance of nature and man's connection to it. This connection drives him to challenge pre-conceptions and allows the ManTripping man to embrace his health, sustainability, and environmentalism by connecting the natural world with his favorite pastimes such as surfing, fishing, off-road driving, agriculture (wine / beer / spirits and food), and travel.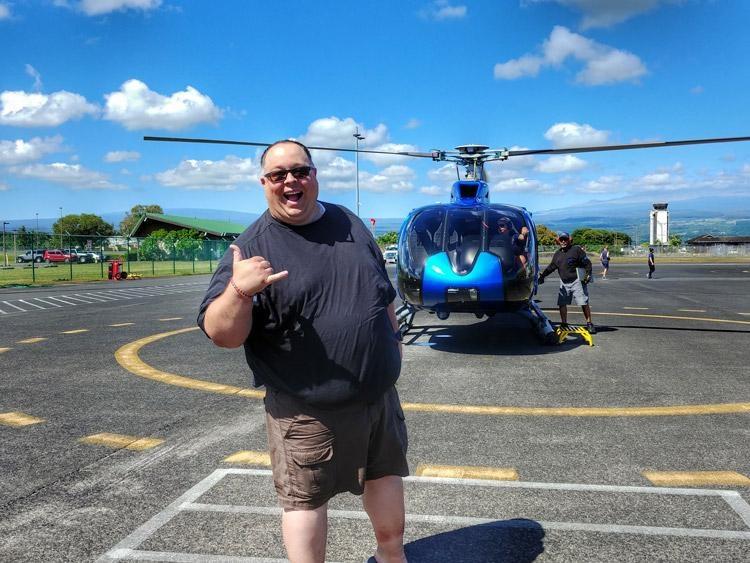 James after a Helicopter Tour of Kilauea Volcano in Hilo, Hawaii
During the week he works hard to provide for his family and country while making plans for the weekend. He dreams of epic adventures such as hunting and fishing in Montana, an off-road adventure in Baja California, golfing in Scotland, or heading out to sea on a cruise ship exploring new areas of the world.
His passion for exploration and sense of duty to his community extends beyond himself. This means he is dedicated to providing a positive role model for other men and especially young ones so that they can thrive and be future positive contributors to society. This includes sharing wisdom, ideas, tips, and advice on subjects that all men should be familiar with, including: men's health, relationships, DIY advice for home and yard, car care, food, drinks, and technology.
While he knows what he likes when he sees it - he isn't opposed to finding new things to enjoy.
These men can be found living anywhere in the country from the urban apartment dweller to the man struggling to survive in the suburbs.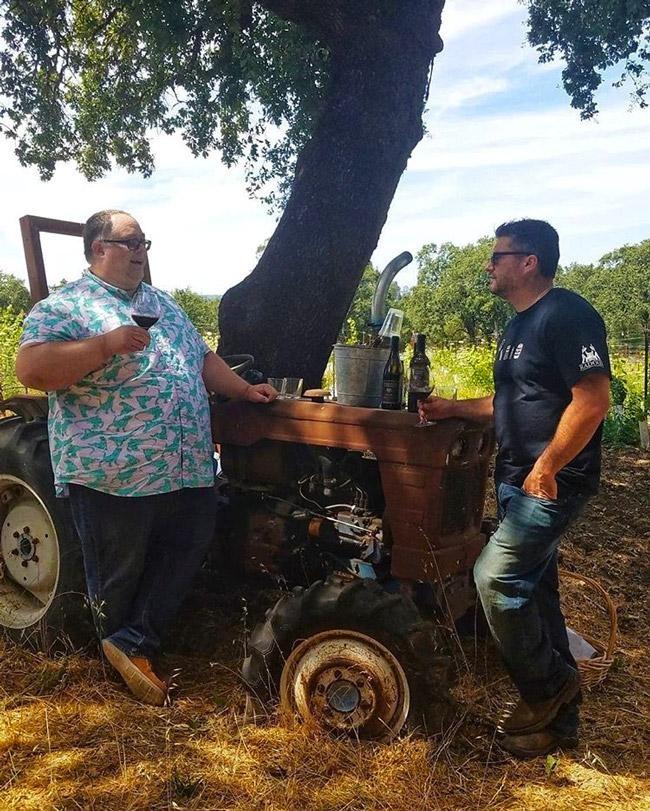 James and Gio from Russian River Vineyards drinking wine and craft beer in Sonoma, California
How To Work With ManTripping:
We are a small independent publisher and so our budget for creating content is limited. This means that we must prioritize brands that are willing to invest in us by providing opportunities to experience a destination, try a product, sponsor content, and promote the content we create that tells their story. While we have recommended partnership rates, we recognize that all brands are different and so we strive to create opportunities that work for us as well as an individual brand that our men will want to know about.
As one of the leading travel and men's lifestyle influencers in the United States, we depend entirely on brand partners that understand the importance of building relationships built on a blend of experiences, product sampling, and sponsorships. However, we always strive to maintain a focus on what's right for our audience and sadly not every brand, story, or sponsor is on target. For more information about working with ManTripping, please contact us and request a media kit.
We do also feature organic and "earned media" content based on men's lifestyle pitches that we find interesting. To be considered, you must be on-topic, have excellent high-quality imagery that we can feature in the post, and provide it to us by email with a clear subject line and introduction that is easily searchable for keywords. While we can't respond to every email, we do search our inbox for story ideas from time to time and so your pitch for something guys might love in a specific destination may be accessed months ... or even years later.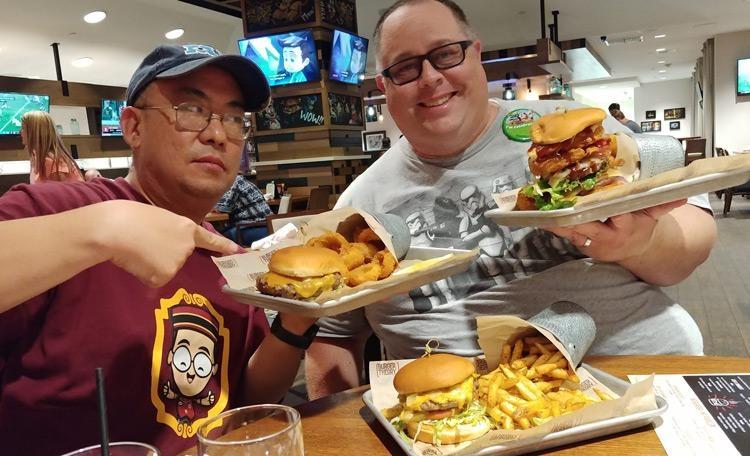 James and Jason Restaurant Review at Burger Theory in Anaheim, California
Men's Lifestyle Target Demographics:
Age Ranges: 25-55
Income: $80,000-$150,000
Top States: California, Florida, New York, Washington State, Illinois, Texas
Our Men's Lifestyle Blog Team Includes:
James Hills - Men's Lifestyle Blog Editor and Publisher
Steve Kinnard - Music and Entertainment
Patrick Vincler - Outdoor Extreme Sports
Bill Breeding - Military and Technology
Heather Hills - Entertainment and Romantic Getaways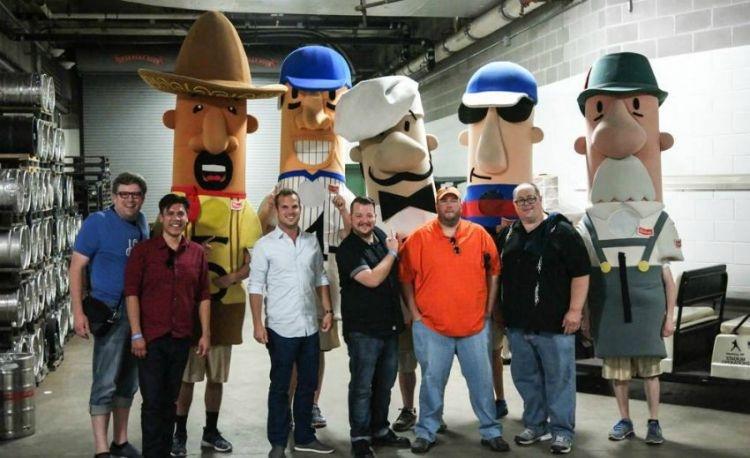 ManTripping and other Men's Lifestyle Bloggers visiting Milwaukee Wisconsin - Brewers Park
Social Media and Blog Reach:
Each month we also reach an average of 140,000 unique visitors searching for men's lifestyle content through www.ManTripping.com as well.
For an in-depth analysis of website stats and social reach, please visit my profile on Fohr.
Key Social Media Channels:
6,000+ people on Facebook.com/mantripping
50,000+ on Twitter @ManTripping
20,000+ on Twitter @MenWhoBlog
11,300+ on Instagram @ManTripping
20,000+ on Pinterest.com/mantripping (1.6+ Monthly Active)
600+ on YouTube.com/mantripping
5,000+ on LinkedIn /jameshills2
If you have exciting men's lifestyle blog information that you'd like to share and promote to our readers, please contact us today. We have a variety of sponsored content opportunities available at different budgets.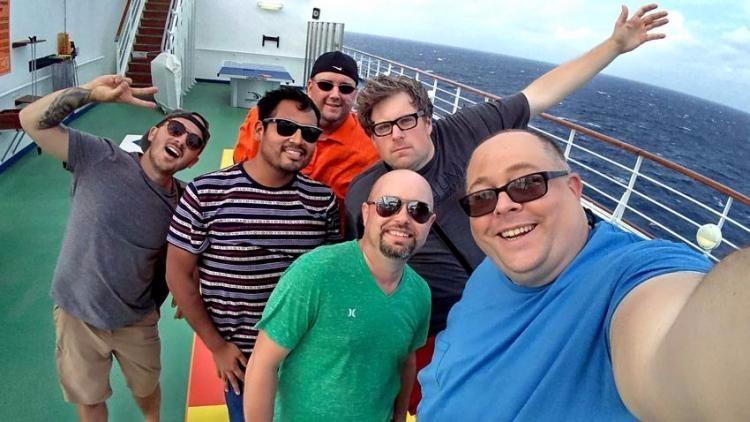 Men's lifestyle bloggers mancation on Carnival Sunshine organized by #MenWhoBlog
Helping Destinations and Brands Reach The Male Audience:
With more than 20 years of Internet marketing experience, we know how to put together influencer marketing programs to help brands reach and engage audiences. When combined with professional media credits with leading publications including Washington Post and social media leadership roles at top consumer brands including Sears, Kmart, Staples, ProFlowers, Shari's Berries, RedEnvelope, and Personal Creations we have a perfect match of skills to build influencer and content marketing programs that work. This is especially true regarding developing campaigns to engage men's lifestyle and dad bloggers. I can help you through Men Who Blog and our parent company, Flow Media Marketing if you need a large scale campaign or directly through this site if you just need a sponsored post to promote your campaign to our audience.
Men's Lifestyle Blogger Social Media Marketing Services:
Twitter Parties
Sponsored Posts
Blogger Campaigns
Men's Lifestyle Blog Fam Trips
Social Media Coaching
Media Interviews and Speaking Engagements:
James Hills from Man Tripping is available for media interviews and background research for media and members of the press who are researching mancations, brocations, guys weekend, lads holidays, and travel industry trends in general.
He has a long history as an expert in the field, having worked with following media to help them promote mancations as well as Men's Travel in general.
If you would like to interview him or invite him to speak at an upcoming conference or event, please call: 630-779-9302 or email: james@mantripping.com
Recent Speaking Engagements:
2017 CES - "Exploring the Future of Smart Homes" at the Zmodo booth
2016 Type A Parent - "Making the Jump from Dad Blogger to Men's Lifestyle Blogger"
2015 IZEAfest - "Content Marketing"
2014 San Diego Travel Fest - "How Bloggers Can Best Work with Brands"
2014 Oregon Business Owners Association - "How to Leverage Social Media to Reach More Customers"
2013 San Diego Travel Massive - "Leveraging Social Media to Promote your Blog"
National and Regional Press:
Reader's Digest
New York Times
NY Post
Wall Street Journal
Moneyish
CBS Marketwatch
Entrepreneur Magazine
Denver Post
WPRI-TV Providence
WIVB-TV Buffalo
WJR Detroit
WWJ-TV Detroit
KGO San Francisco
Fox News
ABC News 20/20
The Plain Dealer
Cleveland.com
LA.com
WGN Chicago
Chicago Tribune
Chicago Sun-Times
Seattle Times
Pittsburgh Post Gazette
Twin Cities Pioneer Press
Let's RV
ilsole24ore.com (Italian Newspaper)
Carol Roth
Design and Launch and Online Travel Business in a Week (book)
Hip Trip Adviser
Travel Industry Press:
Group Travel Leader
Travel Agent Central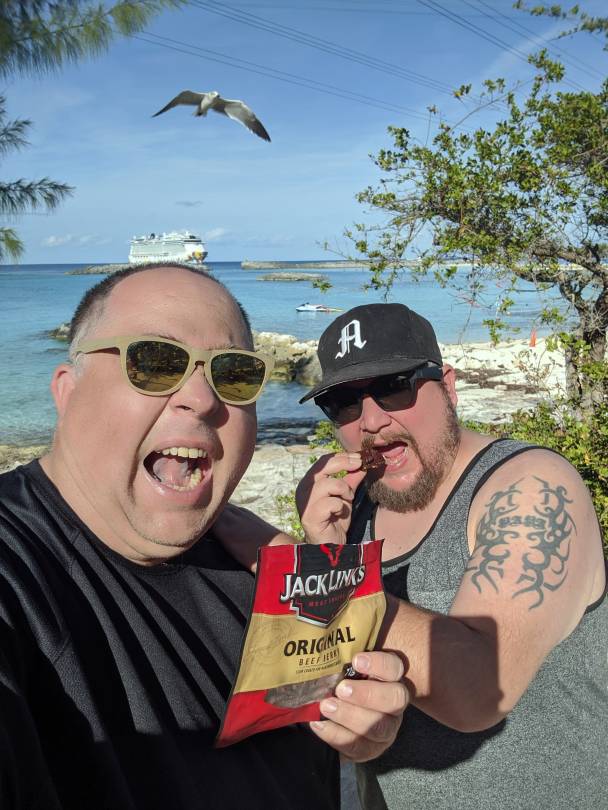 James and Rick with brand partners Jack Link's and Norwegian Cruise Line.
Brand Ambassadorships:
As one of the leading men's lifestyle bloggers, we value relationships with brands and strive to build more than just short-term content, but rather long term relationships. This provides value to both the brand as well as our audience since we have an opportunity to tell their story and create deeper levels of connections over a period of weeks and months.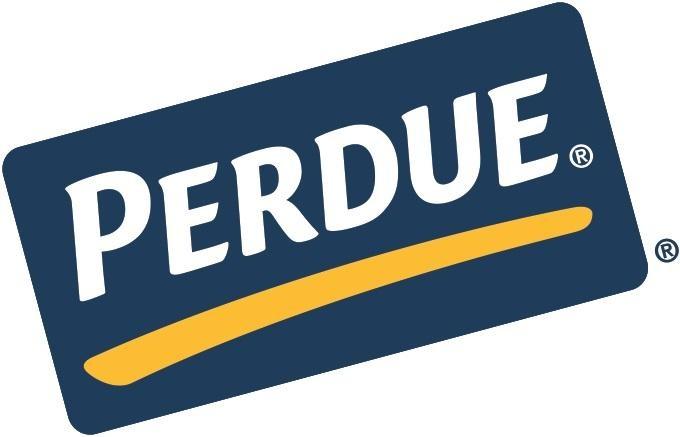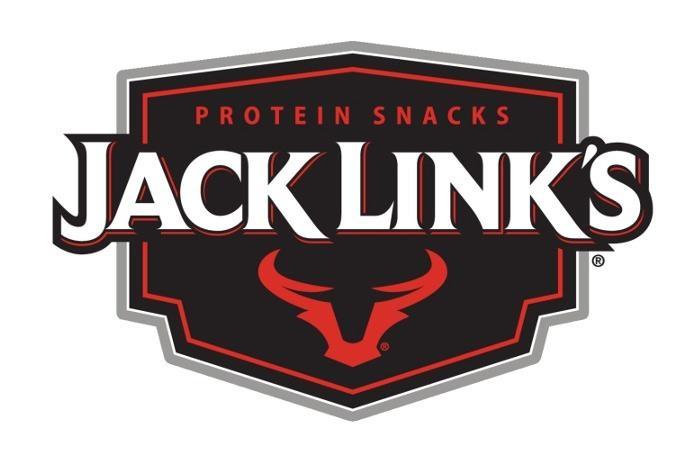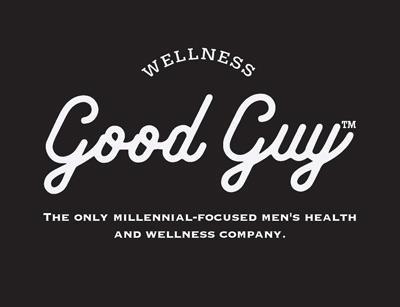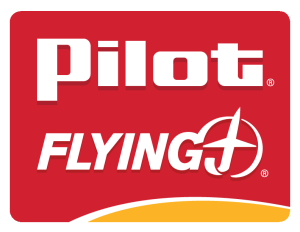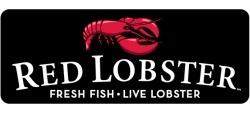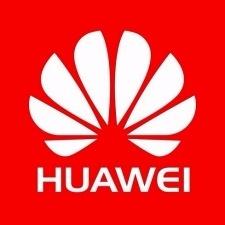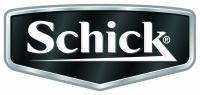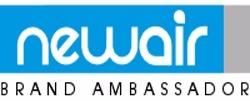 Freelance Men's Lifestyle Blog And Media Contributions Include: