If you are looking for a place to start learning about fine wines, you can't do much better than with learning about those from the region of Bordeaux. Not only is it very easy to understand from a high level and look like you know what you are talking about ... "ah yes, let's pick a right bank Bordeaux" - knowing that it will be a blend that will lean heavily towards Merlot vs something from the left bank that will lead with Cabernet Sauvignon. But also unlike California wines where "red blends" are less favorable in terms of showing your sophisticated pallet ... here ... virtually everything is blended to create some of the world's best tasting wines from some of the best vineyards found anywhere on Earth!
Despite it's initial simplicity though, the thing that keeps us coming back for more is that wine nerds like myself quickly start realizing that there's more than just Merlot and Cabernet Sauvignon ... there's six other reds that you'll find in red Bordeaux blends. Of course there's also whites and rose wines here too.
With that all being said, the final element that makes this region fascinating is that while it has a heritage of winemaking for royals, nobles, and aristocrats that goes back for hundreds of years - there are some relatively new producers that are rising up here to make their own mark. These range from "Garage Wine" producers creating vintages that draw from less than 0.6 hectare parcels as well as simply a new generation of winemakers that are adapting to cultural shifts inside of France that threaten to transform it's wine culture forever if they don't embrace modern methods.
Let's take a look at what men should know about Bordeaux wines from a high level so that they can feel more comfortable ordering them ... and then we'll take a look at two new producers who I was just exposed to and want to share with you.
Key Takeaways
Bordeaux terroir diversity yields a wide range of unique wine expressions.
The Bordeaux wine classification system helps navigate the nuances of different regions.
Merlot, Cabernet Sauvignon, Cabernet Franc, Sauvignon Blanc, Sémillon, and Muscadelle are important varietals in Bordeaux.
Knowledge of Bordeaux wines is a perfect place to start for guys that want to appear sophisticated when ordering fine wines.
Bordeaux France Is A Diverse Region With Different Styles And Qualities
The Bordeaux wine region is a vast and prestigious wine-producing area centered around the city of Bordeaux, within the Gironde department of the Aquitaine region in France. The region is divided by the Gironde Estuary into the Left Bank, which includes the Médoc and Graves, and the Right Bank, which includes areas like the Libournais, Bourg, and Blaye. The Médoc itself is further divided into Haut-Médoc and Bas-Médoc, with sub-regions such as St-Estèphe, Pauillac, St.-Julien, and Margaux. On the other hand, Graves hosts sub-regions like Pessac-Léognan and Sauternes, the latter being renowned for its dessert wines. Between the Garonne and Dordogne rivers lies the Entre-Deux-Mers area, known for sweet wine areas like Cadillac and St. Croix de Mont​.
Bordeaux's wine growing stretches across more than 110,000 hectares of vines, making it the largest producer of appellation wines in France, with about 57 appellations. The region's red wines (representing nearly 90% of the total production) how ma are typically blends, predominantly featuring grape varieties like Cabernet Sauvignon, Merlot, Cabernet Franc, Petit Verdot, Malbec, and Carmenere. The Left Bank is known for Cabernet Sauvignon-dominant wines, while the Right Bank favors Merlot.
White Bordeaux wines, often made from Sémillon and Sauvignon Blanc, range from the sweet wines of Sauternes and Barsac to excellent dry whites from the Graves and Bordeaux appellations​​.
As for tourism, Bordeaux is a significant destination for wine enthusiasts, drawing an estimated 2 million wine tourists in 2018 alone. The region's vast vineyards, historic chateaux, and wine-tasting experiences make it a popular spot for both leisure and business travelers​.
Principle Varietals Of Wine You Will Find In Bordeaux
As you explore Bordeaux wines, you'll come across a variety of grapes used in their winemaking process.
The principal varietals include Merlot, Cabernet Sauvignon, Cabernet Franc, Malbec, and Petit Verdot. As mentioned above, the production resulting from these red wines is nearly 90% of all wine produced in the region. However, white wines drawing from blends that feature Sauvignon Blanc, Semillon, and Muscadelle in particular round out the remaining 10% of wines along with a handful of sweet desert-style wines and rose too.
Each has its unique characteristics, contributing to the richness and diversity of Bordeaux wines.
Merlot
Merlot is the most planted grape variety in Bordeaux and is known for its suppleness and roundness, adding color and the aroma of fleshy red fruits like plum and fig to the blend. It also often brings roasted notes after aging. Merlot's soft tannins help to soften the blend, while its supple and opulent nature provides structure and definition to the final wine​.
Cabernet Sauvignon
Cabernet Sauvignon from Bordeaux presents a vibrant array of flavors, including blackcurrant, black cherry, and plum, with aromatic layers of cedar, tobacco, and graphite. This varietal is full-bodied and robust, with pronounced tannins and a balance between fruit, acidity, and oak. It forms the backbone of many iconic Bordeaux red blends, especially in the gravel-rich soils and maritime climate of the Left Bank appellations like Médoc and Graves​​.
Cabernet Franc
Cabernet Franc is an early-maturing grape with elegant tannins. It adds medium color, freshness, and aromatic complexity to the Bordeaux blend, with notes of raspberry and violet. The small berries of Cabernet Franc produce wines high in polyphenols, contributing to the esteemed aging capacity and finesse of the wine​​.
Malbec
Malbec adds a full body and medium tannins to the blend, with a flavor profile that typically includes red plum, blackberry, vanilla, sweet tobacco, and cocoa. It has medium-low acidity and contributes to the depth of color and intensity of the blend​​. While this wine is mostly used for blending in the old world regions like Bordeaux, you will notice that Malbec is the dominant wine in Argentina where it accounts for as much as 70% of the total world-wide production!
Petit Verdot
Petit Verdot ripens late and imparts an intense color to the Bordeaux blend, along with tannic depth and powerful aromas. It is often noted for distinctive violet notes and contributes to the overall structure of the wine​.
Now, let's continue on to the white wines ...
Sauvignon Blanc
In Bordeaux, Sauvignon Blanc often presents flavors of honeysuckle, white peach, beeswax, lemongrass, and saline. The region is famous for its red wines, but areas like Pessac-Léognan and Graves produce exemplary dry white wines, typically blending Sauvignon Blanc with Sémillon, and occasionally Muscadelle. Winemaking techniques like "lees" contact and barrel aging in Bordeaux allow Sauvignon Blanc to develop a richer taste with notes of brûlée and beeswax, particularly in high-end examples like Château Haut-Brion Blanc​​.
Sémillon
Sémillon is the predominant grape in the sweet white wines of Bordeaux, particularly in the legendary Sauternes. It is round and full-bodied, providing the wines with a luxurious texture and flavors of apricot and honey. This varietal's affinity for noble rot—a beneficial mold that dehydrates the grape while intensifying its sugars and flavors—allows it to produce wines with deep, rich, and complex flavor profiles​.
Muscadelle
Muscadelle, though less common in Bordeaux blends, is valued for its aromatic contribution. It is a very fragrant variety, producing wines with a moderate acidity and a powerful, round mouthfeel. Not related to the Muscat grape despite its name, Muscadelle imparts discreet yet appealing floral notes, adding an element of aromatic complexity to both dry and sweet white Bordeaux wines​
These white grape varieties come together in Bordeaux to create blends that are renowned for their complexity and balance. The crispness and aromatics of Sauvignon Blanc, the rich texture and sweetness of Sémillon, and the fragrant notes of Muscadelle combine to produce wines that are greater than the sum of their parts, embodying the terroir and winemaking heritage of the Bordeaux region.
Once You Learn Key Knowledge Points It's Easy To Appear To Know More About Wine Than You Actually Do!
By this point, you should have a handful of interesting notes that you can whip out and sound like you know something when ordering wine but your journey isn't over. These few key facts about Bordeaux wines might make your sound like a seasoned connoisseur but the only way to truly become one is to continue to try new varietals and expand your palate by trying more wines.
Four simple yet effective tips to further your knowledge of Bordeaux wines:
Pairing Bordeaux wines: Learn how the robust flavors of Bordeaux wines complement different cuisines. This knowledge isn't just practical, but also makes for great dinner conversation.
Aging potential of Bordeaux: Recognize that many high-quality Bordeaux wines have a significant aging potential, a key factor affecting their value. While they can be enjoyed young, my personal preference is to let red Bordeaux's age in my cellar for at least 5-6 years. This is something that new connoisseurs can do as well - even with less expensive wines and taste the differences in texture and flavors at different points in their aging cycle. By being able to discuss the aging process of wine, it can leave a strong impression on your audience.
Bordeaux wine pricing: Understand the factors that contribute to the pricing of Bordeaux wines, like vintage, producer reputation, and availability. This can help you make smart purchasing decisions.
Join a wine club or tasting group: This won't only increase your exposure and knowledge about wines but also help you feel a sense of belonging in the wine community. After all, wine is best enjoyed in good company!
While there are some things that make Bordeaux wines easy to understand - from an American POV, it also is incredibly frustrating that some wines are left simply at showing the appellation on the label and not discussing the percentage of wines that go into each. For a novice, this makes it easier to know what you are getting when you grab a bottle of right vs left bank red blend - but for the white Bordeaux we tasted for this piece - while it was obvious that it was going to be a blend, and at first drop it was clearly primarily a Sauvignon Blanc, unlike most American wines these blends don't make that information easy to find.
Bordeaux Is A Huge Wine Region With Well Known Producers As Well As "Don't Miss" Hidden Gems
Don't just stick to well-known Bordeaux producers; branch out and explore offerings from smaller vineyards too, as they can surprise you with their extraordinary expressions. These boutique wineries, are often overshadowed by larger, more famous names, yet they are absolutely worth your attention. Their wines often reflect different Bordeaux pricing trends, with high-quality offerings at more accessible price points. However, you may find younger reds released earlier and despite the quality of the wine being excellent ... many of these smaller vintners simply can't command the prestige that others have earned over decades and sometimes centuries of operation.
Two Lesser Known Bordeaux Blends That We Love
Now, let's introduce you to two lesser-known Bordeaux blends that we're quite fond of.
First up is Chateau Haut Vigneau from Pessac-Leognan, a 2018 vintage that's truly a hidden gem, one that surprised me since I've honestly not taken much time to explore French wines and so my exposure to white Bordeaux blends has been tangential at best.
Finally, they also sent us a bottle of Chateau Haut Selve from Graves, a remarkable 2019 blend that's sure to impress but I've decided to cellar since it is so young currently.

Chateau Haut Vigneau - Pessac-Leognan - 2021
This 80% Sauvingon Black, 20% Semillon White Bordeaux blend produced by the Eric Perrin family has a heritage that dates back as far as 1765 when the royal geographer published a map that showed this area planted with grape vines. In the 1980's Perrin began clearing and re-planting and is now producing excellent red as well as white Bordeaux winesd from this vinyard in the Pessac-Leognan AOP.
While the cold fall afternoon that I enjoyed this bottle may have been better suited for a heavier red, the bright shining flavors with excellent balance between structure, minerality, and acidity made me wish I had waited for Heather to be home before I finished it. This at $24 this is is an excellent wine that I look forward to enjoying on hot summer days but also serves well to transport me to those memories even in the cold bitterness of winter days.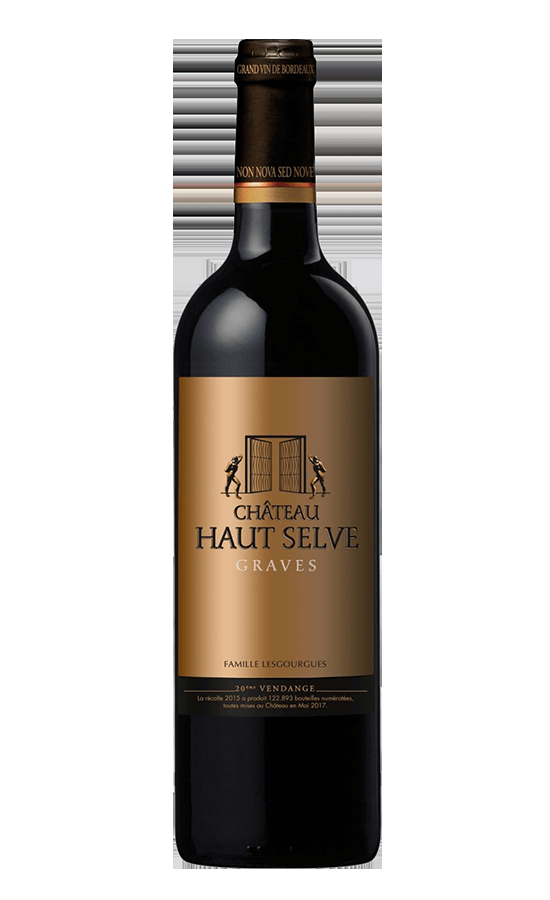 Chateau Haut Selve - Graves - 2019
While certainly completely drinkable, this 2019 Red Bordeaux from the Graves region is one I decided to cellar for a few more years to let it more fully develop. However, it has already attracted high marks in the 90s from other reviewers at a price point of less than $30. It features a blend of 55% Merlot and 45% Cabernet Sauvignon.
Tasting notes are said to feature a nose dominated by black fruits mixed with Provencal herbs and floral notes of dride roses - indicative of the Graves region. In the mouth you'll find notes of roasting and leather with a wood flavor drawn from 12-months in French oak.
I'd like to open this in 2024 or 2025 to give it a bit more time to mature but as is, with the French Oak and Merlot leading blend, this should already be a very easy drinking and smooth Bordeaux that will probably be a great choice for Thanksgiving dinner. This wine will pair well with your traditional Turkey, stuffing, potatoes, and green bean casserole so I wouldn't be surprised it if doesn't make it past the next few weeks in this house!
Conclusion
As you delve into the world of Bordeaux wines, remember the diversity and richness of the region. Explore the various varietals and don't be afraid to ask for recommendations. Knowledge is power, and even a little can make a big impression.
Don't just stick to the famous names, there are smaller producers creating wonderful wines waiting for you to discover. Lastly, don't forget to try the lesser-known Bordeaux blends. Your local wine merchant or online wine shop concierge is going to be your friend here. They often have access to newer producers who are just now breaking into the DTC consumer market as well as those that are working to produce innovative new products that match your tastes!