Almost every month a friend or associate talks about visiting, or wanting to visit "California Wine Country". Inevitably this is their way of saying they are coming out to see Napa but the reality is that California has 160,000 square miles of vineyards and more than 1,200 wineries. This "California Wine Country" stretches from the Mexican border in the south, to near the Oregon border in the north. While I'm in love with all of the areas that I've explored so far, Sonoma is possibly my favorite to visit and I can't wait to plan another visit there later this year. It offers a blend of some of the world's best winemaking and viticultural talent, phenomenal soil and environment for growing grapes, and yet it is able to maintain a casual and laid back atmosphere that is all about celebrating life.
This integrates well with my passion for wine as well. Though there are clearly technically excellent elements of winemaking that deserve to attract a bit of elitism, the wine culture that I enjoy is about bringing all those things together than make life worth waking up every day. It's about family, heritage, stewardship, taking traditions, and building on them to create something wonderful and new. The key here is being able to celebrate and reward excellence but not losing sight of the fact that wine is ultimately a product that comes from the earth and through hard work can bring us joy. The winemakers that I've met in Sonoma all seem to embrace this while being driven to not only create the best tasting wines ... but also innovating with conservation, sustainability, marketing, and yes ... producing world-class leisure experiences too.
Ancient Beverage, Modern Conservation, and a 21st Century Tale
While water conservation and stewardship of the land is something that most vineyards in California are focused on, Sonoma County Winegrowers is one of the leaders. In 2014 they made a commitment to becoming the most sustainable winegrowing region in the world. It was a five-year journey that combined technology, viticulture, education, landscaping, and manufacturing talents. But they reached that goal and today, 99% of the vineyard acreage in Sonoma County has been certified sustainable by a third-party program. To some, this might sound like a sacrifice, what I love about it is that it was done in a way that ultimately improved the product and experience while preserving it for generations to come. Additionally, learnings from their experience are now helping other regions around the world follow in their footsteps.
Over the forthcoming decades, the wine industry will be a radically different experience ... but one still firmly planted in the core principles and cycles of innovation that began more than 6,000 years ago.
Sonoma County Winegrowers pledge is more than just solar panels and water conservation though. They've looked at elements such as bottle shape, size, weight, and materials to reduce transportation costs and environmental impact. In addition, the organization developed an augmented reality app to help wine drinkers discover more about the vintners and winery behind the label and their processes beyond water conservation.
During our virtual tasting experience, we were privileged to be able to talk with a few Sonoma winemakers while enjoying some fantastic examples of wines being produced right now. I love events like this since wine is something that I can enjoy simply by sipping a glass ... but is always better when I can connect it with the winemaker who created it.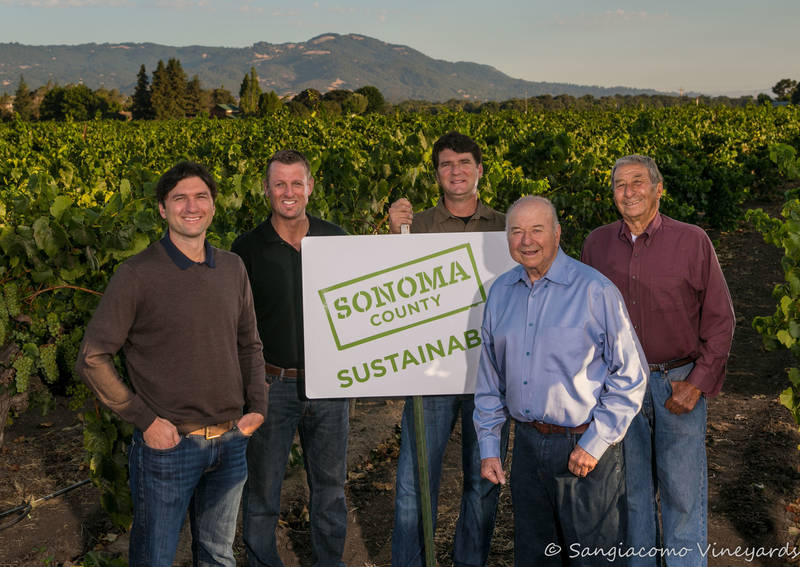 Sangiacomo Family Vineyards
The Sangiacomo Family planted their first vineyard in 1969 and today includes more than 1,600 acres of Chardonnay and Pinot Noir grapes spread across 15 different vineyards in four different AVAs. Each vineyard is broken down by terroir into small blocks of 5 to 10 acres each, and each block is planted for best use of the soil, the nutrients, and the water available per block. Each block is considered separately for the best farming practice. The Sangiacomo Family Vineyards offers a unique perspective that is important to remember. While winemakers may be the quarterbacks of the winemaking world and receive all the glory - the farmers growing the grapes ultimately have just as much impact on the product being produced.
Unfortunately, we rarely hear from the vineyard managers and the farmers who focus solely on raising grapes for others. However, Sangiacomo Family Vineyards is taking that next step and producing world-class wines with the same passion and attention to detail that they expressed in grape growing. By combining this intimate knowledge of how to produce some of Sonoma's best grapes with world-class winemaking talent, they are producing excellent vintages that complement those that you may see from the same vineyard designations but on labels produced by other wineries around the state.
Iron Horse Vineyards
The rustic charm of Iron Horse Vineyards should in no way take away from the delicate charm of their sparkling wines. From classic Brut sparkling wines to the luscious Resilience 2016, which serves to raise money for those devastated by environmental challenges of recent years, the Iron Horse Winery has deep roots and a strong commitment to the region. The grapes grown in Sonoma County are among some of the world's best. As a result, it should be no surprise that sparkling wine in the classic Champagne style is also some of the best in the world.
While it is unfortunate that some consider "Champagne" to be a lable of excellence and "California Sparkling Wine" to have been an inferior product. Today's producers from Sonoma - as well as others around California are producing sparkling wines on par if not exceeding the quality of anything found in France. Certainly, the one we enjoyed from Iron Horse Vineyards is in this club.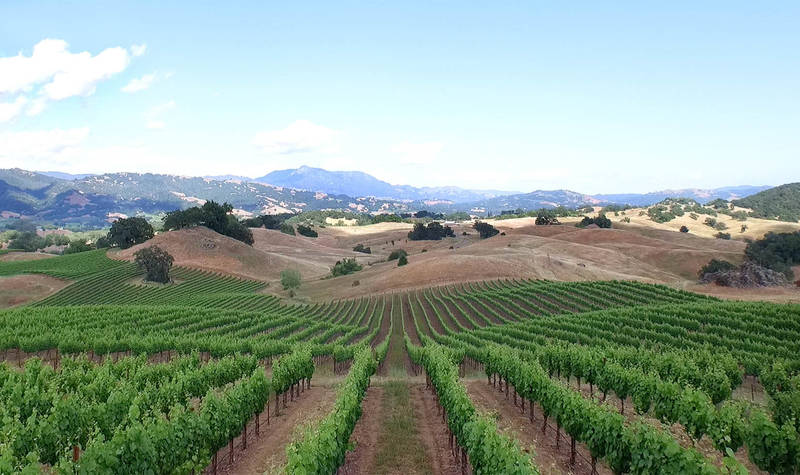 Jordan Winery
The Jordan Winery has a careful focus on just a few grape varieties and wine blends, and their expertise is obvious. They are watching out for crisp chardonnays and luscious cabernet sauvignon. These are big, fruity wines with a European finish, ideally designed to work well with many different types of food and also great for sipping.
While some wineries might offer a long menu of wines made from various grapes, Jordan prefers to focus on less variety but making the best product possible from Cabernet Sauvignon, Chardonnay, and Campagne. From the bottle of 2016 Cabernet Sauvignon we enjoyed, it is clear that they know what they are doing.
Gary Farrell
The Gary Farrell vineyards are seated in the Russian River Valley. This winery, like many in the Sonoma Valley, focuses on just a few grapes to great effect. This is the place to find single-vineyard chardonnay and pinot noir wines. Unlike Jordan though, here you will find a variety of different single-vineyard wines and it is a fantastic opportunity to compare the effects that terroir can have on different wines produced from the same grapes but different parts of the county. Each vineyard's wine tells the story of that specific region, the season, and the climate. While you can certainly enjoy each wine individually, I'm privileged to have received a few other bottles from them, and comparing each to one another is a special treat. In addition to their selection of chardonnay and pinot noirs, you can enjoy the rosé of pinot noir and a sauvignon blanc loaded with fruity scents of lime and grapefruit.