Members of the Millennial Generation tend to be more likely to get into craft beer than into great wines, which is a shame because many of them do not know what they are missing out on. Besides producing great beer, focused marketing is something that American craft breweries are really good at, and it is a business aspect that the wine industry should improve upon in order to invite younger aficionados.
Chronic Cellars is a California winery that is ticking all the right boxes with regard to attracting young people and getting them interested in fine wines. Located in the Paso Robles American Viticultural Area (AVA), Chronic Cellars is a quintessential California winery managed by Josh and Jake Beckett. To a great extent, Chronic Cellars is a continuation of the Beckett winemaker family tradition in San Luis Obispo. The Beckett brothers grew up working in vineyards and stocking wine cellars; each of them spent time living abroad and eventually returned to Paso Robles with ideas to make awesome wine the California way, which means tending your own vineyard, pressing grapes, distilling and bottling wine, providing a tasting experience, and creating an interesting brand.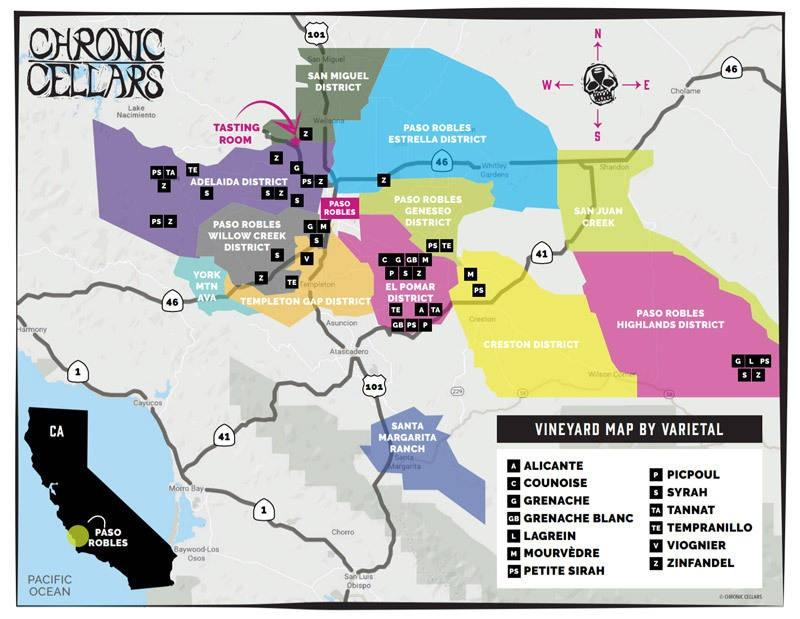 About the Paso Robles Appellation
You wouldn't think that a region so close to Southern California would support such amazing vineyards, but you can thank Spanish missionaries for recognizing the climate and soil conditions when they planted grapes in Paso Robles in the late 18th century. Zinfandel grapes love growing here, but the harvests of Bordeaux, Rhone, and Cabernet varieties are also pretty good. Since Paso Robles received its AVA appellation in 1983, more than 200 wineries have been established here.
Paso Robles is a great place to visit, and not just because of the wineries. The parks and nature preserves are gorgeous, the year-round Mediterranean climate is perfect, and the surfing can be epic at various breaks.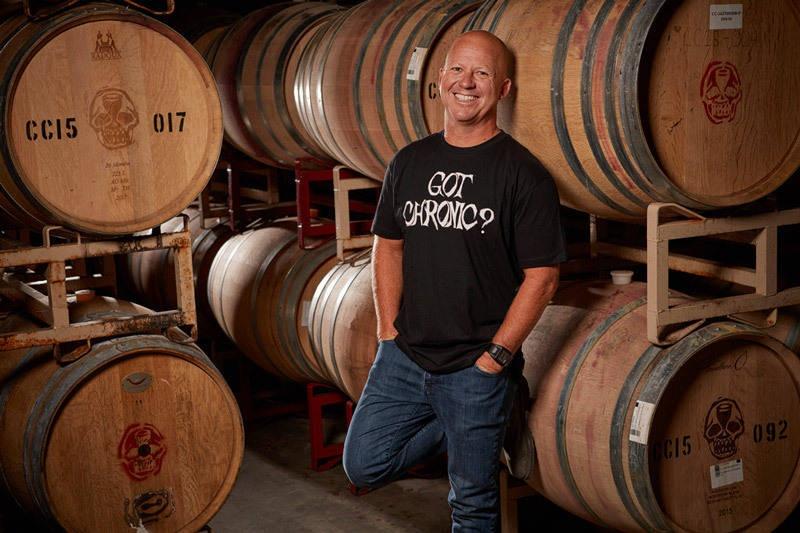 Josh Beckett spent some time in Australia's wine country, where he learned even more about the business of making a living as a vintner. Jake Beckett spent time in Costa Rica, where the tropical weather is not exactly conducive to growing the best grape varieties for fine wine. Chronic Cellars started cultivating in 2004; it took a few harvests to nail down the perfect grapes for the kinds of wines they envisioned, and then the presentation and marketing started.
The Beckett brothers understand that great wines deserve great labels, and their colorful Mexican Day of the Dead images printed from woodcuts are the kind that becomes highly sought after by wine label collectors. The name of the winery is a shout-out to a quality strain of cannabis appreciated across California. The interesting names and flavors of the wines are playful and designed to appeal to younger wine connoisseurs. The tasting room borrows a few ideas from craft breweries in terms of decor and fun activities such as pool tables, a picnic area, and even a horseshoe pit. When you visit, be sure to ask for the locally sourced cheese to pair with your wine tastings.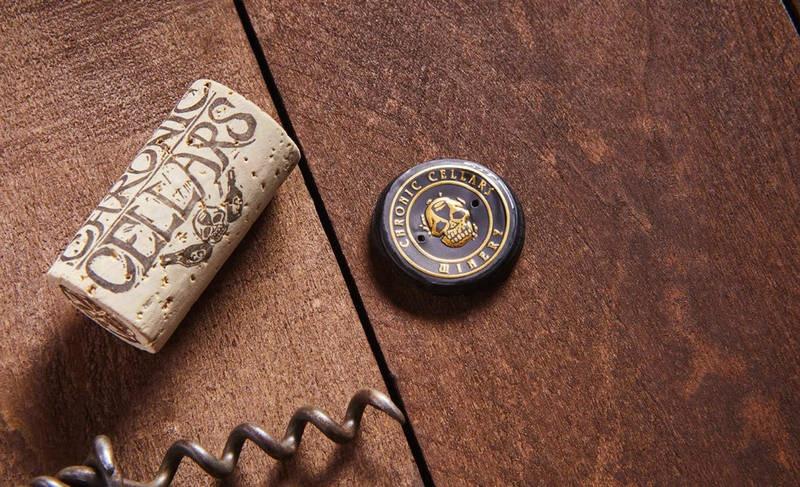 Our Favorite Wines From Chronic Cellars
Truthfully I have enjoyed wines from Chronic Cellars over the past 3-4 years and I have never had a wine that I didn't enjoy. That being said, I am especially partial to their Zinfandel and zin blends. The deep purple and bold flavors match the artwork on the bottles and makes for a fantastic experience that is more than just a fine tasting glass of wine.

Sofa King Bueno
This is an outstanding Rhone wine that includes five grape varieties. If you like traditional red wine, you will love the earthy flavors of fruity grapes with a hint of currant spice. Like all wines that feature Sirah grapes, this vintage 2018 Rhone is a bit strong and should be paired with meals that feature herbs and spices.

Dead Nuts
Mostly Zinfandel grapes with a few Tempranillo and Petite Sirah make this a great California wine with a strong aroma and a sweeter taste that evokes strawberries. You could easily pair this wine with desserts.

Robyn Cradles
With 14.5% alcohol content, this is an easy red wine to enjoy with friends. Pressed with mostly Petite Sirah and Zinfandel grapes, the taste is what you should expect from a good Sirah: black cherries with a hint of licorice and bit of spice that comes from the oak barrel.