David "Merf" Merfeld from Northstar Winery is one of my favorite winemakers. He has an amazing ability to create new innovative wines and The Cosmic Egg Cabernet Sauvignon is one of his recent creations.
Fundamentally the inspiration for The Cosmic Egg came from "an expanded universe of possibility". It's a return to the ancient origins of winemaking with the use of concrete eggs, tanks, and other neutral aging vessels so you can savor a more pure expression of the grape compared to modern winemaking techniques.
The objective here is to result in a cleaner, more aromatic profile. Does it work? Yes! While not necessarily my favorite wine, it is a distinct expression that will open your mind to what a great Cabernet Sauvignon can be.

Concrete Eggs?
To be completely fair, Merf is not the only winemaker using concrete egg-shaped wine tanks. We saw them at a few other wineries that we've visited recently, but I was first exposed to the idea many years ago at Northstar's sister winery, Columbia Crest. Some winemakers that I've talked with shrug off the impact that these vessels can make and say it's simply a myth, while others are investing heavily into experimental blends. Concrete was used in Europe and Mexico as a material to build wine tanks out of for hundreds of years, however, they were not egg-shaped and generally, they were lined so that the concrete would not interact with the wine. It was fundamentally an economic decision more than one of quality, taste, and innovation.
The egg shape actually goes back to the Greek and Roman winemakers and there are wineries in Italy that are producing wines with ancient practices.
Today though, egg-shaped wine tanks are among the most expensive options and so it is not something you see a lot of winemakers using for large production vintages.
The benefit is that because of the mass, the wine maintains a more constant temperature and any changes are slow and moderate in impact. Additionally, because concrete is semi-porous the wine is able to gain some oxygenation as well as absorb some of the minerality from the concrete. As an alternative to the standard stainless tanks, this gives a more complex flavor without imparting wood notes that can mask the pure natural flavor of the grape.
Additionally, the shape of the egg helps gently rotate the skins during fermentation as they come to the top and turn over naturally.
The entire process is much more complex but I'm enamored by this process because it pairs ancient techniques with modern innovation.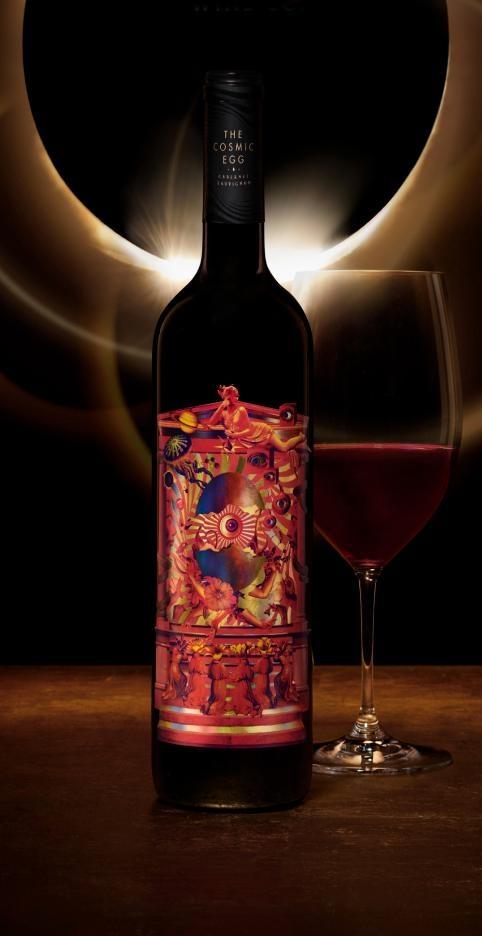 So How Does The Cosmic Egg Taste?
The Cosmic Egg tastes pretty much exactly like you'd expect a good Columbia Valley Washington cabernet sauvignon to taste if you stripped away everything that might interfere with the grape. It's big and bold with delicious fruit flavors of black cherry and even a bit of raspberry notes.
This is one of those wines where you need to take multiple sips and ideally have some food along with it. On the first sip I wasn't in love. While the fruit shined through beautifully, it overall wasn't as bold of an experience as I sometimes prefer. On my subsequent sips though, the more complex notes came through along with the subtle minerality. It's got minimum acid and while not sweet is also not overly dry.
By the end of the bottle, I was left wondering if I'd be able to afford to buy another bottle (Northstar Winery sent us this for review). Thankfully I was pleased to find that it is priced at only $24.99 ($19.99 for wine club members).
Official Tasting and Pairing Notes for The Cosmic Egg:
Here's the official information provided to us by Northstar ...
VINTAGE
The 2017 growing season was cooler and crop yields were significantly lower in comparison to the past two vintages. The lower temperatures delayed ripening and helped retain fresh fruit aromatics and mouthwatering acidity. Despite cold winter conditions, 2017 gave us concentrated wines with classic Washington state character.
VINEYARDS
The vineyards of the Columbia Valley lie in the rain shadow of the Cascade Mountains and receive just 6-8 inches of rainfall annually. Warm, sunny days and cool evenings create ideal conditions for aroma and flavor development in the ripening grapes. A northerly latitude gives the Columbia Valley roughly two more hours of sunlight daily during the peak growing season than California, increasing the region's ability to ripen fruit.
TASTING NOTES
This full-bodied wine truly expresses what Washington State Cabernet Sauvignon has to offer. Lush aromas of cherry, raspberry, and boysenberry lead into earth and spice notes with a long finish of chocolate and black cherry. Enjoy exploring The Cosmic Egg.
FOOD PAIRINGS
Simply Roasted Chicken, Mushroom Risotto, Spiced Duck, Wild Mushroom Pasta with Herbs, Grilled Meats, Prime Beef
WINE ANALYSIS
Blend: 98% Cabernet Sauvignon, 2% Cabernet Franc
Aging: Concrete eggs and tanks and other neutral vessels play a significant role in the making of The Cosmic Egg. These fermentation and aging vessels produce a true, pure expression of the grape resulting in a fresher, cleaner aromatic profile.
Alcohol: 14.7%
pH: 3.80
TA: 0.55 g/100 ml
Cases Produced: 10,000