Mendocino California is one of my favorite "hidden gems" in the California wine scene. Geographically it exists just above Sonoma to the point where it is "just out of reach" for all but the most determined wine drinkers, yet it has some of California's best vineyards. ETTORE is one of the newest wineries in the region, having just launched it's first two vintages earlier this year and they have now introduced Merlot Zero.
ETTORE is a certified Organic Winery helmed by Italy-based winemaker, Ettore Biraghi who brings his old-world traditions to one of the new world's greatest viticulturally areas. In many ways, while I heartily support the notion of "organic", "biodynamic", and "sustainable" I feel like with winemaking sometimes things lack a specific definition. Other times, words like organic can actually be negatives when it comes to taste because they are avoiding techniques that have been honed over generations when it comes to preserving, fining, and finishing wines.
That being said, I completely respect any winemaker who is committed to sustainable practices and California is lucky that our climate allows for low-intervention when it comes to both growing the grapes as well as processing them.
However, when it comes down to tasting what's in the glass, the experience is ultimately what I seek. Unfortunately some other Organic Wines that I've tried were "organic" first and "good wine" second. This thankfully is not the case with ETTORE!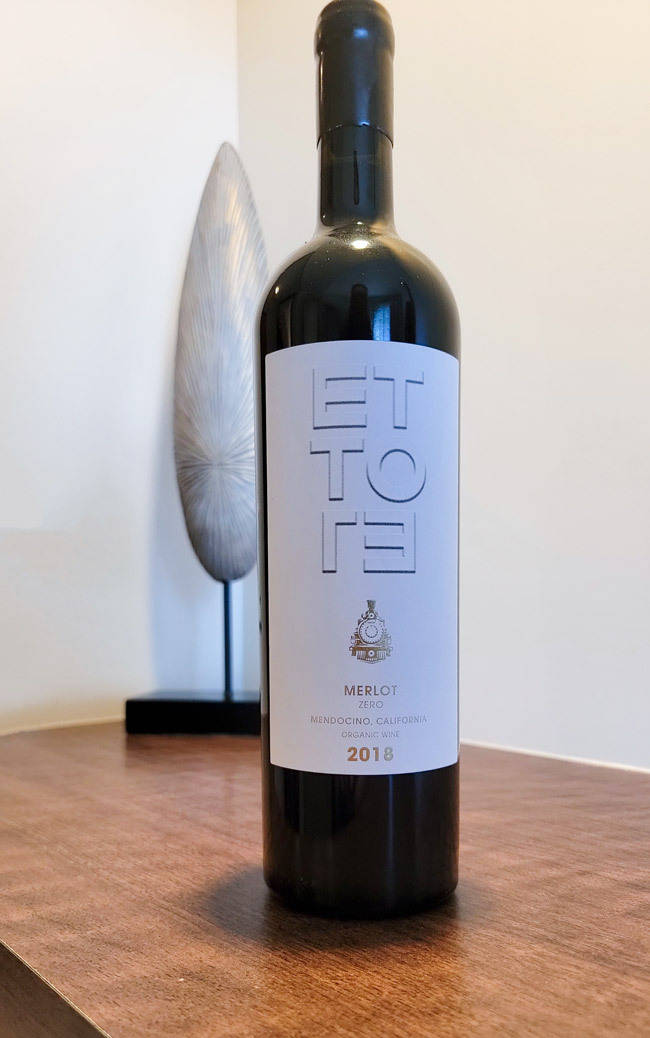 The winemaker describes Merlot Zero as "Distinctive ruby-red color of medium intensity. In the nose it presents a delicate and fascinating bouquet: fruity nuances with sweet almond and plum aromas. After minor oxygenation, berry nuances are revealed amongst which blueberries and wild strawberries stand out. Elegant and enveloping in the mouth, medium structure and characterized by a very soft tannin."
I agree with their assessment, including the need to let it breath before enjoying it. Frankly speaking, I popped open the bottle while working on an article in a hotel room a couple weeks ago and my first sip was not as enjoyable as I had hoped. Merlot is something that I'm trying to give more love to and so I was eager to try it.
However, after allowing the bottle to open up a bit and especially allowing the wine in my glass to oxygenate a bit, I was pleasantly surprised.
It offered a very enjoyable experience that was exactly what a merlot should be - well balanced, fruity, medium body, and low tannins to the point where you could enjoy it with fatty foods such as a steak or cheeseburger if you wanted to, but it also frankly paired nicely with the peanut m&ms I was enjoying as a snack.
As a new winery, it can be challenging to make a name for itself but while I don't care for the name "Zero", I absolutely look forward to exploring more of their offerings in the future.
ETTORE Merlot Zero has an SRP of $55