Bourbon's historical home is the wooded hills and hollers of backwoods Kentucky. The cool mountain streams and springs matched with the fertile cornfields and Scots-Irish immigrants looking to do something with their extra corn beyond just another round of cornbread and Johnny Cakes. However, they weren't the only farmers that enjoyed the smooth, slightly sweet tasting corn liquor we know today as bourbon. As settlers expanded westward, they brought whiskey with them and the most ingenious of them brought stills and set up production wherever they landed on the western frontier.
That process continues today as families all across the western United States are re-discovering family heritage and looking at whiskey distilling as a way to both connect with ancient traditions and stories passed down from one generation to the next as well as stake a new place in today's market. Very few distilleries though take on the ambition of creating an "estate whiskey". Frankly, I only know one other - the ill-fated Bently Heritage Estate Distillery - which closed it's doors about a year ago after some very ambitious foundations were laid.
The concept though is fascinating to me. While it has become "easy" to simply whitelable some spirit and wrap a fun story around the bottle, families like the Frey's are taking the long hard path of being involved in quite litterally everything from the planting and harvesting of the grains to malting the barley and distilling the spirit. While this is common within the wine industry, it is rare for distilled spirits. However, I hope that Colby and Ashely Frey can make it work!
Key Takeaways
Frey Ranch Bourbon is a small-batch, sustainably sourced bourbon that showcases the unique flavors of Western Nevada through its grain-to-glass production process.
The distillery's commitment to sustainability and generations of farming heritage adds to the distinct character of their spirits and sets them apart from other whiskeys on the market.
Frey Ranch Straight Rye Whiskey offers a smooth earthy flavor with tangy citrus notes, aged for five years at 100 proof for a rich and refined finish.
Visitors can experience the farm-to-bottle distillery firsthand by taking a guided tour and tasting some of America's best whiskeys in an immersive local distillery setting.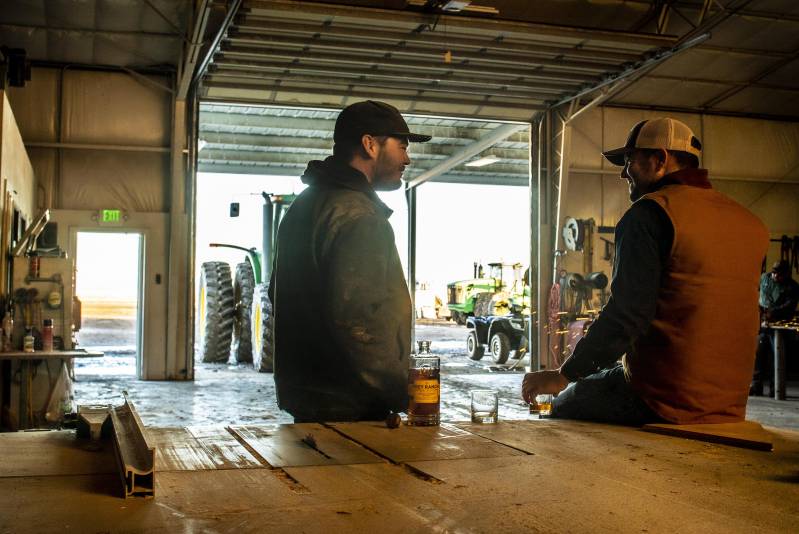 Distinctly Western Take On American Whiskey
Frey Ranch Bourbon offers a distinctly Western take on classic American whiskey, with its grain-to-glass production taking place on a "Whiskey Farm" nestled in the Eastern foothills of the Sierra Nevada Mountains in Nevada. Those who have only seen the deserts of Southern Nevada might not understand that Northern Nevada is a whole different environment. This is the home of ranches and wild-west lifestyle that still exists today.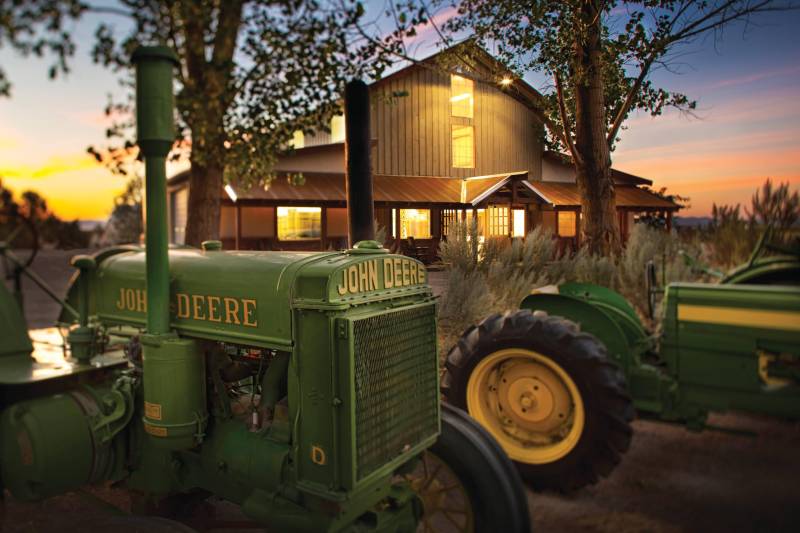 Grain To Glass Production On A "Whiskey Farm"
Nestled in the picturesque landscape of Northern Nevada's Lake Tahoe Watershed, Frey Ranch boasts a unique grain to glass production process on their one-of-a-kind "whiskey farm." This innovative approach allows the distillery to control every aspect of crafting their spirits and ensures that only high-quality ingredients are used.
The result is a selection of handcrafted craft spirits with unparalleled terroir reflected in each bottle. The whiskey farm embraces its Western backdrop by incorporating local ingredients and using barrel aging techniques which enhance the distinctive character of their bourbon and rye whiskies.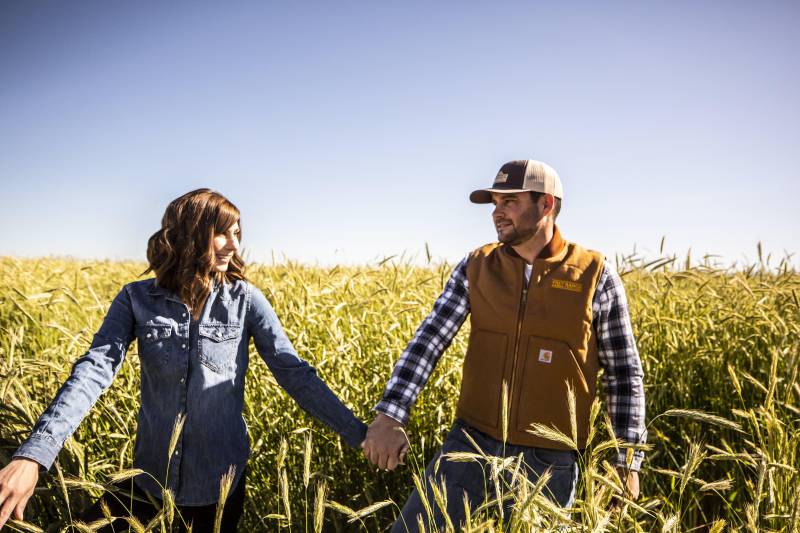 100% Sustainably Grown Grains
One of the defining features of Frey Ranch Bourbon is its commitment to sustainability, with 100% sustainably grown grains used in the production process. This dedication not only sets it apart from other whiskeys but also contributes to preserving the environment and maintaining a high quality product that whiskey connoisseurs can appreciate.
In an era where eco-friendly practices are becoming increasingly important, this focus on sustainable agriculture ensures that future generations will continue to enjoy exceptional whiskey made using responsible farming techniques.
Plus, it showcases how small-batch artisanal producers can make a significant impact by championing sustainable methods. The terroir-driven characteristics brought forth by these locally sourced grains impart unique flavors into Frey Ranch Bourbon – taking whiskey enthusiasts on a journey through Western American landscapes while savoring each sip.
Generations Of Farming Heritage
Dating back to 1854, the Frey Ranch Bourbon story is deeply rooted in generations of farming heritage. Today, the family-owned and operated whiskey farm has remained dedicated to sustainable agriculture, something that is aligned with modern sensitivities but truthfully quality grains has been their hallmark for more than 150 years.
Embodying the true essence of farm-to-bottle production, Frey Ranch Bourbon showcases its commitment to quality by growing, cultivating, and sourcing all ingredients locally – a testament to their premium craftsmanship.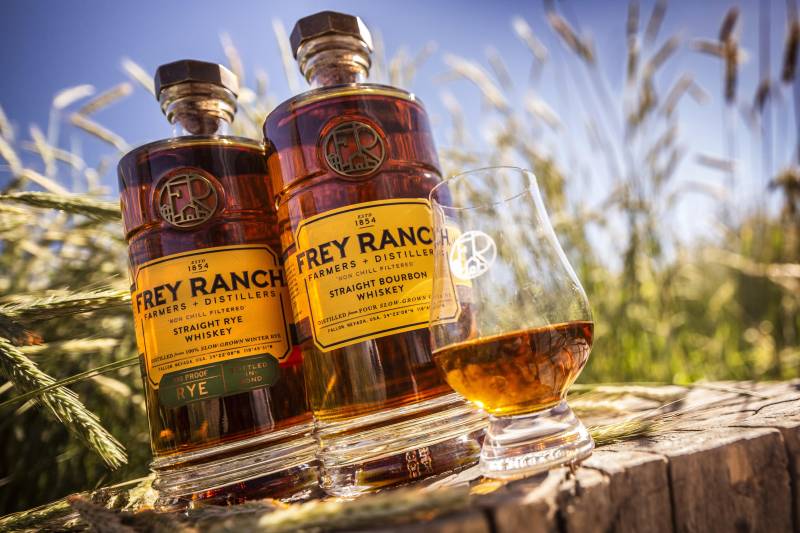 Frey Ranch Bourbon Tasting Notes
Frey Ranch Bourbon has a rich and complex flavor profile that showcases the craftsmanship of the distillery's grain-to-glass production process. With an age statement of at least four years, this straight bourbon has an ABV of 45%.
The mash bill consists of 66% corn, 16% winter rye, and 18% barley malt.
On the nose, Frey Ranch Bourbon offers aromas of caramel, vanilla, and oak. On the palate, it delivers notes of bread, brown sugar, cherry, and cranberry with a touch of spice from the rye.
This versatile whiskey can be enjoyed neat or in cocktails. For those who prefer to drink it straight up or on ice without dilution, try pairing it with a piece of dark chocolate to enhance its sweetness.
Frey Ranch Straight Rye Whiskey Tasting Notes
Frey Ranch Straight Rye Whiskey is a smooth and complex whiskey with tasting notes that speak to its quality and craftsmanship. The rye grass gives it a distinct, earthy flavor, while the brown sugar adds a subtle sweetness.
This 100% rye grain whiskey is bottled-in-bond and aged for five years at a proof of 100, resulting in a rich and refined finish. Because it comes from a single barrel, each bottle has its own unique character that tells its own story.
If you're looking for an exceptional rye whiskey with Western roots, Frey Ranch's Straight Rye Whiskey should be at the top of your list. Not only does it bring its own signature flavor profile to classic American whiskey but visiting their farm offers an immersive experience into their generations-old farming heritage through tastings and tours.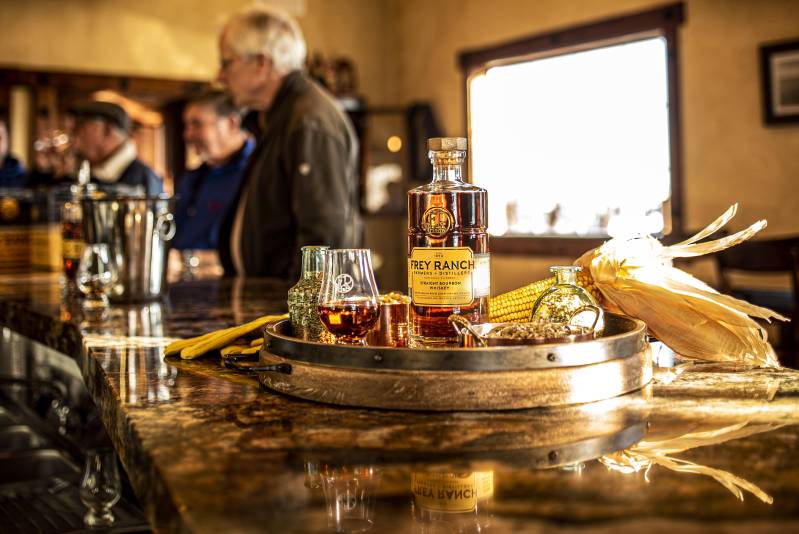 Visit Frey Ranch For Tastings And Tours
Frey Ranch offers a unique tasting room experience for whiskey enthusiasts visiting Nevada and we think that a wild-west guys trip exploring cattle ranches, hiking, mountain biking, off-road driving, and maybe even making a trip over to Virginia City to complete the Carson Valley experience.
So, make sure you plan your visit to Frey Ranch to discover what makes them one of the most popular destinations for bourbon enthusiasts in Nevada.