There's no better food to enjoy during summer than this truly American treat. While the hot dog has origins in Germany - hence words like "frankfurter" and "Weiner", today ... for better or worse ... it has become something completely American. However, like anything in this country, while there is a standard "American Hot Dog" enjoyed with mustard and ketchup, every corner of the United States has its own regional variation. Let's explore twenty of the most awesome hot dog styles from around the United States!
Where Did The American-Style Hot Dog Start?
The origin of the hot dog can trace it's lineage back as far as 1487 in the city of Frankfurt though the folks in Vienna, Austria also lay claim. The history of the hot dog is certainly not linear but clearly the name "wiener" is as important to the hot dog lexicon as "frankfurter". With the explosion of German and central European immigrants during the 19th century, the hot dog became a popular American treat on the streets of New York and other industrial cities. However, it was the 1863 Columbian Exposition that catapulted the simple hot dog to national fame as thousands of hot dogs were sold by various food vendors to visitors from across the United States and indeed the world.
From there, it became standard fare at ballparks and historians believe that in 1904 at the "Louisiana Purchase Exposition" the hot dog reached its completely modern form. Prior to this, the sausages were served alone, or with bread ... but the modern hot dog bun had not been invented. Rumor has it that Bavarian food vendor, Anton Feuchtwanger partnered with a baker who created a roll specifically designed to be the right length for the sausage. Voila! The hot dog bun was created and the modern American hot dog became an icon. Like other food origin stories, this is just one of many claims to have created the American hot dog.
The beauty of the hot dog is that it epitomizes everything great about American food - cheap, plentiful, juicy, and open to continuous improvement and innovation.
While some may look at a hot dog for grilling and only want the cheapest frank possible. I disagree. Though I would be unlikely to turn any hot dog away at a backyard BBQ, I prefer to follow the same guidelines as I would with other meat. Quality matters!
Now that you've got the right meat, it's time to look for inspiration. Are you the guy that serves up a frank with a swirl of mustard on top? Or are you ready for something inspired by one of these regional variations on the classic American hot dog?!

Let's get started!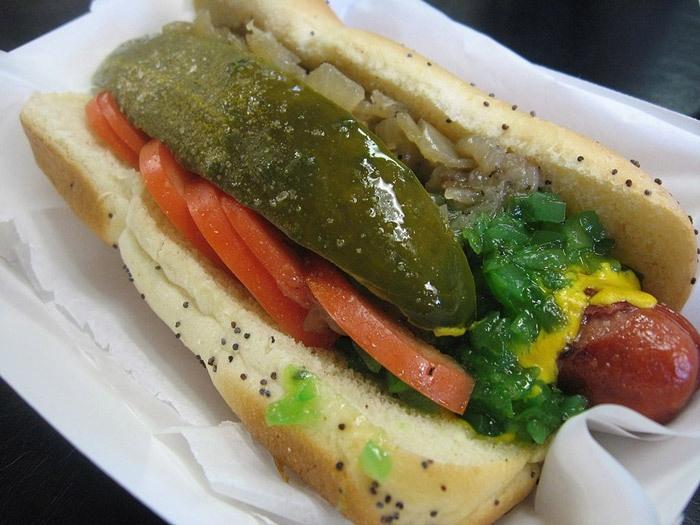 Chicago-Style Dog aka a "Chicago Dog"
Arguably one of the most specific hot dogs to perfect, Chicagoans will not hesitate to let you know if you forgot an ingredient. For starters, Vienna Beef is the preferred meat to use as the foundation for the Chicago dog, followed by a hefty list of toppings. Stack the dog with yellow mustard, neon relish, diced raw onion, tomato slices, sport peppers, celery salt, a pickle spear, and make sure everything fits into a poppy seed bun.
Seattle
Cream cheese makes this hot dog pop out from the rest. The dogs are sliced in half and grilled, then placed in a toasted bun with grilled onions, cabbage, and jalapeños. Add a little extra zing with some Sriracha or barbecue sauce.
Cleveland Polish Boy
Taking grilled kielbasa sausage, the Polish boy is drenched in barbecue sauce and hot sauce, and it is loaded with cole slaw. IF you thought that was it, you are forgetting the mountain of fries that sit atop this unique hot dog. Do not worry; the Polish Boy will be served in a giant roll to contain all of the toppings.
Rockie Dog - Denver Colorado
Rockies fans will agree that attending a game at Coors Field without ordering a Rockie Dog would be an incomplete visit. Luckily, baseball games are nine innings so that you will be able to finish this foot-long hot dog topped with grilled peppers, onions and sauerkraut.
Newark-Style Italian Dog
Although it looks the least like a traditional hot dog, the Newark-Style Italian Dog is all about deep frying. The beef franks are deep-fried and covered by pizza dough, then loaded with fried potato wedges, peppers, and onions. Try this interesting creation at Newark's own Dickie Dee's.
New York System Wiener aka Rhode Island Style Hot Dog
Griddled in a natural casing, the beef frank is loaded with meat sauce, diced raw onions, a pinch of celery salt and a streak of mustard to complete this timeless Rhode Island item. Placed in side-cut rolls, this hot dog from the smallest state gives you big flavor.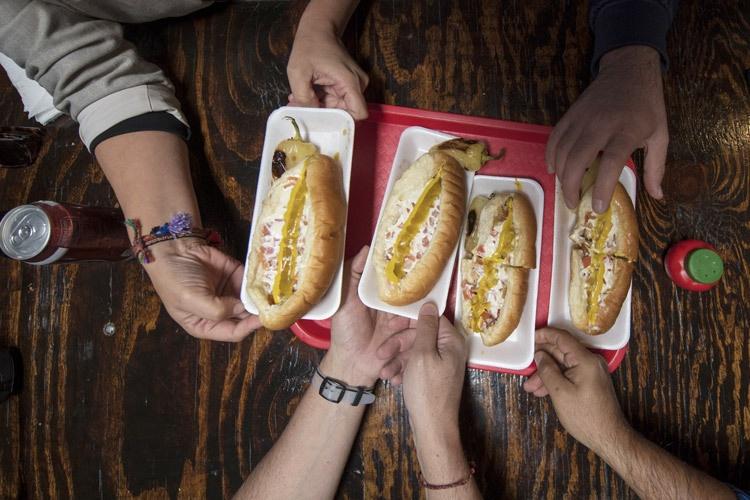 Sonoran Dog
Popular in Southwest cities, especially Phoenix and Tucson, this grilled dog is wrapped in bacon and served in a bolillo roll. You have some leeway when it comes to toppings, but you will usually find pinto beans, chopped tomatoes and onions, mustard, mayo, jalapeños, and shredded cheese. Try it with guacamole and salsa, and you will surely not be disappointed.
Slaw Dogs aka Southern-Style Hot Dog
Popular to the South, especially in Atlanta, the slaw dog sounds just like its name. An all-beef hot dog topped with cole slaw and onions creates a sweet complement. Another common addition to the Slaw Dog is chili, which forms a perfect balance of sweet and savory.
New England Dog aka Boston Style Hot Dog
Also known as the Fenway Frank since it is served at the legendary Fenway Park, this hot dog is boiled and grilled to perfection. Served in a toasted New England bun, it is topped with mustard and relish. To make it even more reflective of Boston, Red Sox fans love pouring some Boston baked beans on their Fenway Franks.
Kansas City Reuben
Just as the name suggests, this is a hot dog version of the popular Reuben sandwich. The beef franks are loaded with sauerkraut, melted cheese, a plentiful amount of thousand island dressing. Enjoy a zesty Kansas City Reuben while cheering on the Royals at Kauffman Stadium.
New York Dog
As the kings of hot dogs, New Yorkers find that the best way to enjoy a frankfurter is to keep it simple. All the Kosher dog needs is a pile of either sauerkraut or grilled onions and a line of mustard. However, it would be quite impossible to give you the best place to eat a New York dog because wherever you go will give you a timeless experience.
Maine Red Snappers
Prepared grilled, these dogs are placed in a toasted, buttery roll or a steamed bun. The bright red color is achieved via food coloring, and the snap comes from the lamb casings of the franks.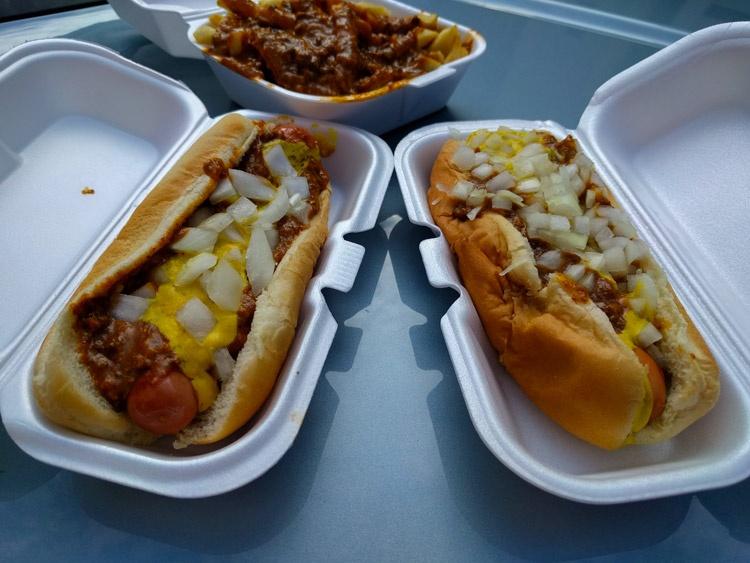 Detroit Coney
Many think of this hot dog as a snack because it is on the smaller side, but do not let the size fool you for how much the Detroit Coney packs flavor. The beef franks are smothered in Coney Sauce (meaty, beanless chili), diced onions, mustard, and shredded cheddar cheese. Of course, if you ever find yourself in the Motor City, you have to try this Midwestern specialty at none other than the original American Coney Island though I prefer Lafayette Coney Island. Good thing they are right next door to each other so you can try both!
Scrambled Dogs
A classic from Dinglewood Pharmacy in Columbus, Georgia, the Scrambled Dog can only be eaten with a fork or even a spoon. The hot dog is chopped and covered completely in chili. Toss some onions and sliced pickles on top, and finish this crazy creation by pouring tons of oyster crackers over everything.
Washington DC Half Smokes
These big and juicy smoked sausages are grilled and served in a steamed bun. Adding a little extra flavor, pork and beef chili, diced onions and mustard is loaded up on there. Truly a famous dish of the American capital, you will not want to miss out on this when visiting.
Tijuana Dog aka TJ Dog
With origins from street vendors of Tijuana, Mexico, this hot dog is wrapped in bacon and deep-fried and, oftentimes, loaded with fried onions and mayonnaise. Nowadays, San Francisco and Los Angeles serve them throughout their metropolitan areas. The best place to order a Tijuana Dog is, of course, from a street cart to be a part of the culture of this frank.
Troy Mini Hot Dogs
Size matters with these tiny hot dogs, and it is customary to eat ten in one sitting. Originating in the Troy and Albany, New York areas, the buns for these dogs are created specifically to cover the beef franks. Top them off with mustard, onions and spicy meat sauce.
Alaska Dog
The ultimate northern delight, this hot dog is made with caribou meat, which explains why some people refer to it as the "Reindeer Dog". While that may sound bizarre, the Alaska Dog is not complete until it is topped with grilled onions that have been sautéed in Coca-Cola.
Philadelphia Dog
Quite unique for a hot dog, the all-beef frank is wrapped (with brotherly love) in a fried fish cake and loaded with vinegar cole slaw and topped with a line of spicy mustard. With an assortment of flavors all inside the bun, you have to try this one-of-a-kind hot dog whenever you get the chance.
West Virginia Dog
A classic to the Mountain State, this hot dog is packed with chili, coleslaw, and mustard. To add a level of crunch, chopped raw onions are placed atop. With everything sitting neatly inside a steamed bun, the West Virginia Dog bursts with an assortment of flavors.
Texas Dog
If you ever find yourself in Houston at an Astros baseball game, be sure to give this Minute Maid Park specialty a taste. The mix of jalapeños, chili and cheese prove to be a perfect balance every time.