There's a lot of advice out there on how to create the perfect charcuterie board for wine tasting, but this is my advice. Take it or leave it, but I like to create a charcuterie platter to complement the wines that I'm about to taste - but also provide a variety of flavors and textures to entertain your palette. Some charcuterie boards are designed specifically to pair with an individual wine but I'm about having fun and exploring flavor combinations. Regardless of your style, there are some core guidelines to follow, so here's my advice on how to create the perfect charcuterie platter for wine tasting.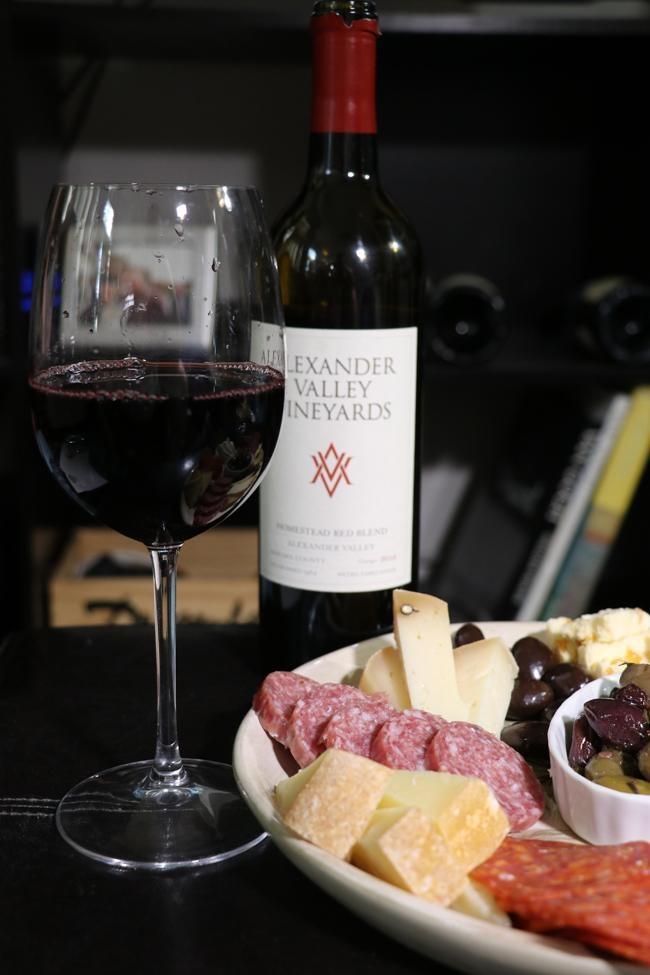 For this example, I'm going to design my charcuterie platter around two different Sonoma County wines that were provided to us. The first is a 2016 Alexander Valley red blend and the second is a 2017 Russian River Pinot Noir from Siduri Wines. Both are red wines that are generally pretty fruit forward and while the Alexander Valley red is 34% merlot, both are relatively delicate in flavors. As such, we want to pair them with cheeses, meats, and other items that don't overpower the wine.
There's really no "right way" to create a charcuterie platter for wine tasting. While there are certain items that pair better than others with your chosen wine, I like to explore. Even items that aren't perfect help you better appreciate the wine.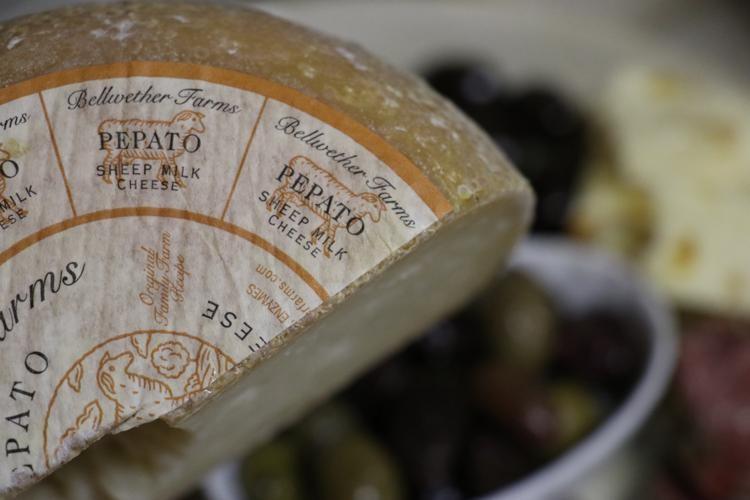 For our charcuterie board, we've included a variety of flavors and textures including some cheeses provided to us by Bellwether Farms. These include Carmody, San Andreas, and Pepato.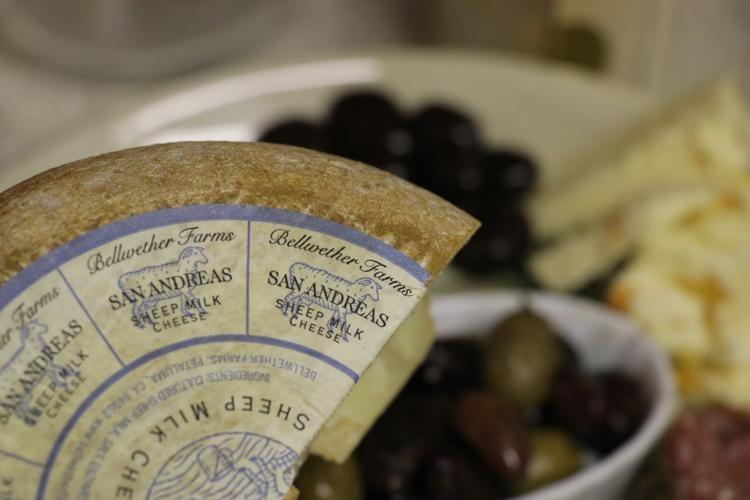 While each charcuterie board is going to be slightly different to match the wines you are pairing, there are certain principals that are the same:
1) Consider the types of wine you will be enjoying along with the charcuterie platter and design around them. For instance, the types of cheeses and meats that go well with a Chardonnay will be different from what goes well with a Merlot.
2) Include smoked meats, cheeses, nuts, fruit, olives, and potentially even chocolate to explore different pallet combinations. Consider fat, sugar, and pepper profiles and how they will interact with the wine as well as other items on your charcuterie platter.
3) Create a charcuterie platter that is visually appealing as well as having a variety of flavors and textures.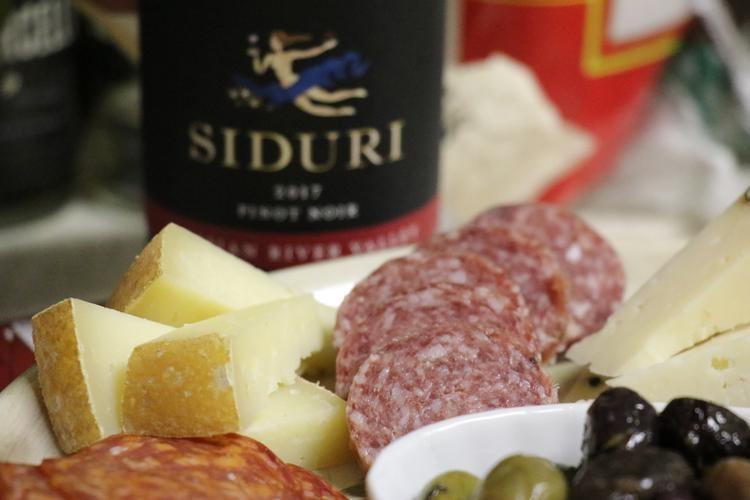 Bellwether Farms San Andreas is a raw sheep milk cheese offering floral, grassy, and nutty undertones inspired by sheep milk cheeses of Tuscany.
For our charcuterie platter, Here's what I chose:
Meats: Peppered Salami, Hard Salami, and Pepperoni: all three of these offer a fatty and slightly spicy flavor that helps compliment the fruity and slightly spicy flavor of the two wines we chose.
Cheeses: Triple Cream Brie, Bellwether Farms San Andreas, Bellwether Farms Pepato, and White Stilton with Apricots. The Brie, San Andreas, and Pepato paired extremely well with both wines and offered mild flavors that helped bring out the natural fruit and spice in the wine. The White stilton that I chose would have been good without the fruit but the apricot was too sweet for the relatively delicate flavors of the wine.
Nuts, Fruit, and Olives: We included lightly salted almonds, olives, and a dried fruit mixture of raisins, blueberries, and cranberries. These were excellent to sort of cleanse the palate and enjoy between sips. From a pairing perspective, they didn't add a huge impact. However, the dried fruit paired better with the Pinot Noir than the Red Blend and helped bring out more of the fruit flavors in the wine. Likewise, the salted almonds provided a solid neutral platform to allow the flavors of both wines to shine while clearing out the residual flavors of the other items on the charcuterie platter.
Chocolates: I love to include sweet items because although it doesn't always pair perfectly, sometimes sweet flavors help bring out new dimensions to the wine. In this case, the clear winner was the Chocolate Covered Cherries that helped the Russian River Pinot Noir shine brightly. Be careful though with chocolates since dark chocolates can have tannins just like wine and you might want to avoid pairing and high tannin wine with dark chocolate since that could lead to tannin overload. White chocolate on the other hand pairs well with more delicate red wine.
Jams, Honeycomb, andMustards: For this charcuterie platter, I ignored this category. When I started to put everything together I simply had too many items already. However, I sorta wished that I had included these because they always help with filling in the gaps and creating different experiences.
Bread: Finally, make sure to include crackers and sliced french bread.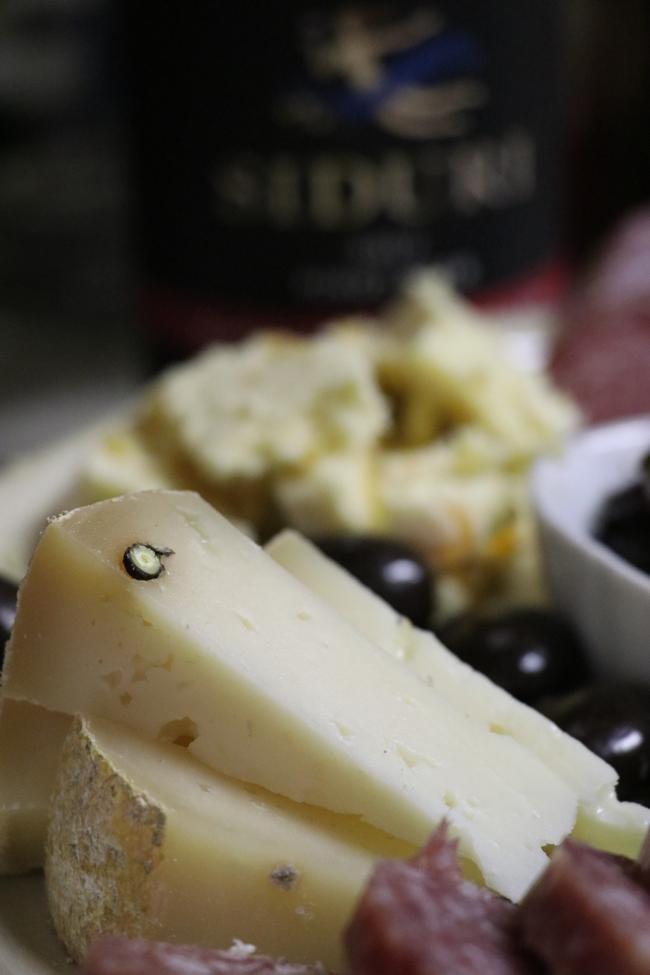 Bellwether Farms Pepato cheese from Sonoma, California adds peppercorns to the San Andreas cheese to create a more savory and earthy flavor.
While there are certain guidelines for wine tastings and winemakers provide tasting recommendations, I like to explore. Wine is fun and creating a charcuterie board is about more than just a bunch of food. It's an opportunity to play with different flavors and explore new ideas. This is true not just for the wine but for combining different items on the charcuterie platter itself. In this case, I tried to create a Sonoma tasting experience and so the cheeses and wines were all from Sonoma County, while the meats were both from San Francisco and the olives were from California. By building the board around a theme like this it helps create interest and excitement as well.
There's ultimately no right or wrong way to construct a charcuterie platter for wine tasting since this is an opportunity to build something personal to your flavors. Just make sure to include a variety of flavors and textures to play with. If you don't like something then don't be afraid to ignore it and leave it behind on the platter.
Just remember - no matter what you include ... enjoy the journey of combining flavors and textures. This is about more than just filling your belly. It's about exploring and trying new things!