Everyone should have a neighborhood bar. It's one of those places that can be a home away from home where the bartenders welcome you warmly when you enter the door and you feel comfortable before you even have a chance to order a drink. That's what San Diego's The Whiskey House is to me, so when I got the opportunity to join them for a Glenfiddich tasting a few weeks ago I jumped at the opportunity. Then I discovered that they were opening a $4,000 bottle of Glenfiddich 40 year and I cleared my schedule for the rest of the evening!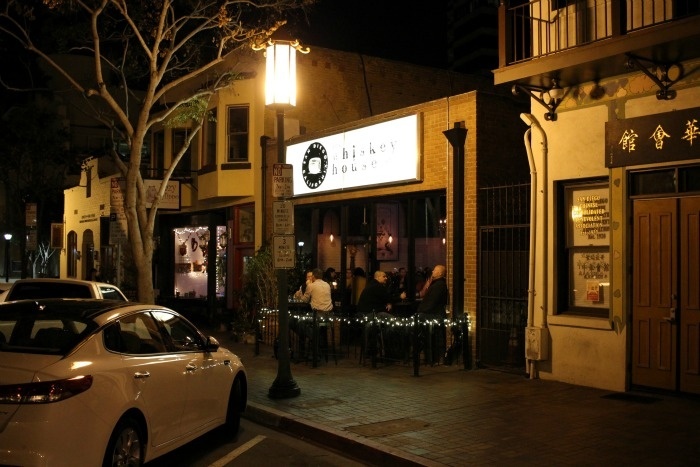 The Whiskey House opened a couple years ago on 3rd street, just down the block from the Horton Grand Hotel and a quick walk from the San Diego Convention Center. Despite it's awesome location (and increasing popularity) it has somehow retained it's neighborhood feel.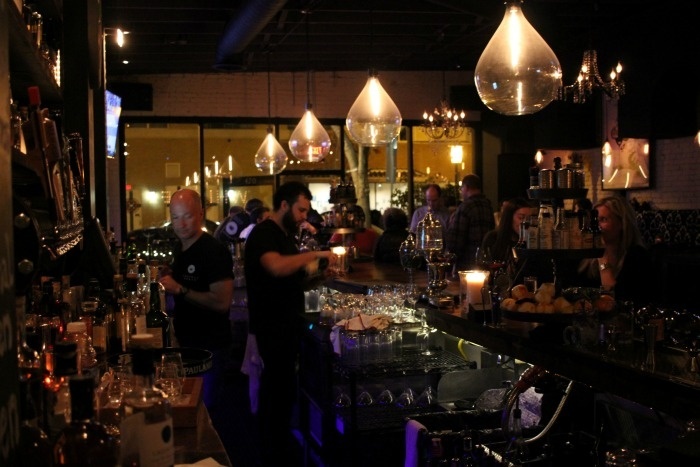 San Diego is often times more of a tequila town than a whiskey lover's destination. However, at The Whiskey House I find that it is a great combination of excellent mixologists, good food, and owners who are passionate collectors of the best whiskeys from around the world. Literally every time I visit, there is something new on the wall that they've acquired and tonight it was going to be a precious bottle of Glenfiddich 40 year.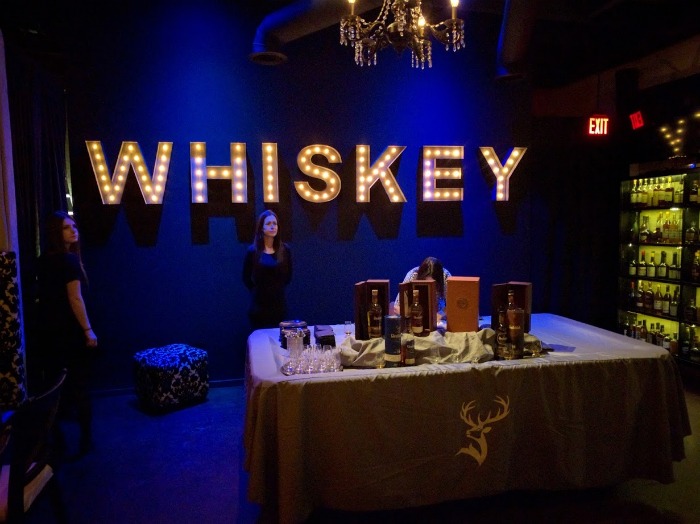 As we went deeper into the back of the bar, the billiards table was dressed with a Glenfiddich drape and our Scotches for the evening sat waiting for us!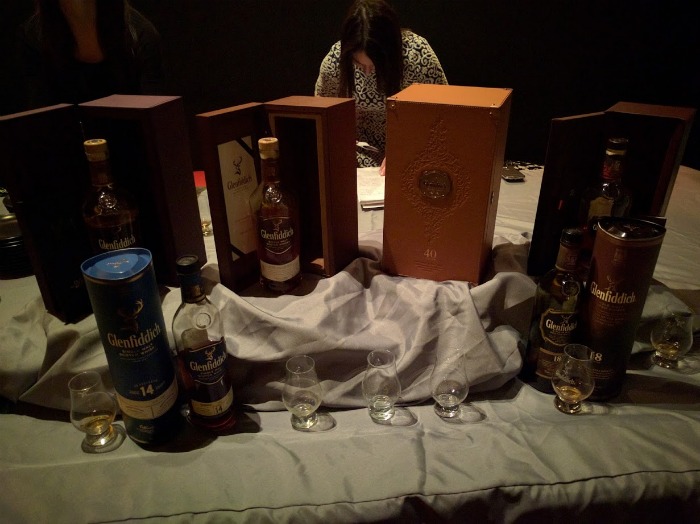 Our tasting flight tonight included: Glenfiddich 14 Bourbon Barrel Reserve, Glenfiddich 18, 21, 26, Vintage 1978 ... and of course the 40 year.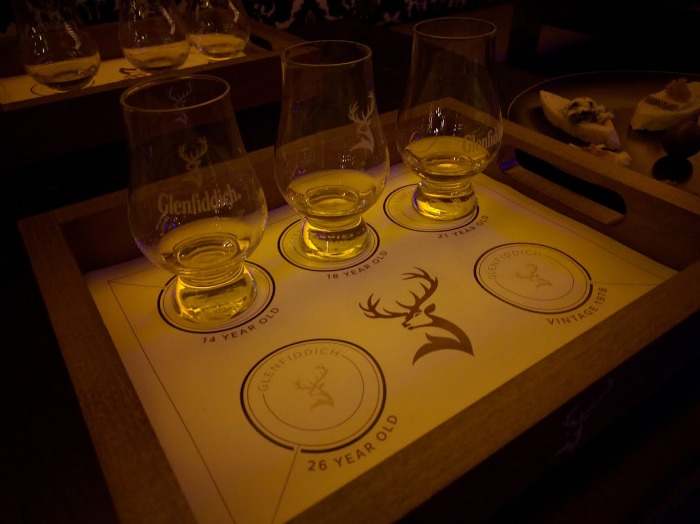 Bourbon Barrel Reserve 14 Year Old
While I enjoyed everything on our flight - and certainly the crown jewel was amazing, this was actually my favorite. It is a 14 year old single malt that is matured in ex-bourbon casks and then finished in deep charred new American Oak barrels from the Kelvin Cooperage in Louisville. This gives the what started as an extremely fine Scotch whisky that smoke and fire that I love in my bourbon.
Glenfiddich 18 Year Old
This small batch single malt whisky uses a mixture of Spanish Oloroso wood and American oak as it matures to provide a robustly oaken flavor with fruity notes from the ex sherry and bourbon casks.
Glenfiddich 21 Year Old
You know something has got to be good if it's worth waiting 21 years before you enjoy it. This expression is hand picked from selected barrels and then finished in Caribbean rum casks that opens up exotic notes of ginger, fig, lime, and banana along with spicy toffee. This too was one of my favorites as it was a fun mixture that blended two of my favorite things. Raised in Scotland, roused by the Caribbean ... and undoubtly enjoyed by whisky ... as well as rum fans around the world!
Glenfiddich Excellence 26 Year Old
After 26 years in oak, this whisky has a phenomenal flavor and color that reflects a complex balance of sweetness and dry oak tannin.
Vintage Reserve 1978
Our last tasting before the grand finale was certainly not one to be missed. This one was hand selected by the Glenfiddich Malt Master in 1978 and then an online audience of whisky experts joined in to select the very best of those casks. Two house of discussion on Twitter resulted in cask 28152 being selected for it's distinctive character that only 30+ years resting inside of an American oak barrel can produce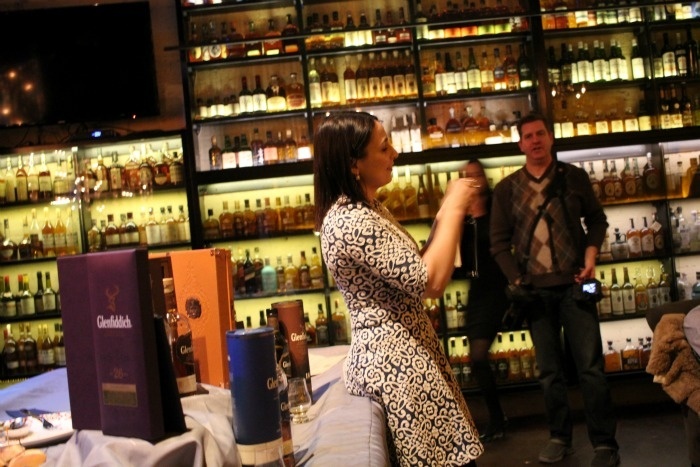 Jennifer Wren - the West Coast ambassador for Glenfiddich is an amazing ambassador for the brand. I've been to dozens of spirits tastings and honestly Scotch has a bad reputation for being the least fun of all the spirits. It's generally snooty old me more interested in how old something is than the culture of the spirit and the fact that spirits of all sorts should be FUN.
Jen single-handedly counteracted this by cracking jokes, engaging with the guests and at the same time handing out knowledge that only someone with a true passion for scotch could. If you ever see a Glenfiddich tasting on the calendar and she's leading it - buy in. It's worth the price of admission just to experience her (and Glenfiddich is damn good tasting too!).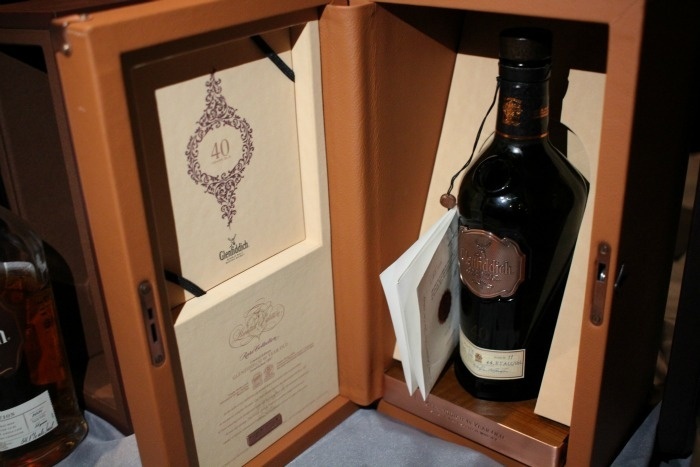 Glenfiddich 40 Year Old
Only a tiny fraction of all Scotch whisky makes it to 40 years and while the flavor was exceptional - you are paying for the fact that honor of owning something no one else has. To protect this rare spirit, it is tucked away inside of a hand-stitched calf leather box that can be locked with a special key.
Today though, we were ready to experience this ... not just look at it on a shelf.
Over 40 years, the Glenfiddich Malt Master selects individual casks and marry them together with remaining product from the previous 40 year old vatting. This process of remnant vatting allows the tradition to continue across generations of whisky lovers and Glenfiddich is the only single malt to use this technique.
The spirit is simply exquisite and while I stand behind my comments earlier that I would generally prefer to sip the 14 Year Old Bourbon Barrel Reserve - this was a once in a lifetime opportunity. The silky smooth and luxurious taste evoked notes of dried fruits like you'd find in a Christmas cake with dates, raisins, and stewed apples.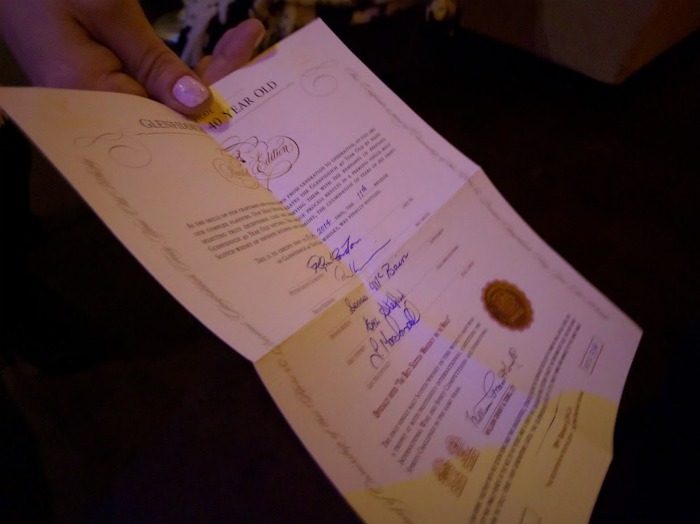 Not content to simply have a bottle of some of the finest scotch in the world? This certificate proves it's authenticity :)
I was sincerely impressed with the 40 Year Old because it is the perfect mixture of ultra-rare and ultra-quality with that perfect presentation that makes you sit back and say "I've done good!"
While this is certainly not an every day experience, that doesn't mean you can't replicate it yourself. Ryan - one of The Whiskey House owners tells me that the retail would be about $2,000 for a flight similar to what we enjoyed. That's not cheap but if you are looking to impress a friend, celebrate a promotion, toast a new client, or simply do one of those "once in a lifetime" things, then this is a great opportunity!