Since 1969, when Byron and Virginia Hardin opened their first location in Ocean Beach, Hodad's has been a legendary burger joint in San Diego. With an atmosphere that borders on kitschy tourist trap but somehow manages to stay authentic, this is a must-visit location for anyone visiting the city. However, what makes it even more awesome is that it is more than just a "cool place" to grab a bite, it is serving up some of the most amazing burgers in the whole world.
For those of you who have never been to Ocean Beach, it is a beach town located just north of the city and is full of hippies / surfer culture, so it is also great for people watching.
Before we get into things too deeply, I'll answer a question that I had during my first time here. What on earth is a "hodad"? The answer is a Hodad is a non-surfer that hangs out at the beach masquerading as a surfer. While there are plenty of non surfers that dine here, if you want to get a taste of San Diego's "surf culture" this is a great spot to start.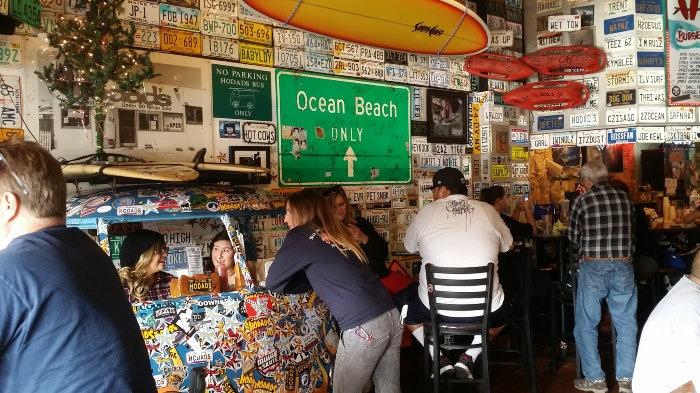 In the afternoons and evenings, there is always a line to get in, but if you go for lunch you will only have to wait a few minutes for a table. However, for the ultimate experience you may want to wait a bit longer and eat inside the VW surf van booth!
As mentioned above, the Hodad's atmosphere is legendary, with walls covered in license plates from around the world as well as other "beach" and surfing signs that decorate pretty much every square inch of the restaurant.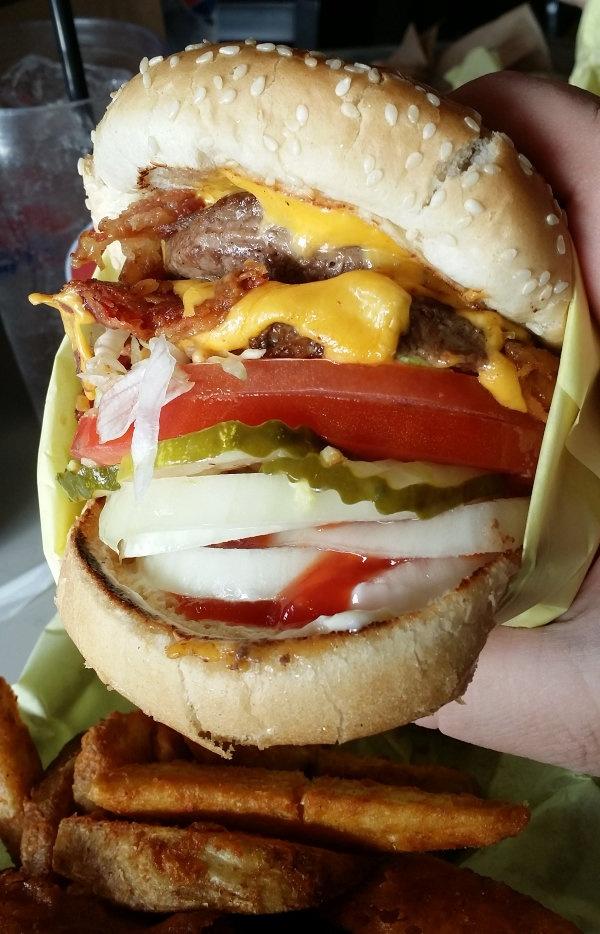 The menu at Hodad's is pretty straight forward and it's all about the burger! However, for those of you who would rather have a veggie burger or a tuna sandwich they offer that as well.
Here's where I admit my limits! I HEARTILY recommend the bacon burger and I am never one to say no to a double. However the double bacon cheeseburger (above) here is simply insane. Instead, I suggest that you go with a single with extra bacon instead. Though really the single is pretty massive by itself. Plus, it's not just the meat, cheese, and bacon but it is loaded with lettuce, onion and pickles to.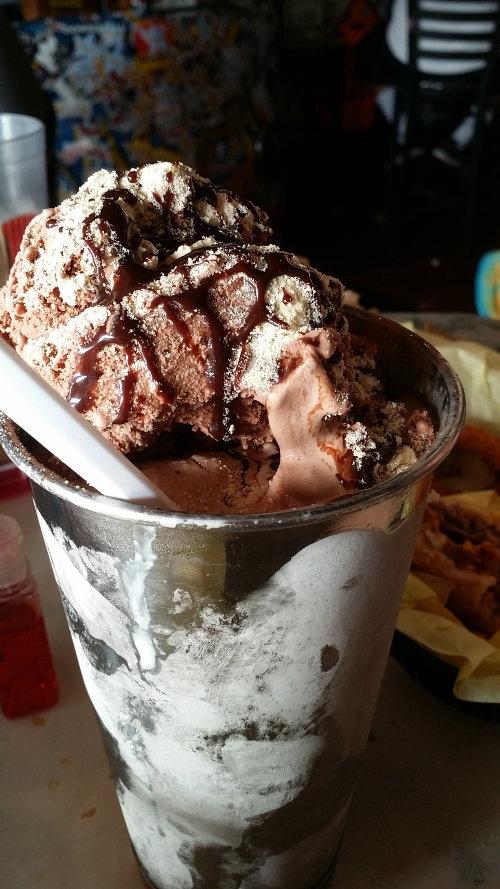 Of course, no burger experience is complete without a milkshake and Hodad's doesn't disappoint here either!
While it would probably be sufficient to simply serve the shake in a single cup, these are meant for sharing and are made from real ice cream that literally overflows the mixing cup ready for you to share (or finish yourself!).
If you want something special though, skip the shake and order a malt instead - it is plenty malty and they even sprinkle some extra malt on top to make it extra malty!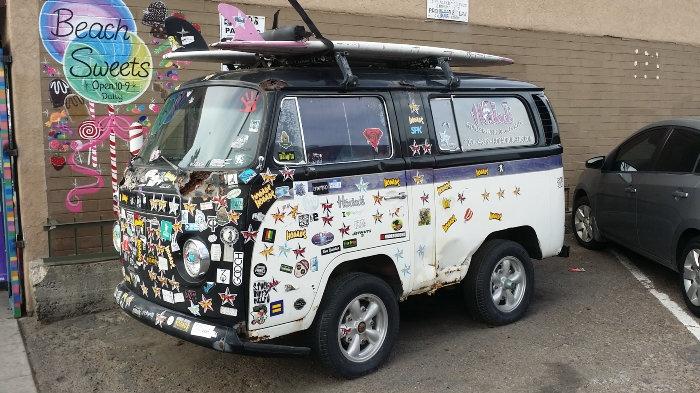 Good restaurants serve good food, but great ones manage to somehow combine great service, great food, and an awesome atmosphere to deliver a total experience that it's customers dream of returning to again and again. That's what Hodad's somehow manages to deliver in a way that is surprisingly authentic.
For instance, you could create this "concept" and put it any city in america but here it is real and not some Disney approximation of what "surf culture" might be like - it's the real thing. This isn't an act and that's what makes it special. While I enjoy this place as a local, if you are looking for an authentic San Diego beach experience you need to head down to Ocean Beach and grab a bacon burger from Hodad's!
Hodad's has three locations - Ocean Beach, downtown San Diego, and at Petco Park.