I have been a BIG fan of Jack Daniel's since my early 20's. The first time I drank it, it was almost as if I had reunited with an old friend. Jack on the rocks quickly became one of my favorite drinks and it has stayed one of my go to adult beverages for many years. I've been desperately wanting to visit the Jack Daniel's distillery ever since that first sip. So, you can imagine my excitement when I was invited to spend two days there and soak up (you see what I did there) the history and culture of this American institution. What I found was a company that has an intense pride and attention to detail that can be found in every aspect of their product. Here are a few things that make Jack Daniel's a little different.

Barrels
They start with American Oak. Fresh cut oak, or "green wood," is 85% water, so to be used for barrels it needs to be dried and aged. Drying wood too quickly can create splits, cracks, and checks (microscopic cracks) which cause a barrel to leak, so the wood needs to be slowly aged outdoors. They build the barrels by hand one stave at a time. Then they are heated on the inside, this first step is called toasting. From there, each one is charred. Charring barrels are one of the most important parts of the whiskey process.

Each one is exposed to temperatures of upwards of 1500 degrees. The high temperatures break down the wood and brings out the sugars. Once the whiskey is aged and bottled, the barrels are sold to other companies and could be used for ten more years. Jack Daniel's is the only company I have ever heard of that only uses their barrels once. It was pretty amazing to watch and then when they told me they only use the barrels once... My jaw almost dropped.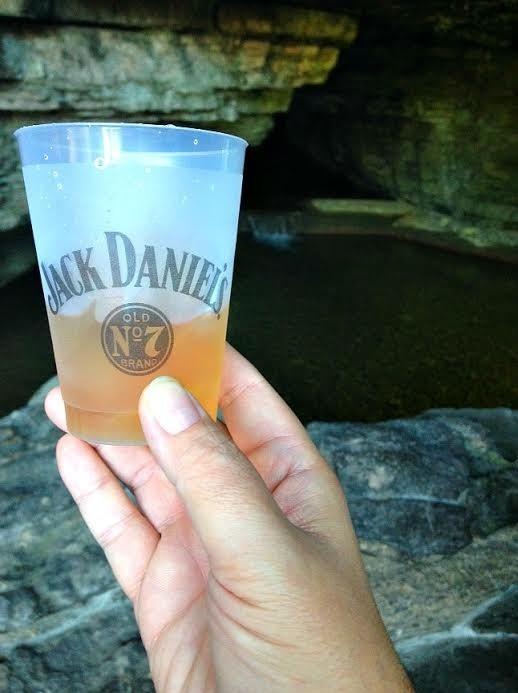 Water
I never thought about the water that went into making good whiskey, until I drank from Cave Spring. It is some of the most delicious water I have ever tasted! The water source for the whiskey is a spring flowing through the Jack Daniels property. For more than 140 years this spring, known as Cave Spring, has been the water supply for Jack Daniels. It is one of the most important parts of the whiskey's recipe. This water flows year-round at 800 gallons per minute at a constant temperature and is virtually iron free. It's the reason why the Distillery was located in this spot originally — and why it's remained there ever since. Just outside the cave you'll find a statue of Jack Daniel. The man himself, standing guard over his spring.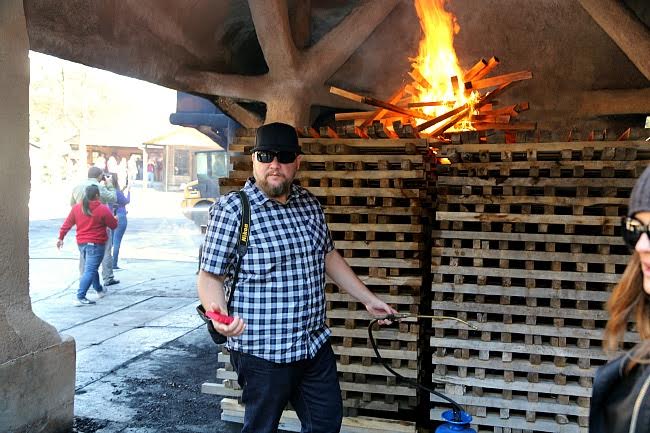 Charcoal Mellowing
Jack Daniel's lets their whiskey drip through 10 feet of sugar maple charcoal. This is where that distinctive "bite" comes from. The thing that is really impressive, is that they make their own charcoal. It's a process that runs like clockwork on the distillery property. They even have their own fire brigade on premises, just in case. Some of us even got in on the experience. I told them they might want to keep the fire brigade on the phone.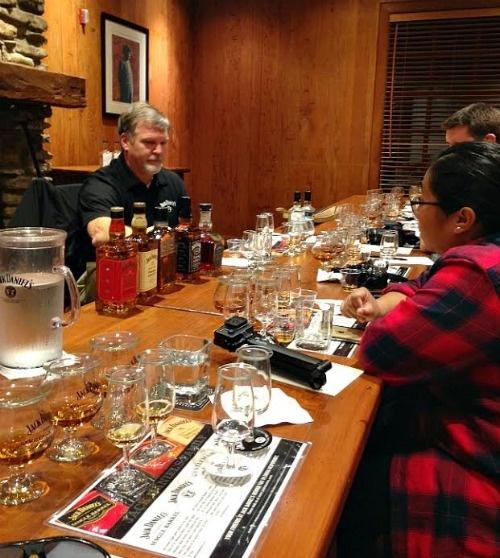 Everyone I met at the distillery used the word "family" to describe Jack Daniel's. Believe me, it's not a word they are just throwing around. They believe in their product and the culture of family that has been a part of Jack Daniel's since the beginning. From Master Distiller, Jeff Arnett to the people on the line.
The word family tells you all you need to know about Jack Daniel's!