Have you ever sat there looking at the cooler during a backyard BBQ and thought, "darn it ... I wish there was a hard seltzer made from wine instead?" No, me neither and frankly as a GenX guy this whole re-discovery of wine coolers makes me smile. Luckily, this creation - Jetway produced by Albert Hammond Jr. of The Strokes is actually pretty tasty. I just wish it said wine cooler instead of chasing the seltzer market.
Unlike hard seltzers, Jetway does not contain cane sugar or artificial flavors. The first two offerings - a Sauvignon Blanc and a Rosé of Syrah and Cabernet Sauvignon, are sourced from the McNary Vineyard, which overlooks the Columbia River in Washington state. Both are blended with distinct and rare ingredients that enhance well-being - including elderflower, yerba mate, Fijian ginger and yuzu - all of which were selected by Hammond Jr., as they inspired memories from his travels and childhood.
At 100 calories per 8.4 fl. oz. can, Jetway wine seltzers are 5% alcohol by volume. No sugar added, gluten-free and vegan-friendly, the drinks are presented in cans with artwork that evokes the golden age of travel.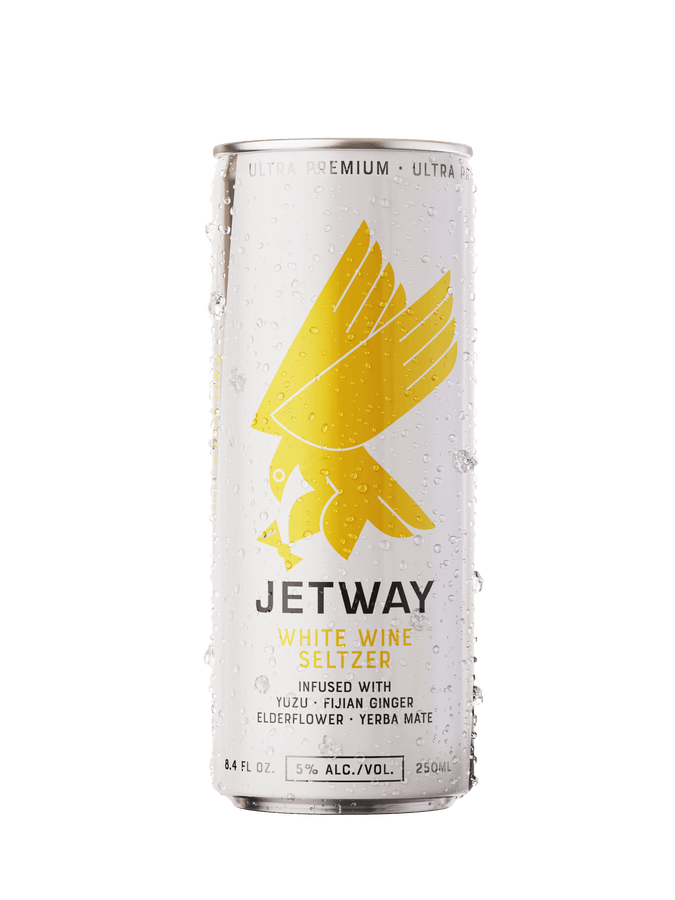 White Wine Seltzer:
Infused with Yuzu, Fijian Ginger, Elderflower and Yerba Mate. Jetway describes it as: Deep golden straw in color with aromas of Yuzu, Lemon, Ginger and Bitters. Tiny bubbles dance on the tongue and there's a delightful Quince-like phenolic finish that lingers with firm crisp acidity coercing you to take another sip. Beautifully refreshing!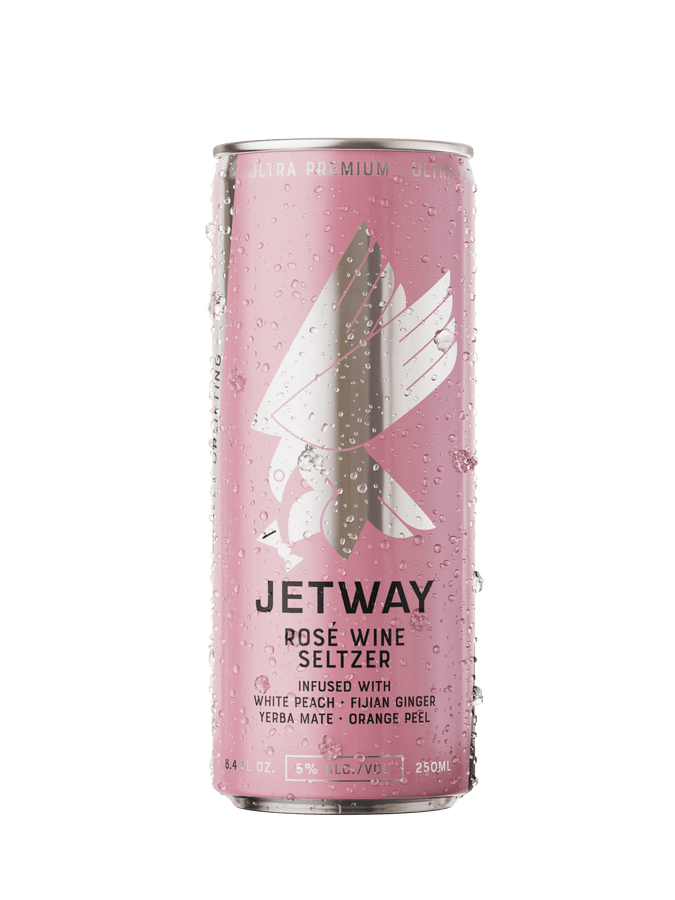 Rose Wine Seltzer
Infused with White Peach, Fijian Ginger, Yerba Mate and Orange Peel. Jetway describes it as: Gorgeous salmon pink color with aromas of White Peach, Watermelon and Strawberries interlaced with Ginger and Orange peel. Peach and Strawberries continue on the palate with tiny bubbles and firm acidity that leaves you wanting more. Drink with friends and often. Pair with good times and adventure.
Both cans that we tried were more enjoyable than I initially expected and offers something unique to the marketplace as something refreshing and herbal that is also not overly sweet.
As a new generation explores what wine can be, it is exciting to see products like this that 30 years ago would have just been a cheap wine cooler with crap ingredients but today is something that offers a more premium experience for those who want to appreciate it that way ... or if you don't ... it is enjoyable simply as a delightfully refreshing cold beverage.