The wine industry can be full of paradoxes sometimes and one of the ones that I currently enjoying the exploration of is Napa wines. At one level, this is the pinnacle of technical excellence in terms of Cabernet Sauvignon and Chardonnay. The region has reached the point where for most Americans, Napa is California wine country. It has rightfully earned it's place as one of the world's best wine producing regions and that has led to high prices and attracted a lot of wine snobs. However, tucked beneath the surface are stories such as that of winemaker Joe Harden of Nickel & Nickel.
We've enjoyed several of Nickel & Nickel's wines and look forward to visiting their winery later this year. It is safe to say that they are among the best that the region is producing. However, Joe is "just a guy" and I'm discovering that there are probably more people like him than the fancy suit wearing guys driving expensive sports cars and pretending that they know wine just because they sold some stock to buy a winery. It's an interesting world that I encourage you guys to explore through trying different wines but also trying different experiences at wineries here in California as well as those closer to home. Talk with the wine makers, ask them to share their inspirations, and then enjoy the art that they have created.
If you do, you will begin to have a greater appreciation for the product just as I am doing.
One thing I really appreciate about Nickel & Nickel's wines is that they focus on creating single vineyard vintages. Instead of blending wines together to create a specific experience, this is essentially allowing nature to come through and tell it's own story with a bit of help from the winemaker. If you have never tried wines like this, I encourage you to do so. Just as basketball is basketball no matter what stadium you are sitting in, being able to experience, compare, and contrast a Cabernet Sauvignon from one vineyard to another from the same region is remarkable for how the nuances can come together to create a unique experience on your palette.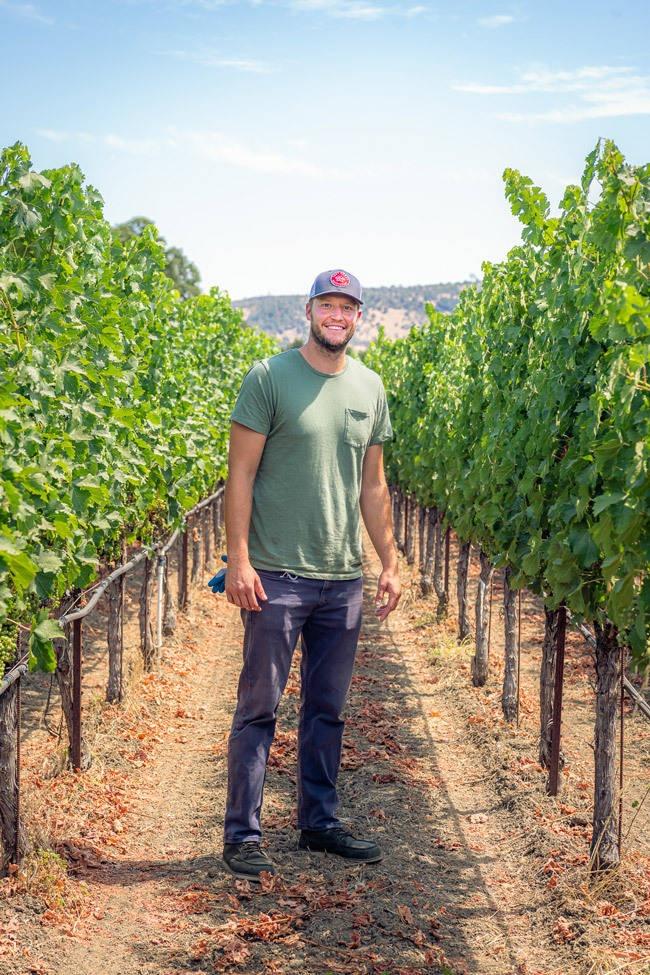 With that in mind, let's talk with Joe about his background in college and professional basketball and how that helped influence him to become one of California's top winemakers.
What drew you to decide on a career in wine rather than professional basketball?
I grew up on a vineyard in Lodi, CA—my dad is in the sales side of the wine and spirits business, so I knew from an early age that I had an interest in the wine industry and the production process. My first big move in basketball came when I began playing basketball at Notre Dame University, but I eventually transferred to UC Davis, where I studied viticulture and enology.
After graduating, I was drafted to the Santa Cruz Warriors; naturally, I was really excited to be able to make a career out of basketball, so I began playing for them without much hesitation. Eventually I moved to play in Australia and continue pursuing my dream of making a career in basketball. But at some point, I realized that I really missed California and wanted to return to follow my other passion of wine. That's why I ended my professional basketball career and returned to Napa, where I took an internship at Robert Mondavi Winery and never looked back.
Looking around today we see a lot of NBA stars partnering with wineries or becoming the face of celebrity wine brands. Traditionally we think of wine brands and golf or elite sports like auto racing. What trends are driving this new generation of athletes (and their fans) to embrace wine?
I think that wine is incredibly unique; it has such a sense of time and place. The Internet and social media has been able to communicate the rarity and depth of the wine world, and I feel as though NBA players are getting more engaged in wine as both a luxury and intellectual hobby.
Compared to spirits, wine is a product that can evoke a time and place and create intellectual curiosity. I think many players start drinking fine wine as part of their career, and become intrigued by the history and depth of the industry. Players like LeBron—who's so known for his on-court IQ and awareness—are fascinated (as am I) by the sheer complexity and variety of the industry, and make a point out of learning as much as possible about the best wines in the world. Take something like the 2000 vintage of Mouton—there's only so many bottles left, and it kind of creates this need and want for that one time and place vintage. For me, when the Warriors won the last couple years, I would send them magnums of that vintage because they could go back in 20 years and taste the wine that was made that year.
I also think that wine has been seen as a more "healthy" outlet for consumption, which has become important at a time when athletes and regular drinkers alike are being more mindful.
As an athlete, training, correcting bad habits, and strategy are essential. How has your experience with competitive sports helped you become a champion winemaker?
There are a lot of similarities—both mental and physical—that go into your preparation for becoming the best athlete or winemaker possible. Especially for a guy like me, who is inside of tanks, pulling hoses and doing the litany of physical work that goes into making wine, you have to be in a certain amount of shape to make sure you're not absolutely wrecked during the dog days of harvest.
Mentally and logistically, you really need to be able to adapt and handle adversity and be willing to pivot. At Nickel & Nickel, there's a ton of prep work we need to do with our 17 vineyards each year—much like scouting a team in basketball, we have to thoroughly vett each vineyard down to the row in order to be sure we know what we're going to be getting once we begin bud break and beyond. Harvest is really our "season"; both in basketball/wine, teamwork and leadership are critical to the season—running a cellar and having everyone moving in the same direction is a lot like being a captain of a basketball team.
There are a lot of high-pressure situations and you're making a lot of decisions that aren't always easy. It's about getting through each harvest season's hurdles, overcoming things that don't necessarily go your way, and just making sure the whole team is on board and driving towards one goal.
Many men don't understand what makes a $100 bottle of wine better - or at least more expensive - compared to a $30 bottle. What are some of the opportunities during the winemaking process that can affect quality and price?
Especially when we're looking at Napa Valley and the different single-vineyard wines we're working with at Nickel & Nickel, it's a lot about the cost of real estate and grape growing. These properties are among the best places in the world to grow Cabernet Sauvignon, and there's obviously a markup that comes with operating out of these invaluable locations. That really has more of an impact than winemaking practices (with some exceptions, like barrel selection and technology in the winery).
When selecting a vineyard block to work with what attributes do you look for to craft a wine?
More than anything, we are looking for something unique that stands out from the other single-vineyard wines we're making. The terroir of Napa is utterly fascinating, and you can really get wildly different wines from grapes that are grown 1000 feet away from each other. When we're selecting our vineyards and specific blocks, I want to make sure that we're be able to taste the things that make each site or region special—Rutherford "dust", or the powerful tannins of Oakville—but are capable of contributing something unique and identifiable as a Nickel & Nickel wine. It has been something I've been homing in on vintage over vintage, and I think my ability to pinpoint specific vineyards and their desired characteristics has only gotten stronger with time.
The wine industry can be seen as very conservative but professional sports continues to innovate at a blinding pace. What are some innovations that you are seeing or want to implement?
One of the things that is slowly being implemented at wineries is optical grape-sorting machines. These pieces of equipment use state-of-the-art camera and software technology to identify under ripe grapes or "raisins" coming though the sorting table—they'll then make sure that those subpar berries are quickly discarded, so that only the pristine grapes are kept for winemaking. I think this has dramatically increased the quality of the fruit coming off the destemmer and has increased efficiency as well.