While conventional history suggests that the wine industry in California is relatively new - the truth is thanks to the Spanish Jesuit missionaries we've been growing grapes in California for more than 300 years! While most Americans think of "California" as a US state, "California" is actually the stretch of land that includes Alta California, Baja California, and Baja California Sur. National boundaries and centuries of politics can make things complicated when it comes to a heritage like this. However, the role that the Catholic church's Mission System played is clear. So let's grab a glass of "missionary wine" and explore some history of wine in California and indeed that of wine production in the New World itself.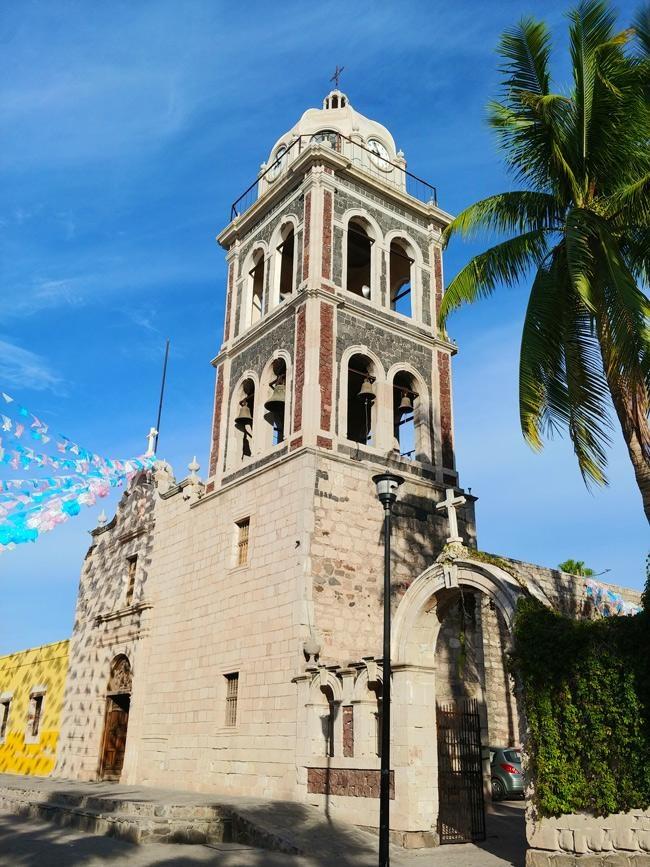 Mision de Nuestra Senora de Loreto Concho in downtown Loreto, Mexico
Mexico today is one of the least appreciated wine regions in North America if not the world. It's mostly based in northern Baja California in an area known as Valle de Guadalupe. However, the story begins around 1700 at the Loreto Mission on the Sea of Cortez (Gulf of California). Starting in 1697 the first California mission was established in Loreto but they quickly discovered that it lacked the water for agricultural purposes needed to make it self sustaining. However, in 1701 the second mission was established in the mountains where water was more plentiful. That mission, San Francisco Javier de Vigge-Biaundo is where Jesuit priest Juan Jugarte established the first vineyards in California.
However, at approximately the same time the Spanish King, Charles II ordered that all the vineyards in the New World should be destroyed in an effort to protect the Spanish winemakers. Thanks to those thirsty missionaries though, Catholic missions were exempt from this mandate and were permitted to produce small amounts of wine for religious purposes. The grape planted here was known as Mission Grape or Listan Prieto. The grape originally came from the Canary Islands and was one of the first imports to the New World. However, initial plantings in the Dominican Republic date back as early as 1493 (one year following Columbus's first voyage!). From there it spread throughout central and south America. While I'm told that compared to varietals from more temperate regions this one is not pleasant. However, for missionaries separated from the winemakers in France and Spain, a grape that could survive in harsh tropical conditions as well as those desert conditions of Baja California Sur.
Despite the limitations prescribed by the crown, missions quickly became the largest wine producers in Mexico. By 1780, the Dominicans began establishing missions in Baja California, near Ensenada, Mexico. With fertile soil, good weather, and water it quickly became one of the top wine producing areas in Mexico. This is the same region today that we know as Valle de Guadalupe - the top wine region in Mexico.
While other grapes would be introduced, the original Listan Prieto grape rapidly became used for more than simply sacramental wine. It was used to make table wine and a fortified grape juice called Angelica as well. Mission vineyards later served as a destination where settlers could take vine cuttings and establish their own vineyards as the spread throughout Mexico and what is today the United States.
Today we welcome Fench, Spanish, Russian, even German varietals to the mixture in California and the entire pacific coast, extending from Northern Mexico to Southern Canada. Interestingly, this Listan Prieto "Mission Grape" is seeing somewhat of a renaissance in the Canary Islands as well as Spain and South America with the goal to better understand and appreciate the varietal once designated as being for sacramental purposes only. On the Pacific coast, only one significant planting still remains and that's in the foothills of Santa Barbara County.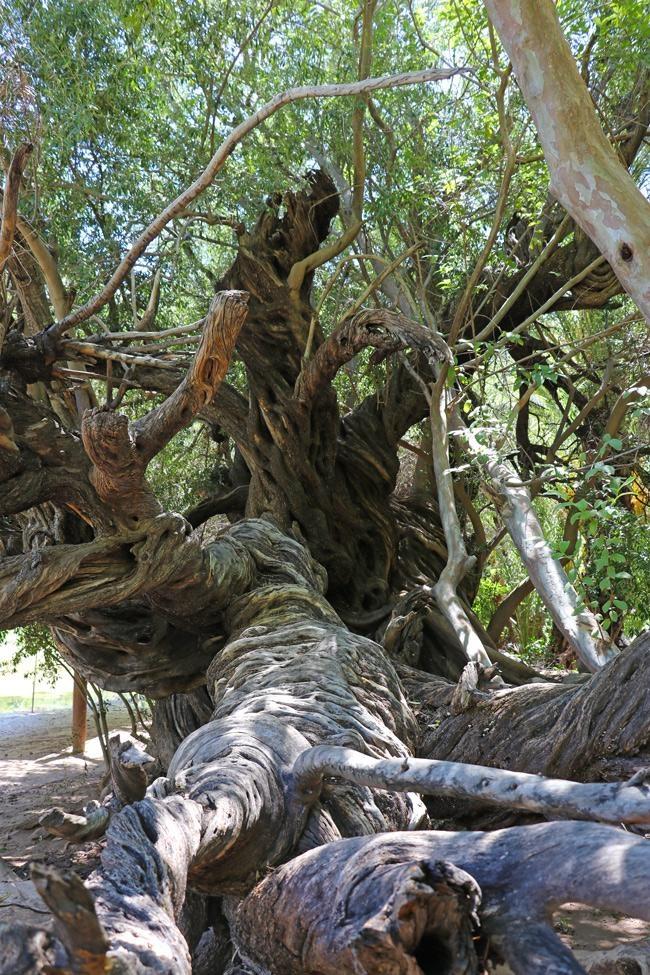 Possibly the oldest olive tree in California at Loreto Mission San Javier
Today, visitors to Loreto, Mexico can visit both the original mission located in the city itself as well as the second, up in the mountains. While many visitors will be happy simply to see the architecture - one of the few missions that remain standing, make sure to visit the garden in back. While the area around the mission once was a well developed agricultural area designed to sustain the missionaries as well as mission community, they still maintain a small garden with guava, avocados, grapes, and olive trees. Some trees there were originally planted in the 18th century!
One person I spoke with referred to it as the, "new Garden of Eden". Indeed that's what it must have looked like to thirsty and hungry travelers as well as indigenous people that the church looked to attract by providing food to them.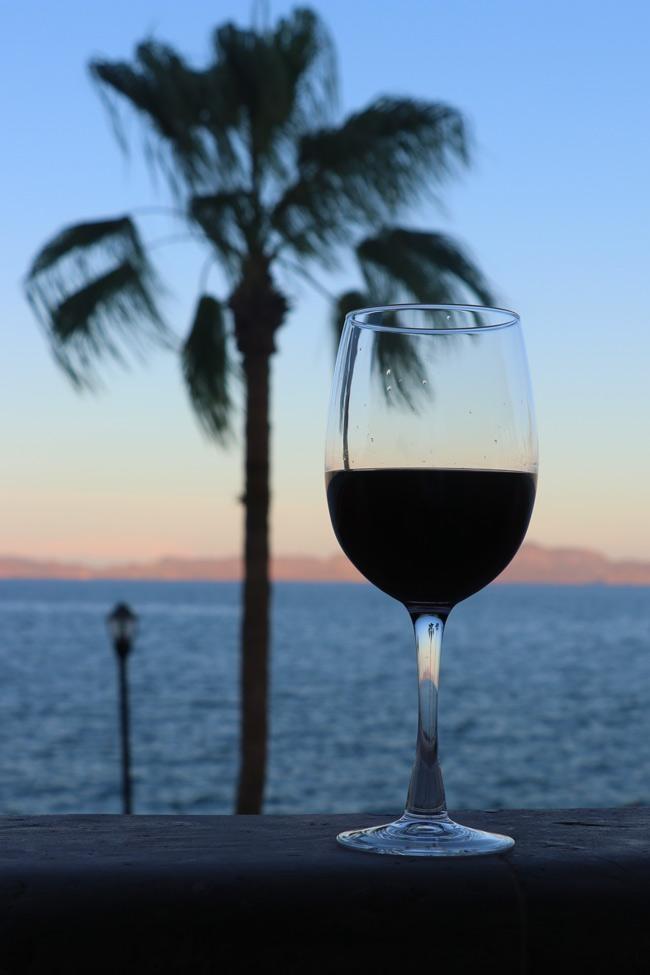 Wine glass at sunset at La Mision Hotel Loreto, Mexico
Modern visitors to Loreto don't need to worry about where to enjoy a glass of wine. While you won't find "Mission Wine" available, there are plenty of bottles to be found from Valle de Guadalupe. To continue the mission theme though, we suggest grabbing a glass overlooking Sea of Cortez at La Mision Hotel, located on the Malecon.
So, with your glass in hand, let's raise a glass in thanks to these pioneering missionaries that settled in Loreto, Mexico. Without them, it is unlikely that we'd have the California wine industry that we do today!