Wolf Spirit distillery based in Eugene, Oregon is quickly becoming one of my favorite spirits producers due to their innovative assortment of fine spirits brands that connect deeply with a sense of heritage, history, and culture that allow them to integrate easily into any man's collection. For me anyhow, there are spirits I have and need to blend different drinks ... and then there are ones like Puncher's Chance Bourbon and indeed Bosscal Mezcal (also by Wolf Spirits) that exist to create conversations around and will be featured on the shelf of my bar for people to see, while others will be stored in my liquor cabinet hidden from sight.
Puncher's Chance Bourbon: The Left Cross was released just a few weeks ago and this limited edition bourbon is aged for 14 years and finished in freshly dumped 12-year-old Jamaican rum casks. This results in a unique and complex flavor profile that is sure to delight even the most discerning of connoisseurs. While this flavor may not be something that rum purists or indeed bourbon purists may not accept initially, it is a refreshing exploration between these two spirits that results in a unique complexity that any connoisseur should be willing to embrace.
Where Did The Name Come From?
The whiskey's unique name, The Left Cross, is a nod to Jamaican heavyweight fighter Donovan 'Razor' Ruddock, who was known for his southpaw stance and 82" reach. He is known for his big-punching style as a heavyweight contender in the late 1980s-early 1990s. During that time, he made an international name for himself that included matches against some of the biggest names in boxing. This includes two epic fights against Mike Tyson in 1991 and 1992 and Lennox Lewis in 1992.
Puncher's Chance's partnership with the Professional Fighter's League, as well as the reference to Jamaican heavyweight fighter Donovan 'Razor' Ruddock in the brand's name, speaks to the brand's connection to the world of combat sports.
Tasting Notes
Aging Puncher's Chance's latest release for 14 years in new American oak barrels has infused it with distinct notes of vanilla, dark fruit, and warm oak. The aging process has allowed the bourbon to mature to a level where its flavors have become refined, and its character has become complex. The oak barrels have imparted the bourbon with a rich, woody flavor that complements its a rich and complex sweetness, with notes of caramel, vanilla, and spice.
The rum finishing process introduces the famous 'funk' of Jamaican rum, which adds rich flavors of brown sugar, ripe bananas, and sweet baking spice. The resulting flavor profile is a perfect balance of sweet and savory, with an unmistakable punch of rum lingering in the finish.
The spirit is bottled at 96 proof and features a mash bill consisting of 84% corn, 8% malt, and 8% rye.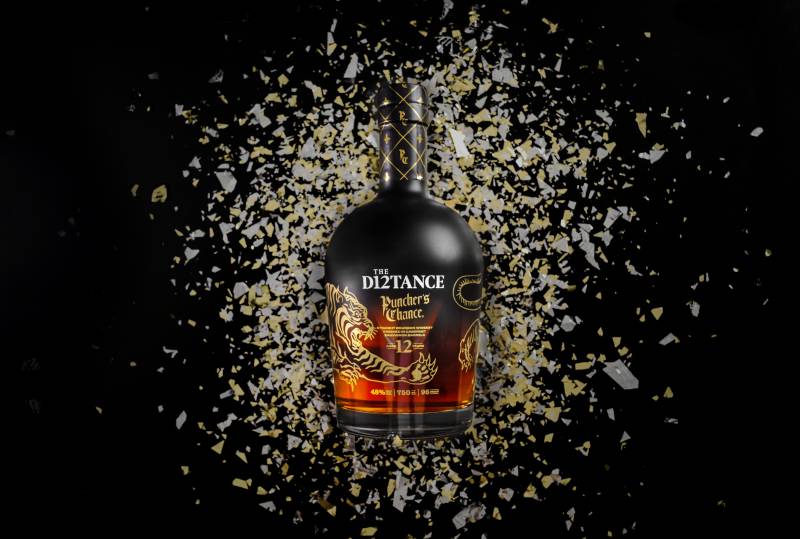 Other Limited Time Expressions From Puncher's Chance
We recognize that this blend of rum and bourbon may be a bit extreme for some folks, so I wanted to share with you some other expressions from the company that you'll enjoy too.
Puncher's Chance: The D12TANCE
This 12-year-old Tennessee straight bourbon whiskey is aged in American White Oak Barrels and then finished in California Cabernet Sauvignon Barrels. This expression features classic notes of big vanilla, toasted oak aroma and a hint of cedar complement complex apricot and orange peel evolutions in the early palate, followed by flavors of tobacco and leather. (price $128.99)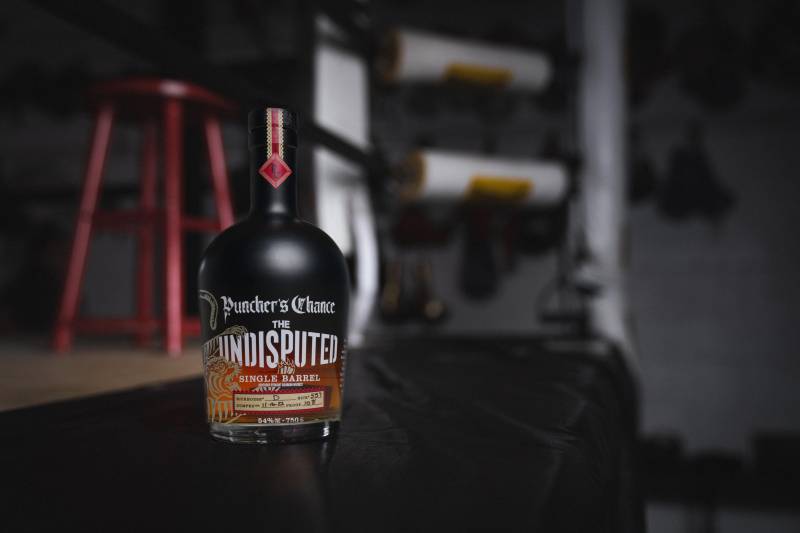 Puncher's Chance: UNDISPUTED
This single barrel expression of Puncher's Chance is sourced from five- and six-year-old Kentucky Straight Bourbons from IJW Whiskey Company. These bottles are served up cask strength at 108 proof and has already won a Platinum Medal and Best in Show 2nd Runner Up honors at Tony Abou-Ganim's heralded TAG World Spirits Awards in the American Bourbon Single Barrel category. (price $54.99)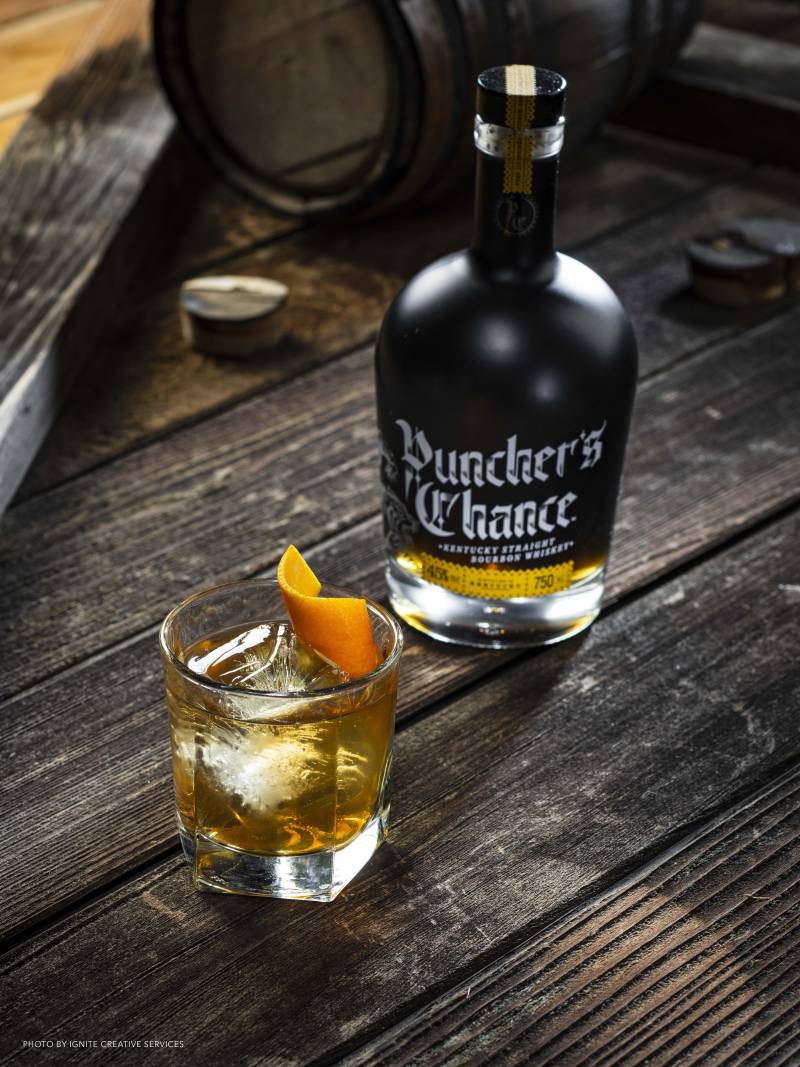 Puncher's Chance Kentucky Straight Bourbon
Let's face it ... you gotta start somewhere and while I feel like some might look at this bourbon as a palooka who has no business being in the ring with the clearly premium expressions that I'm obsessed with. To view this expression that way would be to miss the fact that it's a good bourbon at this $34.99 price point. and that price isn't everything. Sometimes all you need is a good comfortable bourbon that mixes well for a round of Old Fashioned cocktails but that you can still enjoy on the rocks while celebrating a fabulous day spent doing fun stuff on your latest guys trip.
That's the niche that this one fits. It also provides a nice foundation to build on so that the folks at Wolf can create innovations such as The Left Cross and The D12TANCE!
Are You Ready For Some Knockout Whiskey?
Puncher's Chance Bourbon: The Left Cross is clearly not for everyone. You pretty much need to be an advanced spirits enthusiast with a passion to fully appreciate this product. That isn't saying that a novice who sits down for a drink can't enjoy the experience ... but those of you who have a chance to let it linger on your tongue for a few moments and compare it to what you'd expect from a rum or a bourbon, will begin to have a moment where you start to question what future pairings might be possible.
The careful aging process and attention to detail in the distillation and finishing process have resulted in a bourbon that is truly exceptional in both taste and quality.
With only 2,000 bottles available at select retailers and a price tag of $150, this bourbon is a rare commodity and will be a highly sought-after addition to any collection.
Wolf Spirit, the producer of Puncher's Chance Bourbon: The Left Cross, is making a strong impression on me with this and Bosscal Mezcal before. Other products in their portfolio include Tom of Finland Organic Vodka and Blood x Sweat x Tears Vodka. This limited-edition release of Puncher's Chance Bourbon, The Left Cross, is a testament to the brand's commitment to producing fine, handcrafted spirits with authentic stories and I can't wait to see what's up next.