Sometimes it is nice to just have a delicious meal that is easy to prepare and tastes great. I've been doing a version of this recipe as a pasta side dish for the past year but decided to kick it up a bit and turn it into a full meal with the addition of some shrimp mixed in.
I love to cook and whether it is a recipe that I invented myself or something I try at a restaurant - like Peace River Seafood's Gator Gumbo - food is just fun to experiment with.
McCormick saw one of my previous posts and offered to send me some free Grill Mates seasonings as well as an extra big bottle of my favorite "multi purpose" seasoning - Montreal Steak. That seasoning is seriously awesome and I use it on steaks as well as mixing it in with pasta as well. One of the things l like about McCormick's Grill Mates is that they are generally pretty straight and simple with their ingredients. For the most part, everything listed "makes sense", with few fillers and preservatives.
For instance, on the Montreal Steak seasoning, the ingredients are: Coarse Salt, Spices (Including Black Pepper and Red Pepper), Garlic, Onion, Sunflower Oil, Natural Flavor and Extractives of Paprika.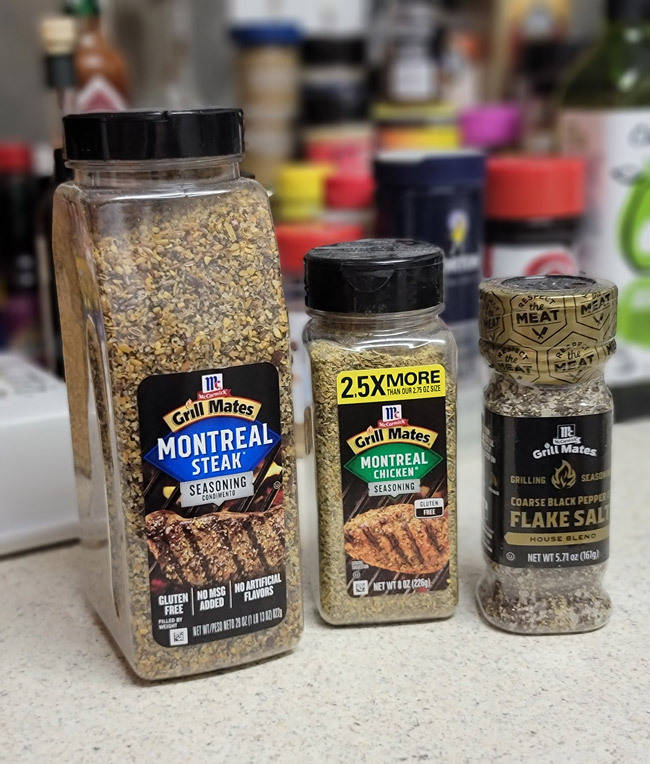 They also sent over their Montreal Chicken seasoning as well as Coarse Black Pepper and Flake Salt that I'm looking forward to trying soon as well.
Shrimp And Angel Hair Pasta Recipe:
This recipe is super simple to make and it works well as a side dish for steak, chicken, or fish or throw some shrimp in and it makes a complete meal.
Ingredients:
1 16oz box of Angel Hair Pasta
1 pound of pre-cooked shrimp (you can use whatever shrimp here including fresh. However, we strongly support sustainable fishing initiatives and wild caught, American or Sea of Cortez shrimp simply taste better)
McCormick Montreal Steak Seasoning (to taste)
Olive Oil (to taste)
Preparation:
If you are using frozen shrimp, thaw and drain the shrimp the night before. If you are using fresh, uncooked shrimp then prepare it appropriately.
Boil the angel hair pasta in a large pot - we want to have space for the pasta as well as mix stuff together after draining.
Remove the pan from the stove and turn the heat down to low.
Drain the pasta, add olive oil to the pan along with a two table spoons of Montreal Steak seasoning, and then return the pasta to the pan along with the shrimp.
Mix the shrimp, pasta and seasoning together ... add more oil and/or seasoning to taste.
Make sure to mix the shrimp with the pasta well so that it warms fully. You can also leave the pasta in the pan to warm further before serving.
I like to place my pasta in a dish and serve at the table but you can also serve individual bowls or plates directly from the pan.