If there are two things that I love most in life - aside from my wife of course! It's traveling and discovering new local favorite foods. One area that continues to be on my bucket list - is Branson. There's a simple wholesome joy about this "Vegas of the Midwest" that draws my interest. So of course, when the folks at Silver Dollar City sent me their recipe for Their famous Ozark Mountain Succotash Family Fued Skillet ... well, I just had to share it with you guys.
What follows is a recipe for the park's succotash, which is Silver Dollar City's most iconic and popular food item. The recipe was introduced nearly 30 years ago by park host Shirley Tolar, who grew up making this meal with her large family and who still works at Silver Dollar City after all these years.
In the Ozarks, some folks call this dish "Family Feud."
At Silver Dollar City, they use corn, squash, fried okra, peppers, onions and chicken in their succotash. If you're missing one of those ingredients in your pantry, fridge or freezer, don't worry ... improvise! Silver Dollar City serves more than 30,000 pounds of breaded okra each year, which is more than anyone else in the entire country. But in case you don't have a bag in your freezer, substitute something else that sounds delicious to you. For those of you who live outside of the South, it can be difficult to find okra, but interestingly I've sometimes found it at various ethnic grocers while I've come up empty shopping at Kroger.
Over the years the culinary team at Silver Dollar City has invented a whole list of incredible "skillet meals." For their 60th Anniversary Diamond Jubilee, which will kick off when the park re-opens later this year, they're bringing back a fan favorite, the "Harvest Skillet" that combines Ozark ingredients for a sensational flavor combination.
The chef I spoke with also remarked that while the food looks huge and hearty - the actual iron skillets they use at the park ARE HUGE. In fact they measure six feet in diameter and were crafted by the park's on-site blacksmith shop. Because, yes, this theme park is also the Home of American Craftsmanship, welcoming 100 demonstrating craftsmen in-season.
Don't worry, though ... you don't need a six-foot skillet. While the park serves 125,000 pounds of its succotash each year, they modified their "serves hundreds" recipe to share with us. What follows makes just four servings.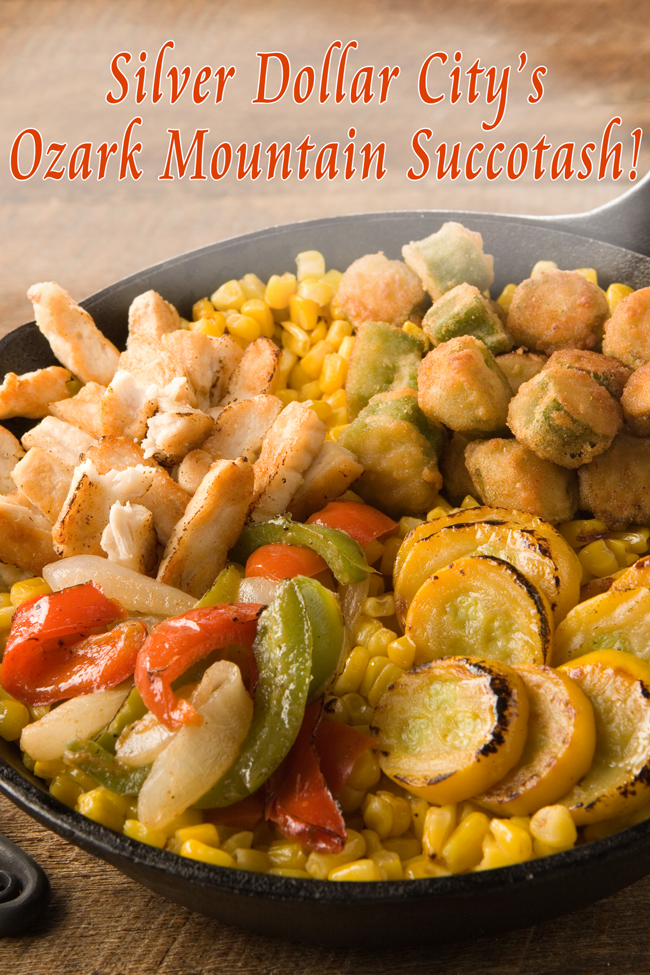 Silver Dollar City's Famous Ozark Mountain Succotash Skillet
INGREDIENTS:
¼ cup olive oil, divided
½ cup white onion (julienne sliced)
1 cup green bell pepper (julienne sliced)
1 cup whole kernel corn (Fresh or Frozen)
1 cup sliced yellow squash
½ pound chicken breast (cut fajita-style)
1 – 16-ounce package frozen breaded okra
1 teaspoon garlic powder
1 teaspoon salt
1 teaspoon pepper
DIRECTIONS:
In a large skillet sauté onions and peppers in 1 teaspoon of olive oil. Remove from skillet.
Add corn and squash to skillet, cooking until soft. Remove from skillet into a separate bowl.
Add 1 teaspoon oil and chicken to skillet. Cook on medium heat until browned and cooked through. Remove from skillet and reserve until later.
Add remaining oil to pan with okra. Fry until golden brown, then add the salt, pepper and garlic.
When okra is finished cooking, return all other vegetables and chicken to skillet, heating everything through.
If you are looking for more on Silver Dollar City, make sure to check out our friends over at ChachingQueen.com!