As a connoisseur of spirits, I'm thrilled to introduce you to the Woodford Reserve's Sonoma Triple Finish, a remarkable fusion of California and Kentucky's finest. This limited-edition bourbon is my latest discovery, one that truly pushes the envelope of fine whiskeys. Its uniqueness lies in the distinct influence of three casks - Pinot Noir wine, brandy, and bourbon.
When you take a sip, you'll be hit by a symphony of flavors - notes of vanilla, cinnamon, red fruit, and oak are woven together here and it offers a unique whiskey experience that folks like myself crave in our search for innovation. This whiskey is not just about the flavors, it's about the journey it takes you on - a journey of discovery and appreciation.
Key Takeaways
Sonoma Triple Finish is a new bourbon launched by Woodford Reserve.
It is finished in three different types of casks: Sonoma County Pinot Noir wine, brandy, and bourbon barrels.
The bourbon brings together the worlds of bourbon and wine in a unique way.
The suggested retail price for Sonoma Triple Finish is $150.
Woodford Continues To Expand Their Master's Collection of Fine Bourbons
Continually pushing the boundaries of bourbon crafting, you'll find that Woodford Reserve's Master's Collection is a testament to their innovative spirit and commitment to delivering top-notch bourbons. This collection, born out of a thirst for freedom and exploration, is a pioneering innovation in whiskey finishing. The latest addition, the Sonoma Triple Finish, is a bold testament to this creative spirit, fusing the worlds of bourbon and wine into a unique, tantalizing blend.
It is a perfect combination of Kentucky's rich bourbon heritage and California's wine-making prowess. Imagine a bourbon individually finished in three distinctive casks - Sonoma County Pinot Noir, Brandy, and Bourbon barrels previously used to age red wine. This fusion of bourbon and wine is a first in the history of Woodford Reserve Master's Collection, and it's a product of their relentless drive for innovation.
The result? A rich, fruity, vanilla and spice-forward expression of Woodford Reserve Kentucky Straight Bourbon Whiskey. It's truly a bourbon unlike any other, and it's a testament to Woodford Reserve's commitment to expanding their Master's Collection with a spirit of innovation and freedom. So, brace yourself for an adventurous bourbon experience that will stimulate your senses like never before.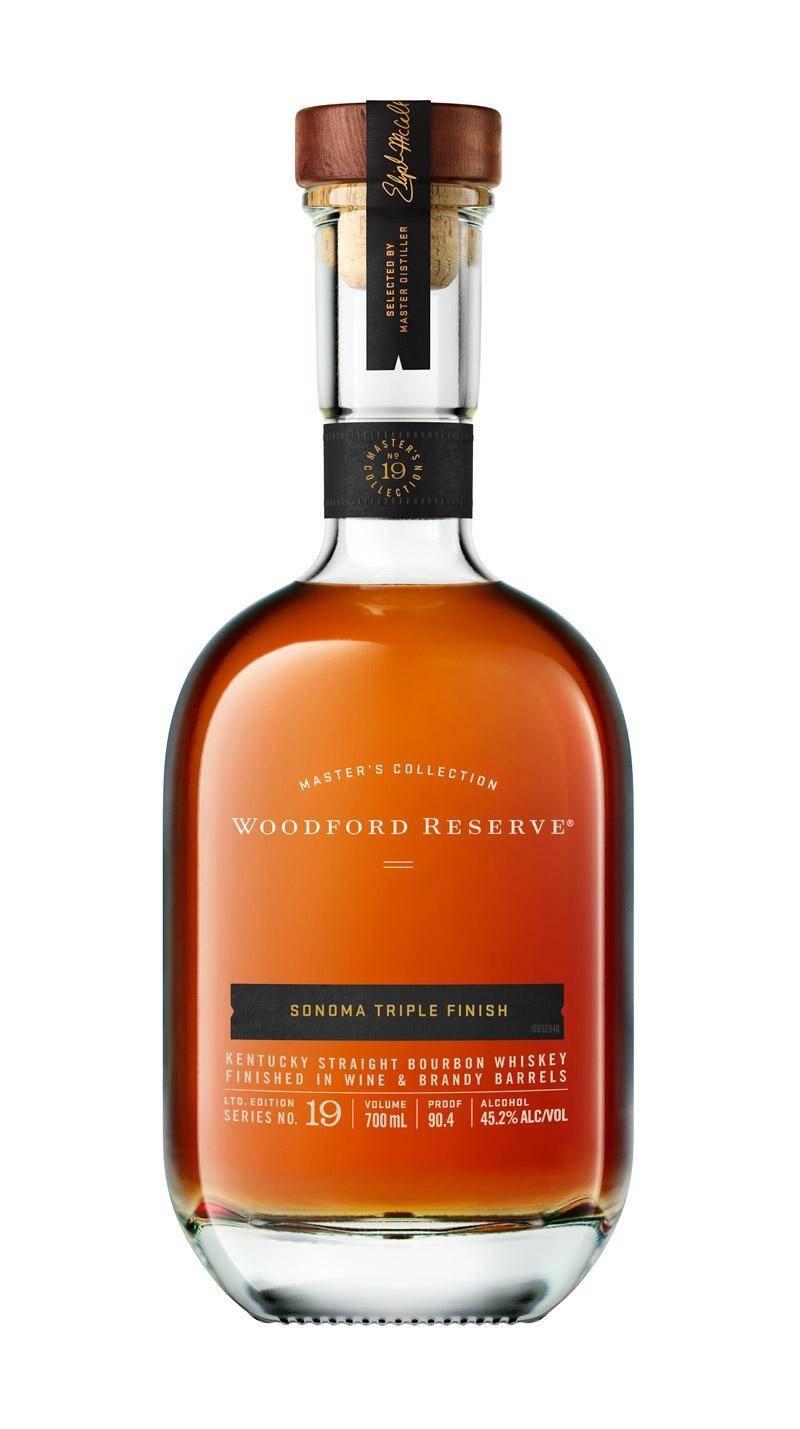 Classic Woodford Bourbon With A Sonoma Triple Finish
While this is far from the first wine / bourbon collab, typically what we've seen in these experiments is a pairing that results in an over-proof wine - usually a heavy cabernet sauvignon or a spirit that gets a few gentle notes and often a bit of red coloring so that you can visually identify it as something unique.
Here though, I feel like Woodford took a bit of extra time to craft a remarkably unique expression that will appeal to both spirits aficionados and wine snobs alike. However, it also stands on its own as something worthy of being part of your collection to savor, share, and talk about over many months if not years.
Color
The Classic Woodford bourbon with a Sonoma Triple Finish treatment displays a distinctive Burnt Sienna appearance. This hue symbolizes the richness of the bourbon and the unique blend it carries, an amalgamation of Kentucky and California's finest.
Aroma
The aroma of this bourbon is a well-defined mix of vanilla, cinnamon, grilled pineapple, and red plum. Master Distiller Elizabeth McCall's creation strikes a balance between sweet and spicy notes, making it an olfactory delight for the senses.
Taste
The taste of this unique blend is a coalition of vine, red fruit, vanilla bean, and oak. It is a rich, full-bodied blend that provides a symphony of flavors with every sip, urging the taster to savor the moment and relish their freedom.
Finish
The finish of the bourbon is marked by long oak and red grape tannins. This lingering touch is a testament to the inventive use of Sonoma County wine barrels, providing a bold finish that might appeal to the more adventurous palates.
Conclusion
As a passionate lover of spirits, I've discovered a truly unique expression of fine whiskey that pushes the envelope. Woodford Reserve's Sonoma Triple Finish, with its rare and limited availability, is a treasure that whiskey connoisseurs like myself dream of. This one in particular speaks to me as it evokes memories and passion points that are special to me as it presents the best that California and Kentucky have to offer.
Securing a bottle may be elusive, but the thrill of the chase is part of the allure. And let me assure you, this is one chase that's worth every effort. The entire Woodford lineup awaits you on ReserveBar, ready to offer an experience you won't forget.