Sparkling wine as a category continues to impress me with far more than the standard "party Champagne" on offer today. For generations bubbly wine has been celebrated in various formats but we are truly in the midst of a renaissance with a wide variety of creations available as well as a resurgence in sparkling wine cocktails as well. Mumm Napa sent over some bottles for us as well as these recipes to share. I hope you guys enjoy it as much as we did !
While the core of the sparkling wine market is clearly "Champagne" style wines that are mainly blending chardonnay, pinot noir and pinot meunier, the space is rapidly evolving to include not just prosseco and cava but also other varietals that can become sparkling too.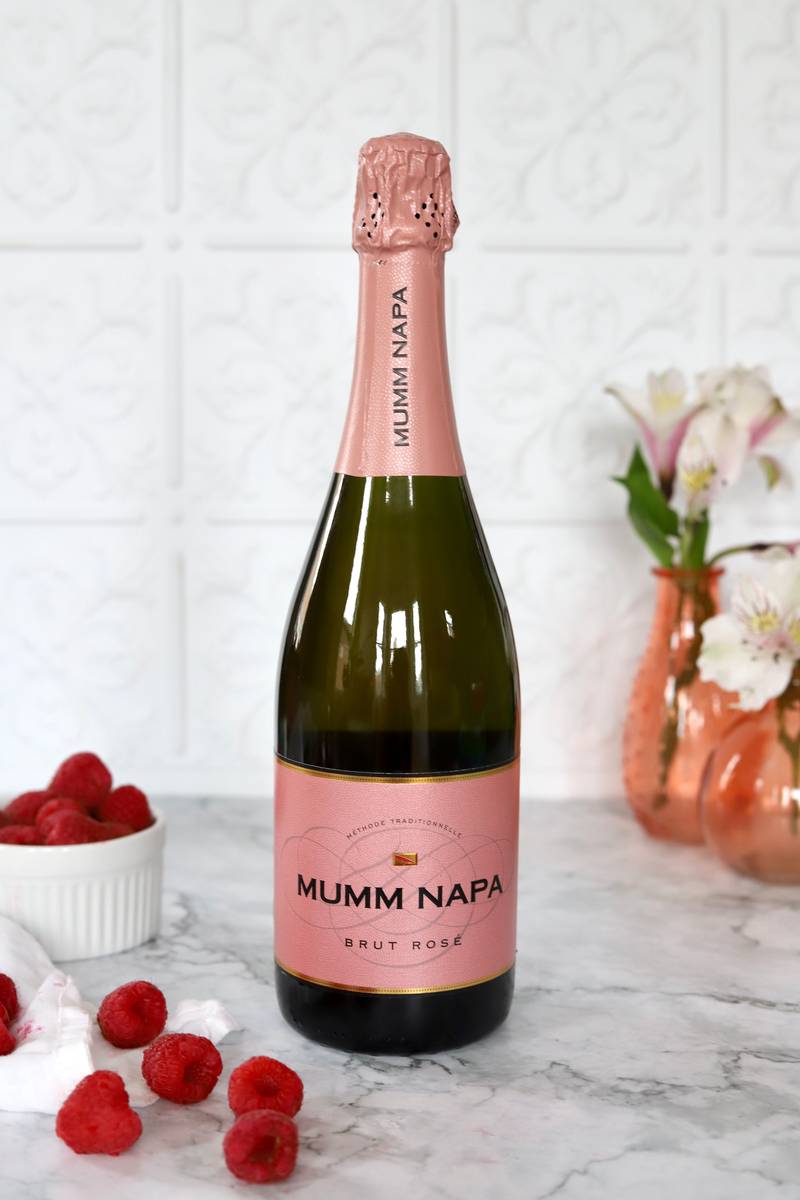 We are also starting to see an increase in sparkling Rose that are more than just "for the girls". For some guys who aren't as experienced in what to look for this can be confusing since in "the old days" rose would always be featured in a pink bottle with an often overly pink hue to the wine.
Today though for example, Mumm Napa offers the NV Cuvee M featuring 48% Chardonnay, 43% Pinot Noir, 6% Pinot Gris, & 3% Pinot Meunier and a more peachy color that isn't quote a rose but is distinctly not your everyday champagne-style wine either. With 3% residual sugar it is going to be relatively sweet as well.
However, they also offer a Brut Sparkling Rose with 80% Pinot Noir and 20% Chardonnay and only 1.16% residual sugars resulting in a rather dry wine ... despite the reputation of Rose wines being sweeter.
This is just some of the fun that you can have exploring wines but also exploring pairing options as well and don't worry about spending a ton of money. The three bottles that Mumm Napa sent me are all under $30 and available in most stores where sparkling wines are sold.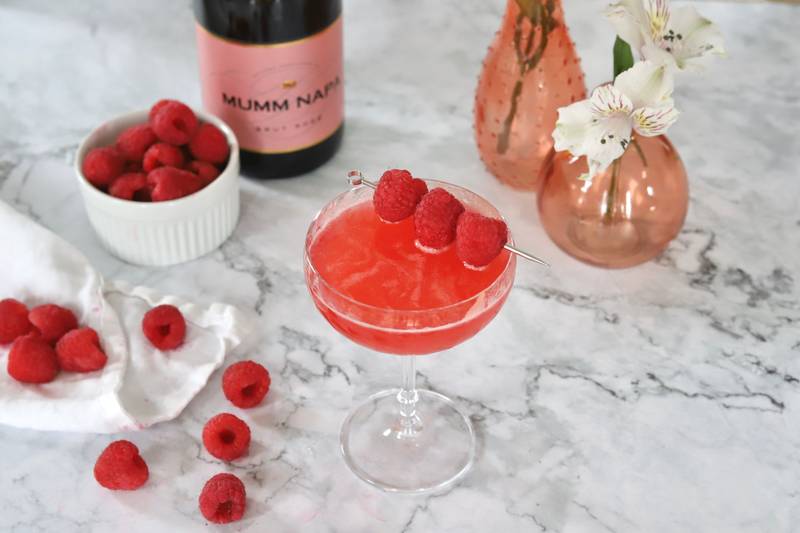 Mumm Napa Raspberry Rosé Fizz
4 parts Mumm Napa Brut Rosé
2 parts Lime juice or Limeade
1 part Gin or Vodka
Fresh Raspberries
Method:
Muddle ~12 raspberries in a cocktail shaker. Add gin/vodka, lime juice, and ice, shake until mixed. add a large ice cube to a rock's glass and strain mixture over top. Add Mumm Napa Brut Rosé; stir gently to mix. Skewer three raspberries on a toothpick and lay across the side of the glass for a beautiful garnish.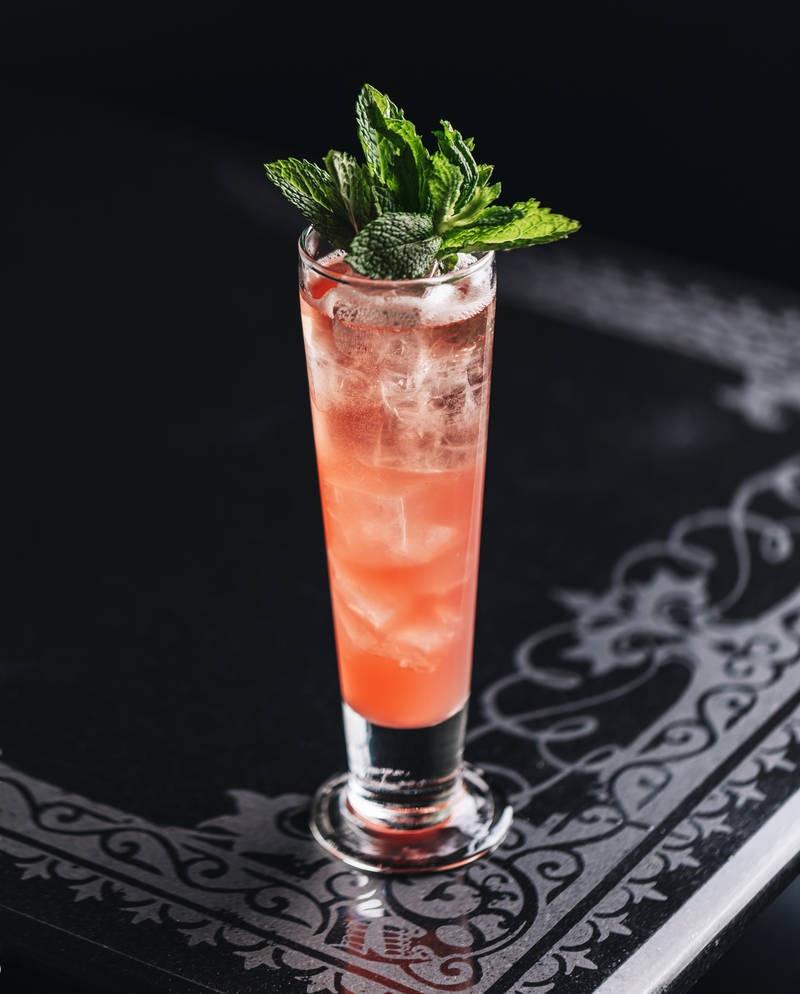 Sprezzatura
3 parts G.H. Mumm Brut
1 part Ramazzotti Aperitivo Rosato
1 part Watermelon Syrup
.75 part fresh lemon juice
Method:
measure all ingredients except G.H. Mumm into a shaking tin. Add ice and shake briefly and vigorously. Strain into a cold footed-pilsner glass with Kold Draft ice. Top with G.H. Mumm and garnish with a mint bouquet.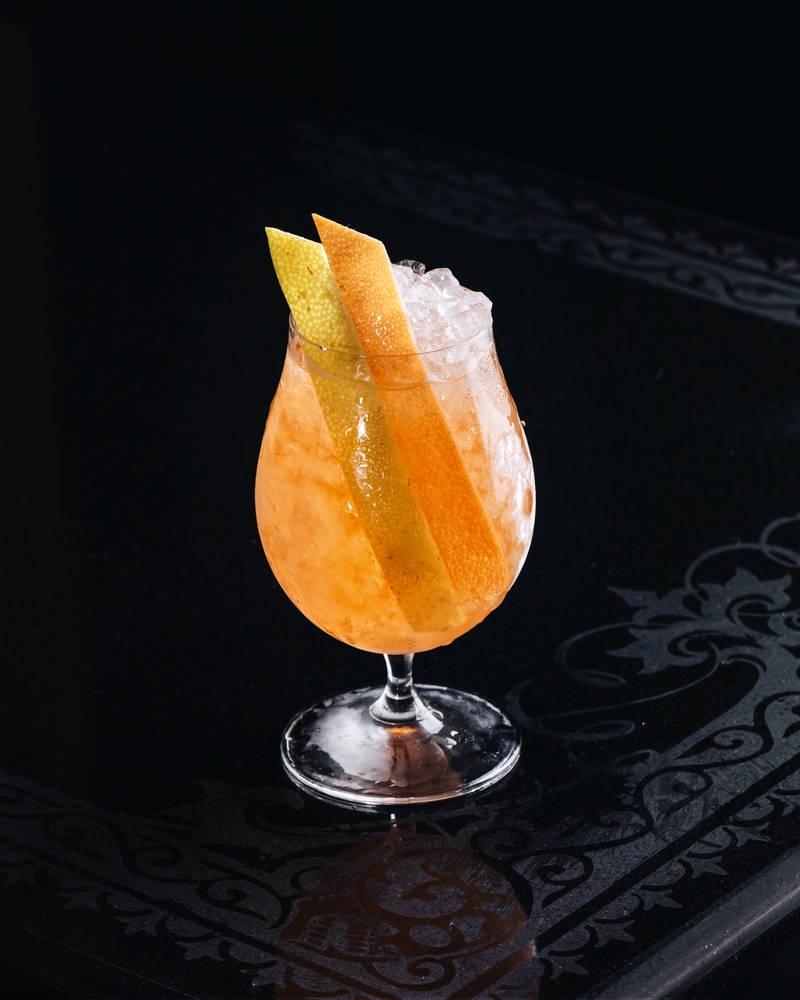 Coat of Leaves
3 parts G.H. Mumm Rosé
1 parts Martell Cognac (V.S.O.P. or Cordon Bleu)
.5 part Giffard Pamplemousse Liqueur
1 teaspoon Cinnamon Syrup
1 dash Angostura Bitters
Method:
measure all ingredients into tulip glass. Add crushed ice and briefly swizzle to incorporate ingredients. Garnish with a lemon and grapefruit twist in the horse's neck style.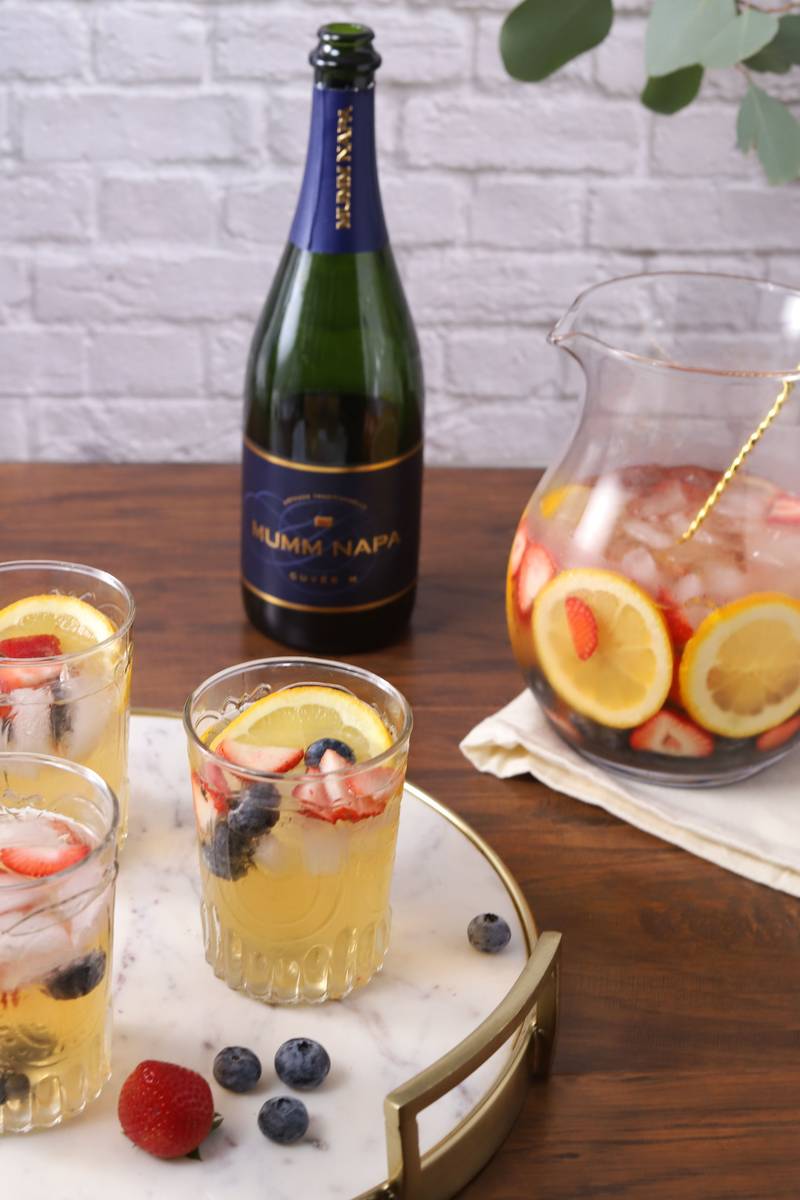 Mumm Napa Simple Sangria
1 bottle Mumm Napa Cuvée M
2 parts Cognac
1 part simple syrup or 1/2 part sugar
1/2 orange, sliced
1 lemon, sliced
2 cups fresh berries or chopped fruit
Method:
Combine all ingredients in a pitcher with ice and stir.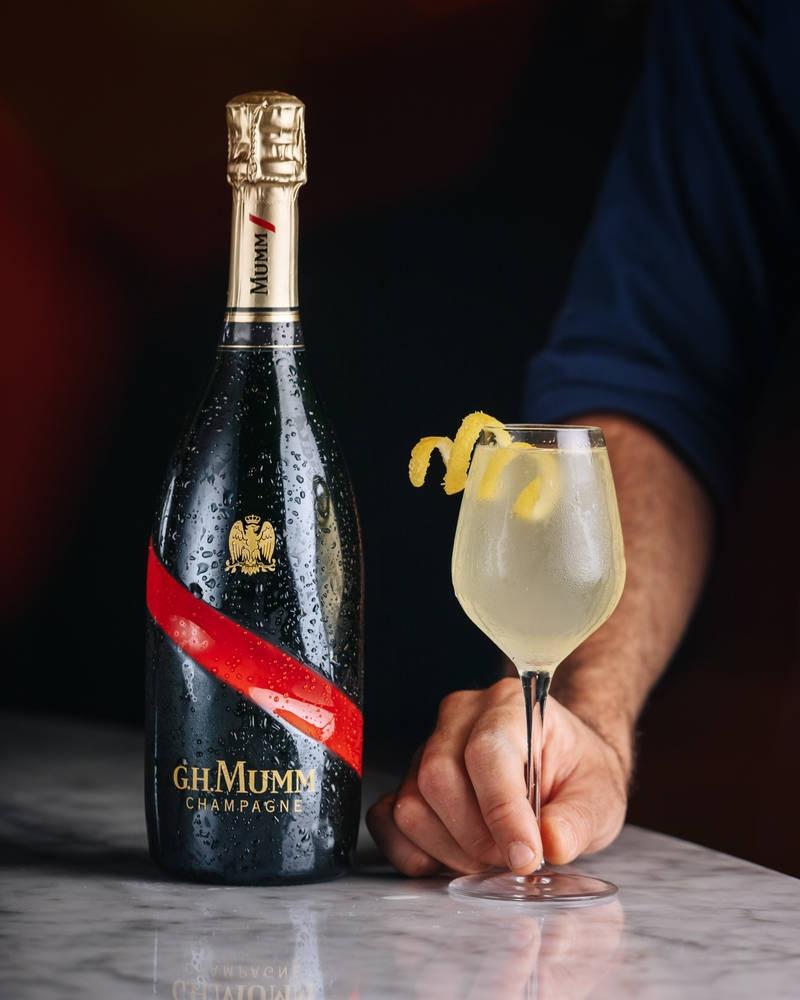 Buttonhook
2 parts G.H. Mumm Brut
1 parts Monkey 47 Gin
.25 part Clear Creek Pear Eau de Vie
.5 part fresh lemon juice
.75 part Simple Syrup
Method:
measure all ingredients except G.H. Mumm into a shaking tin. Shake briefly and vigorously. Double strain into a champagne flute and top with G.H. Mumm. Garnish with a lemon pigtail twist.