I love a classic steakhouse. You know, the ones with dark leather booths, heavy shadows, and classic bourbon cocktails. STK San Diego is is not that kind of place! From the moment you walk in, it is very clear that this is not your dad's steakhouse. Instead, it's hip, light, and lively. There is even a DJ on some nights furthering the lounge atmosphere and the cocktails match this chic and trendy environment. Don't be fooled though - while it feels like a cocktail bar, the menu still offers huge steaks and classic sides. There's a sense of youth and urban energy here compared to the uber masculinity of a traditional steakhouse but it hasn't lost touch with why you ultimately chose to spend hundreds of dollars on an amazing meal. This vibe perfectly matches Andaz San Diego hotel where it is located and it is a welcome addition to the neighborhood.
This is a legit steakhouse and the porterhouse we had was among the best I've had in San Diego. In fact, it compares with the best I've had in Las Vegas, Chicago or New York too. Luckily though, the story doesn't end at the steak. It continues all the way from our first cocktail to the flaming cotton candy cloud we enjoyed for dessert. Let's take a look at the curated meal that Executive Chef David Burke prepared for us during this San Diego restaurant review ...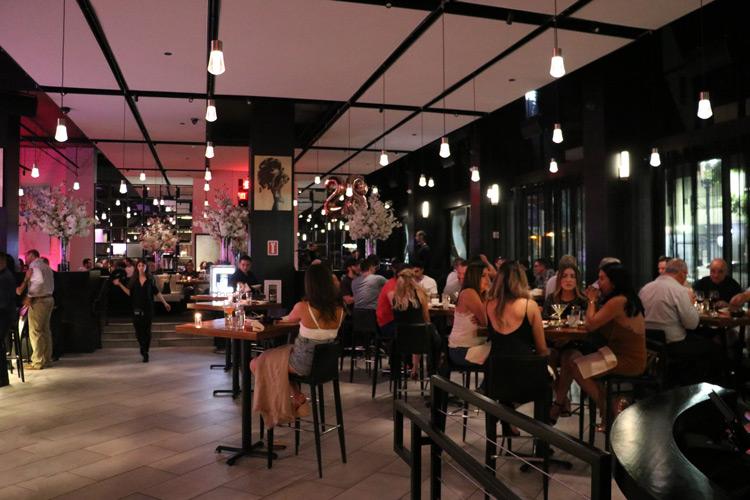 I've yet to visit a steakhouse that didn't have a bar or lounge attached. Typically though, you find that the bar area is more of an afterthought and something simply to hold people while they are waiting for a table. At STK San Diego though, the bar feels truly like a lounge worthy of a visit even if your intention isn't to go for a full dinner experience. I will absolutely be back here to grab a drink sometime soon.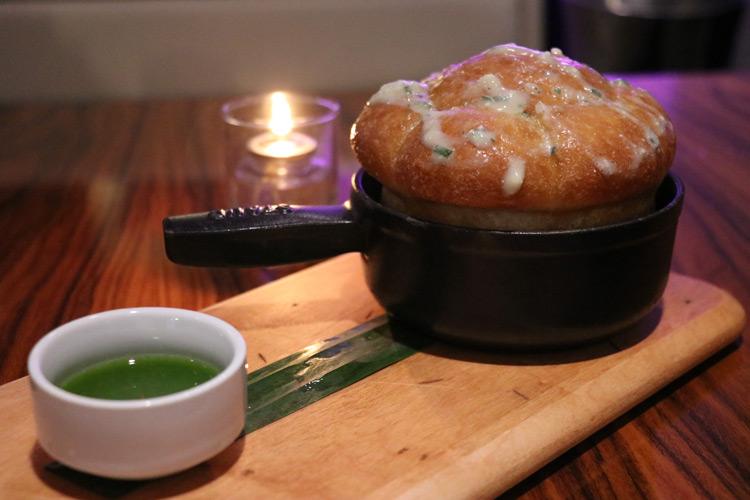 For us this night though, we had a private table prepared. As soon as we sat down were provided with a warm pull-apart bread served with a blue cheese butter. What a perfect way to start a meal!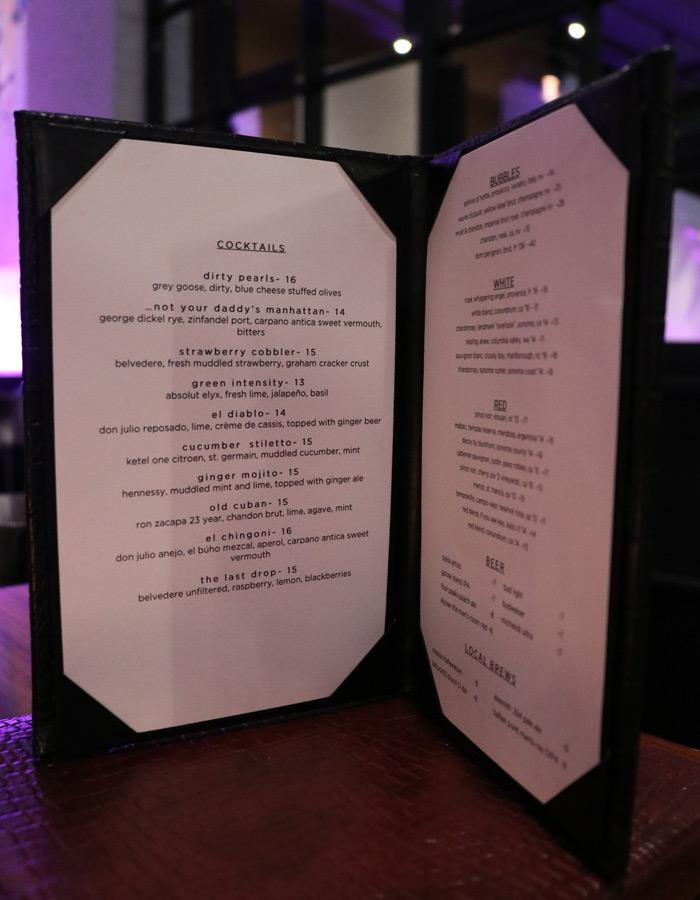 The restaurant industry is extremely competitive today and not all serving teams are trained the same or are able to recruit excellent talent. Luckily for us, our waitress not only had a great personality but was knowledgeable about each of the cocktails we asked about. As you can see above, while there are "Classic Cocktails" like a Manhattan or Mojito, each of them has a trendy vibe that makes them unique and exciting. Our waitress shared that her pick was the "Green Intensity" but she prefers it with tequila instead of Absolut Elyx since it was smokier. I tried that and she was right - I can't compare it to the original but it was extremely good. Somewhat like a spicy margarita but less sweet.

I also tried the "Not Your Daddy's Manhattan" and it was a spectacular drink as well. The addition of Zinfandel Port to the otherwise classic concoction gave the cocktail a distinct flavor that complemented the steak in a deliciously unexpected way. Heather on the other hand stuck to her "Old Cuban" the entire night since it featured one of our favorite rums - Zacapa 23 Year. Afterall, why jump around if you've found something you love!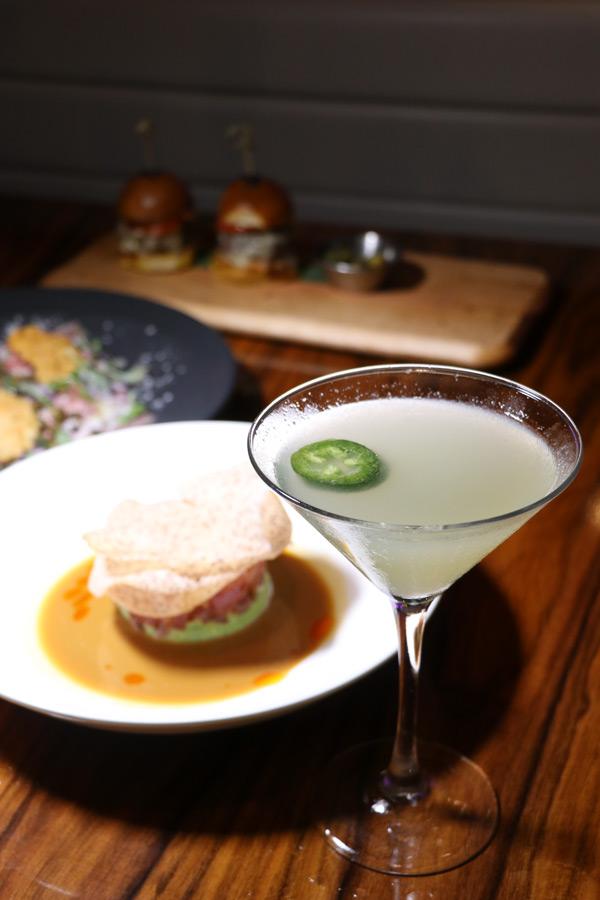 So, with drinks on the table it was time to bring on a selection of appetizers!
Chef Burke provided us with a sampling of his favorites: Tuna Tartare, Lil' Brgs, and Wagyu Carpaccio.
The Lil' Brgs are exactly what they sound like - and features a Wagyu beef patty with a special sauce. Delicious, but had the unfortunate position of being "very good" in the middle of a dinner featuring some of the best food I've had in San Diego. Still, if you dig sliders, you can't go wrong with the appropriately named Lil' Brgs.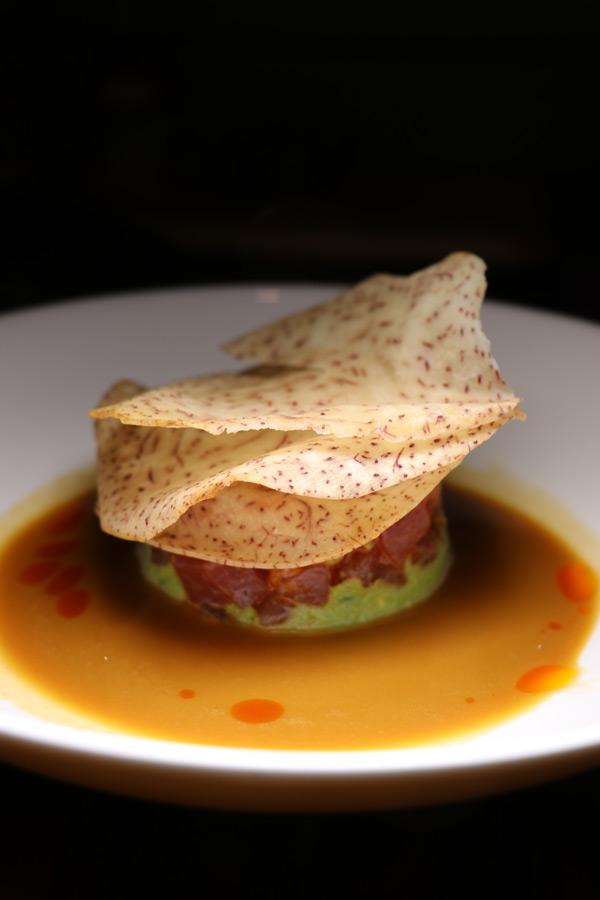 Next up was the Tuna Tartare topped with taro chips and resting on hass avocado surrounded by a soy honey emulsion. The flavors here were perfectly balanced and visually I loved the fact that it felt light and playful while still allowing the flavor of the tuna to come through.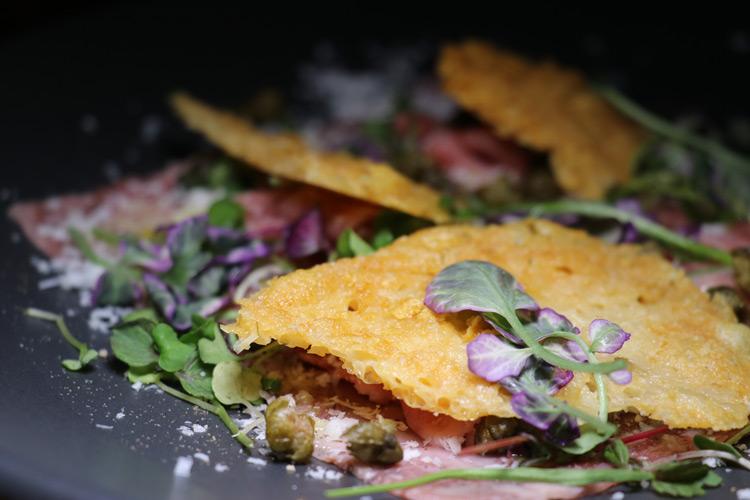 When they first presented the Wagyu Carpaccio, my eyes were immediately drawn to the truffle parmesan crisp on top. As for the meat, I was about to get a big surprise. I've become jaded due to the restaurant industry playing games with "Wagyu". As such, when I hear people call their beef "Wagyu" today I just assume that it isn't. Afterall, authentic Wagyu is extremely expensive and pretty rare here in the United States. Americans simply don't know what to expect and so a lot of "Prime Beef" is pawned off on us as "Wagyu" when it is simply a better than average cut of beef. This time it was different.
The manager actually presented with a copy of the certificate of authenticity! This certificate showed not just the information about the animal's source but also a nose print documenting the specific animal. Upon tasting the carpaccio, it was clear this wasn't just regular beef. It was absolutely a treat and something special to be enjoyed with good friends.
While not on the menu, I was told that they can also prepare wagyu steak served by the ounce upon request.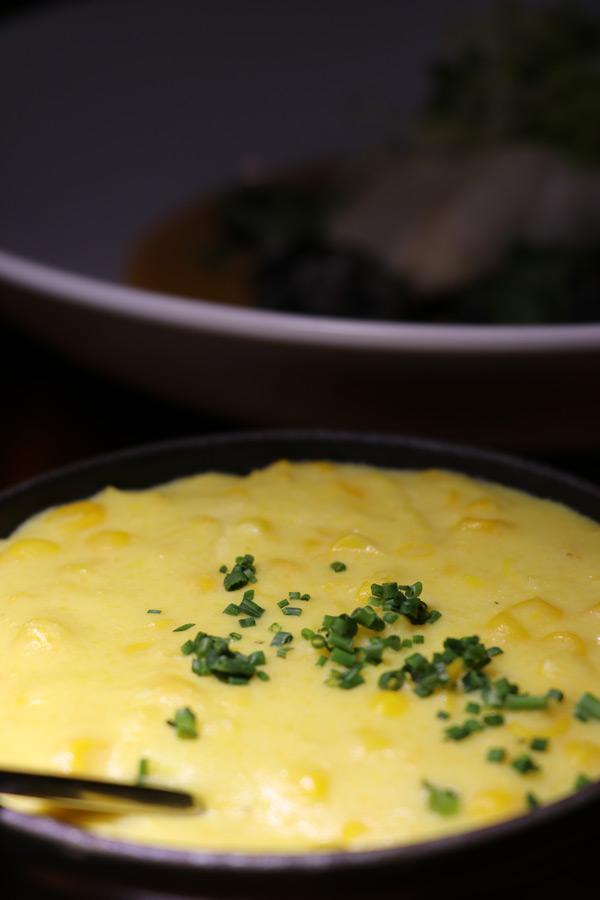 With appetizers done, it was time for the mains and sides!
They had pretty much what you'd expect from a steakhouse, including Creamy Yukon Potatoes and Sweet Corn Pudding as well as Mac & Cheese, Creamed Corn, Charred Broccoli and Asparagus. However since this is a hip establishment targeting a more "on trend" crowd, you can also get an order of Tater Tots too!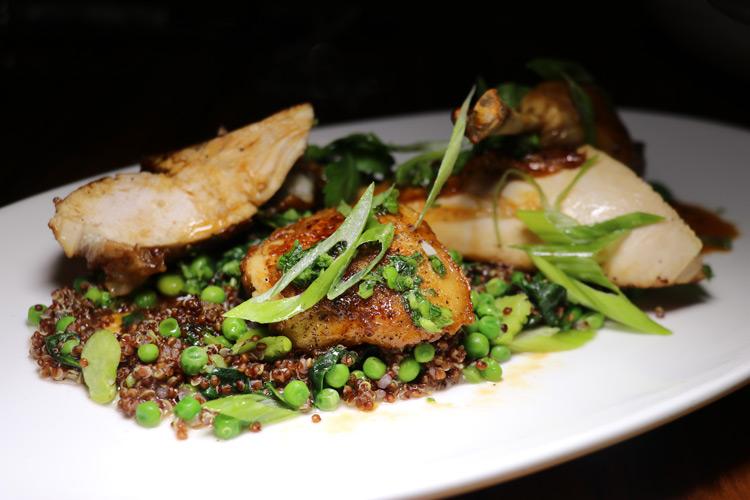 First up was Organic Chicken from Mary's Farms featuring scarlet quinoa, bloomsdale spinach and spring onion gremolata.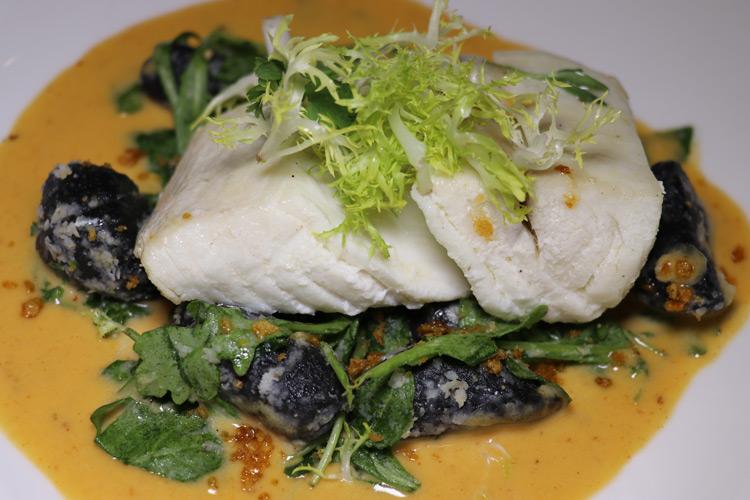 Then the "Fish of the Day", which on this visit was halibut.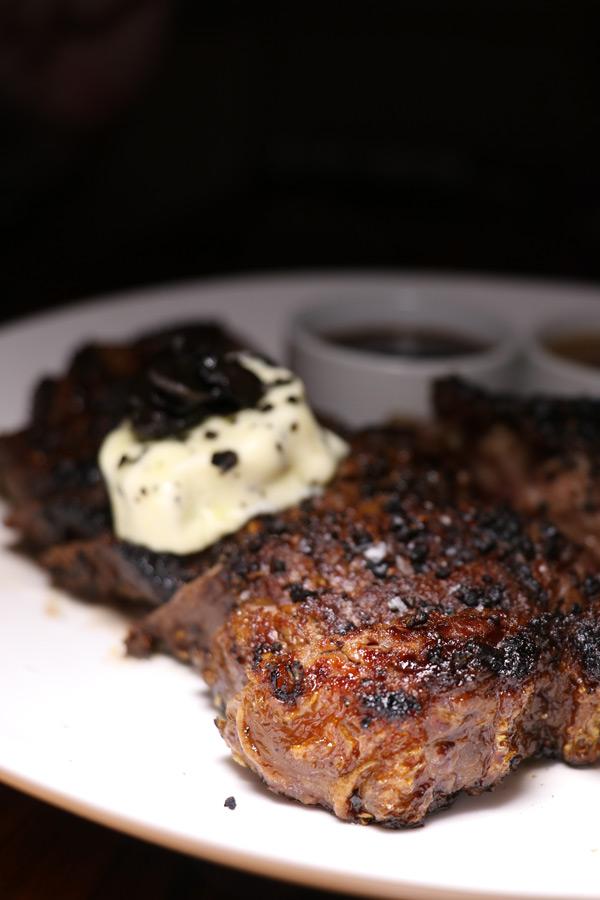 And finally the main event, a 28 oz Dry Aged Porterhouse that was among the best steaks that I've had at any steakhouse, ever!
With as many restaurants as San Diego's Gaslamp has, I'm constantly disappointing that there are few great places for steak downtown. There are of course other steakhouses but if you are visiting San Diego for a convention or business meeting and need to be able to impress a prospective client, the available options often fall short in my opinion. STK however is THE PLACE that I would take someone who needs to be impressed. Whether it is date night or closing a deal, you can't go wrong with a steak like this.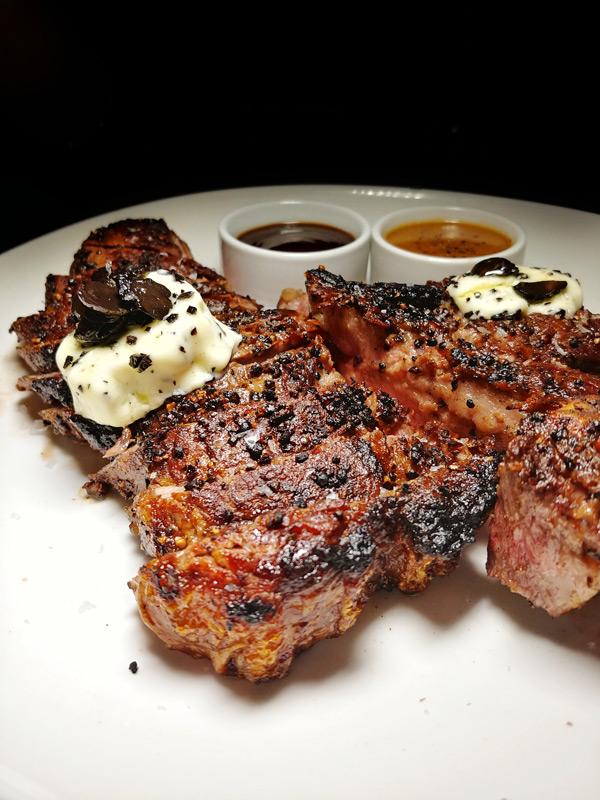 STK has a full menu of other cuts as well. This includes filet and skirt steaks as well as a 14 oz Dry-Aged Delmonico and a 34 oz Dry-Aged Tomahawk. Our porterhouse came topped with Truffle Butter but you can get it topped with Alaskan King Crab "Oscar", Lobster, Shrimp, or Peppercorn Crusted too.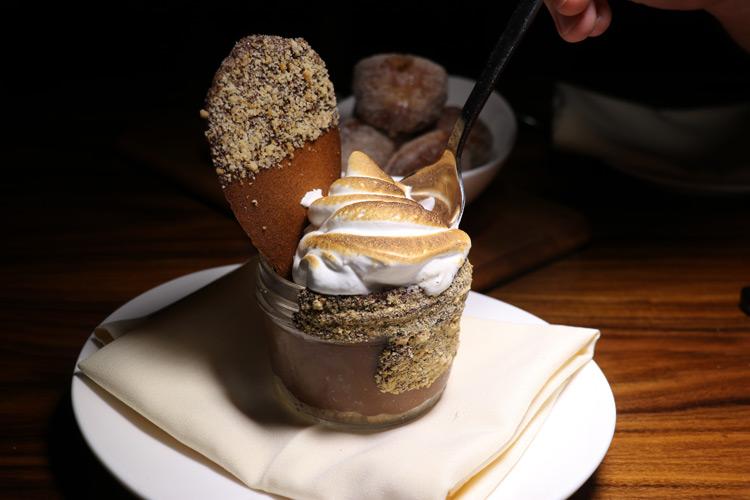 At this point, I could have been extremely happy simply having another sip of my Manhattan and savoring the lingering flavor of the steak for a bit longer.
But then came dessert!
First up was the S'mores Cup featuring a chocolate pudding with graham cracker pieces topped with toasted marshmallow foam. This was a clear winner and a MUST TRY when you visit.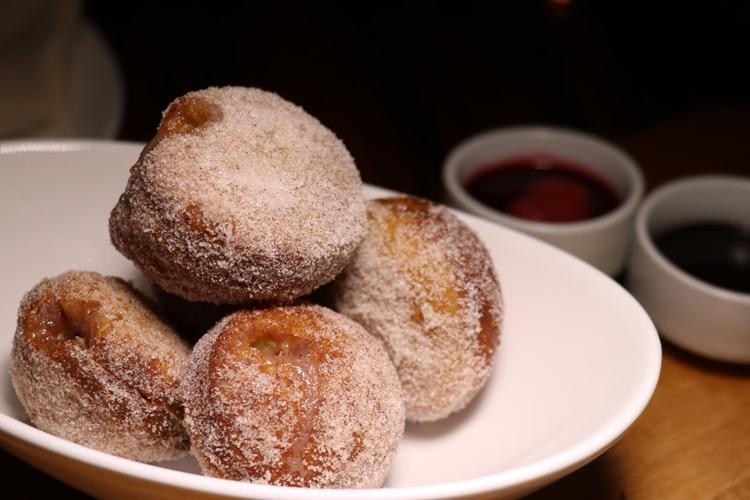 Next up was the STK Donuts served with a strawberry and chocolate dipping sauce. These were delicious and served warm. It is the perfect item to share with a table when all you need is a little something to wrap up the meal.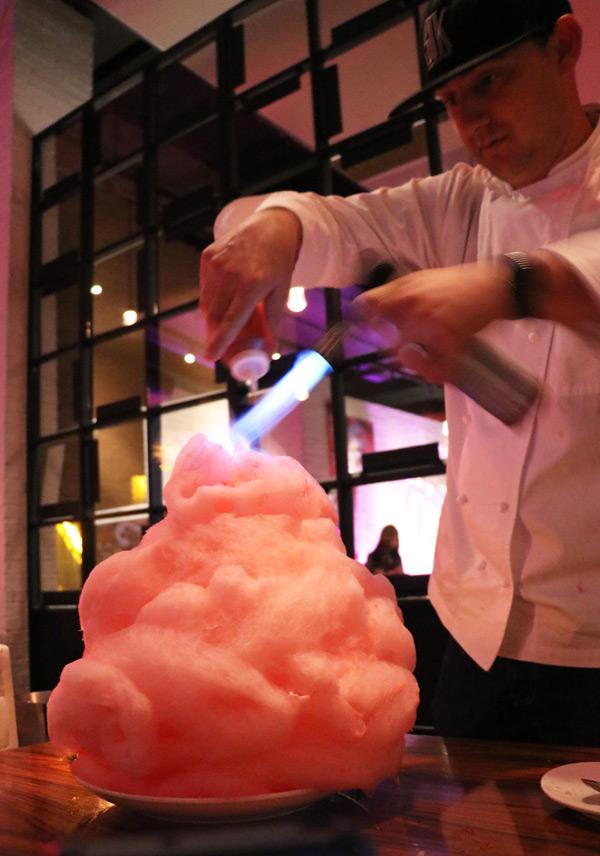 However, the pièce de résistance was the flaming "Cloud".
EVERY great steakhouse experience deserves something on fire served tableside. While classics like bananas foster seem outdated somewhat, cotton candy is hip, colorful, and trendy. So, here we are at our table with a giant pile of cotton candy sitting in front of us when chef turns on his torch and proceeds to squirt liquid on the cloud. Your initial reaction might be "What on earth is going on here?!?" Slowly, as the cotton candy cloud melts away you discover that inside is a hidden strawberry creme brulee center!
The ultimate presentation of the finished product however didn't match extremely high quality of other courses unfortunately. But it almost doesn't matter since warm cotton candy tastes delicious! Plus, the unique nature of this style of presentation and the excitement of having a flaming pile of cotton candy sitting on your table make up for any of that. It's something unique that is the perfect way to end any great dinner experience. I look forward to seeing ways that Chef Burke can continue to refine the concept.
Simply put, STK San Diego is now one of my favorite restaurants in the Gaslamp.
I look forward to going back again soon to try their brunch and I'll of course be stopping by for cocktails again soon.