Georgian wines are often overlooked in the wine world, with their more famous neighbors of France and Italy sitting at the top of most lists. Made primarily from indigenous grapes like Rkatsiteli and Saperavi, Georgian wines have a distinct character all their own that is usually underrepresented on wine menus. In this post we'll explore some history on Georgian wines, as well as how to pair them with food. Finally, we'll look into what's next for this sometimes forgotten European wine region!
Introducing the Wines of Georgia
Georgia is well placed in the Caucasus region at the intersection of Eastern Europe and Western Asia. The Caucasus region is bordered by the Black Sea to the west, Russia to its north and east, to the west by the Black Sea, to the south lies Armenia and Turkey and to the southeast by Azerbaijan.
It is 26,911 square miles in size and has a population of about 4 million. Tbilisi is the capital and largest city.
As with many mountainous regions, the extremely diverse climate and soil are ideal for growing grapes. The west-central slopes of the Meskheti Range in Ajaria, as well as several other locations in Samegrelo and Abkhazia are lush with temperate rain forests.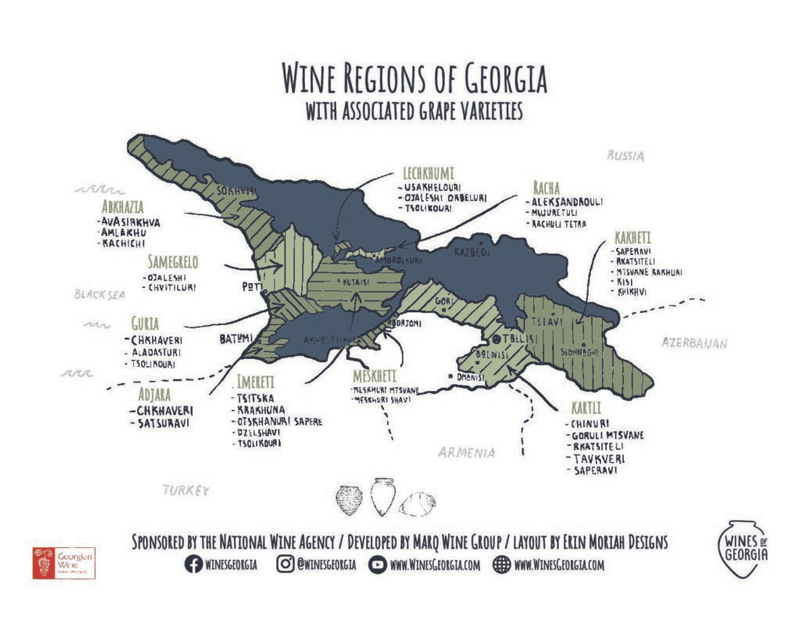 Georgia Is The Oldest Wine Making Country of the World
Given its historic antiquity, Georgia is one of the oldest wine producing countries of the world. Georgian vintners have taken great pride in producing their wines and thanks to fertile valleys and slopes in and around Georgia, this region is home to grapevine cultivation and neolithic wine production for eight thousand years.
Tradition Makes Great Wines
Typical of many of the oldest cultures of the world, traditions remain intact in Georgia. This applies to Georgia's winemaking techniques and processing.
So uniquely Georgian are these wines, that in 2013, UNESCO added the ancient traditional Georgian winemaking method using the Kvevri clay jars to the UNESCO Intangible Cultural Heritage Lists.
Wine flavors are created in qvevri clay jars shaped like large eggs and stored underground. While fermenting and aging wine in concrete and terracotta vessels like this is looked at as a new and experimental technique being used by new world wine makers in California and other parts of the world ... this is actually a tradition going back thousands of years!
Note that traditional Georgian wine is not created in a uniform style which gives a distinctive nuance to each bottle of wine savored by discerning oenophiles. This distinction is a result of storing Georgian wines in earthenware (clay) jars that preserve flavor and body.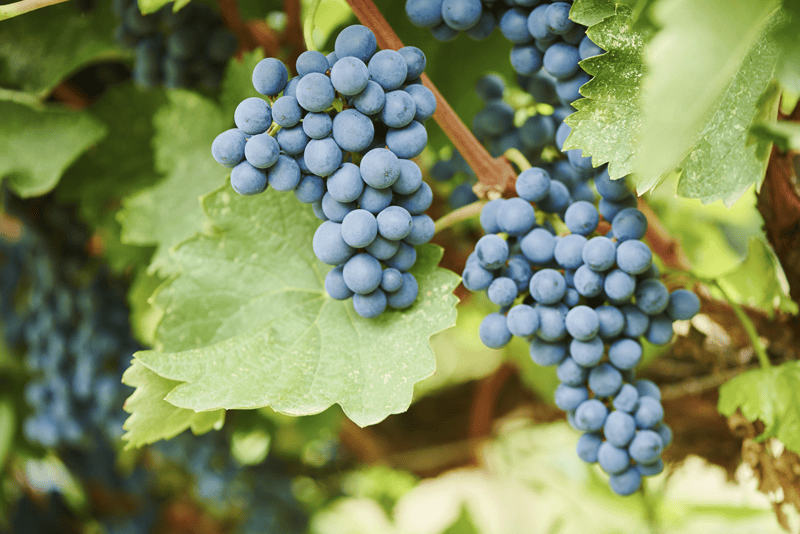 Georgian Wine Varietals You Probably Never Heard Of But Should Try
Oenophiles with a taste for variety in their wine collections find to their surprise that the most unusual and archaic of traditional Georgian wines are white Kakhetian wine. These are also known as orange or amber wine.
The wine process includes macerating grapes for several months with skins, seeds and stems buried up to the neck of qvevri jars. This ensures a deeper grape flavor much appreciated by avid wine lovers. There are several Georgian wines to choose from.
Saperavi
The Saperavi grape grows profusely which accounts for its popularity. Saperavi wines have a robust body with a smoother, more delicate tannin structure. It can be said this is a wine with a masculine nuance since it has notes of black cherry and currant with a subtle infusion of earthy tobacco and chocolate notes. This gives Saperavi wine a great balance of robust notes blended with fresher fruits that results in a firm and well managed finish.
Saperavi pairs well with beef and lamb.
Rkatsiteli
While the Rkatsiteli grape varietal is prominent in other parts of the world now, it is believed to have first originated in eastern Georgia in the first century. Rkatsiteli is a balanced but acidic white wine that offers a full flavor profile and good body. It is refreshing with notes of crisp green apple and hints of quince and white peaches.
The wine is more complex when using Georgia's traditional qveri method and so this is a popular style that many people outside of the region will experience it as.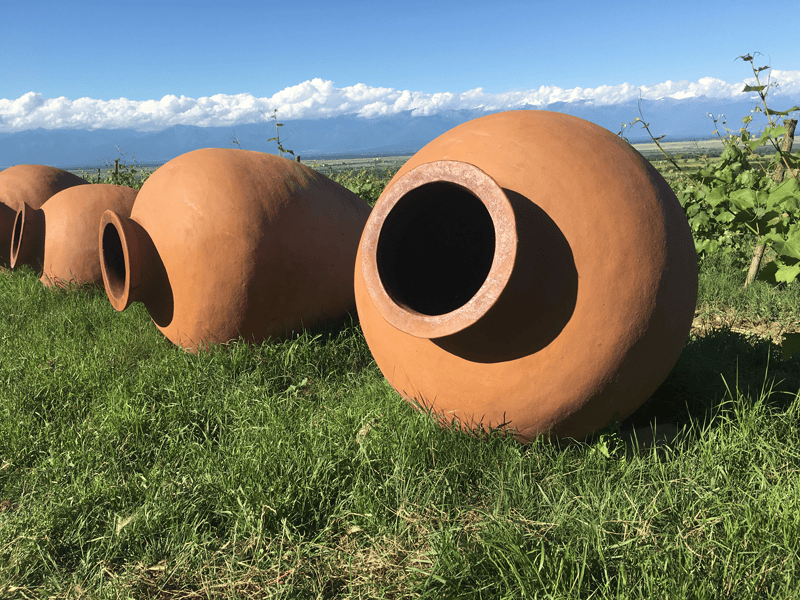 Georgia Wine Lovers Will Want To Explore These Wines
There are many wine regions in Georgia that winemakers and oenophiles will want to explore. This nation is rich with a great history of wine making, as well as the earliest recorded use of grape cultivation which dates back eight thousand years! Georgians have created some unique wines during their long tradition and they have a tradition of hospitality to match.
We've deliberately left the vintage year off of the following wines since quite frankly Georgia Wines can be challenging to get in the United States. As such the following tasting notes may differ from the specific vintage that you find at your local wine shop. However, we did select the following varieties since they are among the more popular Georgia Wines that are found in the United States and can also be ordered online from their distributors.
Mukuzani - Sada Imports
Mukuzani from Sada Imports is a made of 100% Saperavi grapes and bears the Mukuzani appellation. It is aged 1 year in oak barrels and characterized by it's dark red color and a nose of oak and berries. This red wine pairs well with meat, cheese, and vegetables.
Tsinandali - Sada Imports
This Sada Imports Tsinandali white wine is made from a blend of 80% Rkatsiteli and 20% Mtsvane sourced from the Tsinadali appellation located in the Telavi region. The wine features a yellow hue and a fresh, harmonious taste that is best paired with fish and cheese.
Kindzmarauli - Teliani Valley
Kindzmarauli from the Teliani Valley is an authentic, naturally semi-sweet wine made from the tannic and complex Saperavi grape varietal.
Its distinctive characteristics lend balance to the natural sweetness and results in a well structured wine that makes for great pairings such as blue cheese and fresh fruits or spicy duck.
Tsolikouri - Teliani Valley
Thanks to western Georgia's humidity, Georgian wines tend to have higher acidity levels in order to survive such a diverse climate. Tsolikouri is the most planted grape of this region.
This Teliani Valley Tsolikouri follows that with a delicate aroma of honey, citrus and a whisper of cider notes. This is a crisp, refreshing wine with a slight amount of tannin and much minerality,. It pairs nicely with chicken dishes and sea bass and is a great introduction to a skin contact style.
Mtsvane - Shalauri Cellars
This Shalauri Cellars Mtsvane is an unforgettable, specialty Georgian wine that wine lovers will want in their collection. Mtsvane is an artisan wine produced in the traditional way. As such, it is an aromatic wine best savored by pouring it into a wine glass, inhaling its aroma and swirling it 5 to 10 times before inhaling again to enjoy its hint of a bouquet of fresh cut flowers blooming in your wine glass.
Mtsvane offers a flavor of honey and dried fruit mingled with herbs and has a nuttiness and firm tannin present in this complex layered wine. Pair Mtsvane with fish or grilled pork to optimize its complexities.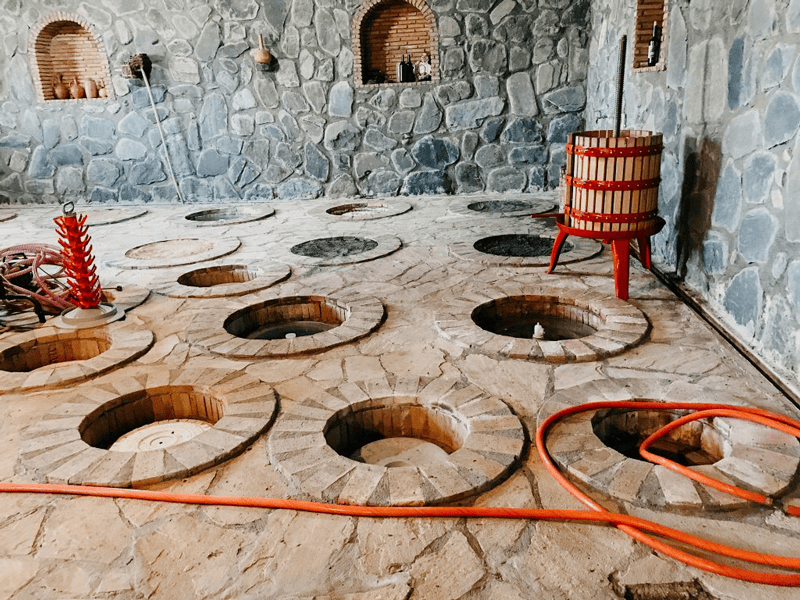 Georgian Wines - An Old World Experience That Deserves To Be Rediscovered
Georgian wines by their very nature make dining with family or friends a truly unique experience. It is also a chance to indulge in a new wine experience in Old World style. For the aspiring oenophile that is looking for something unique and different there are two options - experiment with unique blends and new grapes from regional winemakers, or explore a completely new area.
We love the first option but are enamored by the sense of adventure offered by the second.
Georgia is a country with a rich heritage and tradition that remains largely forgotten by most American wine drinkers who see the western European trio of France, Italy, and Spain as the motherland of wine. However, the deeper you go here, the realization that there are 500+ indigenous grapes that have been cultivated by humans and turned into wine for more than 8,000 years is just mind blowing.
So, if you are looking for something different, I encourage you to ask your local wine merchant for some Georgian wine recommendations. Like with the varietals you enjoy today, there are some you will prefer more than others but it is the experience the the journey of exploration that is part of the fun here.
Some of the Above Photos Are Copyright J. Peterson / Marq Wine Group.