Every place that I visit has a special food item that they are known for and while Texas is synonymous with BBQ I discovered a diverse world of awesome flavors last month as we explored San Antonio. From washing tamales down with an ice cold bottle of Big Red to candied pecan covered bowls of kettle corn, I simply wasn't expecting even half of what we enjoyed!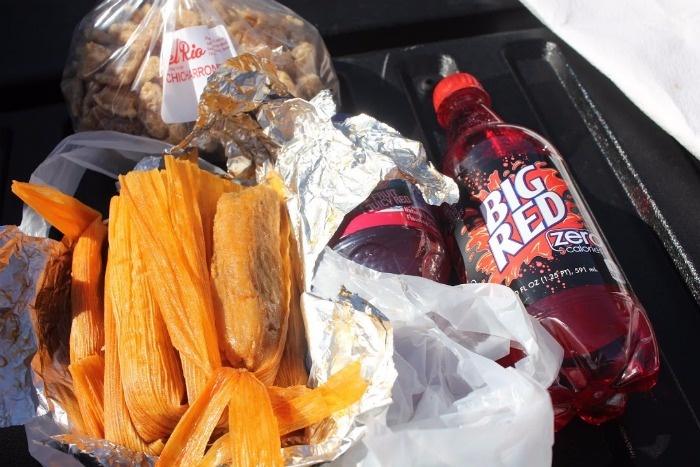 While it's a challenge to put these in any order, let's start with our meal that we enjoyed on the tailgate of the Tacoma trucks that Toyota provided to us. It's a three-way battle here between phenomenal steaming hot tamales, Big Red, and some of the finest chicharrones that I have tasted in a LONG TIME. While some people don't like authentic chicharrones that still have some soft fatty pieces and aren't covered in different seasonings, this is what I had here at the Del Rio Tortilla Factory.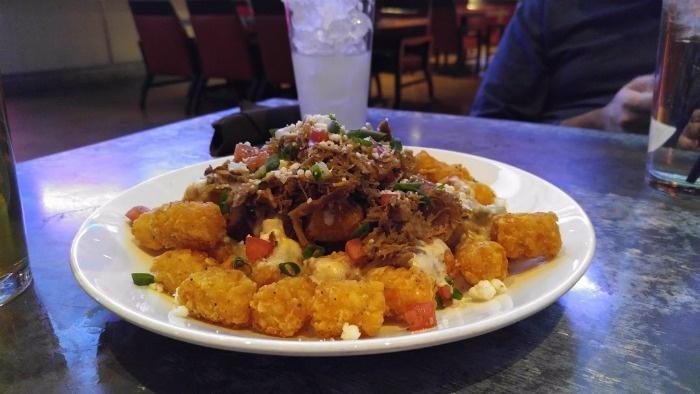 Back at the JW Marriott, we dined on a variety of dishes at High Velocity, but honestly you can get great onion rings and burgers anywhere. However, you don't see pulled-pork totchos every day and they pair great with San Antonio craft beer!
The breakfast buffet at Cibolo Moon was a virtual cornucopia of Texas flavors. Let's start with the cheddar bacon biscuits and chocolate covered croissants. These were both so good we asked for a box to take them with us.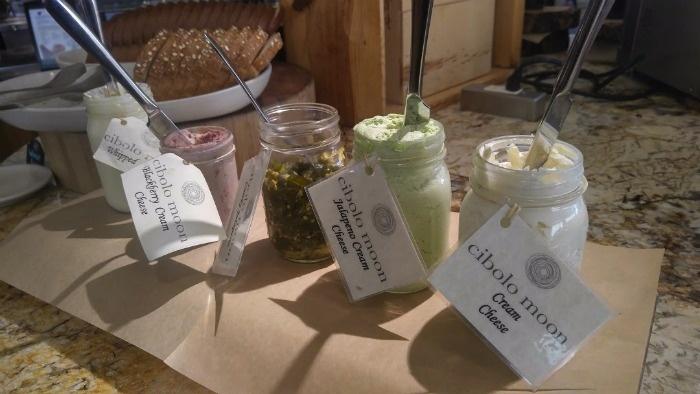 However, if you had filled up on those you might have missed the flavored cream cheeses including Jalapeno and Blackberry flavored. (Though if you wanted plain old cream cheese or fresh whipped cream they had that available too!)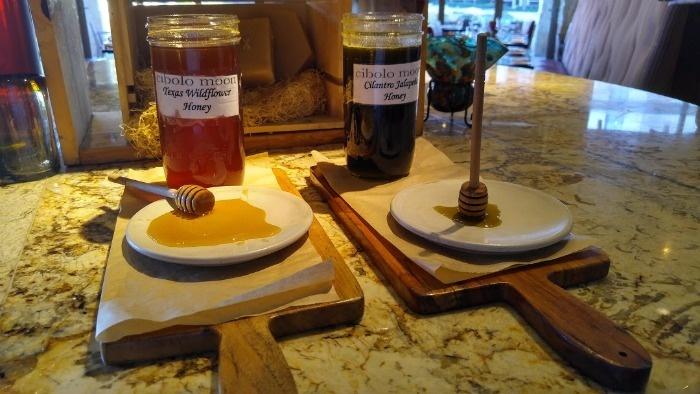 Right next to the specialty cream cheese were two special honeys - Texas Wildflower and Cilantro Jalapeno that had an incredible sweet / hot kick that will wake up your taste buds!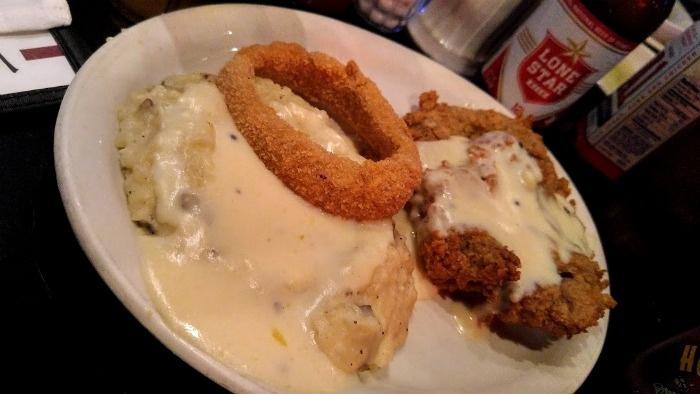 No visit to the south is complete without some chicken fried steak and so we simply had to try the one at Josephine Street . We were not disappointed ... though my friends' fried catfish and bacon-wrapped fillets also looked amazing :)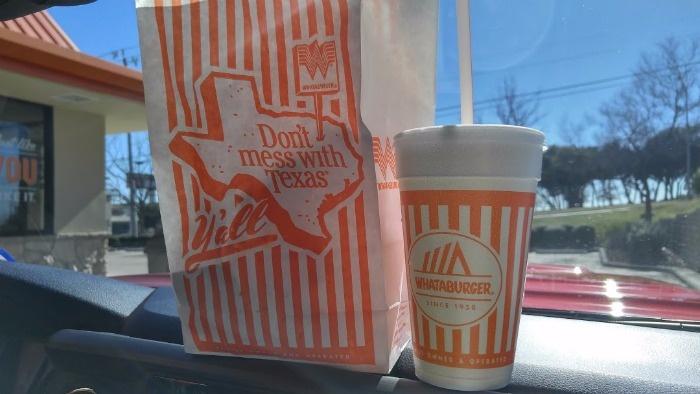 For lunch, we had to stop at Whataburger since it is based in San Antonio. I'm a big fan of regional burger places and while they are never as good when you can go anytime you want (I'm talking to you In And Out), it's pretty awesome to try new things while visiting. Plus, just in case you didn't realize where you were - the takeout bag was pleased to clear that up :)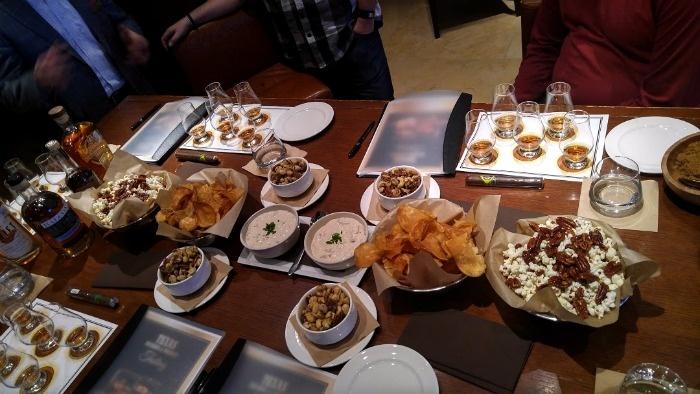 Later that night, we were back at the JW Marriott for a whiskey tasting at Crooked Branch and they had a feast prepared to go along with Texas's finest spirits. There was simply too much to describe everything but their onion dip and house-made potato chips really hit the spot!
The shining star though was the candied pecan covered kettle corn. These are two items that I love to eat but had never considered mixing together - but now I'm hooked.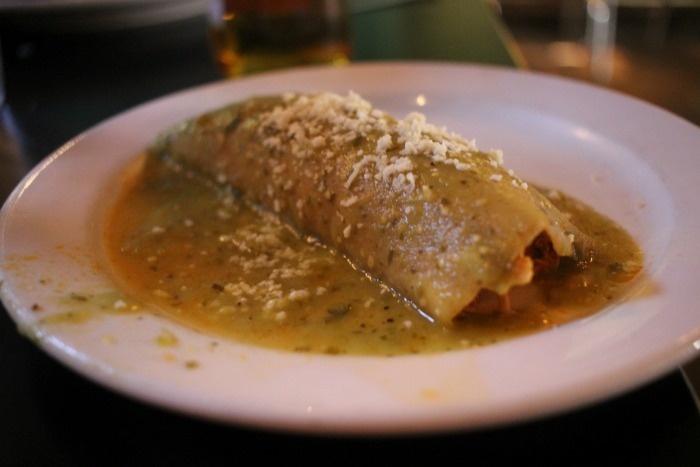 While exploring the river walk the next day, we decided to stop in at a Mexican restaurant for margaritas and enchiladas too. While I wasn't expecting anything - having honestly turned into a Mexican food snob from my years living in San Diego. However, I gotta hand it to Texas - your enchiladas (traditional as well as this green one) are pretty bad ass!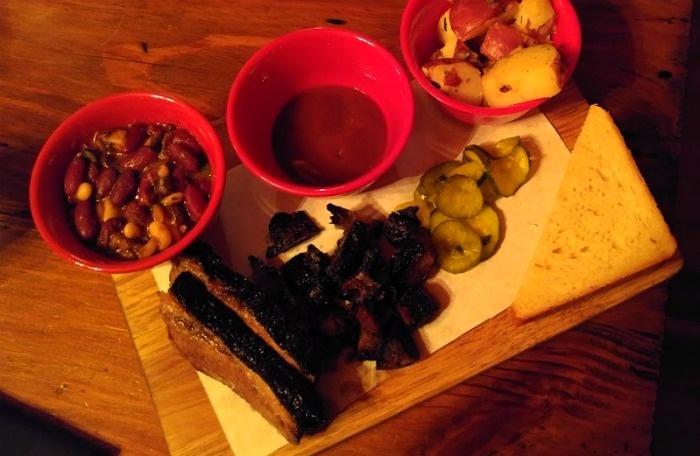 And of course this list is bigger than just 10 items - you should know that "Everything is Bigger in Texas!"
We simply couldn't leave out authentic Texas BBQ brisket and burnt ends with pickles, Texas toast and a side of beans and potato salad :) While it looks pretty, I can't recomend the place where we visited. However, your San Antonio guys weekend wouldn't be complete without some authentic Texas BBQ.