Ok, so unless you are a good looking lady or a guy looking for a cougar, free drinks on a cruise ship is something you've probably always assumed were something impossible. The cruise industry depends on sales of alcohol to cover their bottom line since generally the price of your cruise barely covers the cost of having you onboard. Don't worry though. I'm one cheap SOB and over the years I've found a bunch of different ways to get free drinks on a cruise ship vacation. I'm sure I've missed some so I'd love to have you fill in the blanks for me by commenting below.
Before we get into the actual ways to get free drinks, let's get this one out of the way. Don't try to sneak alcohol on board. Cruise lines are getting better and better at catching those bottles and it's just a pain in the ass to have to go to the "special line" and surrender your bottle. Even hiding them in plastic bottles like rum runners etc. is sorta lame. I'm not going to say that it is impossible to smuggle booze onto a cruise ship but even if you are successful, it means sneaking back to your cabin to drink or buying virgin daiquiris and then mixing some rum in after it's delivered to you. The result is a drink that doesn't taste right and it's just awkward. So do the right thing, support your bartenders and check out some of these methods that you can legally get free drinks on your next cruise.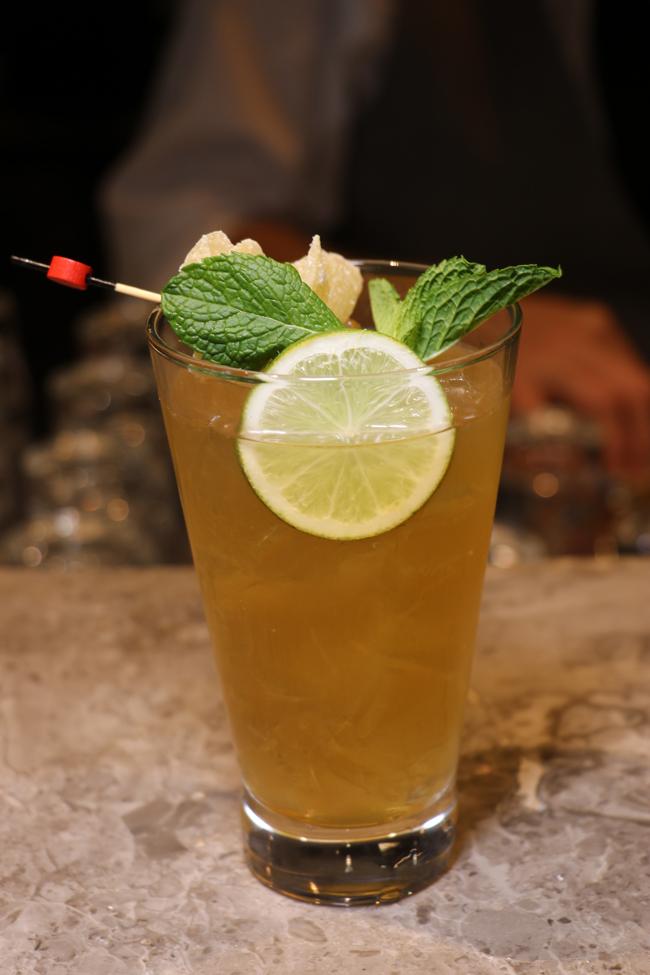 Cruise Promotions such as Free At Sea
Look for promotions where alcohol is included. For instance, many Norwegian Cruise Lines cruises offer this as part of their "Free at Sea" perks package. On a four day cruise to the Bahamas that I was looking at, the cost was only $449 per person including Premium Beverage Package as one of the perks. Considering this would normally be $99 per day the rest of the cruise is essentially only $50 vs buying that package normally! As a further comparison, Carnival's Cheers! package is $56.95 per day and Royal Caribbean's Deluxe Beverage Package is up to $70 per day. Keep an eye out for deals like that or make sure to contact a travel agent such as our partner, Circling The Globe who can help you.
Even if you can't find a cruise promotion that gives you free or discounted drinks like this, make sure to book the package before you board. This can save you a significant amount of money compared to the cost of buying the beverage package on board!
Ask Your Bartender For a Taster Of A Beer On Tap
You aren't going to get a buzz just on tasters but if you wanted to try that intriguing craft beer on tap at District Brewhouse on Norwegian Bliss, Joy, or Encore then just ask. It's just like at your favorite bar back home, the bartenders will usually be happy to provide a free taster or even a few. Don't bother them when they are busy and when you've found one you like - order it and tip your bartender well at the end of the cruise to say thank you. (Some cruise lines will allow you to add extra gratuity to your individual receipt as well.)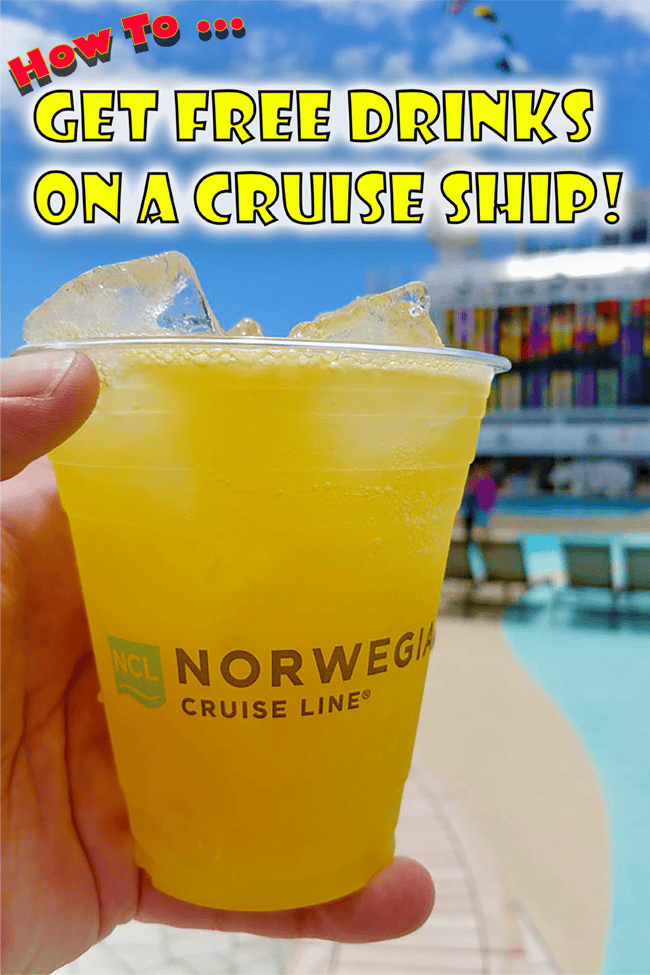 Daily Drink Specials and Loyalty Coupons
If you aren't a big drinker then those beverage packages probably aren't a good deal for you to purchase. However, you can still save money with daily drink specials. Sometimes these are two-for-one offers and other times it's just a buck or two off. Make sure to check your daily cruise newsletter for promotions. For returning guests, some lines also offer great coupon deals as part of your loyalty program. For instance, Gold Members of Carnival's VIFP program get a free "appreciation drink" on the last day of the cruise after 5pm. It's sort of a lame perk compared to the welcome back party we used to get ... but hey ... it's a free drink and that's a good thing! Platinum members get a free drink
Loyalty Parties
Each cruise line does things differently, but most have some variation on this theme. From welcome back parties for returning cruisers to loyalty tier-based parties where you can only get an invite if you are above a certain level, this is where you can score some good free drinks numbers. These perks range from Platinum and Diamond VIFP party on Carnival to the Diamond lounge on Royal Caribbean that hosts happy hours each night of the cruise featuring an open bar.
Free Glass of Champagne At Events
From future cruise and shopping seminars to art auctions there's plenty of opportunities to score free glasses of champagne on pretty much every ship out there.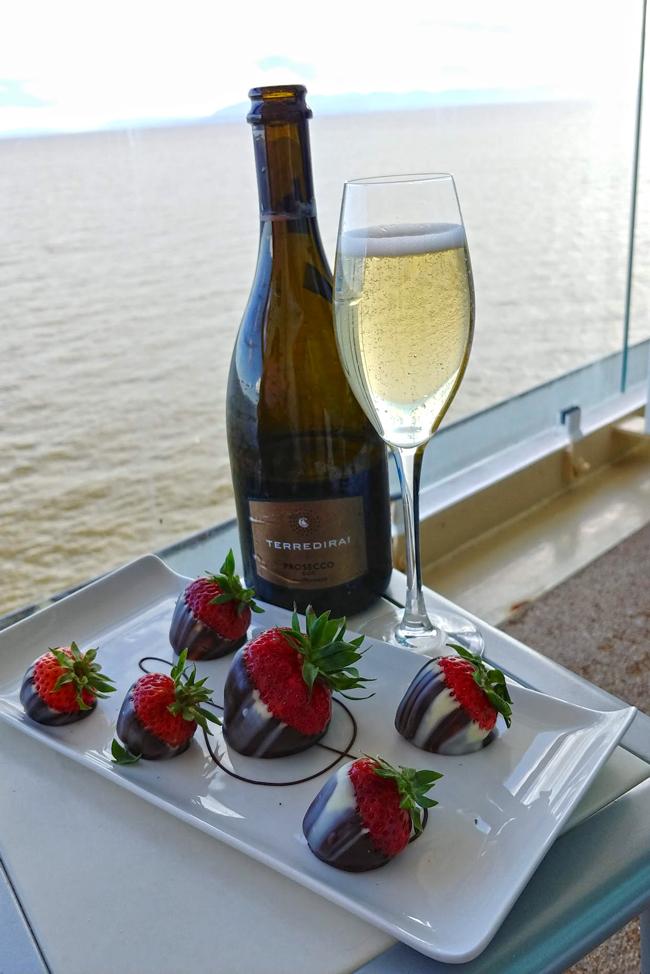 Free Bottles Champagne
Free bottles of champagne are a pretty common item too and there are a variety of ways to get one. While not every ship offers all of the methods below exactly the same - most do something similar.
Win a Competiton - winners of competitions will often get free bottles of champagne and often the non-winners do too.
Tell Your Travel Agent or Cruise Line You Are Celebrating Something - travel agents and cruise staff can often offer congratulatory bottles of champagne if they know it's your birthday, anniversary, or you are celebrating something special. Don't go and beg but mention that you are celebrating something when you book with a travel agent or fill it out in the online questionnaire of there's an option. Similarly, if you talk with a guest services officer or high-ranking member of the crew they might be able to send you a surprise.
Call In To The Cruise Morning Show - often times there are various opportunities to win a bottle of champagne simply by calling into the cruise morning show and answering a trivia question. This is also an opportunity to mention how much you love your wife and are happily celebrating 10 years of marriage or that it's her birthday. The cruise director wields enormous power to surprise guests and make them extra happy so you never know what might show up in your cabin later if you are cool.
Liquor Tastings at the Shops
Liquor tastings are usually held on the first day of the cruise and while each ship differs in this, there's usually an opportunity to get 2, 3, maybe even 5 or more samples. Typically this is going to be a .25 oz sample but it adds up and if you buy a bottle you might even get some extra samples. (NOTE - generally speaking you will not be able to get your bottle till the end of the cruise.) Personally, I find these liquor tastings to be a fun way to try new stuff and you'll often find some exotic items not common on store shelves back home.
Gamble!
The casino manager wants to keep good customers busy so you'll often get free drinks to keep you at the tables, just like you would in Vegas.
What Your Best Tips To Score Free Drinks On a Cruise?
I've shared my tips and tricks to get free drinks on a cruise ship but I'm sure I'm missing some stuff. What are your tips that we can share?