In case you hadn't noticed, canned wines are becoming a big deal. While wine industry purists reject the format in favor of glass bottles served by trained sommeliers, we embrace the innovation. Canned wines allow us to take wine places where they weren't able to go previously and they also add a layer of fun and frivolity that frankly the wine industry sometimes needs to shake things up. The story isn't all good though, like any emerging market space there are some things that work ... and some things that don't. Here's what we found during our review of five different nationally available canned wines.
How Did We Pick The Wines We Included?
There was no scientific method other than what was available at my local Ralphs store and one brand (Vices) that contacted me at just the right time. We simply wanted to try a few different varietals from different wineries and see what our thoughts were. This was a journey of exploration as much as it was anything to promote any individual brand.
What Wines Did We Include?
Originally there were four different wines that we selected - 14 Hands Pinot Grigio (Washington State), Buttercup Chardonnay (California), Underwood Pinot Noir (Oregon), Vices Bubbly Rose (California), and Dark Horse Rose Bubbles (California).
There are some other fantastic wine brands canned wine options and we look forward to trying them at some point. One rapidly emerging brand that we're very excited to try sometime is Infinite Monkey Theorem from Denver, Colorado. While Denver isn't exactly an iconic location for winemaking, they know something about the social nature of brewery tasting rooms, brewing great beers, and producing beverages that work well consumed from cans. There are tons of small and mid-sized brands that are beginning to keg as well as can their wines and we think it is just a matter of time before you start to see more on your local store shelves.
General Thoughts And Observations About Canned Wines
Before we get started, here are some quick notes that are important to share. It became clear after doing some research and talking with winemakers who have experience with canning their wines that there are some factors that simple lend one varietal to working better than another.
For instance, can shapes matter and since wine is generally not carbonated, those that were pressurized resisted denting better than others. This immediately gives an advantage to "sparkling" varietals. The smaller cans with more rigid sides also will fare better from this perspective compared to the standard 12oz can. In the canned wine world there are two standard sizes - 375 ml (half of a standard 750 ml wine bottle) and 250 ml which is about 1.5 glasses of wine. In practicality, I'm not sure how many people are truly sharing a can though. The 250 ml cans often tend to be narrower and taller, allowing for stronger sides. This is an advantage for that size in terms of carrying it around in your backpack on a hike or something rugged.
Second, even though canning technology has come a long way with adding linings to the cans - you are still putting your lips to the mouth of the can and this imparted a negative experience across the board. I'm hoping to re-do this experiment in the future and pour the canned wine into glasses to see if this changes the experience. Despite this, I think it is a fair assessment since most customers will be serving their wines this way.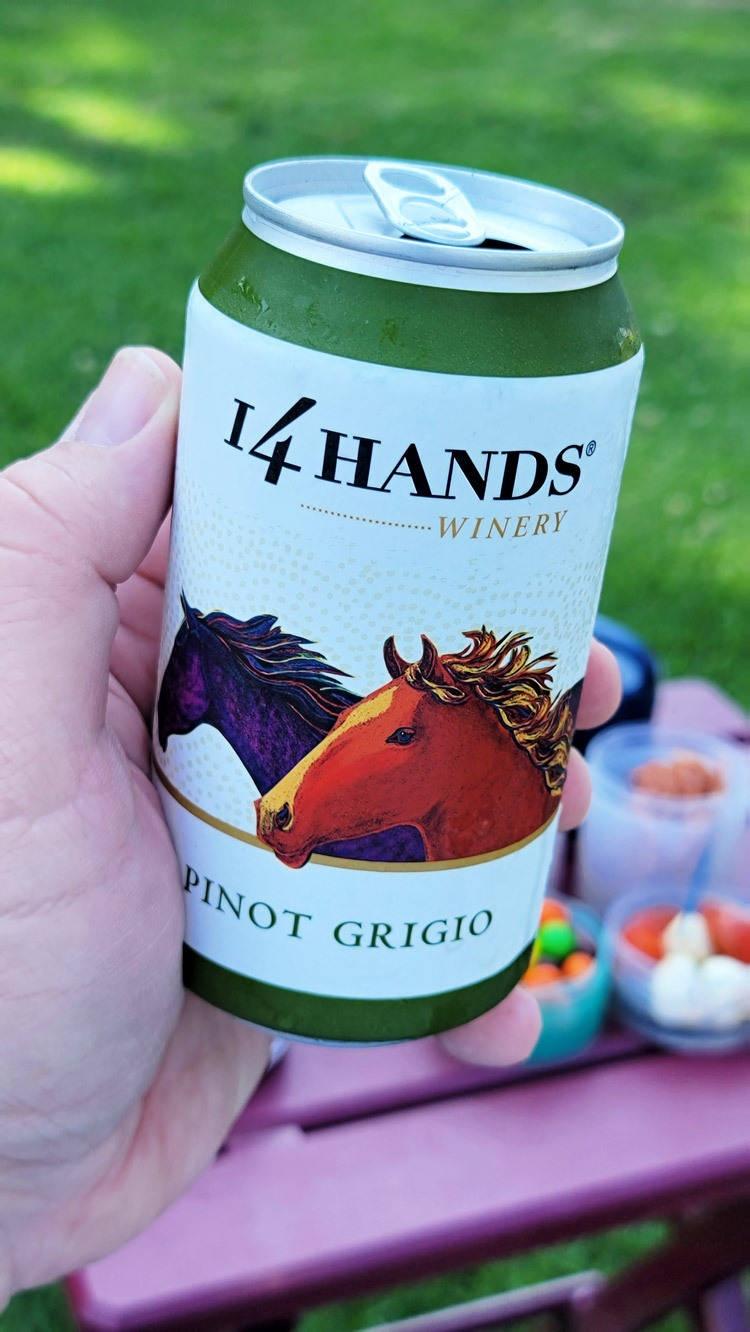 Canned Wines Tasting Notes
This isn't a formal tasting so we're not going to get bogged down in describing wines the way you might with finer vintages. What we're looking for here is 1) does it taste good 2) does it taste like you expect 3) did anything surprise us.
14 Hands Pinot Grigio
This is one of the best wineries in Washington State and they completely 'get' how to make great consumer-friendly wines. So it was no surprise that their Pinot Grigio was hands down our favorite of the non-bubbly cans. In fact, it was probably my favorite overall though the rose's were very interesting. In addition to the Pinot Grigio, 14 Hands, also make a canned version of Hot to Trot Red Blend, a White Sparkling, and two Rose Sparkling.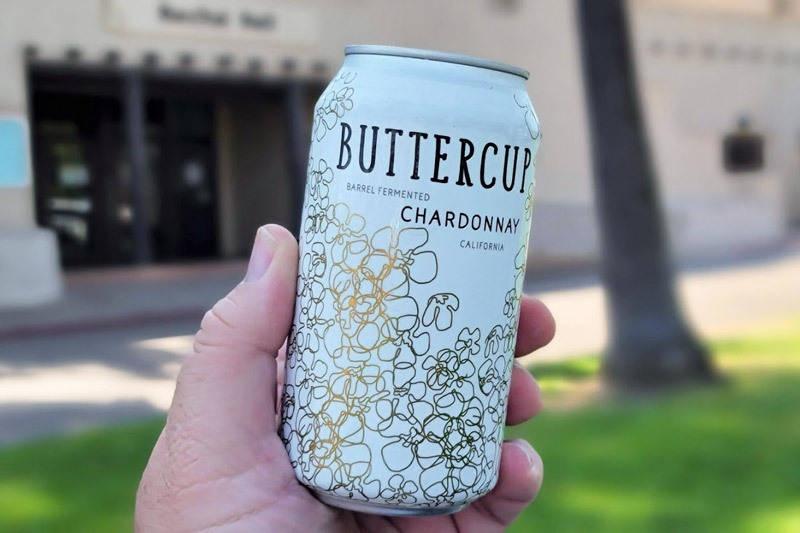 Buttercup Chardonnay
This 100% barrel-fermented California Chardonnay lives up to it's "butter" name. It is also the wine that triggered my decision to run this test again in the future and pour the wines into a secondary glass instead of drinking directly from the can. I frankly didn't like the Buttercup Chardonnay flavor here but part of that was the fact that it is is a very buttery 100% malolactic fermentation wine with seven months of aging in wooden barrels. The result is a more traditional "California Chardonnay" profile many folks may like but it just didn't work for me. Buttercup Chardonnay is also available in standard bottles.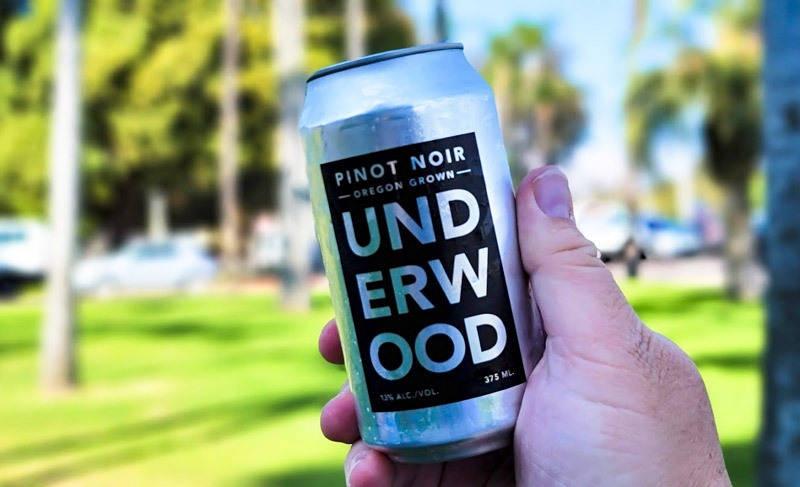 Underwood Pinot Noir
Produced by the Union Wine Co of Tualatin, Oregon, The winery is located south of Portland and on the edge of the Oregon's famous Willamette Valley, I had extremely high hopes for this wine. Unfortunately it also just missed the mark for me. Again, I think part of the issue was that like with Buttercup Chardonnay above, the acidity combined with the metal on the edge of the can where your lips meet the liquid didn't do it any favors. I do respect the folks at Union Wine Co because they are investing significant energy into promoting the notion of canned wines. We look forward to sampling Underwood Pinot Noir again in the glass as well as potentially comparing the canned to bottled wine. Make sure to check out their canned wine faq as well for more information about how they craft their wares.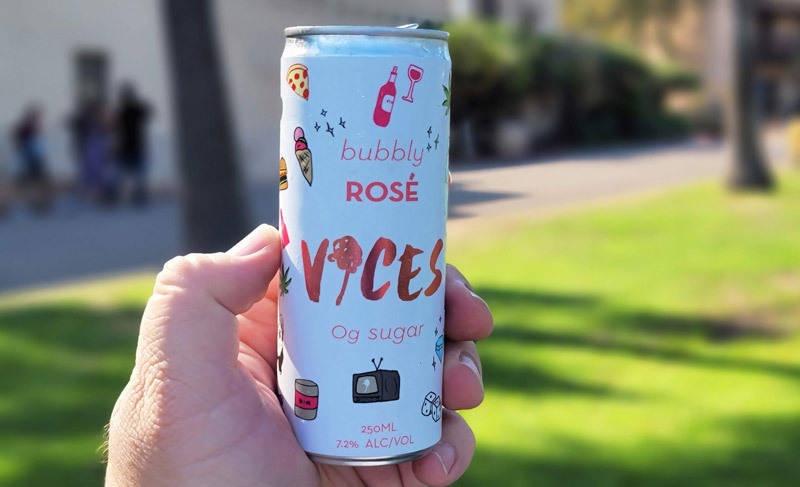 Vices Bubbly Rose
This was the first of two VERY different sparkling rose wines. Not only was this the only one to be in a 250 ml can but it was also the only one to promote that it had "0 Sugar". In fact, the flavor here in the Vices Bubbly Rose was almost like a seltzer more so than a wine. Additionally, unlike other wines we sampled, the alcohol content was a very modest 7.2% (compared to Buttercup at 14% and 13% for Underwood Pinot Noir and 14 Hands Pinot Grigio). They also promote it as having only 90 calories. They do this by taking a 2020 Napa Valley Pinot Noir Rose and adding Carbonated Water. While this might cause wine purists to lose their minds ... it works. It tastes great and was the only can to have no noticeable nicks or dents after rolling around in our cooler.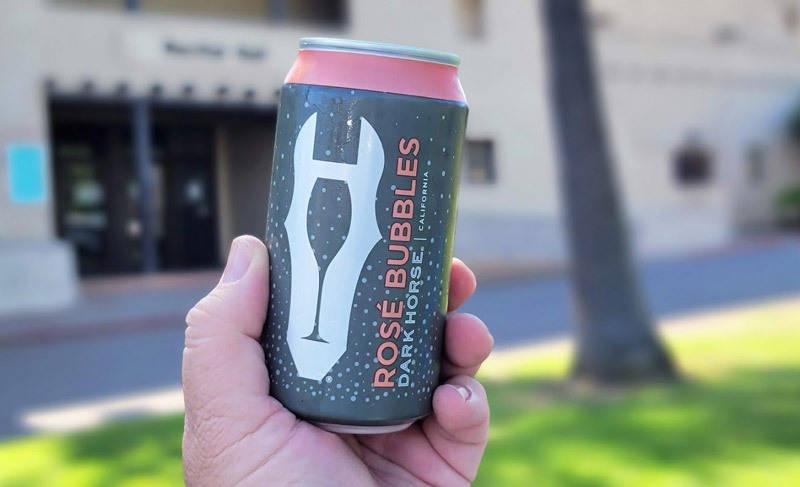 Dark Horse Rose Bubbles
Among the "traditional" wines, this was hands down our favorite. This in itself points to the fact that canned wines work best with certain styles because it isn't consumed the same way as a bottle. Simply put, rose works great when it is chilled and served on a hot day. Sparkling beverages are refreshing and fun. When you put those two together it amplifies the affect. This Dark Horse Rose Bubbles was among the best sparkling roses that I've tried in a can (beyond this taste test as well). Interestingly though, while Rose is typically a single varietal, this one is a blend of Pinot Noir, Chardonnay, and "Other Select Varietals". It is also relatively low in alcohol at only 10%, which makes this that much more enjoyable in the context that we were consuming the wines this day.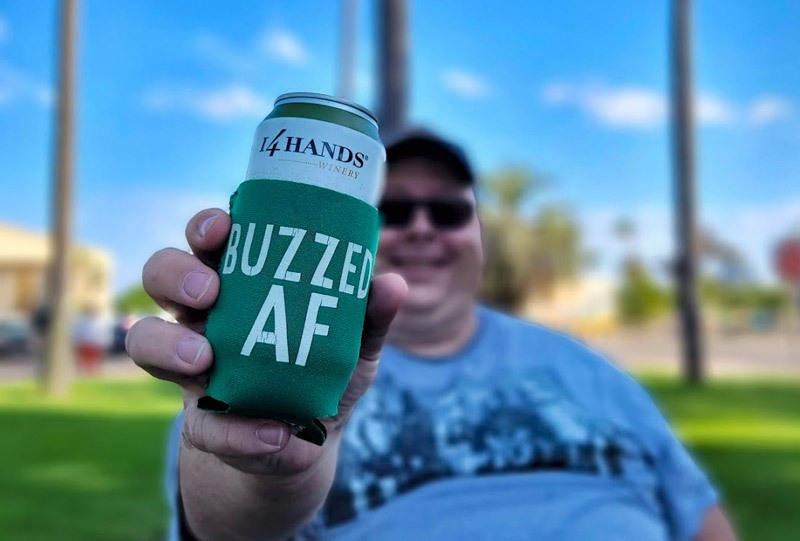 Final Notes On Our Canned Wine Review
A few things became very clear from our taste test review of these canned wines.
Alcohol Content Of Canned Wines Is Way Higher Than Beer
Unlike drinking a can of beer, there is a LOT more alcohol in these cans of wine. For some, this will be an advantage since you may get hammered a lot faster. However, this also means you can go from buzzed to drunk faster than expected too. For instance, compare a can of Coors Light at 4.2% to the Buttercup Chardonnay at 14% ABV. Drinking a can of Buttercup would be like drinking almost three and a half cans of Coors Light! You guys are all adults so we're not going to make a judgment call but the party is a lot more fun if you don't consume so much that you start being stupid.
On a hot day when you are just looking for a beverage that is cool and refreshing, the sparkling rose cans have a huge advantage here. For example, the 10% ABV found in Dark Horse Rose Bubbles is only just over double that which you might find in a can of beer.
It Is Unfair To Expect Great Wine From Canned Wines Today
This is not necessarily a factor of cans being a bad format for premium wines. However, if you expect to have the experience from a canned Pinot Noir being the same as from a $60 bottle, that isn't a fair comparison. As an example, the wines we tested during this canned wine review were priced at roughly $5 - $10 per can. This results in a bottled equivalent of $10-20 per 750 ml bottle. As a specific example, Underwood Pinot Noir is $28 for a four-pack ($7 per can) and $14 for a bottle.
That doesn't mean that at some point in the future we won't see a Stags Leap can of Napa Valley Cabernet Sauvignon or something from Screaming Eagle. However, right now, the format is being defined by consumption patterns were a premium product just isn't necessary.
Canned Wine Is Leading To Canned Wine Spritzers
Sweeter, bubbly wines seem to be a great fit right now for this beverage format. While we don't often see bottles of traditional wine that are innovative beyond classical styles ... many of the wineries that currently produce canned wines are also innovating with new creations too. For instance, we're craving a chance to try Underwood's Riesling Radler featuring Oregon Riesling, hops and grapefruit. This is only the beginning. As we start to break down barriers and disrupt the industry we will start to see more innovation. None of this should be seen as a threat to the traditional wine industry but instead, this is a way to expand it and engage with consumers in new ways.
Hopefully this is helpful to everyone involved. I am very excited to see where the industry will take us!