The folks at Montrose Colorado sent us some info about Guys getaways in their neck of the woods.
In addition to hiking and fishing, this includes the upcoming USA Pro Challenge bike race from Durango to Denver.
Montrose, which is surrounded by 67,000 acres of public land, has great options and opportunities for fishing, golfing and biking in Colorado's great outdoors.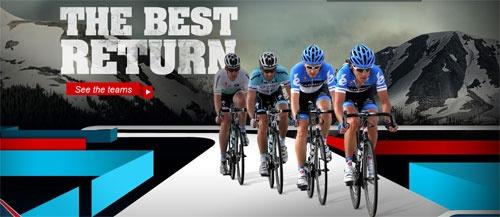 As a host city for the USA Pro Challenge (Aug. 20-26) – a race that challenges 135 of the world's best cyclists to a grueling ride from Durango to Denver – Montrose has made its mark on the road bike map.
Channel your inner Lance Armstrong by riding the route the pro cyclists will take. Or push pedals and lungs to the limit with a mountain bike trek in the Gunnison Gorge National Conservation Area or on the Uncompahgre Plateau. Fishing is another fantastic way for guys to reel in a good time. The summer and fall seasons provide a beautiful backdrop and incredible insect hatches for catching the region's trophy trout.

Plenty are available to create an unforgettable fishing trip on impressive waters like the Uncompahgre River, Ridgway Reservoir and Gunnison River, just to name a few.
Montrose also has four golf courses all within the city limits, making it easy for male bonding on the course. Links-style, park-style and Nicklaus Design championship courses are all available in Montrose.