Traditionally, our wives and girlfriends sit and wait for us to pick a hotel that they want for Valentine's Day - but why can't we turn the tables and do things differently? We scoured the internet looking for epic hotel ideas that will inspire romance this Valentine's Day in a completely different manner than the typical 4-star resort with breakfast in bed!
Each of these motels caters to fantasies or have themed rooms that will make your Valentine's Day that much more fun compared to a eewwey gooey, boring romantic night at a typical hotel with red roses and chocolates.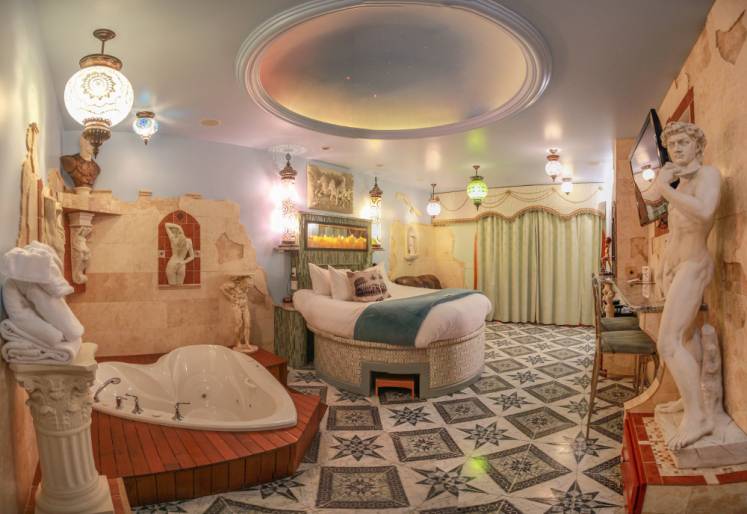 Adventure Suites Theme Hotel
With a history dating back to the 1950's, Adventure Suites Theme Hotel in North Conway, NH might be one of the oldest hotels on the list offering themed hotel rooms. In the 1980's they introduced the first themed rooms and started to be referred to as the "Pocono of the White Mountains". Today there are more than 20 different themed rooms including: Wolf Den, Dragon's Lair, Love Shack, Motorcycle Madness, Jungle, and Roman RendezVous. Unlike some of the locations on this list that cater specifically to romantic getaways and "adult fantasies" Adventure Suites also has huge suites designed for groups of people.
For instance, the Haunted Castle not only has the physical look and feel of a castle but comes complete with lights, audio, video projection, motion sensors, and pneumatic devices to scare you and up to 18 people.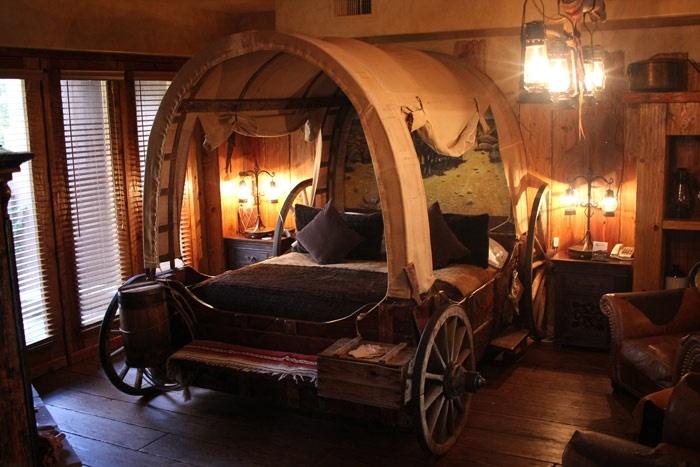 Adobe Grand Villas
This bed and breakfast in Sedona, Arizona has a variety of rooms that are lightly themed - though some are more fun than others. Last year, we visited the "
Wagon Wheel Villa
", which is themed like a Wild West adventure complete with covered wagon bed and a rock shower with waterfall. Around the room, guests will find a rich amount of decorations to complete the mood. While some hotels with "themed suites" might be cheesy, the
Adobe Grand Villas
is first class all the way and even welcomes guests with warm, fresh-baked bread cooking in the in-room bread maker! There are other rooms available here, but most provide a more south west / mountain western feel with a light theme appropriate to those destinations but the Wagon Wheel Villa is special and perfect for anyone wanting to play pioneer lady and cowboy.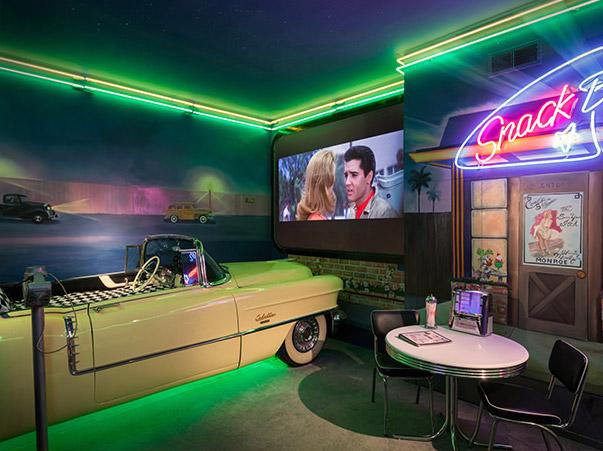 Victorian Mansion
Located in Los Alamos, California - near Solvang in the Santa Ynez wine country, the Victorian Mansion or "The Vick" features themed fantasy suites and rooms. These include:
50's Suite
, Gypsy Suite, Roman Suite, Egyptian Suite,
French Suite
, and the Pirate Suite. Each suite features a private "hidden" bath, in-suite hot gourmet breakfast, a bottle of regional wine, and games / music / DVDs that complement the suite's theme. While the outside of this Victorian mansion might appear prim and proper, guests who step inside should be ready for a treat when they select a suite to act out their favorite adult fantasy!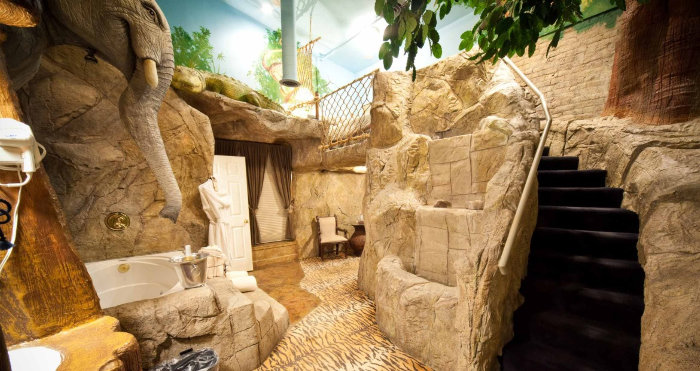 The Anniversary Inn
Following in the trend of themed hotel rooms, The Anniversary Inn features some of the classic themes like Mysteries of Egypt and a pirate-themed Treasure Island, but also features a Sleeping Beauty's Castle - complete with drawbridge! With locations in Salt Lake City, Logan Utah, and Boise, there is a HUGE variety of options for virtually every possible taste.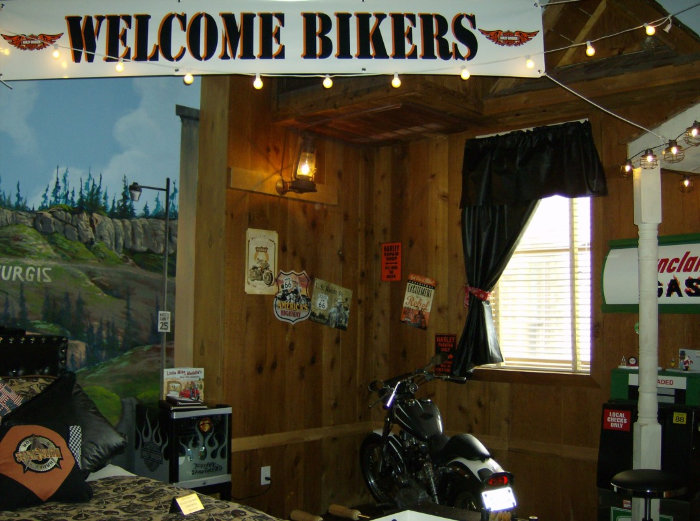 Of course, for those of you with a fantasy about visiting Sturgis, you can even live that out (for a night) in their Biker's Roadhouse fantasy suite.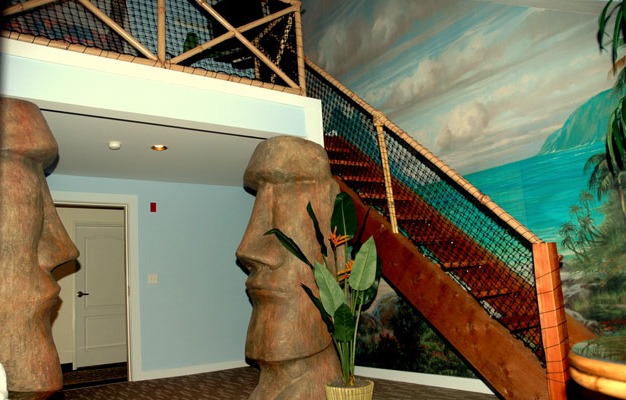 Chateau Avalon Adventure Rooms
With rooms ranging from "Castaway Isle" to "Tahitian Treehouse", "Egyptian Palace", and "Pirates Cove" this is your opportunity to express your love for each other in a completely different sort of way!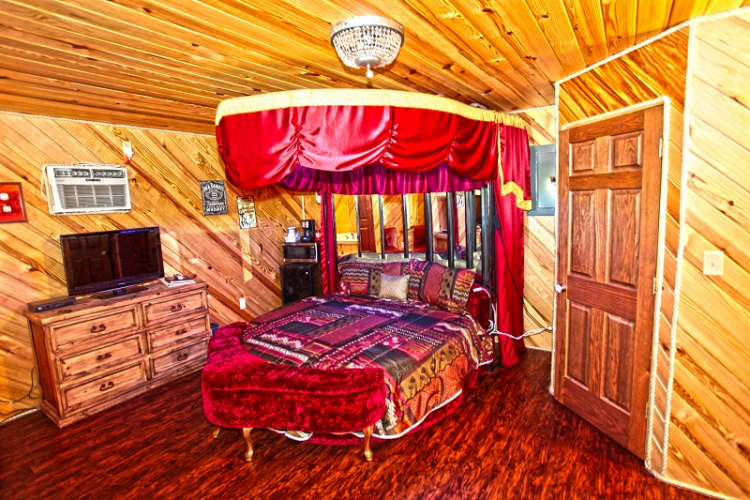 Diamond Cabins and Old West Hotel
Diamond Cabins in Murfreesboro, Arkansas offers six different cabins with minimal themes but we think it is a great fit for this list since it still provides a great setting to let your romantic creativity run wild. Room themes include Bank Hotel, Blacksmith Hotel, Romantic Miss Kitty's Hotel, Saloon Hotel, Sheriff's Office / Jail Hotel, and Stables Hotel. For a romantic getaway, we think a swing through Miss Kitty's brothel might be want you need to get things going.
As a side note, Diamond Cabins is located right near Crater of Diamonds State Park so maybe if you don't get lucky at the hotel you can find a diamond there instead!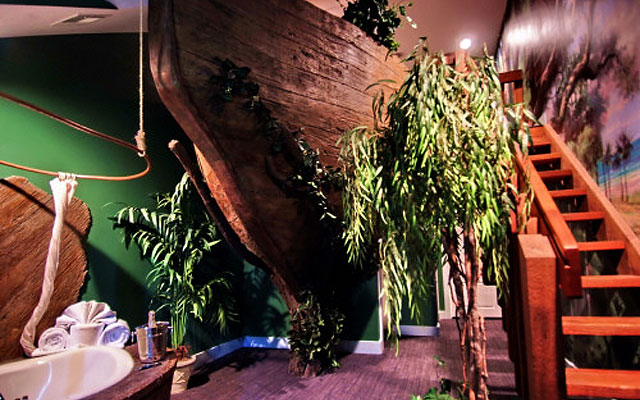 Located in Kansas City, this is among the most unique hotels in the midwest and features 61 themed rooms and suites featuring a unique theme concept environment.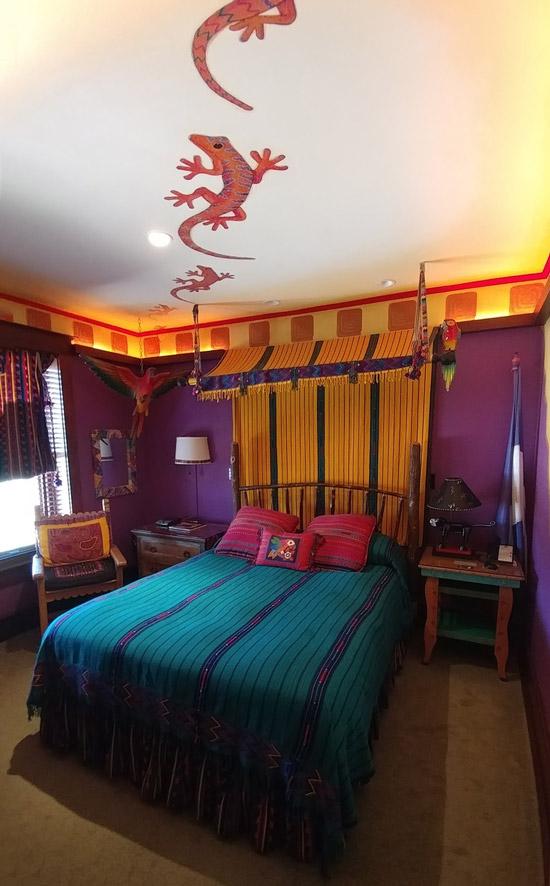 Hotel Pattee
Opened originally in 1913,
Hotel Pattee
set in Perry Iowa looks like a classic railroad hotel but that conservative veneer hides the wild themed rooms contained within. While you won't find a "caveman room", you'll find themes ranging from those celebrating comic artist VT Snick (creator of Alley Oop) complete with a drafting desk and comics, a circus themed room in honor of circus agent R.M. Harvey, and a Central America Room where parrots, monkeys, and lizards will watch over you at night.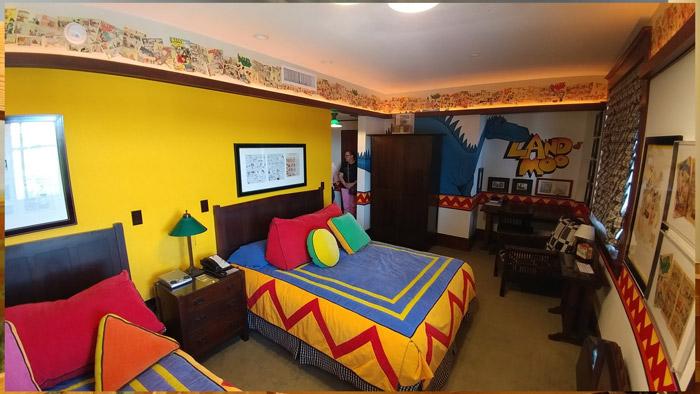 Make sure to visit the Hotel Pattee website and explore the rooms as not all rooms and suites as themed as fun as these two are.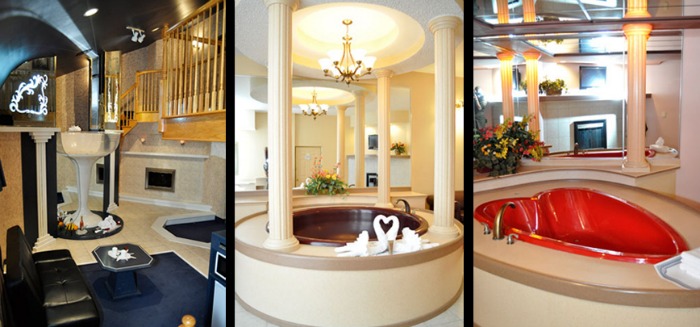 Loop Inn Motel
Over in New Jersey, they aren't strangers to tacky themes either - but instead of "adventure suites" visitors to the Loop Inn Motel will find suites with heart-shaped and champagne-style glass whirlpools so you can express your love for each other in ways you simply can't while not lounging in over-sized bar ware. If you are looking for a fun romantic escape in NJ, the Loop Inn Motel might be a fun place to spend a night.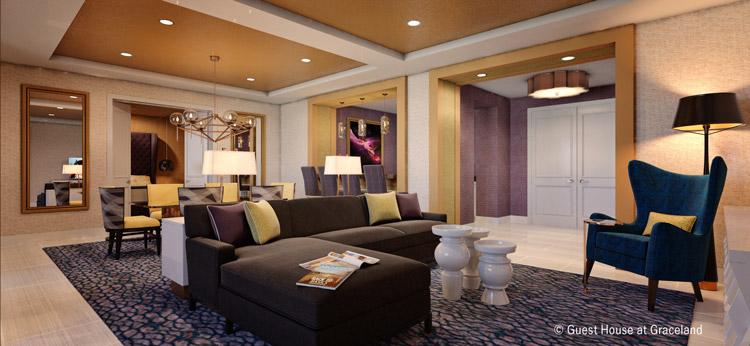 The Guest House at Graceland (formerly Heartbreak Hotel)
Unfortunately, the Heartbreak Hotel has been closed in favor of the newly opened Guest House at Graceland which does feature suites "inspired by The King", though a lot less kitschy. They now offer several suites including The King's Suite, inspired by Elvis' master bedroom at Graceland and another inspired by Elvis in Las Vegas.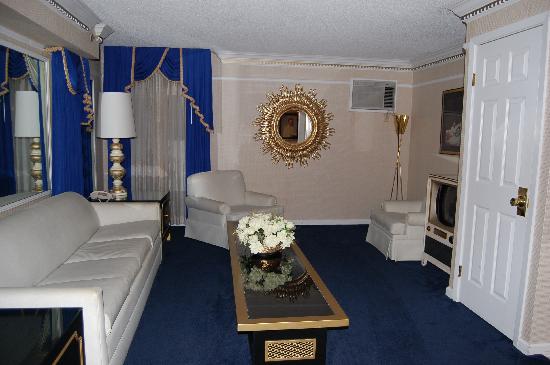 OK, so that doesn't sound like the most romantic hotel idea - but who doesn't want to pretend to be The King? Now you can, with a stay here in one of the Heartbreak Hotel suites - Hollywood, Burning Love, Graceland, or Gold and Platinum. All styled after decor based on aspects of Elvis's life, career, and personal style.
Hail to the King Baby!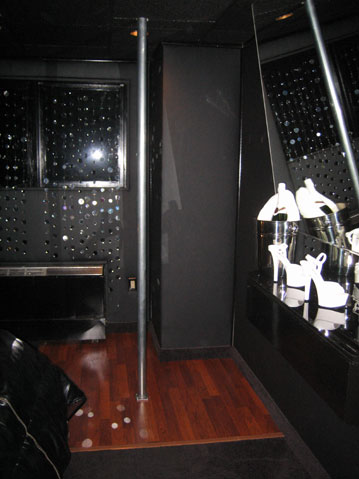 The Hollywood
While most of the themed hotel suites here are pretty basic compared to champagne glass whirlpools, if you are looking to live out fantasies of having a private exotic dancer than they have the perfect room for you and your significant other. Featuring mirrored walls and ceilings, a stripper pole rounds out the fantasy, leaving the rest is up to you once you enter "The Exotic Dancer Room".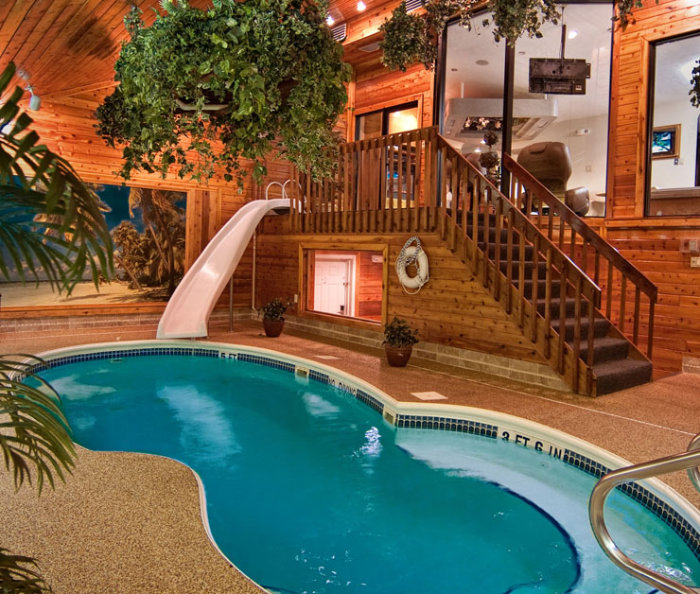 Sybaris
Over the top adventure suites and camp not your style? How about down and dirty 70's porn star? Seriously - complete with carpeted walls, fireplace, mirrors above the bed, in-suite swimming pool, massage chair, and no phones (except the front desk), Sybaris is one of a kind. The Sybaris Chalet Suite even has a waterslide ...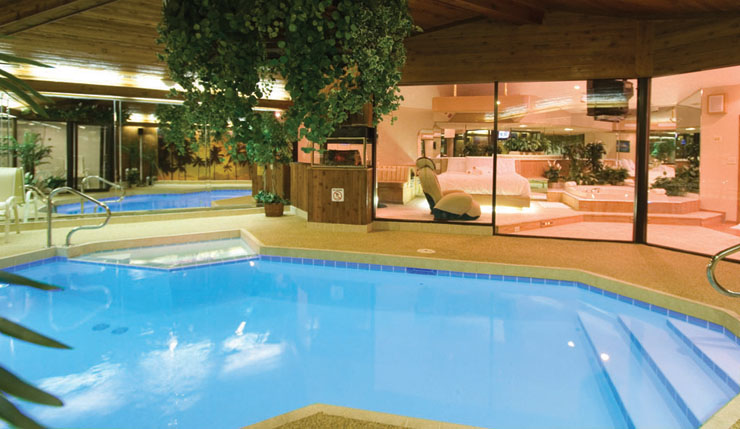 Instead of relying on décor to make your fantasy's come true - all you need to do is set foot in one of the 120 suites in 5 locations including Chicago-suburbs, Mequon, Wisconsin, and Indianapolis, and open your imagination. If you are anywhere near Chicago you need to stop in here and visit at least once.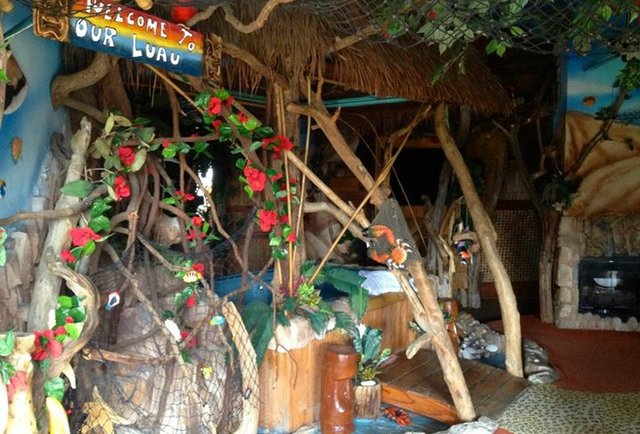 Feather Nest Inn
Located in Cherry Hill, NJ the Feather Nest Inn boasts a mixture of themed fantasy suites along with "classier" (presumably) romance suites. If you are wanting to explore your pirate or caveman fantasies this is the place to visit.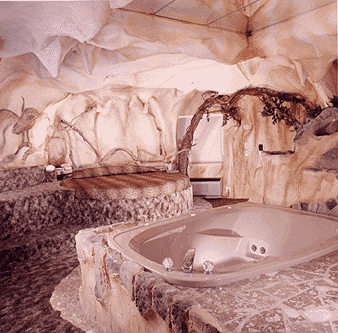 Not ready to go whole hog into what otherwise might be considered a "sex hotel" but still want a fun experience you'll both remember? This next group of hotels is the perfect choice for adventure ...

Madonna Inn
Located in California's Central Coastal town of San Luis Obispo, the Madonna Inn is perhaps the perfect mixture of campy romantic fun mixed with class. At other hotels boasting themed fantasy suites, the word "seedy" might not be out of place but at the Madonna Inn, they are fun but not something you might have to hide from your kids.
While there is still a "Caveman" room complete with rock walls, animal hide covered furniture and a waterfall in the bathroom.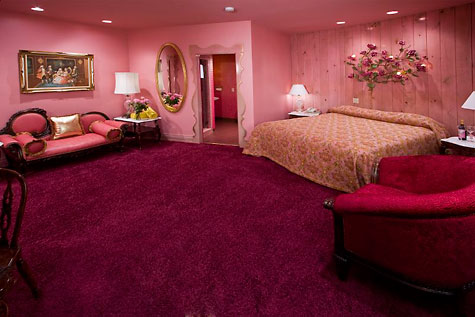 There are also fun themed suites like Room 182 "Tall and Short" where the pepto-bismal pink room was designed to cater to couples where one is tall and the other is short - for instance, one side of the bed is high ... while the other is low.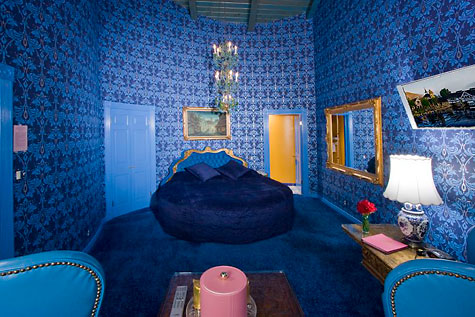 Of course, if you want your no-windows romantic suite complete with a round bed - don't miss room 169 "Vous".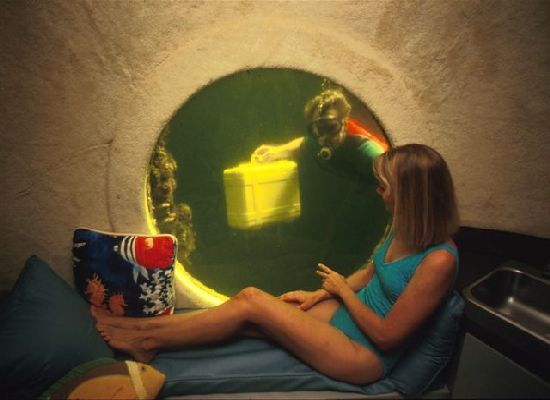 Jules' Undersea Lodge
Looking to embrace the fantasy of living under the sea with your favorite mermaid? That's what guests are able to do at this underwater hotel in Key Largo Florida. Don't expect over-the-top romance and 4-star dining though. Prices start $800 but for that price, you get diving gear, snacks, and Papa John's pizza delivery ...
Guests must be a certified diver, or willing to take the certification course for $95. There is no door here - guests enter the opening in the bottom of the habitat.
>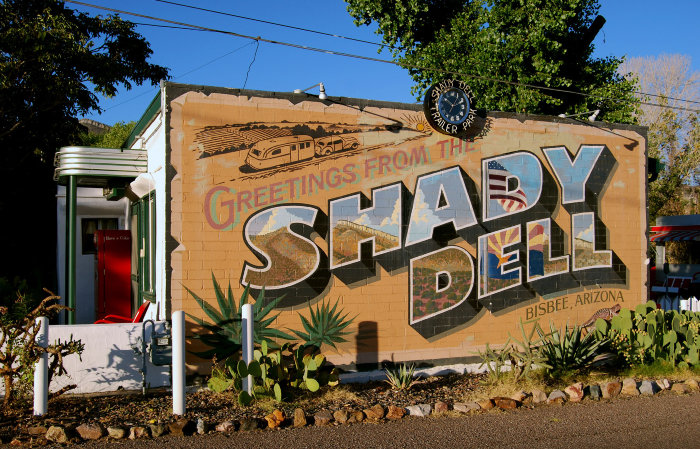 The Shady Dell
How about going back in time to a 1950's trailer park for a romantic trip back in time to live out your Mad Men fantasy?
>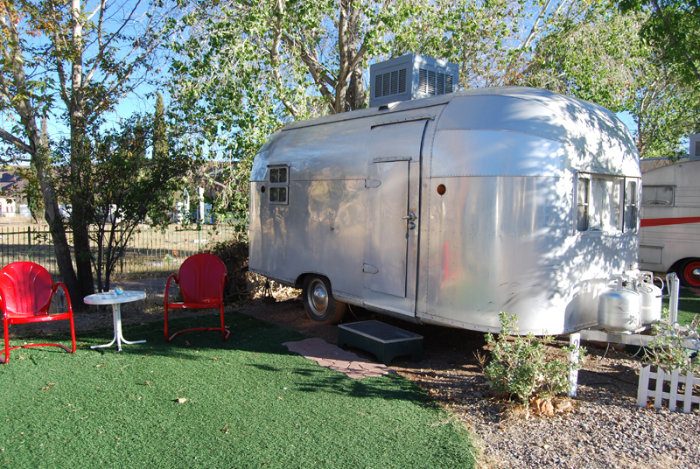 The Shady Dell features 10 trailers ranging from the silver 1957 El Rey that looks like a small Airstream to a 1947 Tiki-themed Bus.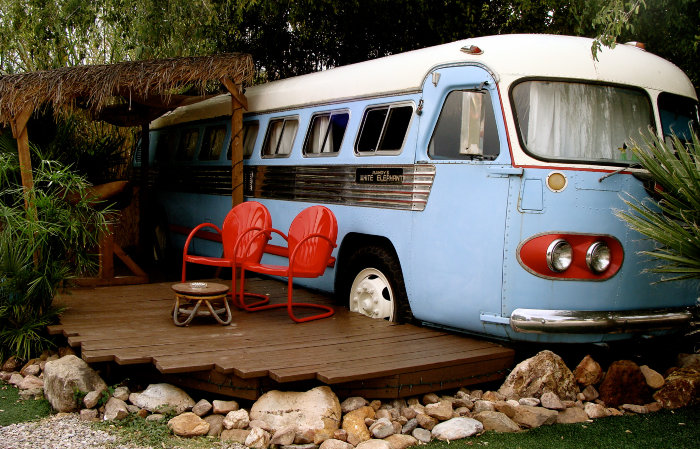 Of course, if you are looking for a nautical adventure there is also a converted 1947 Chris Craft Yacht that is firmly resting on its foundation, so no rocking the boat here in Bisbee Arizona.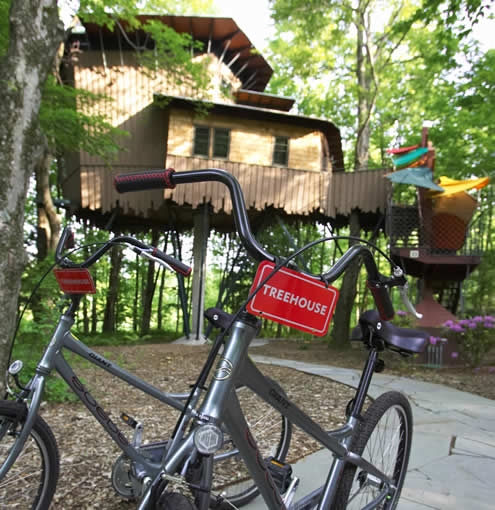 Winvian
Not a single hotel, but a collection of themed cottages located in Litchfield Hills Connecticut, this is a great starting point if you want to explore fantasy suites - while still staying classy.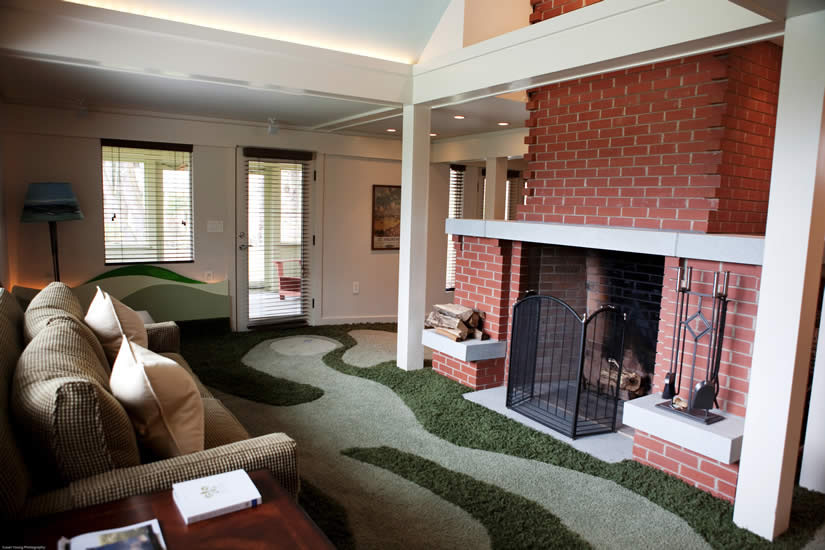 Winvian has themed cottage suites ranging from the Beaver Lodge - themed like ... well ... a beaver lodge, to the Golf cottage featuring a putting green throughout the floor of the retreat. To indulge those childhood fantasy's they even have a two story treehouse for adults.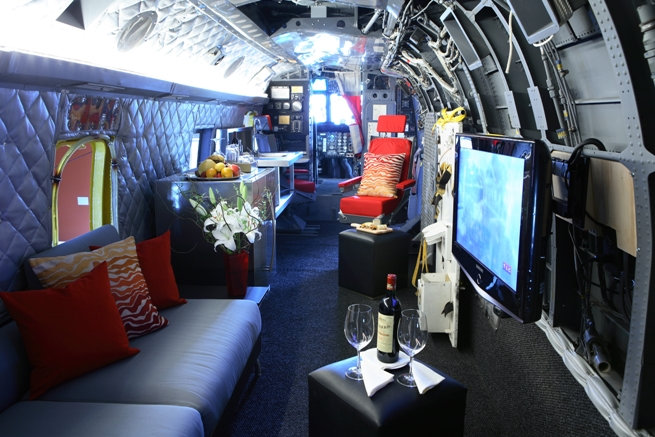 Those of you looking to join the Mile High Club can even pretend here while staying at the Helicopter Suite where they have a converted 1968 Sea King Pelican waiting your flight plan.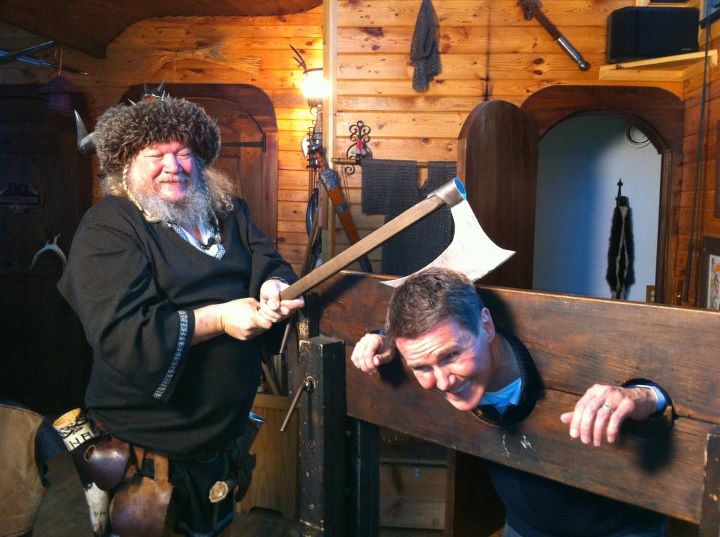 Nordic Inn
I am not sure where to put this hotel in the list so I am leaving it for last - but certainly not least! Clearly it isn't a "sex hotel" like the first batch but it doesn't fit into the second group either. However, if you are looking for a truly unique experience, that mixes roleplaying, cultural exploration, and perhaps exploring some Viking fantasies then you should absolutely check out the Nordic Inn. Think of it like a Norse Medieval Times that is also a Bed and Breakfast.
Room themes range from Odin's Loft where you can sleep in a Viking longship surrounded by your weapons and armor (and a private jacuzzi!) or Asgard that comes complete with a bar, games table and library full of Viking History books. For those who favor a more modern Vikings interpretation there is also The Locker Room - perfect for Minnesota Vikings fans!
The room is only part of the attraction here - check out this Viking menu! For dinner guests are treated to a Viking feast complete with Baby Dragon's Drums and other surprises. Breakfast is similarly styled, consisting of a Morning Feast featuring authentic Viking cuisine meat pie and Parsley Toast.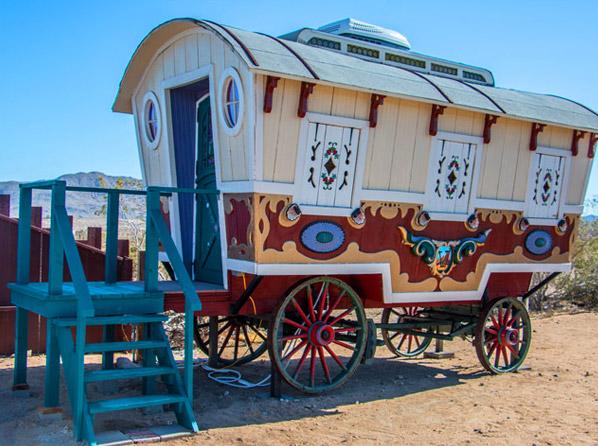 Hicksville Trailer Palace
The California desert is a strange place and we've wanted to visit the Hicksville Trailer Palace near Joshua Tree for a while. Unfortunately, the owners are so secretive that they won't even share the actual location until the day before you are booked to stay there. With a collection of trailers and wagons ranging from old air streams and themed trailers including: The Pioneer, The Tegrattrailor (Alien themed) and The Pee-Wee (the actual gypsy trailer for Big Top Pee-Wee!), you are sure to find something here that's perfect for your fantasy roleplaying purposes.
Next time your lady wants to do a romantic weekend getaway, maybe it's time to try something new like one of these themed hotel rooms!