I've finally found it! I knew that San Diego had to have a restaurant that was equally good at ambiance as it is in service, preparation, and presentation. Earlier this month Heather and I were invited to have dinner and check out Greystone Steakhouse - one of the older restaurants here in San Diego's Gaslamp Quarter.
Greystone Steakhouse just recently celebrated 15 years of operation here and after the amazing dinner we enjoyed, I can see why it's been able to survive so long and I am sure they will continue to have great success for many more years to come!
There are three distinct dining areas here at Greystone Steakhouse. These include cafe-style sidewalk dining, a lower level where you can watch the staff in the kitchen, and an upper level that can be easily converted into a private dining area for parties as we experienced during the anniversary party a couple months ago.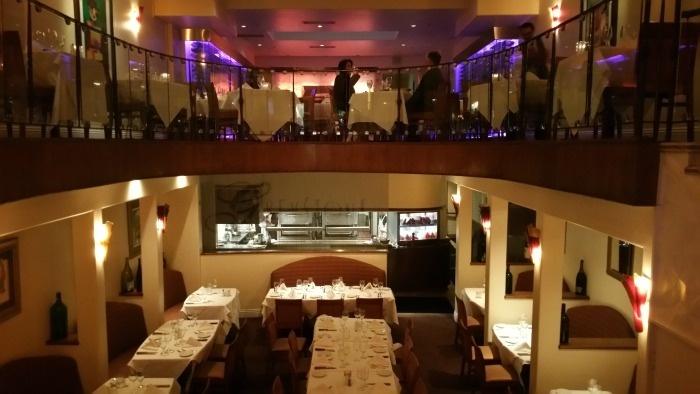 Outside, Greystone has a fantastic sidewalk seating area where we enjoyed both the fantastic food as well as the buzz and excitement of being outside in San Diego's Gaslamp quarter.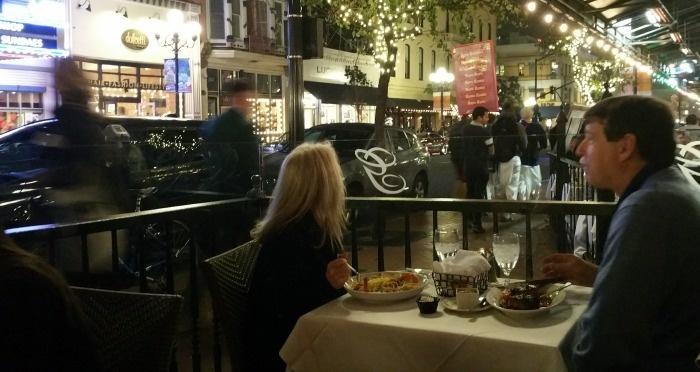 When we arrived, our waiter told us that chef had prepared a special dinner for us and that menus were not needed tonight - though I can share that from our brief tour the menu was extensive and contained a mixture of classic steakhouse fare as well as seafood. It is also the only place in the Gaslamp that serves not just one, but THREE different types of Wagyu Beef!

The current price is $10 per oz for Australian Wagyu from Greg Norman's Farm, or American Wagyu Beef from Mishima Luxury Reserve with a minimum of 8 oz per order. However, for the ultimate treat they serve true Japanese Wagyu from Miyazaki Prefecture that is a whopping $20 per oz, minimum of 4 oz.
Sadly we weren't able to try this, but that just gives us a reason to come back again another time!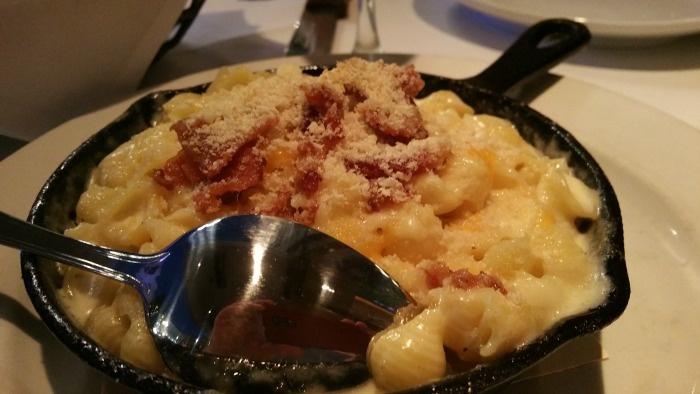 Our first course was Pancetta Macaroni and Cheese served in a skillet with bacon on top and it, along with our second course below set the stage for one of the best meals that I have had in recent memory.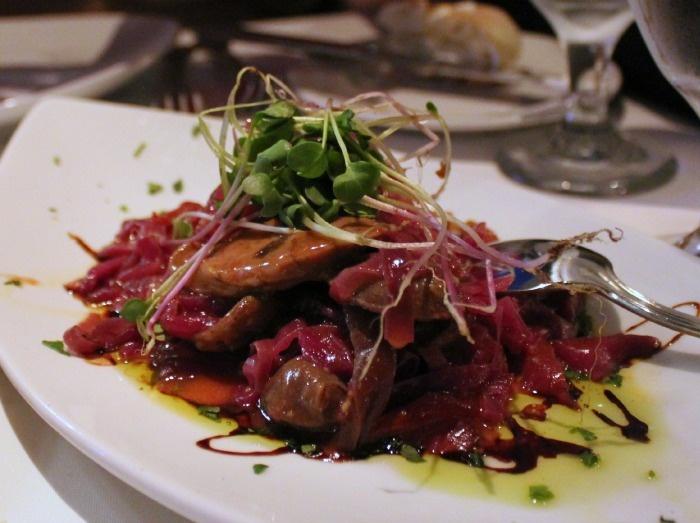 Along with the macaroni and cheese, we were served the Wild Boar Sausage featuring red cabbage and onions mixed with sun-dried tomatoes and bell peppers with a pinot noir reduction sauce.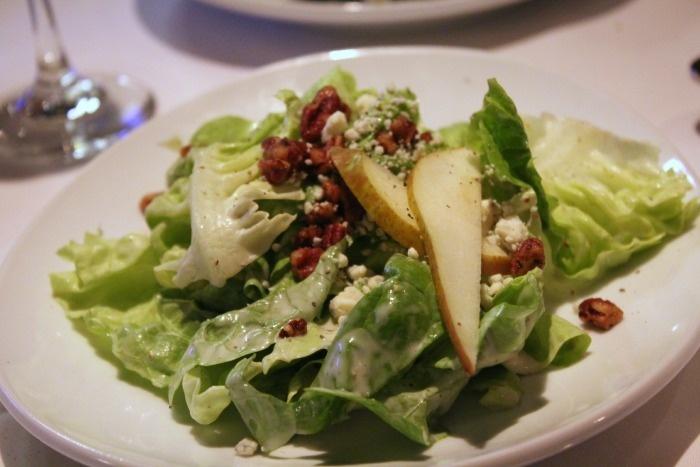 Our salad was also delicious and imaginative - where I had sort of expected a standard "house" style salad since it was called the "Greystone Salad", this instead was "signature" in style.
The Greystone Salad featured butter lettuce, with a lemon mustard vinaigrette dressing topped with candied pecans, maytag blue cheese, and topped with fresh pear slices. These flavors went together extraordinarily well and was a refreshing change from the classic "blue cheese salad" that is standard at most steakhouses.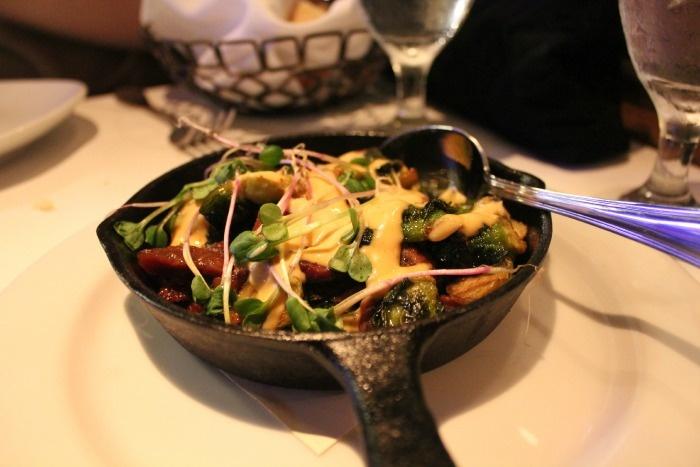 Next up, the manager asked us if we like brussels sprouts because they had something special to share ..
Being someone who absolutely loves fresh brussels sprouts I was intrigued and graciously accepted the offer :)
What was delivered was a flavor combination that I hadn't considered before. While I normally enjoy my sprouts with bacon fat, these mixed in figs and bernaise sauce as well for a positively decadent dish that you just need to try to understand!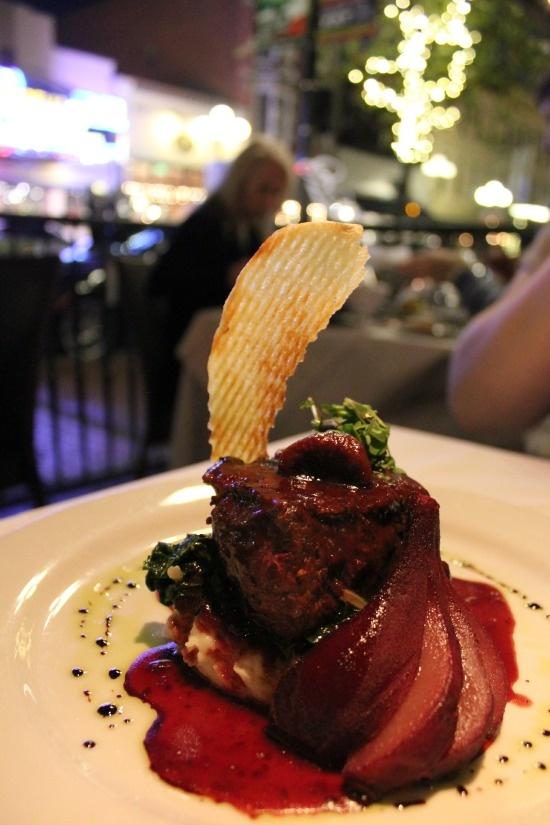 Now on to the steaks ...
The first entree that we had was the Greystone's signature Buffalo Tenderloin featuring poached pear, dried figs, with a port reduction sauce sitting on top of mashed potatoes and Swiss chard greens. Oh and just because you can always make something even more impressive chef placed a potato crisp on top as a flag to further show that this was something special!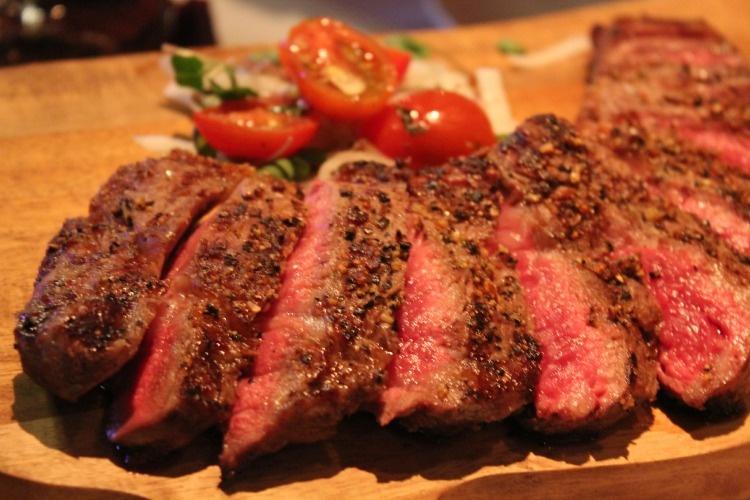 Its extremely tough to go two for two when your first entree is so extraordinary but Greystone continued to raise the bar with both preparation and presentation of the New York Strip, which was perfectly cooked and featured a rub that was just the right mixture to compliment without overpowering the meat.
The fact that it was served on a cutting board shaped like a cow was just another touch that we had by now started to realize was how it's done here and added to the overall enjoyment of the meal.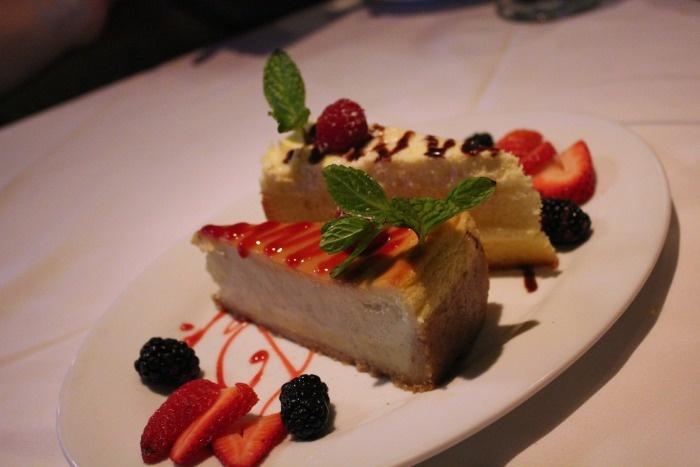 At this point the meal was already one of the best we have had in San Diego but there was one last course, dessert!
Our desserts were both fantastic, a limoncello cheesecake and a creme brulee cheesecake accompanied by fresh berries and sprigs of mint.
At each stage of our meal Greystone Steakhouse exceeded our expectations and frankly it's not an easy task for a kitchen to be able to prepare everything right as some are stronger at deserts instead of steaks but that's what makes Greystone special and a place that I will sing the praises of at every chance.
Whether you are in town for a convention (Greystone is a short walk from the convention center and less than a 10 min cab ride from all of the downtown hotels), a guys weekend for golf and sunshine, or a romantic getaway, this is THE PLACE that you need to check out for a fantastic meal that will make your visit to San Diego just that much more memorable!
Greystone Steakhouse is located at 658 5th Ave, in San Diego's Gaslamp Quarter and is open starting at 4 p.m. for Happy Hour.