Heather and I had a wonderful time at Sandals Montego Bay and heartily recommend it to anyone looking for an escape to one of the most fantastic islands in the Caribbean. Sometimes it is tough to select an all inclusive as EVERYTHING can look fantastic from a tourism brochure or website. That's why it is tough to pick a resort sometimes. However, I am THRILLED to say that Sandals is still awesome, even almost ten years after we stayed in their sister property in Ocho Rios for our honeymoon.
Unfortunately, the downside of having a consistent experience from resort to resort is that you don't get much local flair as you might in a smaller, independent resort but that benefit all depends on what you are looking for.
In 2004 for our honeymoon, we selected Sandals Ocho Rios (Now Sandals Grande Riviera) because we knew there would be no stress or complications and that it would be safe and friendly. Nearly 10 years later, between our experience at the Montego Bay Sandals and my friend's experience honeymooning at the Whitehouse location I can confidently say that Sandals hasn't lost a thing!
One of the other elements that makes Sandals romantic getaway special is that you can stay at one and play at all. This gives you even more options for food, bars, beaches, and entertainment.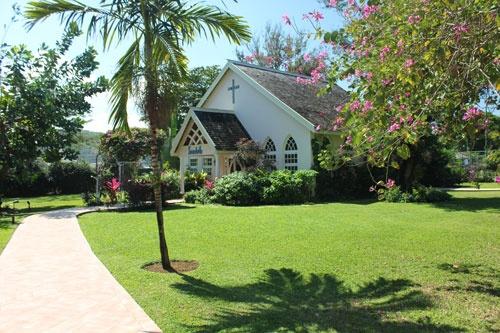 Every Sandals has venues for weddings and vow renewals, but only Montego Bay has a full wedding chapel. However, you can still do a wedding or renewal of vows etc. on the beach or other location on the grounds as well.
Also, like many resorts and certainly the cruise industry they have jumped on the photo train and offer a ton of different packages to fully document your special day - whether it is a wedding, renewal of vows or just a fun escape from the snow up north.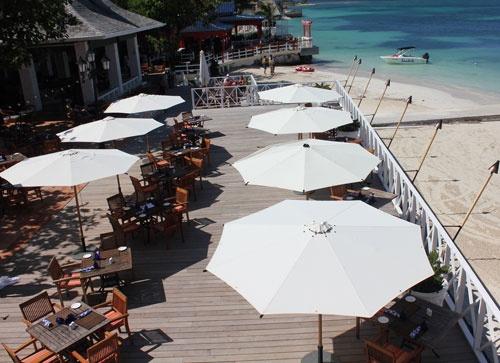 This is the seating area for the lunch buffet and offered a very nice experience with both fantastic service and gentle breezes.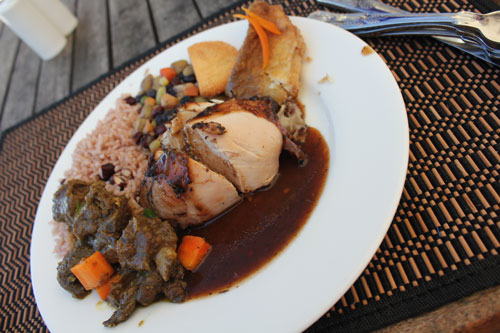 To their credit, Sandals tries hard to bring a flavor of Jamaica to the guests.
This was our lunch - it isn't the most appetizing photo, but it tasted pretty good though like most of the experience it too was "Americanized".
Regardless it was nice to try a selection of Jamaican dishes celebrating Bob Marley Day and you will NOT go hungry here!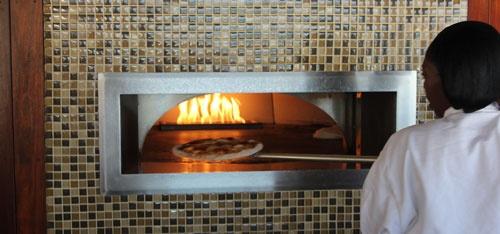 While it would be easy to simply have a cheap pizza oven, I was impressed that Sandals had a brick oven pizza and the product looked delicious!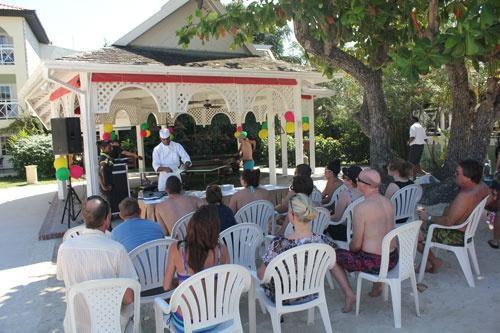 Not content to just eat food? Sandals chefs also do beach-side cooking demonstrations.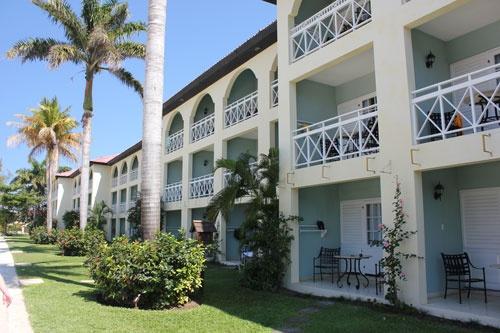 Unfortunately, we weren't able to tour the rooms because they were at 98% occupancy the day we visited. However from the exterior they seemed very well maintained.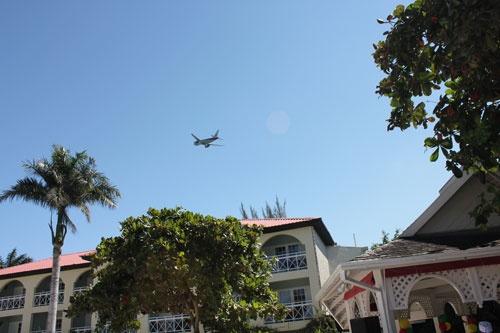 One of the few downsides of this resort for some is that the International airport is literally RIGHT NEXT TO the resort.
This means that at certain times of the day you will have jet aircraft taking off and landing almost directly over the resort.
To me this was honestly not a big issue but was absolutely noticeable the first few times. If you want a quiet resort, this is not your best option.
In fact, Sandals Montego Bay is a pretty active resort that has a ton of stuff going on.
That is one of the reasons we didn't select it for our honeymoon, but for a fantastic escape today I would absolutely consider it.
The up side of the proximity though is that you will be at the resort in minutes vs. a long drive for their other properties in Jamaica.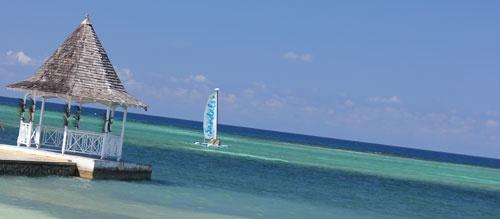 At Sandals, their slogan is "Luxury Included" and that means activities like sailing, aquatrikes, tubing, snorkeling, hobi cats, canoes / kayaks, and water skiing are all part of the package.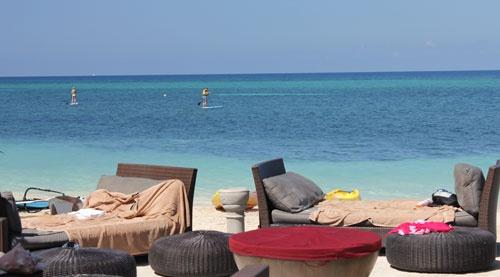 Beach beds or paddle boards - pick whatever you feel like!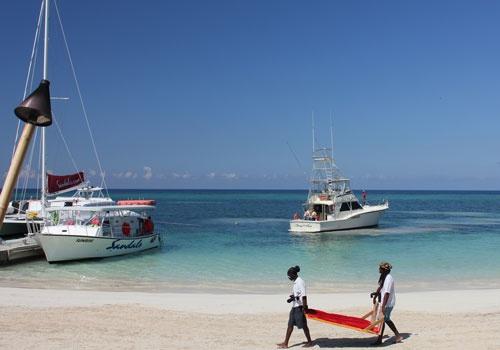 They also include scuba diving! This starts with an introductory resort program (if you aren't certified) so you can get acclimated and go diving the very next day for dives up to 30 feet.
If you are already certified, you can dive up to twice per day.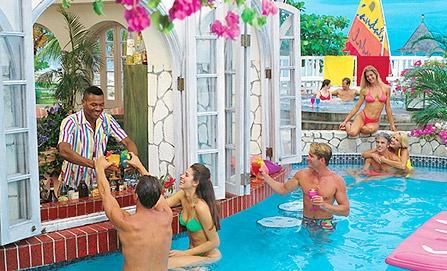 This is the swim up bar at Montego Bay. We don't have a waterproof camera so this is obviously a stock image that they had on their website.
When we were there, it was packed shoulder to shoulder, so our "Pro Tip" is that there is a small canal that wraps around to the other side of the bar and you can hang out there in private and the bartenders will periodically swing over to see if you need anything. This gives you a bit of privacy to do whatever you want without bumping into people.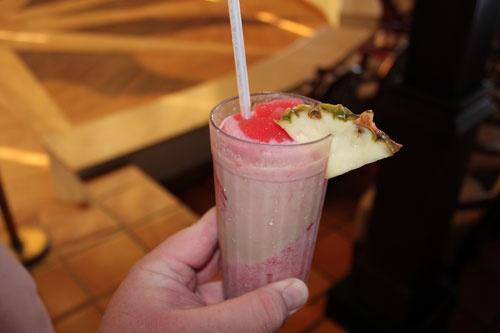 I don't know why other resorts we have visited simply can't match Sandals' drinks. Maybe it is the Appleton Estate rum, maybe it is the super friendly service, but Sandals bar tenders are simply TOP NOTCH.
The above drink is a concoction that we discovered on our honeymoon when (after several drinks) a Canadian couple we were floating with in the pool asked the bar tender to try rum cream instead of dark rum in their daiquiri. The mixture is simply delicious. It is like a strawberry milkshake and it is a drink I have been dreaming of for 10 years ... and a drink that I have tried making at other bars around the Caribbean
No one else seems to be able to replicate it though, so the obvious solution is simply to pick a Sandals resort and ask the first bartender you see to whip one up for you!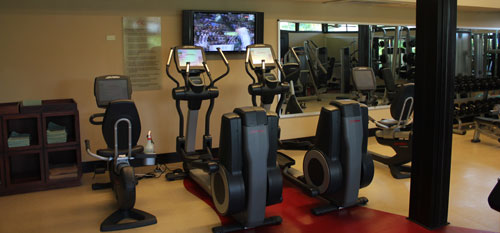 On vacation and don't want to miss the game or get out of shape - not worries maahn!
Sandals Montego Bay has a very nice gym complete with satellite TV so you can watch the game while burning off your drinks from earlier.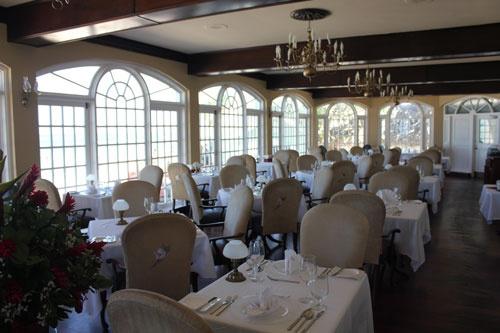 The Oleander dining room above is one of Sandals' specialty restaurants at Montego Bay.
Other complimentary dining choices include:
Bayside: Buffet Style for Breakfast / Lunch / Dinner including the Monday Beach Party and Tuesday "White Night" Mediterranean Buffet.
Oleander Room: Refined Jamaican dishes with white-glove service for dinner only.
Cucina Romana: Authentic Italian favorites. Available for breakfast Mon, Wed, Saturday and Dinner daily.
Tokyo Jo's: Stir fried dishes prepared in front of you. Available daily for dinner except Monday.
Stewfish: Seafood restaurant on the beach with authentic Jamaican and Caribbean dishes. Available daily for dinner except Monday and Tuesdays.
Cricketer's Pint: Traditional English pub fare. Open for lunch and dinner daily, plus Late Night Snacks from 11 p.m.-5 a.m.
Dino's Pizzeria: Brick oven pizza. Available for lunch daily.
Mariners: Beach-side grill, offers wraps, salads, grilled fish, and burgers. Open daily for lunch.
This wide variety of choices is one of the things that makes Sandals special and is something that we really missed compared to our cruise ship experience that we have enjoyed greatly. There is really no comparison between a "main dining room" that serves up 2,000 meals from a fixed menu over the course of a couple hours and a series of small - included - restaurants where you can get a bit of local flavor.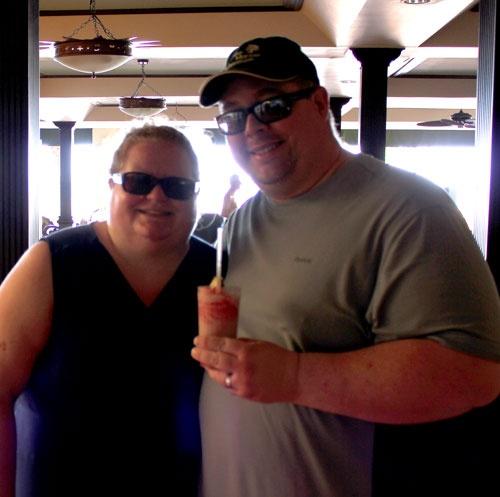 We had to get one last strawberry daiquiri with rum cream before leaving.
My only closing thought from this review is that I hope it isn't another 10 years before hanging out on a gorgeous white sand beach or swimming up to a bar to order another one of their delicious drinks.
Sandals staff is ultimately what makes this resort special and with all the stuff that has changed in the world over the past decade, that element of service with a smile hasn't changed at all.