On my recent cruise on the Carnival Victory, one of my favorite stops was visiting the island of Barbados and the opportunity to check out the fantastic Turtle Beach Resort.
One of the tricky things about finding a good resort is finding a good balance between great staff, activities, and amenities. I have to say that I was super impressed by the island of Barbados, and I would recommend Turtle Beach Resort for a great mancation - or for our UK readers, a Lads Holiday! (Barbados is apparently very popular with UK vacationers and has regularly scheduled direct flights from London).
The first thing that you want in a beach resort is going to be a great beach and Turtle Beach Resort delivers this in a way that the photo below can only approximate. The water is crystal clear, the sand is perfectly soft and the sea had a nice gentle surf.
As you can see, there is also a little reef just off shore that is perfect for snorkeling too.
The Turtle Beach Resort beach staff we met was fantastically helpful and even introduced me to a new word, "iced lolly" - apparently this is what our UK friends call a popsicle :)
In addition to working hard to keep your every need attended to, the resort also offers massages on the beach as well as their full spa menu in the treatment rooms inside.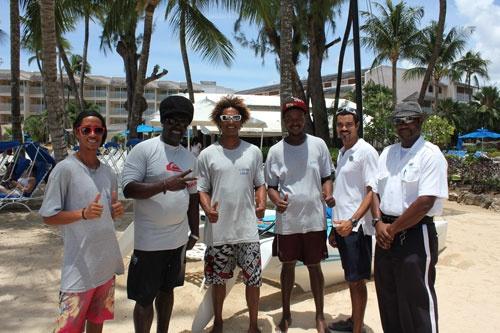 After meeting the "Captain of the Beach" he quickly set up a chair and almost before I sat down, another person grabbed a drink for me to enjoy as I lay there after my massage.
Barbados Golf:
Barbados is one of the top golf destinations in the world, and certainly hosts some of the top courses in the Caribbean. In 2006 in fact, the World Golf Championships World Cup was held on the island, at Sandy Lane's Country Club course.
Barbados Fishing:
As you can imagine, Barbados also offers great opportunities for deep sea fishing. Species you can find around the island, including: Barracuda, Tuna, Wahoo, Dolphin (Dorado), and Marlin species.
Barbados Snorkeling:
You don't have to go far to go snorkeling at Turtle Bay Resort - just walk out on the beach and jump in. If you want to be more adventurous though, an excursion can be arranged through the hotel.
Our Room at Turtle Beach Resort:
The room that we were provided with was a Garden View Jr Suite, that featured a beautiful view of one of the pool and the ocean.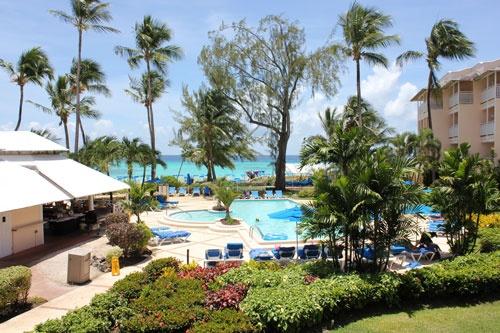 The room featured a generous sitting area that would be perfect as the social center if your group of guys wanted to participate in games indoor, or watch sports and talk about the day's adventures of golf, fishing, and snorkeling.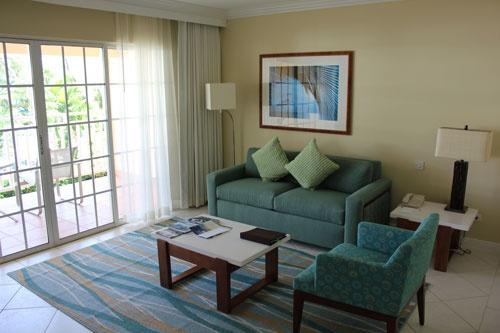 Upon arrival, the bed was laid out with flowers and a towel design. As you can see from the photos, Turtle Beach Resort is FIRST CLASS all the way.
It was striking to me the difference between this resort and some of the all-inclusive resorts that I had experience with in Jamaica and Mexico. I am not sure if it is the British influence, Barbados itself, or just the fantastic people who run and work at Turtle Beach, but the entire place had a sense of luxury that would be perfect for a Caribbean lads holiday or a romantic escape with the wife or girlfriend.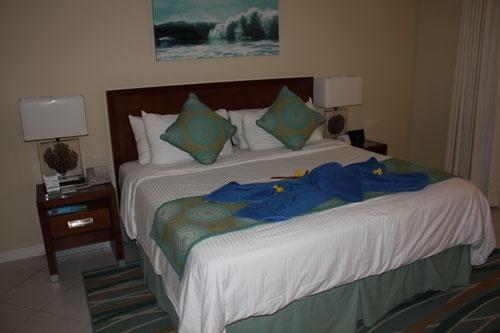 There are a three restaurants available at Turtle Beach, as well as room service (extra charge). These are Asiago's, a semi-formal, upscale Italian restaurant, Chelonia (pictured below) - an open air Barbados restaurant and the Waterfront restaurant serving light, beach and pool friendly food.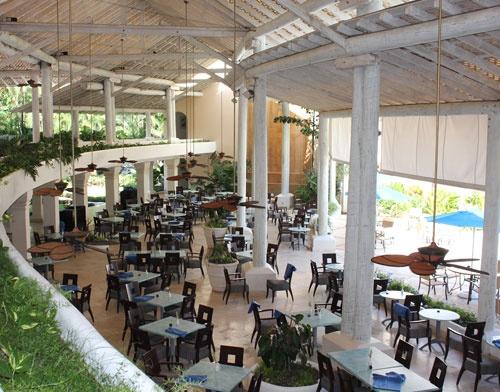 We had a chance to dine at the Waterfront restaurant and found the food to be quite good and once again the staff was extraordinary and the bartenders were fantastic as well.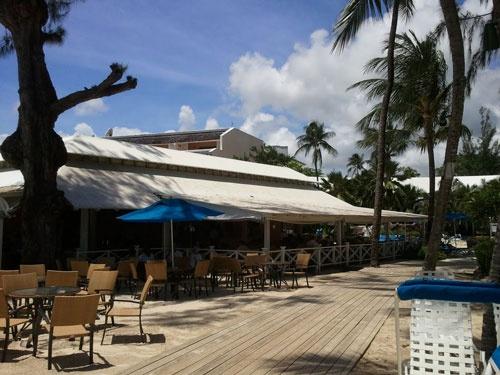 Turtle Beach Resort is part of the Elegant Hotels group of resorts. Guests at Turtle Beach may also visit Crystal Cove, Tamarind, The House and Colony Club. At the non-all inclusive properties, guests may request a voucher to use at the other properties. This gives you a great variety of choices and an opportunity to explore the island.