I still remember that day back in the 80's when my friend at school told me about his dad's new Miata. Years later I recall a friend telling me how much fun he had driving around the canyon roads in LA in his Miata ... there are few cars that can evoke memories like that - and even fewer that are affordable, fun, and accessible enough that virtually anyone can afford to own one. That's what this car represents to me and while the car is anything but practical, ... who the hell cares when it is this much fun to drive!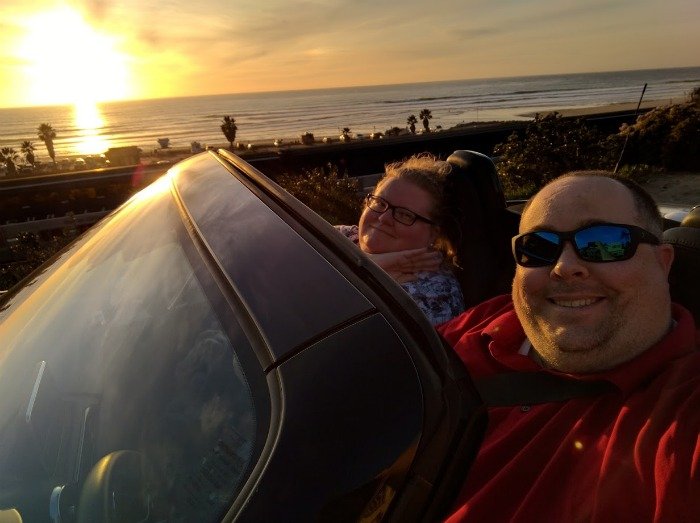 There are some cars you ride and some cars you drive - this is a driving car and a clear embodiment of Mazda's "Driving Matters" slogan. For better or worse, you strap this car on and zoom. That isn't to say that it's particularly fast or spaciously comfortable. Instead, it's so small and locked to the ground that it's more of an extension of the driver than a pilot sitting in the cockpit steering it somewhere.
After Mazda dropped the MX-5 Miata off, one of the first things I did was head up to Encinitas to enjoy the sunset with the top down. On the way north from San Diego, we tore through some twisty turny roads and the car handled remarkably well.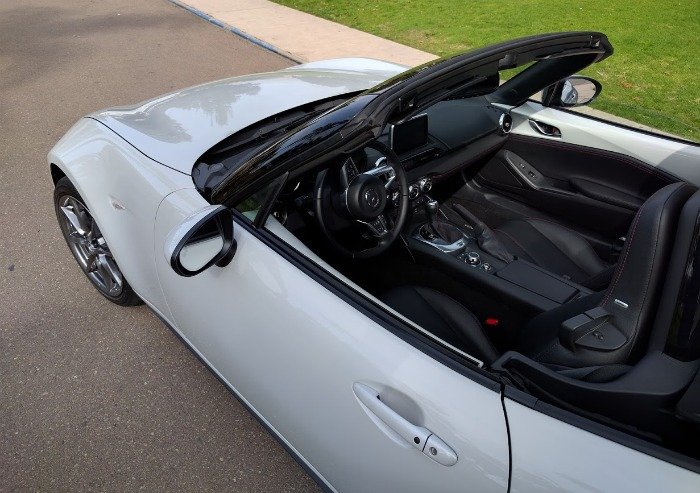 You'll notice that the design is as sharp on the inside as it is outside, though there are a few strange quirks and compromises due to the very small chassis.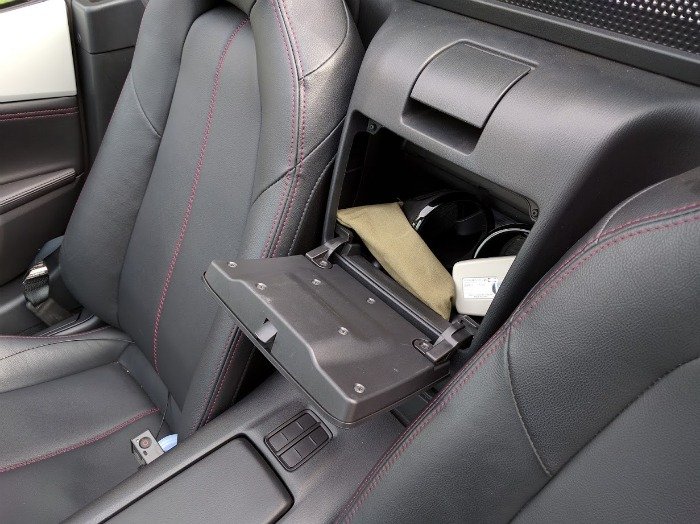 While there is a trunk, it's best suited to carrying a briefcase or carryon bag. During a grocery run, Heather and I joked that we should stop shopping since we weren't sure about the trunk space. We had three big bags and I'm glad there wasn't a fourth since it wouldn't have fit. Another example is the glove box and cup holders. Instead, of being in the dash, there's a compartment between the seats that holds your stuff.
Notice those two rectanular sockets just below the door to the cubby? That's where you can plug in your cup holders. Initially this was sort of WTF moment ... a car with no place to hold my drink?
Realistically though, this is not a family car designed to haul kids and groceries. It's a super compact roadster that is so much fun to drive that you'll want to focus on the road instead of sipping on a drink.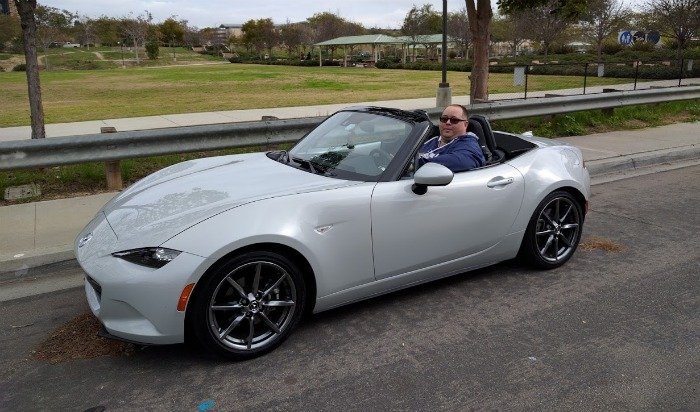 While the car is completely impractical for almost anything aside from being an adult go-kart to be taken out on weekends, it is also one of the most fun reviews that I have done in years. It is beautiful to look at both inside and out and drives great. This is the perfect midlife crisis car for any guy who's ever wanted to zoom ... but not break the bank. Starting at $24,915 the MX-5 Sport trim has 155 horses delivering up to 36 mph, this car is perfect as a weekend driver.
We tested the Grand Touring that comes nicely equipped at $30,065 featuring heated seats, navigation system, and safety features including: rain-sensing wipers, blind spot monitoring, rear cross traffic alert, and lane departure warning.
Driving does matter and if you agree then you owe it to yourself to visit your local Mazda dealer and take this one for a spin!
If you've ever wondered what it would be like, do yourself a favor and visit your local Mazda dealer and take one of these for a spin.